What Could A Sex Toy Reviewer Wish For? – 2022
I've kept wish lists for myself in the past just to keep an eye on things I thought were interesting or to occasionally make special requests from the companies I do reviews for, but I haven't updated any of them in a very long time. When stores have catalogs in the thousands and there's new toys popping up with seemingly every breath, it's hard to keep track of what's available, what's intriguing, what makes it more than half a year before being discontinued because it was actually not a good idea… I thought I'd narrow down my Wishlist into a handful of items I think are really cool and share a bit of why they make the cut. Maybe this will inspire your holiday shopping!
*This is not a list of toys that I have tried or endorse, just what I think is interesting
Brands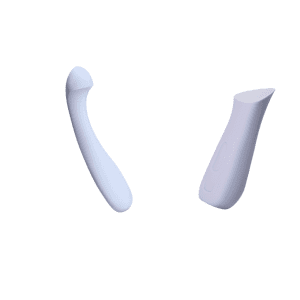 I still haven't had the pleasure of trying any toys from Dame, and I really want to. I was a bit skeptical (like so many others) when they launched their line with the weird little clit vibes that strapped onto the finger, and then the "wearable" beetle-shaped vibe that hooks over the labia that I can't imagine would actually work in any way for me, but when they stretched into more traditional toys like the Kip bullet and Arc G-spot vibe I became sincerely interested.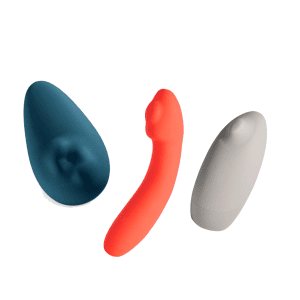 Lora Di Carlo is a (serious) luxury brand that has caused me more intrigue than eye-rolling, which is always a good sign. The price-points are way too high for me to purchase on a whim without even being able to hold a toy in my hand in a shop to see if I might like it (I don't think anywhere local to me stocks her brand but I'm also not doing in-person shopping now) so I haven't taken the plunge on any of the models I think seem super neat, but I'd really love to give a few of them a shot one day. Even the more basic toys like the Drift G-spot vibe have a warming function that I'm very into the idea of. I regret having put off buying one of the warming models from L'amourose all those years ago before they disappeared. I'm also very interested in her take on "licking" and tapping sensations.
They haven't updated their IG since 2021 and their website is gone, so I may have to act quickly or miss my chance entirely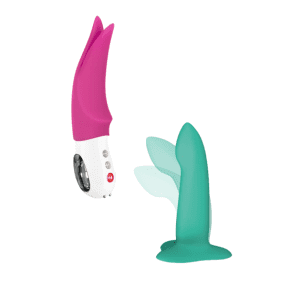 I regret I haven't had more involvement with industry giant Fun Factory. Many of their pulsators are right on the cusp of a size that's too large for me, so I haven't ventured into trying them, I don't feel like I'd be getting the most out of them. The Volta fluttering clit vibe or the smaller flexible Limba dildo could be doable though!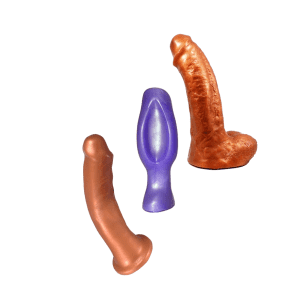 Square Peg makes some absolutely mouthwatering designs in both dildos and butt plugs, but most of them are absolutely huge (to me) so I've been stuck just lusting after them for years. I hope to eventually get around to trying out the Vaginal Plugs they've come out with (but just the small one) and a small part of me is holding my breath for a sexy squishy dildo in a size I can find manageable. I realize I'm not their target audience, but maybe I'll get lucky!?
Designs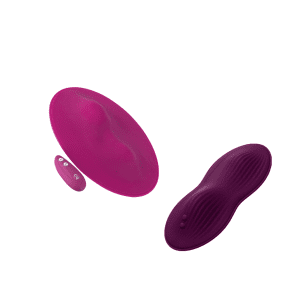 Despite my inner-cautions that I know my clit better than this, and overall assumption these wouldn't be strong enough and pin-point on the right spots for me, I'm still obsessed with the vibration pads that are starting to come out. Maybe it's just because I began my self-pleasuring with humping, back when it didnt take a piece of heavy machinery to get me off, maybe I think if I just found the right one, things could be so simple. Maybe it's because it replicates the movements my body makes without thinking when I am engaged with a partner I can't get enough of, and that would bring a level of eroticism into my jack-off sessions that they often sorely lack – because I am alone and rather utilitarian with my solo orgasms. Every once in a while I like to roll over on my stomach and it's so difficult and sometimes painful to try holding a toy underneath my body, it would be a dream to just lay down without pinning my arms beneath me. No other "lay-on" vibe has worked for me so far. I'd also love – at least in theory – to place one of these pads on a chair or overtop my Liberator Wing and grind into it without having to hold anything (besides the phone I'm trying to watch porn on.) The idea of it all is delightful but I'm apprehensive to put any of them in my shopping cart due to my picky clit.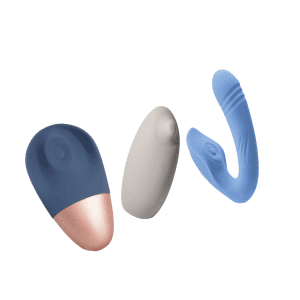 I'm super interested in trying out more tapping toys, both externally and internally. The Lovense Osci was the first I ever saw of this technology, and I was bummed out when they changed their original design of the Osci from a protruding ball-shape to a more concave dip – supposedly because testers said it was too intense. Too intense? Not for me. The tapping style is a unique alternative to the traditional vibration that might just have the kind of nuance my body – especially my clit – craves. My Womanizer Pro40 became my go-to clit toy, racking up near-nightly use once it grew on me, because it offers a pulsation that feels distinct and not like typical vibration to me. I'd like to try out this percussion sensation in a toy that isn't an air-pulse type.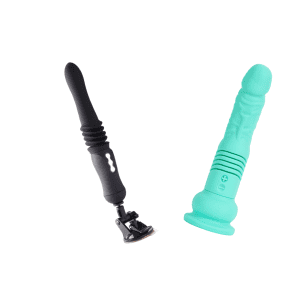 Thrusters – I need a thruster. So very often I have a wish to drag my Shockspot fucking machine out of the closet, but I don't bother because it's just too big and cumbersome to set up for just a few minutes and then tear back down again. Its a great addition to my collection if I had someone else to play with it with, in a way that could make the set up and tear down worthwhile, but alone it just feels like too much of an ordeal for what are typically just quickies for me. A smaller thruster – either hand-held or mountable – would alleviate some of the hassle of getting a machine to fuck me because I'm feeling too lazy to fuck me.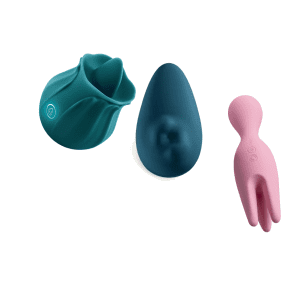 Licking, flicking, rubbing, sucking – weird and new sensations! Much as I'm still squicked out by the visuals of robotic tongues, I actually didn't mind the feeling of the tongue half of the Fantasy For Her toy I tried a while back. I'd like to try some other takes on the concept, along with things like the Nymph's strange massaging fingers and some other odd items out there.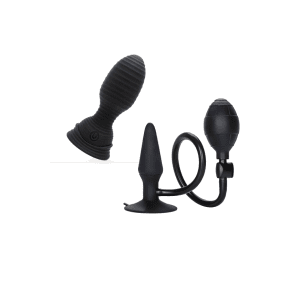 More butt stuff? I don't do a whole lot with my butt when I'm alone – it's a fine feeling but it's more work than I'm usually willing to put in for a quick wank, so my butt often goes ignored. Besides an insertable just being uncomfortable or not the right size, there's not a whole lot of difference for me between the infinite number of plugs out there – as long as it fits then it just sits in there. Which is fine. But kinda boring. I haven't (yet?) been driven particularly wild over vibrations and I found rotating beads kinda uncomfy, so I'm running low on ways to jazz up my anal experience. I'm interested in playing with the sensation of fullness and stretching, but in a way that doesn't mean severe training to be able to take large plugs from the get. Inflatables suit this purpose, but they're still hard to find in silicone.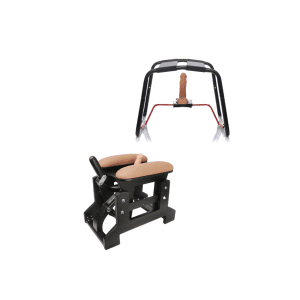 Furniture I have no room for – The only thing stopping me from having a bouncing fuck bench is the fact that I have nowhere to put it, which is also the reason I don't have a full glider either. I am eventually putting a home gym in my basement – surely the use of these toys counts as exercise, right?
Pretty dildos!
It's kind of funny to think that when I began sex toy exploration a decade ago, I really really really didn't think I cared at all for insertables. My jack-off sessions were 100% clit-focused, I had not yet awakened my stubborn G-spot, and penetration even with my own fingers just bored me. I wound up purchasing my first dildos only because I'd purchased a fucking machine, and I only did that because I had a partner who wanted to play with one. I wound up accidentally buying some really uncomfortably large and firm dildos (because vac-u-lock options were slim pickings at the time) and that set me on my journey to finding something more suitable. Enter my Vixen Mustang, starting a new love for soft and squishy and oh-so-pretty. I think I have more dildos than I do vibrators now! I've even purchased ones I like in multiples because I couldn't choose just one color. I don't actually need any more dildos, and my relatively plain design preferences (because most anything else just hurts) means that a lot of them feel pretty similar in use…but I just want more. I want everything that looks good. I want every color scheme.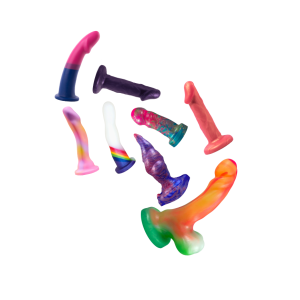 I've already got one Helio in my collection, but come on…this is just so pretty. Blush has put the Helio and Ergo through a couple color iterations and I've wanted all of them.
PrisToys has quickly become a favourite of mine to watch – I own a handful of the models that I can make fit in a couple different colors. This one is currently the last of their line that would fit me, and if you think I don't regularly add it to my cart when I'm wistful window-shopping then you don't know me at all.
I already agonized over what color I wanted my Shilo in when I picked a gorgeous pearlescent teal…and then New York Toy Collective dropped a rose gold and deep purple version. Do I need three Shilos? No. Do I very much want them? Of course.
Everything Uberrime makes. All of it. Even the shapes and sizes I literally cannot physically use – I want it just to look at it. I've picked up a handful of toys from them in the last few years and every single time I literally spend days trying to decide what colors I want.
The two different rainbow and bi pride dildos from BS Atelier. I already have the Alex model in the paint-splatter colouring which is such a cool look, so I don't really need another bi flag Alex, but it feels a little bit criminal that I do not have it.