2020 New Flings and Old Flames
Alternately titled – What felt good this year when literally nothing felt good
I've never done a "year end wrap up" style post before but this seemed like as good a time as any to start. I didn't review a whole lot this year for a handful of reasons – I didn't chase any review opportunities because I figured this was not a particularly good time to be bugging anybody, especially the smaller businesses that may have been struggling. I – much like everyone else – had to adjust to a new normal that changed my personal life, my home, my social life, and my mental health (which is always shit, even on a "good" day.)
It's been so long (and at the same time, somehow hasn't?) that I completely forgot I started the year off by vending for my own brand of handmade paddles – Bosk and Blossom – at the Erotic Arts and Crafts Fair hosted by Come As You Are.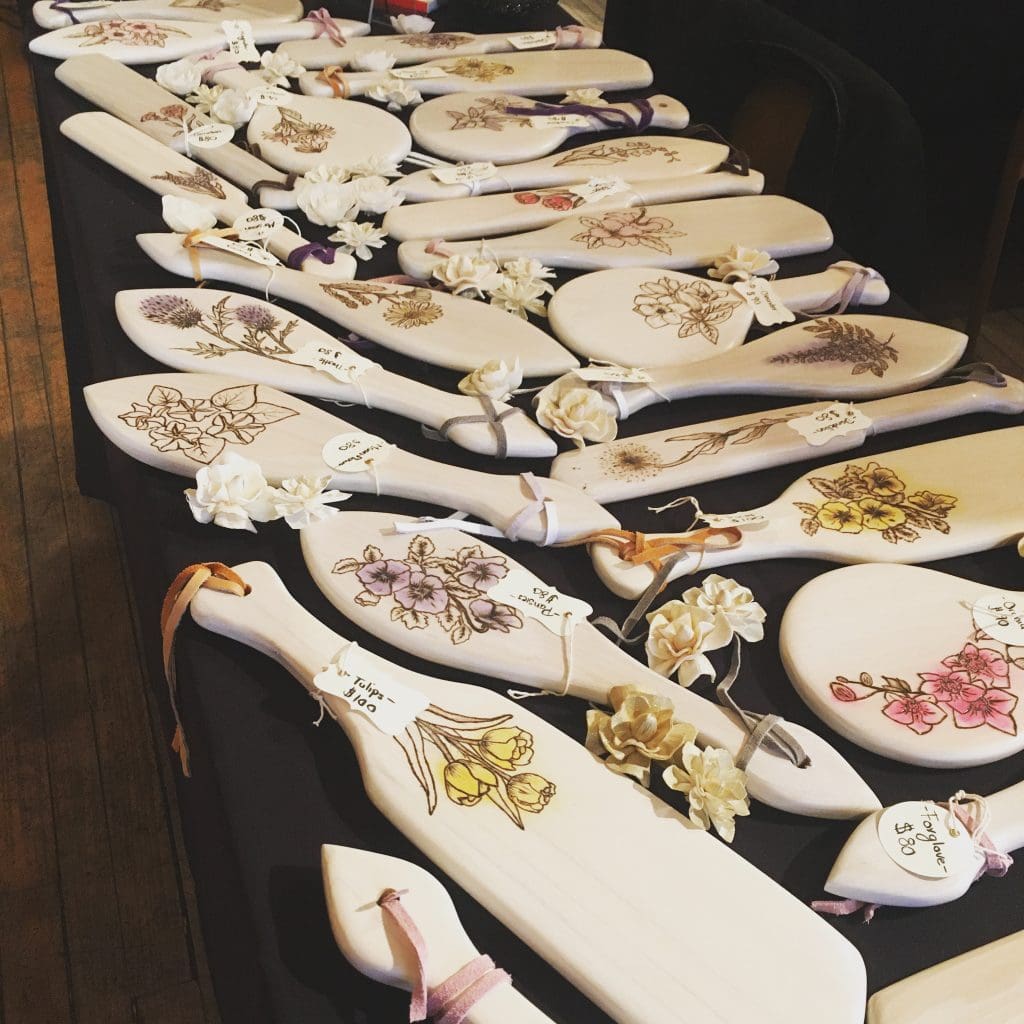 I then headed off to spend two weeks in England and made it home right before the pandemic hit. Spring was late and finicky so I hibernated a bit more before setting to work on my first attempt at a container-only rooftop vegetable garden at my studio – which went surprisingly really well.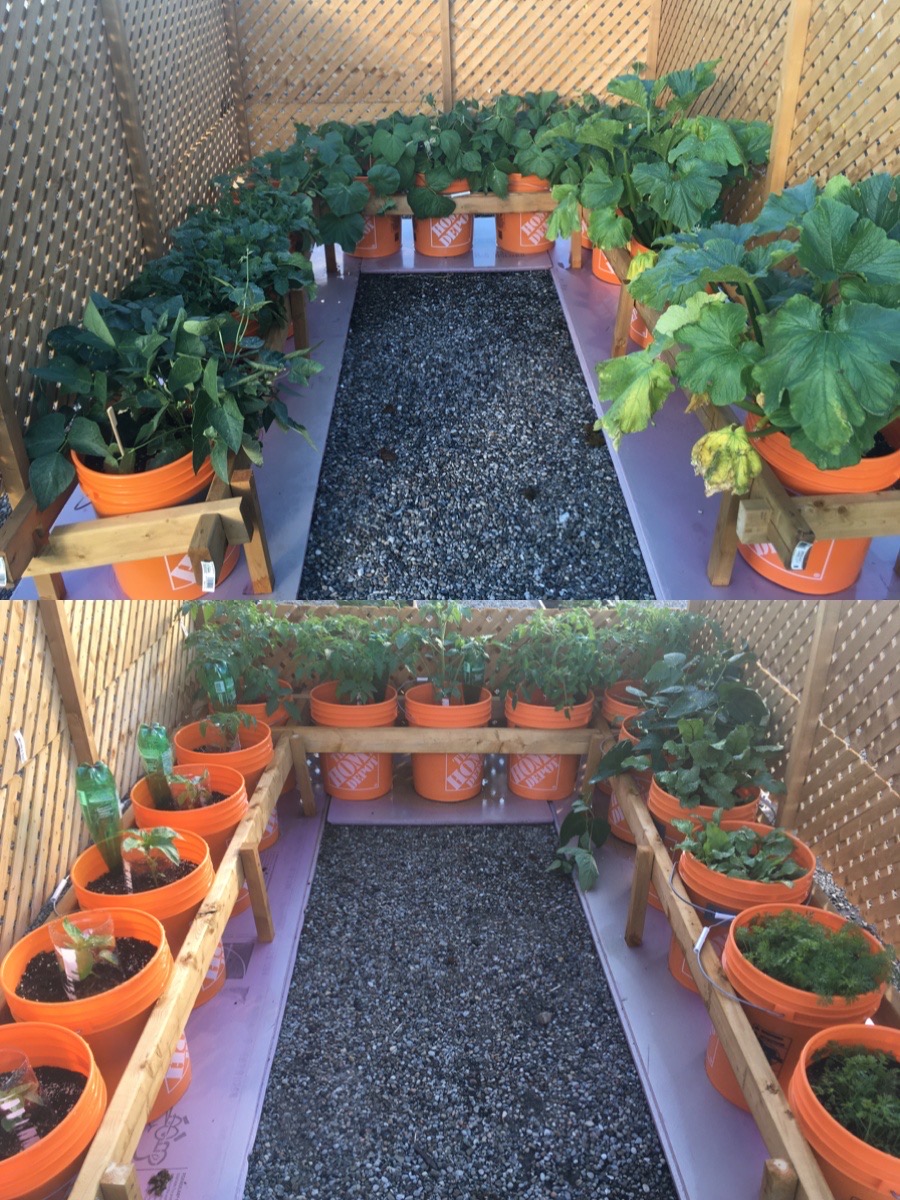 I spent my summer fostering a pair of ducks (you caught a glimpse of them if you get my newsletters) that took up the vast majority of my time and energy. They came to me by way of trying to find a cat to foster and realizing the whole city was booked up. I absolutely fell in love with these two and will literally talk you to death if you ask me about ducks now (and show you all 4 thousand photos I took of them in the 9 weeks they spent with me) No seriously, lets talk about my ducks.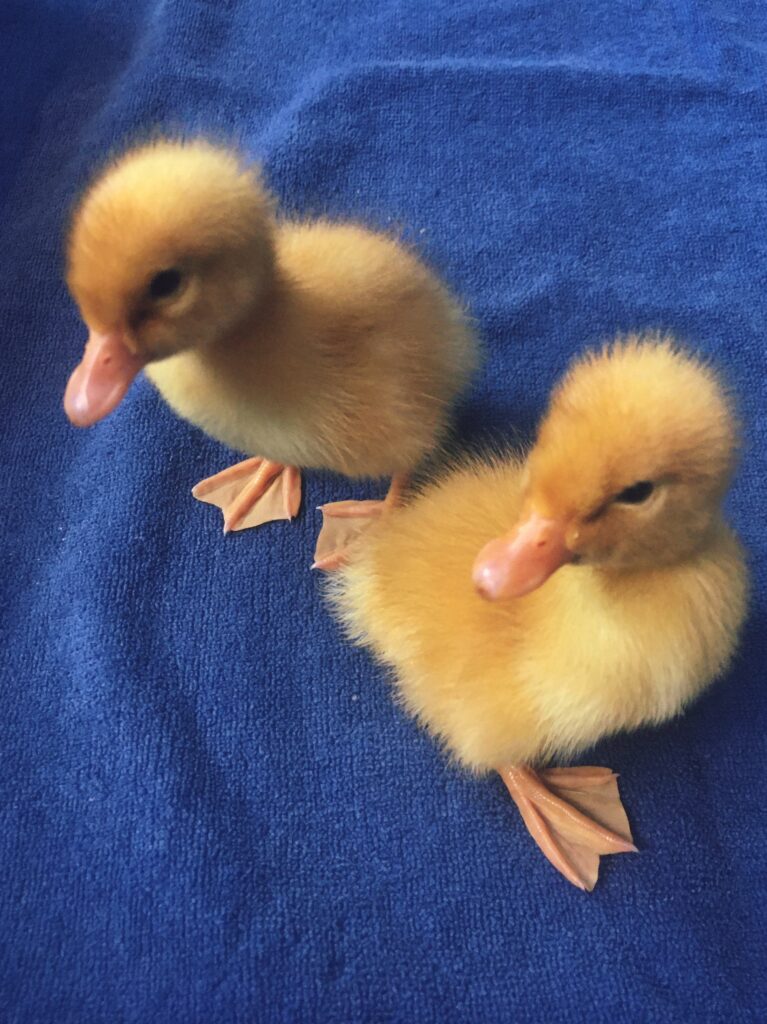 And circling back around to that mental health thing, I've been slipping further and further into a disconnect from my body/sexuality over the last two years. I thought maybe I was turning that around at the beginning of the year but the pandemic and everything that came with it jammed a stick in my spokes.
Once the fall hit and things calmed down at home, the duckies went to their forever farm, my vegetable garden came to a close, I cleaned my disaster of a living space up a bit, and settled in to write a little more than I have in the past. I posted what amounts to basically a great big rant about what a bitch my body can be most of the time – not terribly useful in any way but a bit cathartic to get it all out I guess. I started on a short(ish) series Help! I'm Kinky? for addressing some of the most frequent questions I see newbie kinksters fretting over. I added an anonymous question box to my site where readers can confidentially inquire about things they might not want to sign their name onto. And I also tackled a small handful of reviews because I couldn't let my blog go completely dormant. A mailing mix-up with one of them has created a path for me to host my first blog giveaway after the Christmas holiday, so stay tuned in for that!
My biggest self-soothing method is probably retail therapy and I did a whole lot of that. I intended all year to write a couple reviews for stuff I personally bought but just never got around to it. We're gonna get into a little of that here.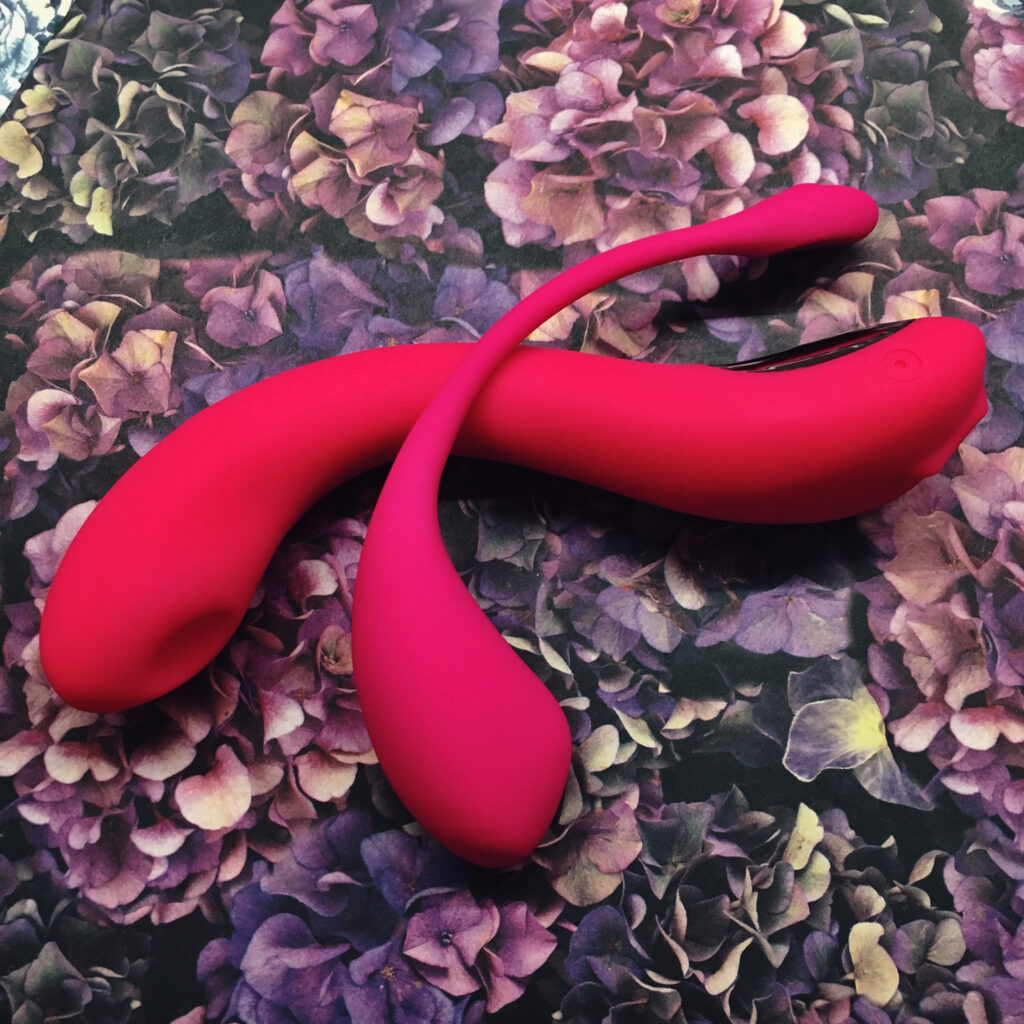 Starting off with an old flame – Lovense found their way to the top of my list for bluetooth app/remote controlled toys a few years ago, and still remain there today. My two favorites are the Lush and the Osci. I upgraded to the newest version of the Lush late last year. A lot of "egg" type insertables are plain symmetrical ovals but the Lush has a more pronounced bump on the top that helps it actually reach and put pressure on my tucked-away G-spot. The upgraded version improved the antennae, motor size, and battery life. I love the Lush for an easy hands-free internal vibe. The Osci I use less often but it still has a place in my line-up. The thumping feeling it delivers is a specific kind of intense I sometimes crave. The only reason I don't use it more often is because I usually prefer dildos to a vibe when I want an insertable at all, but when the occasion arises that I'm looking for an intense G-spot agitation (I know it doesn't sound sexy, but a straight-up assault is the only thing my G-spot responds to) the Osci delivers. And as always, I massively prefer Lovense's app interface to others, it has so much more functionality and feels very intuitive to me.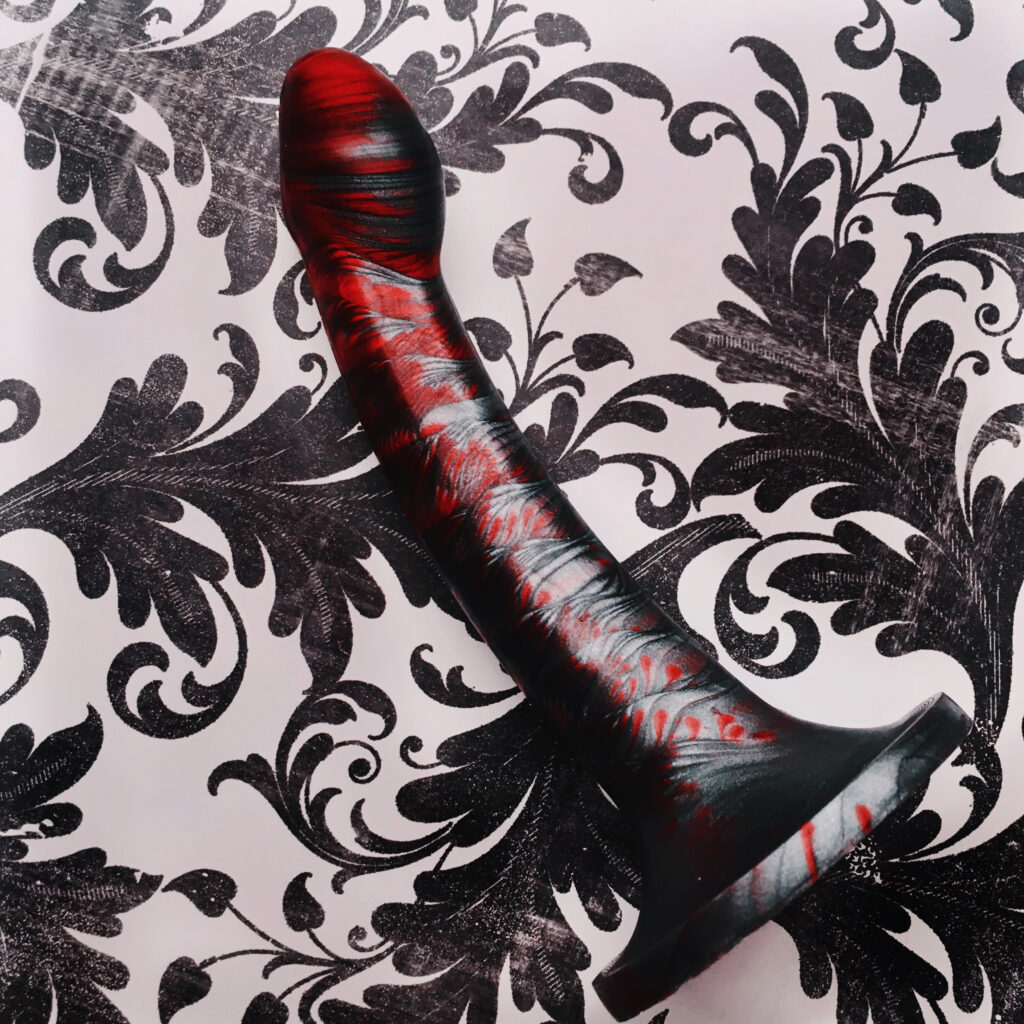 A new fling for me this year was Amavidi – specifically the Strupala in super soft silicone. I don't even remember how I stumbled on them but I'm so glad I did! I'm always on the hunt for the perfect soft and small-ish dildo with minimal detail. The Strupala shape is an absolute dream of being smooth while not utterly void of imagination, not too small but not too cumbersome for when I really don't feel like putting in the work (most of the time) and I got to choose my shore strength (how soft the silicone is) so of course I picked the squishiest I could get – if you follow my instagram you've seen a photo of me bending it in half and squishing it in one hand. It doesn't hurt that it's a gorgeous marbled pour either. All around the Strupala is my new favorite – perfect in every way for my wants and needs. There's so many incredible indie designers coming out of the woodwork lately, but I think Amavidi might be one to watch.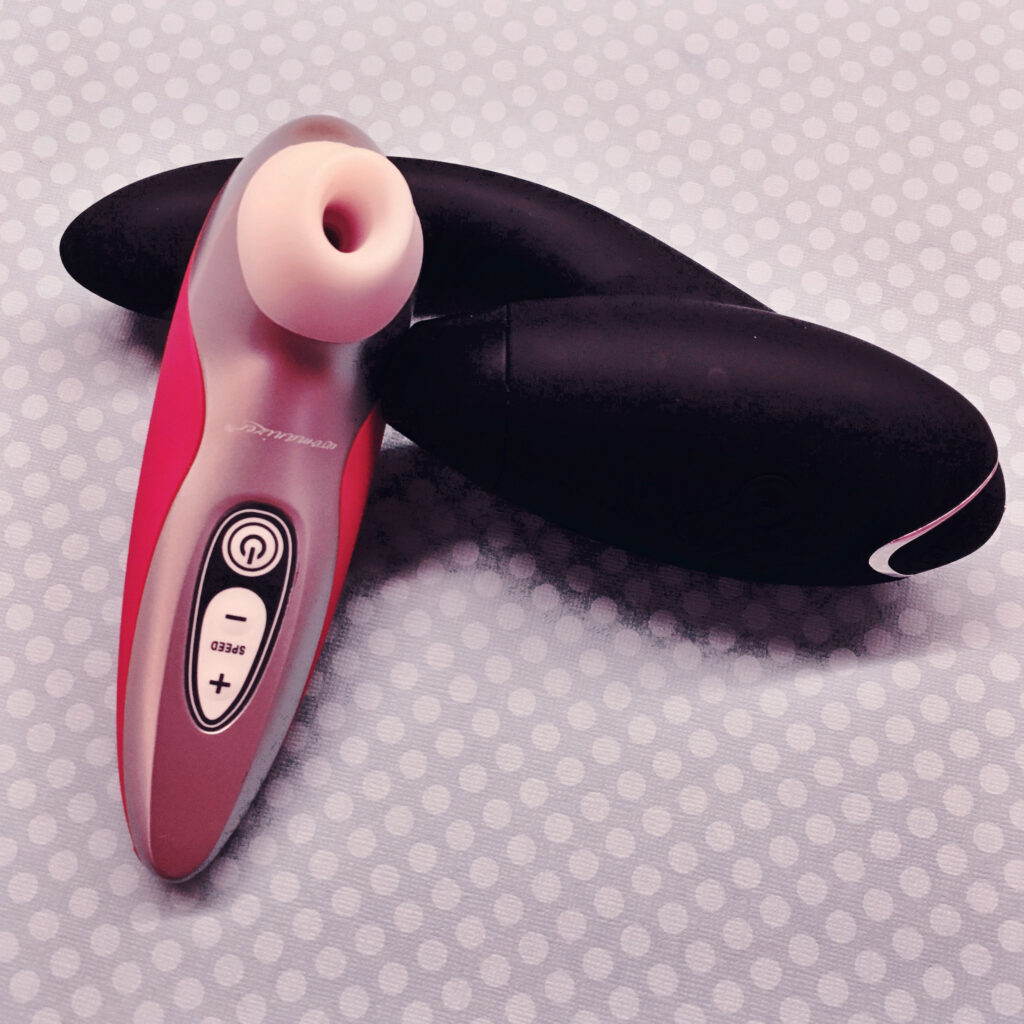 No post about all my favorites is complete without talking about Womanizer. Despite my reviews for all the other models that range anywhere from seething hatred to downright disappointment, two pieces from the Womanizer collection managed to steal my heart. The Pro40 and I got off to a rocky start but it gradually climbed it's way up the ladder and is now perched at the very top as my literal daily go-to sex toy. If I need an orgasm, the first thing I'd reach for is the Pro40. This one's the real MVP of the year – and all years since I've had it.
The Duo is also a delight, and a complete surprise for me as someone who was certain dual-stimulators would never be in the cards for. Most days are not an internal stimulation kind of day for me (most days I'm just trying to get off to get to bed) but when they are and when I'm considering my options of G-spot vibes, grabbing the Duo is a very high probability.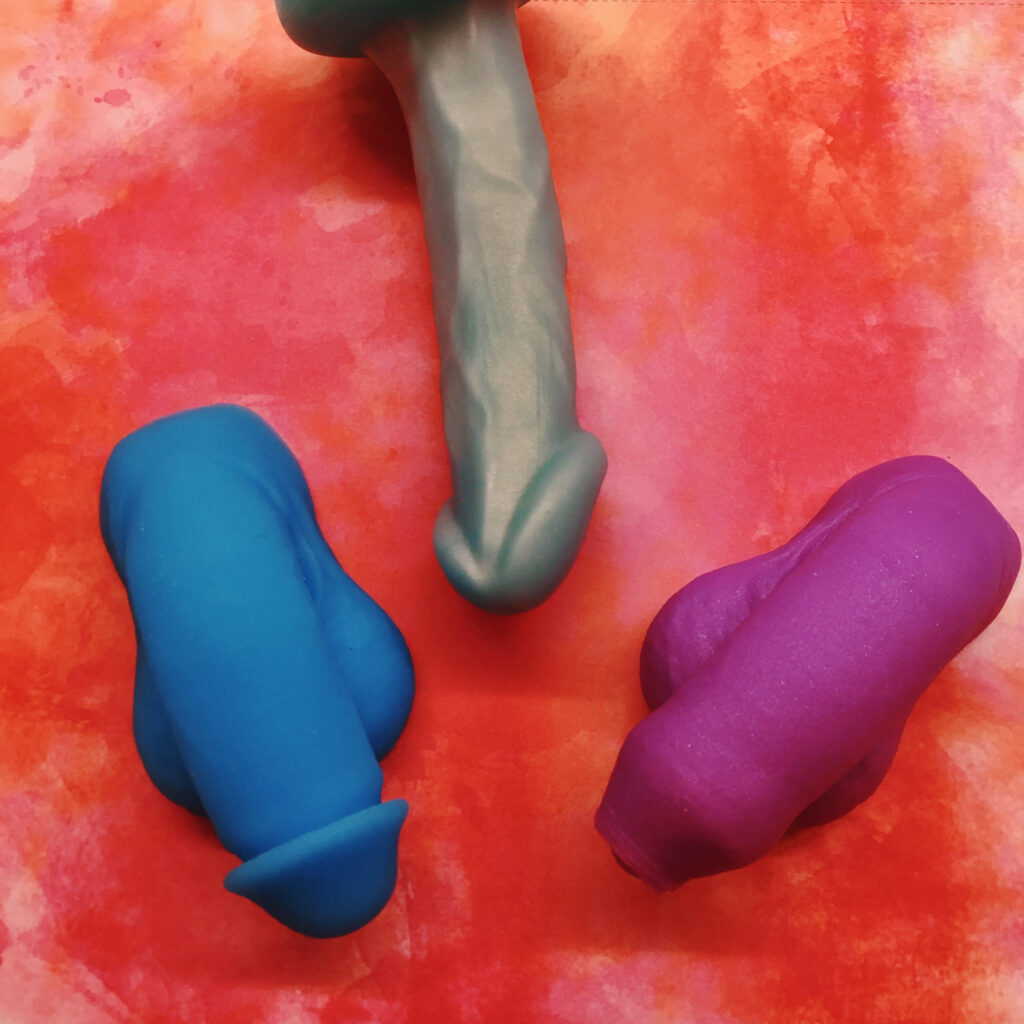 New York Toy Collective is another old flame for me, but such a worthy one! My collection started with the dual-density posable Shilo in a gorgeous pearlescent teal that sealed the deal for me a few years back, followed by discovering the sensual fuckability of the super squishy packer Archer, and the latest edition Pierre added late last year. NYTC ticks all the boxes for me, from gorgeous designs, beautiful colors, lovely texture and most importantly the squish. The problem with already owning all the models I want is that they came out with these incredible two new colors – rose gold and midnight purple – that are to die for and I'm considering making duplicate purchases just to have them.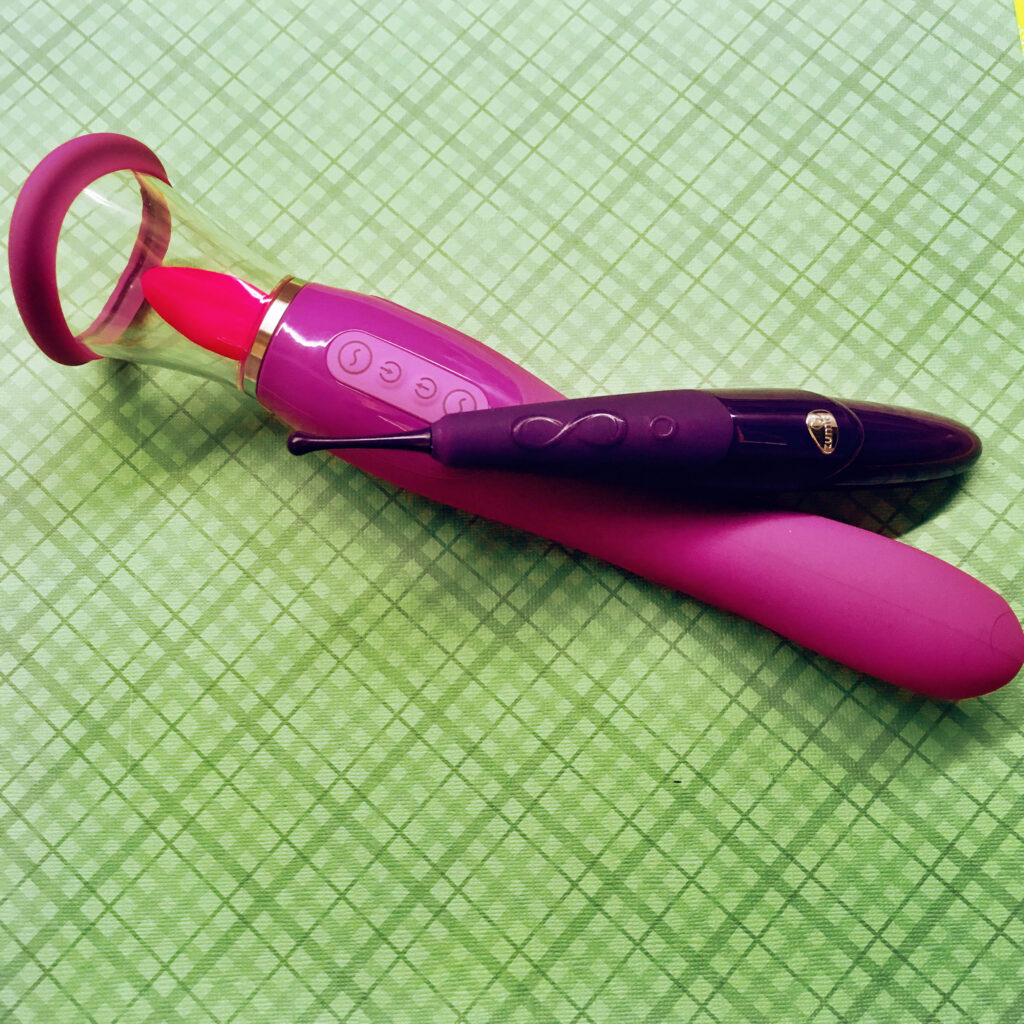 The Zumio is one I haven't been very vocal about. I won it in a competition and never gave it a proper review, but it rests among my bedside faves. In the event of my Pro40 battery dying or when my body is just not cooperating and I need a different kind of stimulation, the super pin-point oscillations of the Zumio can sometimes be just what I need to send me over the edge. It's a little tricky for me to use all the time as finding the exact right spot to place that itty bitty nub can be tough, but when I get it right, it's very very right.
The Fantasy For Her Ultimate Pleasure Dual Oral Sex Simulator and Vibrator is still a name that infuriates me to type, but I don't completely regret requesting the thing for review from Shevibe late last year. This weird-ass contraption definitely doesn't make it into my regular repertoire but I didn't toss it into the 'never again box' once I was finished reviewing it either. The majority of my masturbation is rather utilitarian and I'm not the biggest fan of the warm-up and that's what this toy is really for, in my mind. I think if I were in a better place with my body and actually felt more sexual, more open to warm-up, exploration, jacking off for the sake of pleasure and not more to alleviate a cramp, headache, or get to sleep, then this toy would be making the rounds more often because I did actually enjoy it when I reviewed it. I keep it charged up and nearby just in case the mood strikes.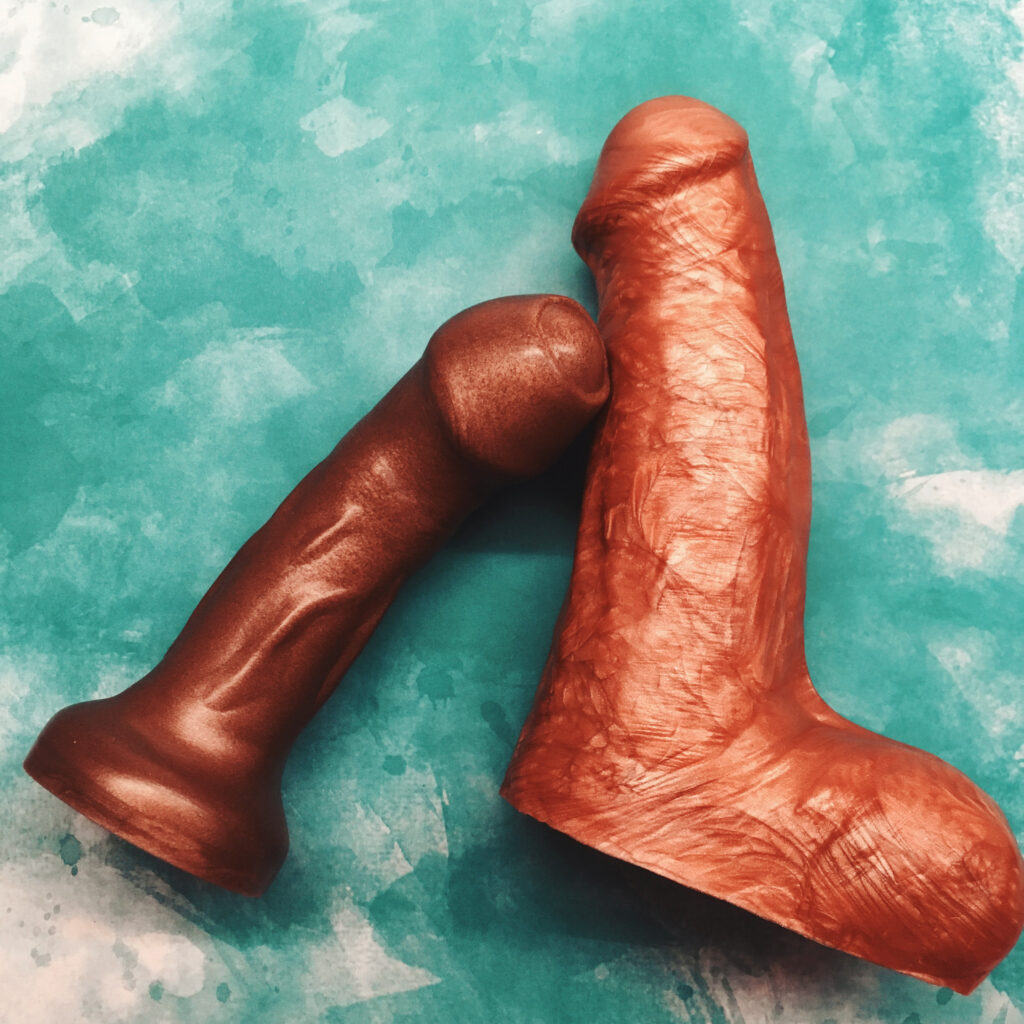 The great new stand-out for me this year has been Uberrime. We had a false-start with the Sensi vaginal plug when my insides rejected it and I just couldn't get the shape to comfortably fit, but I took a chance and ordered the Dulce and that made up for all my disappointment (the Sensi is actually really great and by all accounts I should have loved it, it just doesn't fit me and I don't know exactly why.) The Dulce is a realistic-ish uncut design. It's a little firmer and the head is a little bigger than I would usually prefer but I make it work when I want to. The Dulce was very likely my most-used dildo of 2020. It's not huge but still manages a lovely full feeling, and the foreskin helps keep the shape of the coronal ridge from "catching" and dragging on the out-stroke which can often be too irritating for me.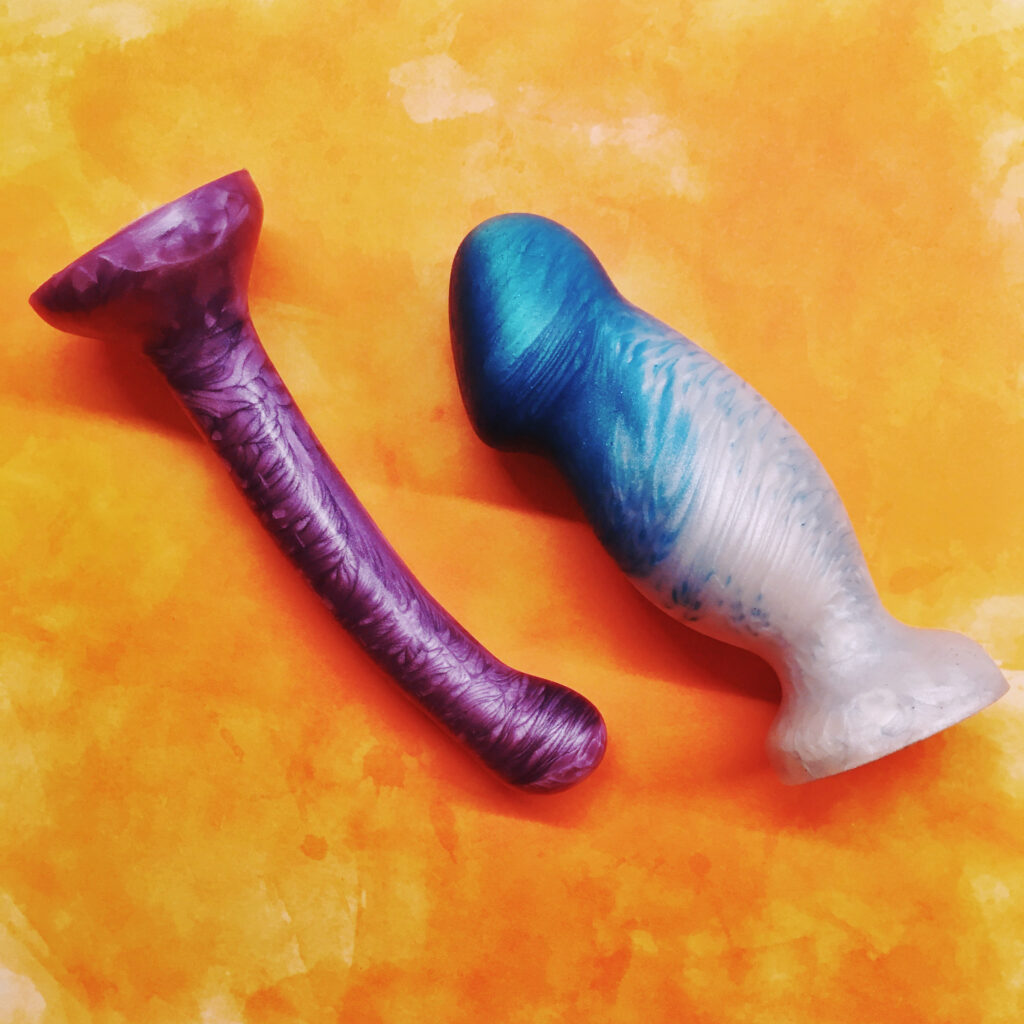 Just a few weeks ago I picked up another two toys in the Black Friday buzz – The Uberous (the giant one paired with the Dulce) and the Minima Model C (seen above with the Sensi.) They may seem absurd paired together but I promise I knew what I was doing. Sort of. I definitely wanted a very small insertable that I could use with literally no warm-up or hassle because sometimes I really just want to feel something internally without having to work for it. The smooth minimal shape of the toys in the Minima collection are just perfect. The Uberous on the other hand…it was just so pretty. Even though I selected the small size, I knew it was going to still be too big. Hope and lust took over my credit card though, I couldn't let something so sexy go un-bought. Turns out with an enormous amount of lube and patience I can take about half of it, which is a half more than I initially expected when I unwrapped it and saw just exactly how big it was. Admit it, you would have done the same thing if you were me.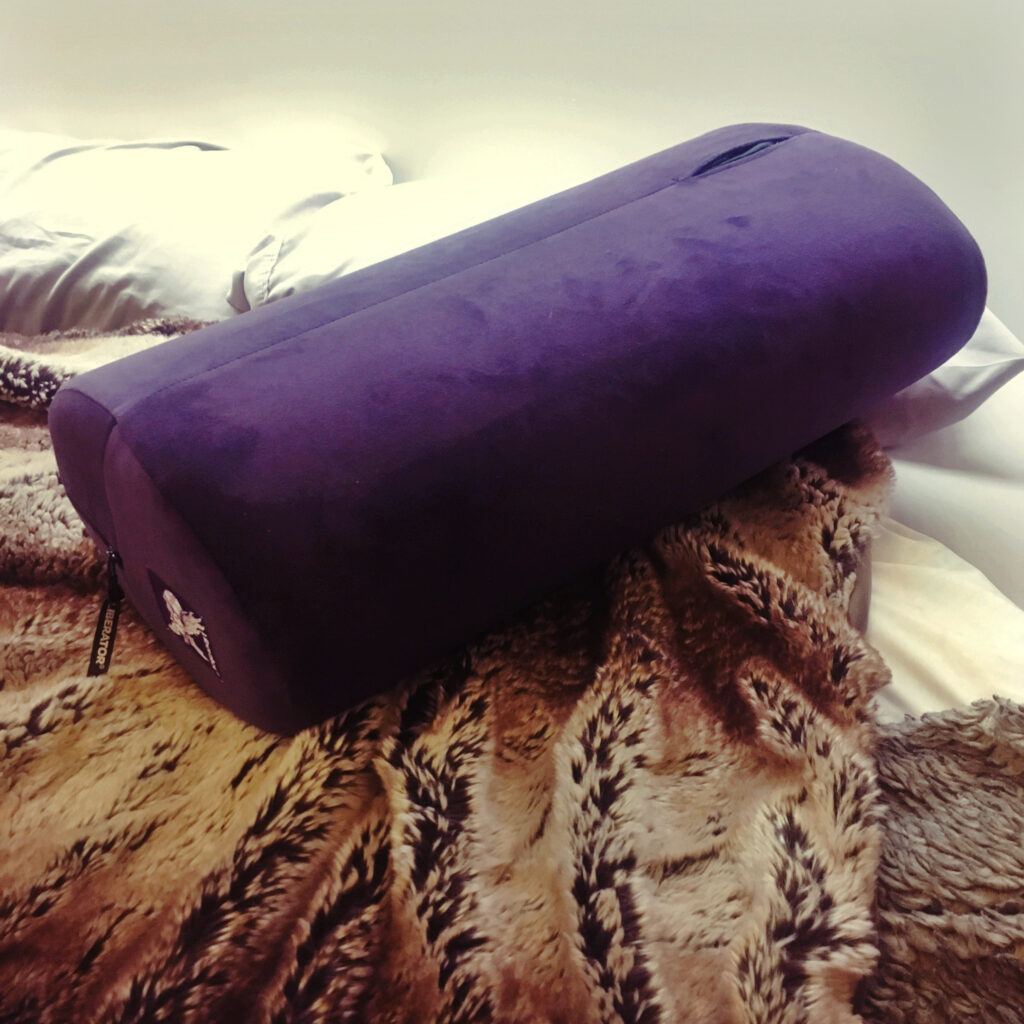 The final item in my year-end roundup is the Liberator Wing. I picked up the Pulse second-hand from another blogger a few years back when I was undecided about getting one of the toy-mounts. The Pulse is alright but the shape doesn't really work for my size – the toy slot is in the concave slope of the shape to allow for a "riding" rocking motion but the front of the pillow blocks clit access which is necessary for me. I decided to go for something simpler with the Wing – all I needed was something to hold onto the dildo for me and the Wing does that.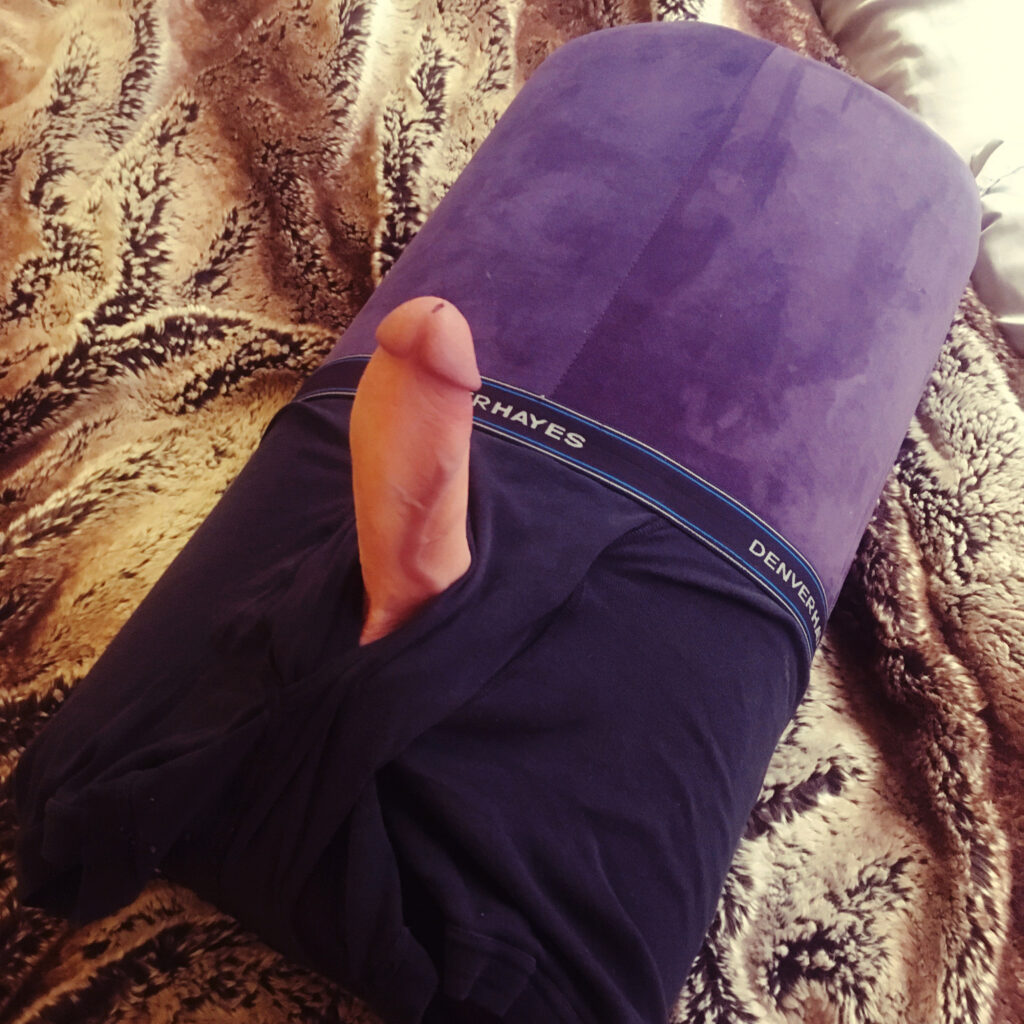 Except for when the toy is too big to fit in the pillow's toy slot – then I have to get creative. It turns out a pair of briefs works fairly well as a dildo harness for large bases. This would probably work for a number of other pillows too if you don't have a Wing. A regular strap-on harness would probably also work except that I have a handful of dildos that are too big or the harness's O-rings as well.
It's been a tough year to find pleasure in mostly anything, but the items in this list have really stepped up for me. Feel free to chime in with what got you through the year that both went too quickly and also took for-fucking-ever to end (what even happened to time?)