Toy Review – The Tantus Rumble
As someone who has been a fan of Tantus before even starting my blog, you could say I was over the moon in April (2016) when I heard that they were making their own vibrator – and a wand no less! As I saw more and more of the ads and newsletters being distributed prior to release I felt my hopes building and building. Unfortunately, that's not often a good sign for me, I am admittedly quite difficult to please – as evidenced by my blog having more reviews on the spectrum of "meh" to "I fucking hate this" than praise. Still, my anticipation for the release persisted. This wasn't helped by Tantus using material that gave the impression that their wand was going to be even better than tried and true favorites like the Hitachi, promising something to please every body, and with a name like Rumble I, and many others, were left expecting a brand new powerhouse of a toy.
For some people the idea of an even stronger vibrator than the Hitachi is enough to send them running for the hills. I on the other hand, not often but still sometimes find myself craving more power, even on the Magic Wand's highest setting, so I was completely ready for a product that could deliver.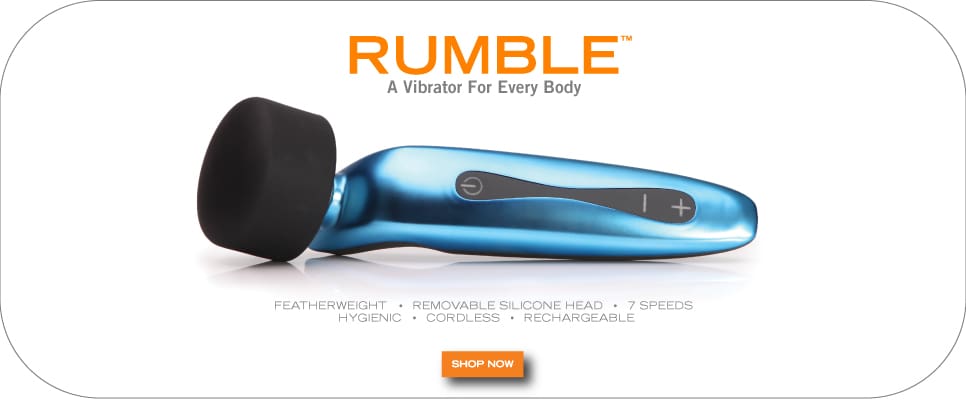 I waffled over whether or not to contribute to Tantus' crowdfunding campaign that the Rumble was launched on, having recently dumped money into toys that didn't really satisfy me, I was afraid to waste any more. Many many times I found myself staring at the page though, searching through how many purchases at each tier were still available and weighing my options.
Then, the early reviews started to trickle in, and I realized I'd made the right decision to wait. I wasn't alone in misinterpreting the marketing material, one of which releases boasted "The Rumble has a quiet, powerful and rumbly motor which gives it a deep vibration that is so compelling for your personal massager." (emphasis mine) – apparently a lot of people thought they'd be shoving something with the strength of all the Magic Wands in the world into their pants and were finding themselves experiencing quite a surprise with what they actually received for testing. Soon after these questions began to arise, Tantus sent out an email explaining that maybe they hadn't communicated as clearly as they'd hoped, and that they in fact had not intended to make people think their new wand was stronger, or even as strong as other vibrators on the market – they'd only meant to convey that it was a new concept. The product page now classifies the Rumble's power as  "mid range."
This is of course a fair mistake, writing ads is no simple feat, especially if you're personally very hyped about the product (which the people developing it understandably would be) and really want it to move well. The apology was early and sincere, and Tantus moved quickly to create new, clearer ad material. The issue was, I had already set the bar for what I expected from the Rumble and even with this new information, I still couldn't just forget that I wanted – and thought I was getting – the strongest, rumbliest, most intense wand there is. I was equal parts relieved for my wallet and saddened for my genitals (even though I knew it wouldn't work for me) that I had not taken the plunge to purchase one.
Fast forward to Woodhull last year, where our goodie bags for the blogger party included the Rumble, then fast forward even further to this winter when Tantus agreed to send me the full set of attachments to complete my review, and here we are! So what's my full opinion on the whole bundle?
I'd already tried and formed my opinion of the basic Rumble shortly after tearing into the box in my hotel room the night I got it, but I still held out hope that one of the other attachments would somehow change things for me. For other people, a new shape or size massively alters their ability to enjoy a toy, but I'm not that lucky. It doesn't seem to matter how I use the Rumble, or with which attachment, it's never going to be strong enough for me.
I do think the Rumble has potential, just…for someone else. 
By itself the Rumble is the wand body and one plain silicone cap – pretty standard for wands. The Rumble is cordless – thank the gods – USB rechargeable, and holds a charge for roughly 4 and a half hours. The Rumble is considerably smaller and lighter than any other wand I've ever personally witnessed, which is a huge advantage for some people. For comparison – The Hitachi Magic Wand Rechargeable is about 13" long and weighs 1.3 lbs. The Doxy Original is also 13" long and weighs slightly less at 1.25lbs. The Rumble beats both of those by only being 8.5" in length and just half a pound. Not only is it easier to hold, but it's easier to store and travel with. I almost never bring my Magic Wand on trips with me because it's just so cumbersome, especially when I'm pressed for room in my suitcase or trying to stay under a weight limit.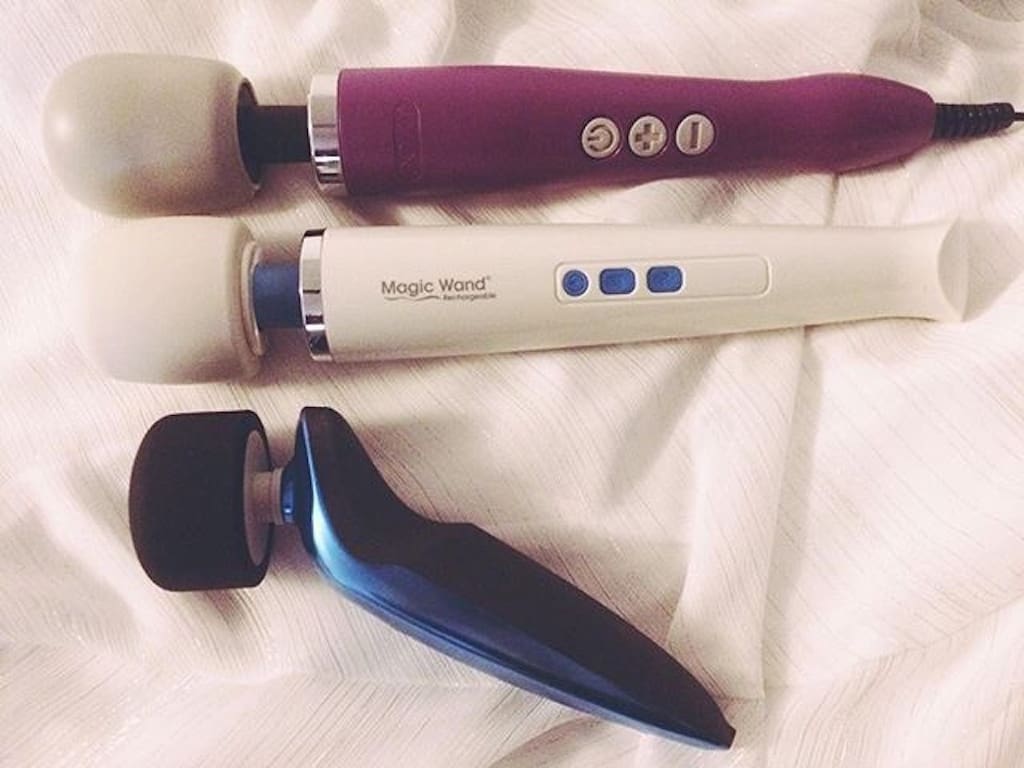 The shape of the handle and button placement can also be seen as major plus sides for some. As someone who pushes buttons with my thumb, I consider the body of the toy to be fantastic – however if you have difficulty with using your thumbs to control the buttons it may not be your favorite design, since it's pretty hard to comfortably orient the wand in any other direction. I'm also thrilled that the power button is entirely separate the intensity controls, and they operate in an up and down manner instead of forcing me to cycle all the way through its seven settings.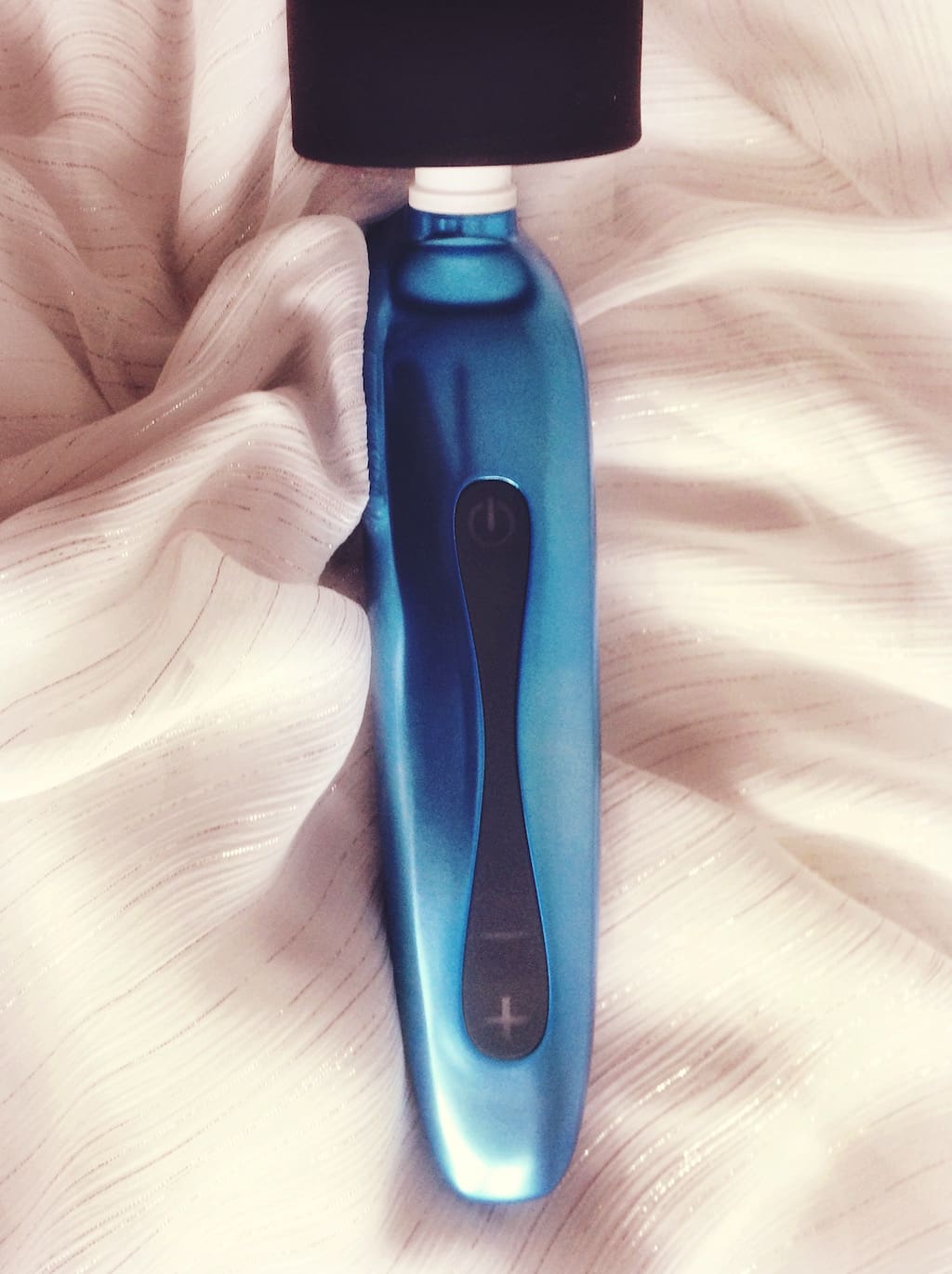 The apparent downside to such a lightweight design is that the vibrations travel through the handle. I don't have any pain or grip issues in my hands, and I still find this annoying, so I can only imagine what someone who does have those issues might experience with this thing buzzing around in their hands. I've heard from a few people with arthritis that any object that buzzes that way (sex toys, power tools, whatever) are difficult to hold.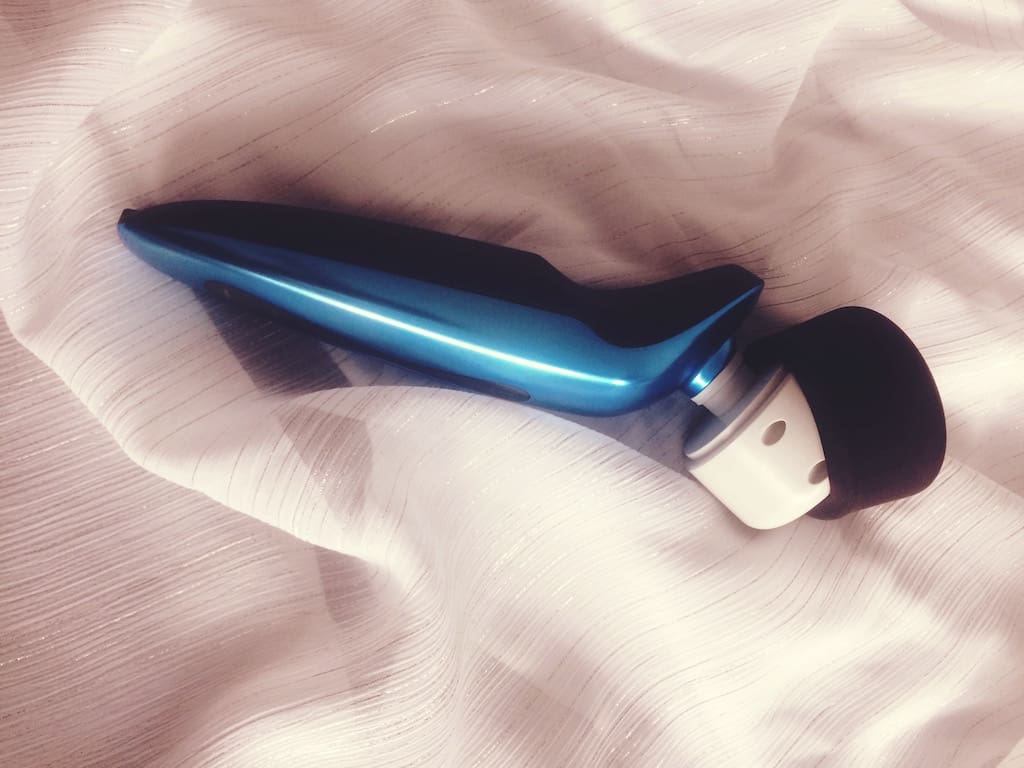 Tantus got EVERYTHING right by designing the Rumble's attachments to be a series of removable silicone caps, instead of a permanent silicone head. I cringe the entire time I'm washing my Hitachi, terrified that I'm going to get water inside it and ruin it, so being able to just pop the dirty attachment off and toss it in the sink without ever posing any risk to the mechanics of the toy is so hugely important to me. It also means that all the attachments can actually be easily sanitized – I haven't had to yet but I'm not really sure how I'd manage to sanitize my Magic Wand head. Carefully stand it up in a jar of bleach? The silicone wraps under the head and into where the head joins the body so a part of it will just never get fully clean. So many companies make a dozen copycats of already existing toys, or implement "new innovative features and upgrades" to existing products that nobody ever really wanted or asked for – Tantus' design is an actual game changer, which makes it that more disappointing that I can't use it.
Even if I could put these attachments on a stronger wand (which to my knowledge I cannot do, they only fit the Rumble) I still would have a hard time loving them, sadly. The "Spoon Head"  meant for internal stimulation is shaped in a way that I totally expected to work, but somehow just doesn't. My complaints for other g-spot wand caps are usually that they are too long, which means I'm vibrating my cervix if I try to also take advantage of the wand head on my clit, or I have to use the wand for an internal vibrator and a second vibrator for my clit – neither of these things are my ideal sex toy situation. I thought the shortness of the Rumble cap meant that I could finally have one toy do all the things, but it still has a fatal flaw – my g-spot is tucked up high behind my pubic bone, and the attachment is barely curved. To get the amount of contact – the amount of pressure – I need on my g-spot with the Rumble means that I have to tilt the toy away from my body to angle the end of the attachment upwards, and then I lose contact between the head and my clit. Problem not solved.
I honestly…just…don't…know…what to do with the "Dorado" flutter attachment. It's not like it actually flicks side to side over your clit, it's just this thin kinda sharp fin of silicone that…you put somewhere but I couldn't figure out where. I can't enjoy it, I just don't seem to know how. I tried to get imaginative with it but nothing I did was pleasurable. I can just lay it flat over my vulva but that is 100% not how I orgasm. Ever. With anything.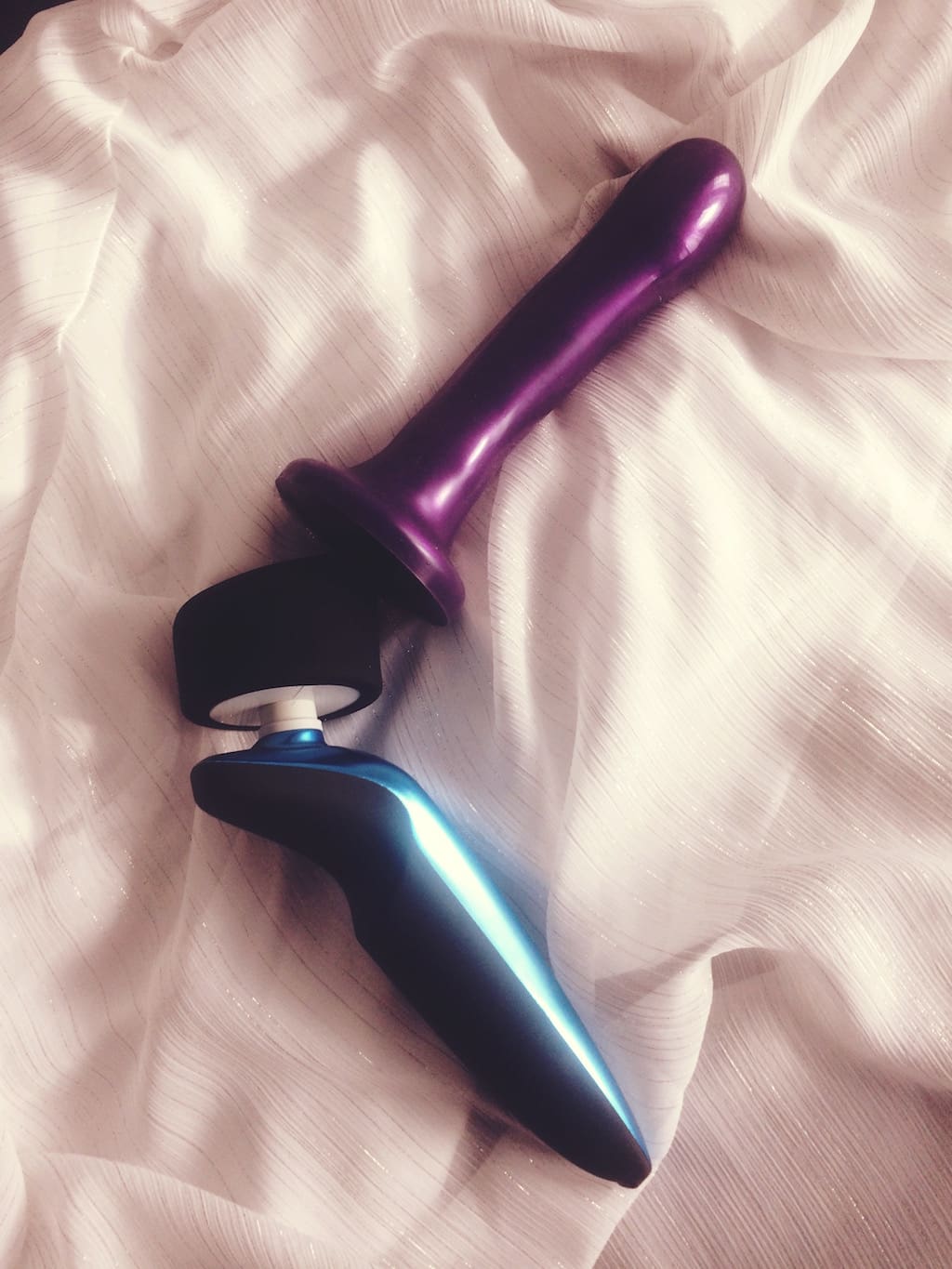 Lastly there is the dildo attachment, which let's you swap out the bullets in your Tantus dildos for the Rumble, but if we're being honest I can barely tell the difference between the two vibrations. Big thick solid chunks of silicone aren't the best conduit for intense vibrations to start with (compared to hard plastics or metal) but when you factor in that the Rumble isn't that strong to begin with, I can't help but call what you get out of this combination weak. Too weak to even call it buzzy. It just makes me sad. I can't feel it. It's also a bit hard to hold if you're using a particularly long dildo that you cannot insert fully, which is often the case with me. I found that the handle is just too far away from where I need it to be in order to relax into a comfortable position where I'm not straining and reaching.
I realize that Tantus' continuous use of the phrase "for every body" is meant to signal to people who fall outside the thin-able-mostly female audience that vibrators are typically marketed towards, that this vibrator is different, that they have made significant changes to allow the toy to be more accessible and inclusive, and of course this company values you too, but unfortunately there will never be a single toy that is truly 100% ideal for every person. Despite all of it's other advancements and updsides, if you're any shape, size, or kind of person who is also a total power-hog like me, then the Rumble may still not be for you. If however, mid-range vibrations are totally your jam, and especially if you were put off by other similar toys because of their shape, weight, or the way they company chose to market them to someone who was not you, then the Rumble has the potential to be right up your alley.
Big thanks to Tantus for sending me the Rumble for review.
*As of 9/3/18 I have removed myself from the Tantus affiliate program and stripped my affiliate links from them out of my blog posts. Unless significant changes are made throughout the entire company I cannot in good conscience support Tantus as the company does not appear to truly hold the values they claim. My opinions of the products themselves remain the same, so if you'd like to make a (more) ethical purchase of these items for yourself I'd suggest one of my other affiliates that carry their products. 
SheVibe   Luvoqa   Peepshow Toys   Vibrant
Tantus Rumble TL;dr