Toy Review – The 7″ Pro Silicone Suction Cup Dildo by Cloud9
Suction cup-based dildos. It seemed like a good idea at the time…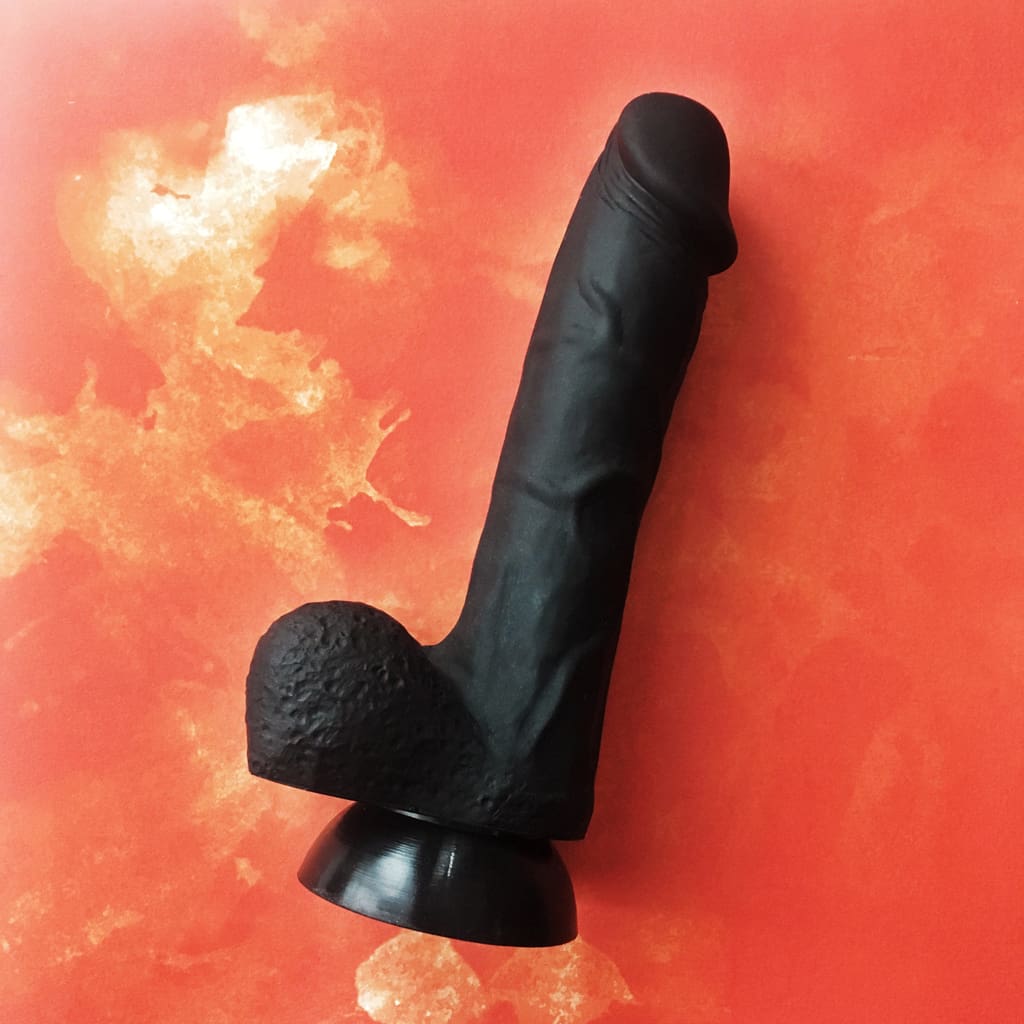 A few months back I saw Early To Bed posting about these 100% silicone dildos that were only twenty-five dollars! Affordable body-safe toys are a big deal to myself and many others in the sex-positive community, so seeing something so cheap that appeared to have great potential (and from a retailer I love to support, as an added bonus) was really exciting. I expressed my delight as a response to their posts and Searah asked me if I wanted to review one. I said absolutely!
**Early To Bed has stopped stocking this item – Purchase links have been changed to a retailer who still does**
**The manufacturer Cloud9 makes a whole bunch of stuff in lots of questionable materials and I'm seeing most of it sold over the internet through places like eBay and Amazon, but I'm sure you can find it at in-person retailers as well, so I want to note right away that this review is strictly only endorsing this particular silicone toy and no others/not the manufacturer on a whole. I also really don't recommend trying to find sex toys on eBay and Amazon because the material labeling is far less likely to be correct than if you shop with one of the retailers I recommend on my homepage and/or in my reviews of the items themselves. I'm going to refer to this toy as "the Cloud9" throughout the rest of this review because "the 7 inch Pro silicone suction-cup dildo" is a handful, and I probably wont find myself with many, if any, other Cloud9 products in the future to cause confusion – so just know that I am only talking about this specific dildo and not any other dildos that the company Cloud9 makes. (This dildo comes in two lengths so if you'd prefer the 9″ over the 7″ then that's obviously fine)**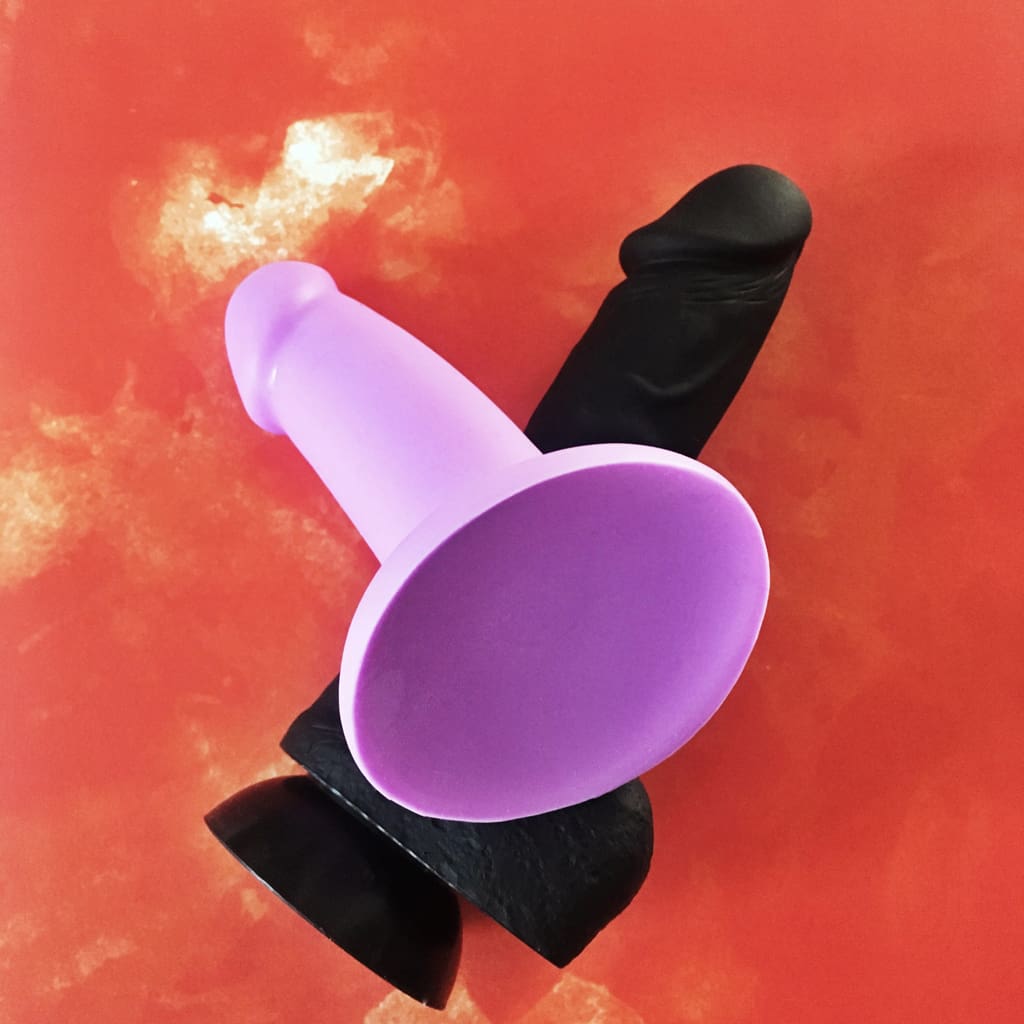 I had a lot of ideas of how I was going to use the Cloud9 when it arrived. I only have one other dildo that could be considered a "suction based dildo"…but not really. It doesn't have a distinct cup on the base and it kind of sort of only works about half the time. I don't think it was actually intended to be a suction-base, I think that the shape is just slightly conducive to using that way…sometimes…so I'd hardly ever tried using that way. In my head I had been presented with a whole swath of new ways and places to use a dildo with the arrival of the Cloud9.
The reality turned out to be so much different. Obviously my first thought for suctionable surfaces was the bathtub. One evening alone I decided to give it a try, so I drew myself a full bath and plunged the freshly washed Cloud9 into the water and stuck it smack-dab in the middle of the bathtub floor – for safe keeping. I then went to gather up all my other bath accessories (drink, phone, towel, ipad) and got myself ready to settle in for a few hours. I stepped into the tub and pulled on the dildo to dislodge it…and pulled some more….and yanked….
The dildo wouldn't budge. I decided to try peeling the edges of the cup up to release the suction, but found that I could not! I was on the verge of bending my fingernails backwards trying to free this dildo from my bathtub. Of course I had to go and plop it right in the middle of where I needed to sit (but not where I could comfortably sit down and use the dildo) so I really needed it to move. Not wanting to completely drain my freshly drawn bath, I stood on one end of the tub, shaft gripped in one hand, balls in the other, and yanked horizontally towards myself, managing to slide the dildo to the foot of the bath (and almost fall out, myself) Turns out, the best way to get really good suction is to do so underwater. Now I know better.
Because I didn't get a chance to try the Cloud9 out that night, I took it back into the shower with me at a later date. In my head, I imagined sticking it to the head of the tub and either lying on my back with my feet in the air or getting on hands and knees and backing myself up onto it. Neither of these positions are actually something I made work, however. The tub shape slants backwards so to do the first position, I would need a much, much, almost comically longer dildo to be able to angle it and reach it properly. The all-fours position presents the same problem but not so much because of the tub shape – no – because I have legs.
When you get on all fours, everything below your knees has to have someplace to go! In my mind I saw myself bending my knees and tucking my heels up to my butt, but not only is this actually far more difficult than I imagined, it's really hard on your knees. This wasn't happening.
So I did what most people probably do and stood up, suctioned the dildo to the tile shower wall, and bent over.
That's when I learned that I have no idea how tall my genitals are. The dildo was not in the right place. I repositioned and tried it again, but still got it wrong. I bent forward, shoved the dildo inside of me, and backed my ass up until the base touched the wall, then with my hand holding it in place, scooted myself off the dildo, turned around, adjusted the dildo so the balls weren't sticking up sideways, and then reapplied it to the tile. I then turned back around, bent forward again, and tip-toed myself back up onto the dildo. If your shower is particularly tiny or you're prone to slip-and-falls…this seems like a less than ideal situation, but I think this is how you're actually supposed to do it?
The other big problem with playing with insertables in the bath or shower, is that water is not a lubricant, water-based lubricants get washed away very quickly, and silicone-based lubricants may not be suitable for your silicone toys. While an oil-based lube would certainly do the trick, I'm also a bit wary of oils in my bath or shower, that seems like literally asking for a broken neck. I also don't currently have any oils on hand since my Sutil typically works just fine. I did manage to get a fuckton of water-based lube to work out for me, but I coudn't actually have my body in the stream of water so I was a bit chilly. I love the way water feels running over my body, I idealize the fuck out of the concept of shower sex, running water feels so sensual to me, so I'm always upset when I find it harder or impossible to use my toys in the bath or shower, especially when that seems like the perfect place for them.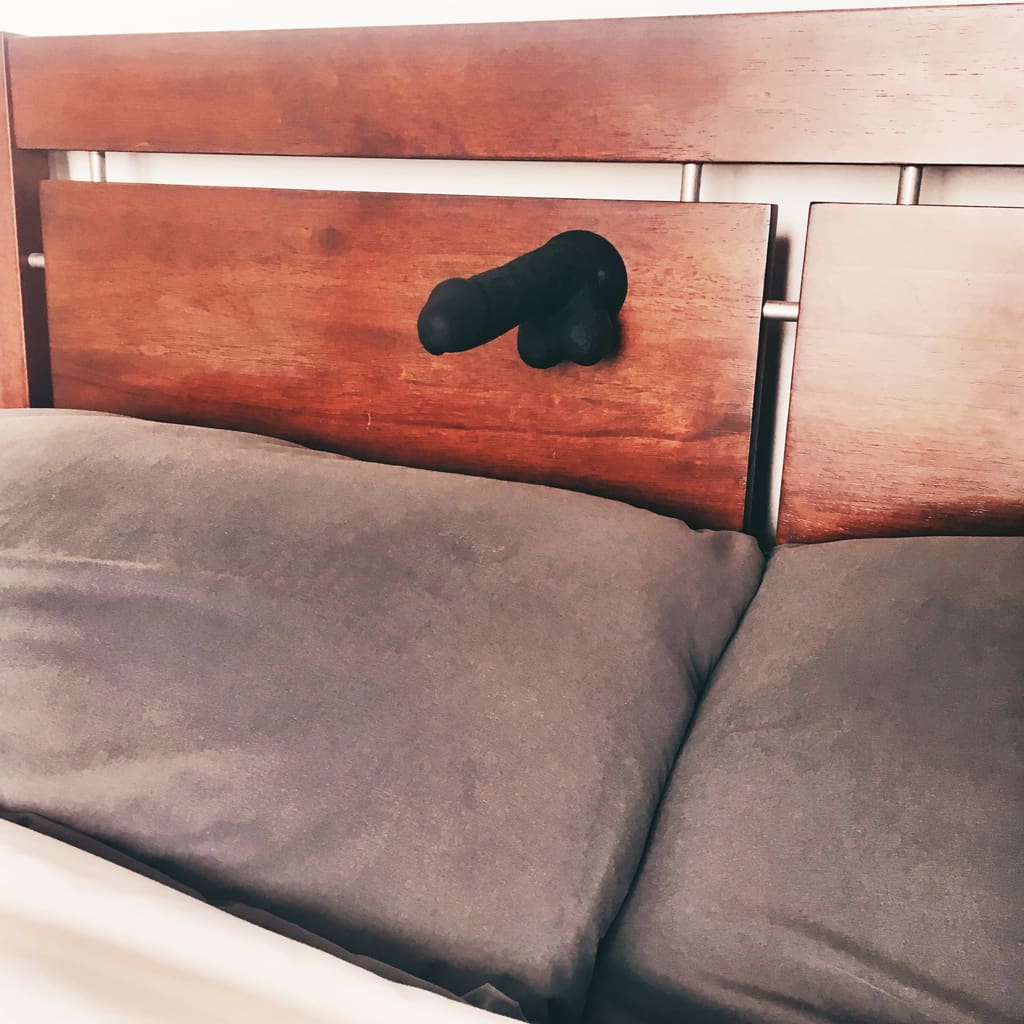 My other bright idea was to use my shiny solid wood headboard in the same way I had planned to use the side of the tub, but I ran into the same problems. If I'm on my back, the dildo is angled too far upwards and simply doesn't reach (it's also tough to wiggle your but up to your headboard with your legs in the air against the wall.) If I'm on all fours, my legs are in the way. The bed is considerably kinder to my knees but the heels-tucked-to-ass position is still not great.
I've seen people suction dildos to their tile floors, or place something suctionable on the floor to use, but like the bathtub, the hard surface can be hell on my knees, especially if I were to do any sort of enthusiastic bouncing.
Overall, the suction cup hasn't afforded me anything enjoyably special or particularly useful. I've seen people go absolutely ga-ga for suction-based dildos and where to find an affordable silicone one is a frequent consumer question, but I'm left trying to figure out why? Maybe I'm just not understanding how to best utilize the suction, but I am still trying!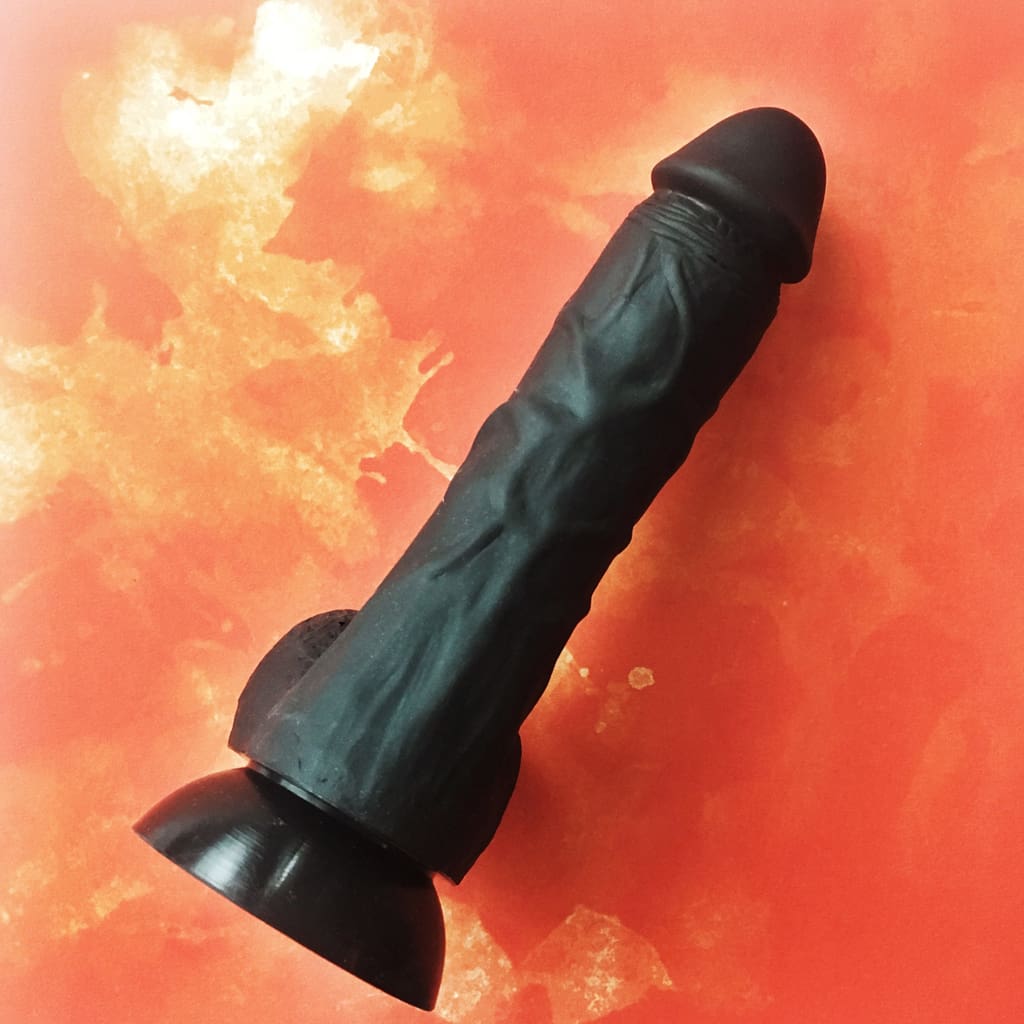 The dildo by itself was a pleasant surprise. I normally am not a big fan of very firm, very detailed, very textured dildos, they typically wind up causing me more pain than pleasure. This dildo is inexplicably an exception to my rule. Before attempting to use it in the bath I did give it a "dry run", fully expecting to hate the way it felt and find myself hurting, but that was not the case and I have absolutely no idea why. It ticks all the boxes for a toy I should want to throw in the trash, and yet I haven't. The Cloud9 is far and away from being one of my favorites, let's not get too carried away, but for twenty-five bucks it's a fuckin' steal. I know that a lot of people enjoy the complete opposite from me – they love firmness and loads of detail, and I've written at severe length about my love for soft and boring so I won't go into it again here. If that's your bag then this dildo may be right up your alley. I will complain a little bit that all that detailing of skin folds does make it a little tricky to clean up, I usually have to run my fingernail along each one to make sure no gunk gets trapped. That's an unavoidable consequence of that type of detailing so just be aware of that if you choose to buy one – it needs more than a half-assed rinse. A soft toothbrush would work just fine and I'd keep one around if this type of dildo design were something I encountered more often.
The suction base would also make the Cloud9 not very harness-compatible, but I've got oodles of dildos that would work just fine if the situation were to arise. If you're looking for One Dildo To Rule Them All and one of your requirements is strap-on-ability then this dildo may not be your best choice. The packaging also calls it a seven inch toy but the actual useable length from tip to front of the balls is more like six inches – not a huge deal, but still something to note. I'd assume the nine inch version is more like eight.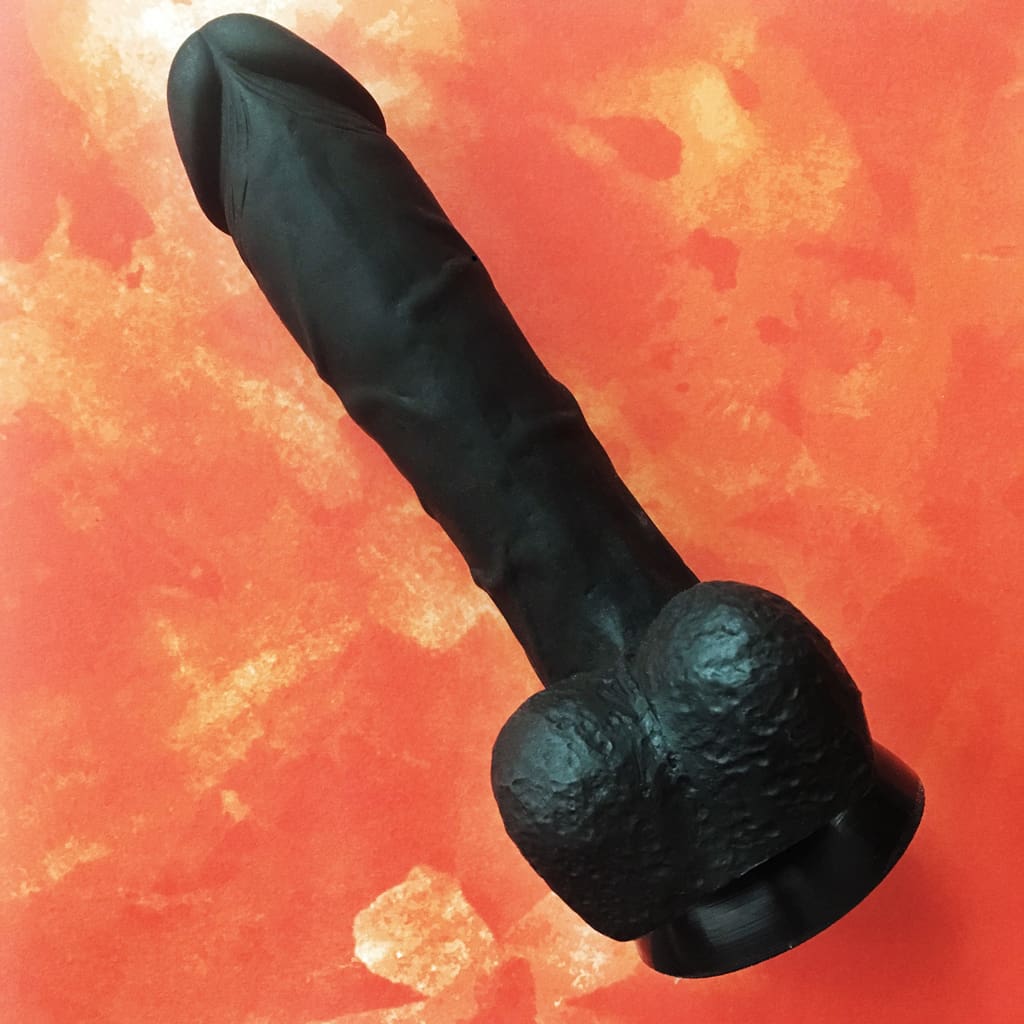 What I really just can't get away from though, is the price. I have an astonishingly small list of complaints for a toy whose entire cost is the same as just the shipping fees I've paid on some others. I'll probably spend twice as much just on my dinner tonight, I buy bras that cost three times that price and they wont even still fit me by the end of the year, I've got bottles of makeup that cost more and I don't use them because they don't work for my skin…the amount of things I've essentially thrown twenty-five dollars away on is huge, so being able to find a quality body-safe sex toy, that's going to last you a lifetime, for so cheap is such an amazing thing. Being able to say I don't hate this twenty-five dollar toy when the majority of the things I review (and review badly) are in the one-hundred-plus range is such a big deal.
The Cloud9 isn't going to be something I pull out for frequent use, but it's definitely still a keeper, and maybe I'll find a good place to stick it.
Big thanks to Early To Bed for sending me the Cloud 9 7″ Pro Silicone Suction Cup Dildo to review! You can purchase yours by clicking Here.
Cloud 9 &" Pro Silicone Suction Cup Dildo Tl;dr