Toy Review – The Admiral By PleasureWorks
It's tough for me to find dildos that I like, and even tougher for me to be excited about a dildo. I'm not a size queen by any stretch, and I try to stick to toys with a 1"-1.75" diameter. 1.75" is starting to push it for me, comfort wise, but for some reason this is where a lot of really interesting toys begin and they only go up from there. 1"-1.5" is perfect for when I don't feel like or don't have time for a ton of warm-up and just want to jump right into the business of putting things inside me, 1.75" is okay if I've got the time to spend on it but if I don't go slow enough it can get uncomfortable, 2" is my current max and once it's in I don't really move it because no matter how much lube and patience I have, it's just too damn big.
In addition to my size restrictions I'm also picky about looks. I'm picky about shape, I'm picky about texture, I'm picky about color, I'm really particular when it comes to dicks I like. I don't want just a completely plain rod but I also don't want something hyper-realistic in looks, nor do I have much interest in the fantasy niche. I want a little bit of texture and detail but not too much, I want a little bit of realness but not a spitting image, I'm not thrilled by everything in my collection being some shade of pink but most company's flesh tones look gross and fake to me. I am so hard to please.
To top it all off, I've already found my perfect dildo and nothing else will ever be able to match up, if I never had another dildo for the rest of my life I would truly survive just fine. None of these things bode very well for someone who is trying to make a habit of reviewing dildos, so it's always pleasant when a toy manages to break past my numerous barriers and satisfy me.
All of that is to say that the PleasureWorks Admiral is sort of a wonderful dildo.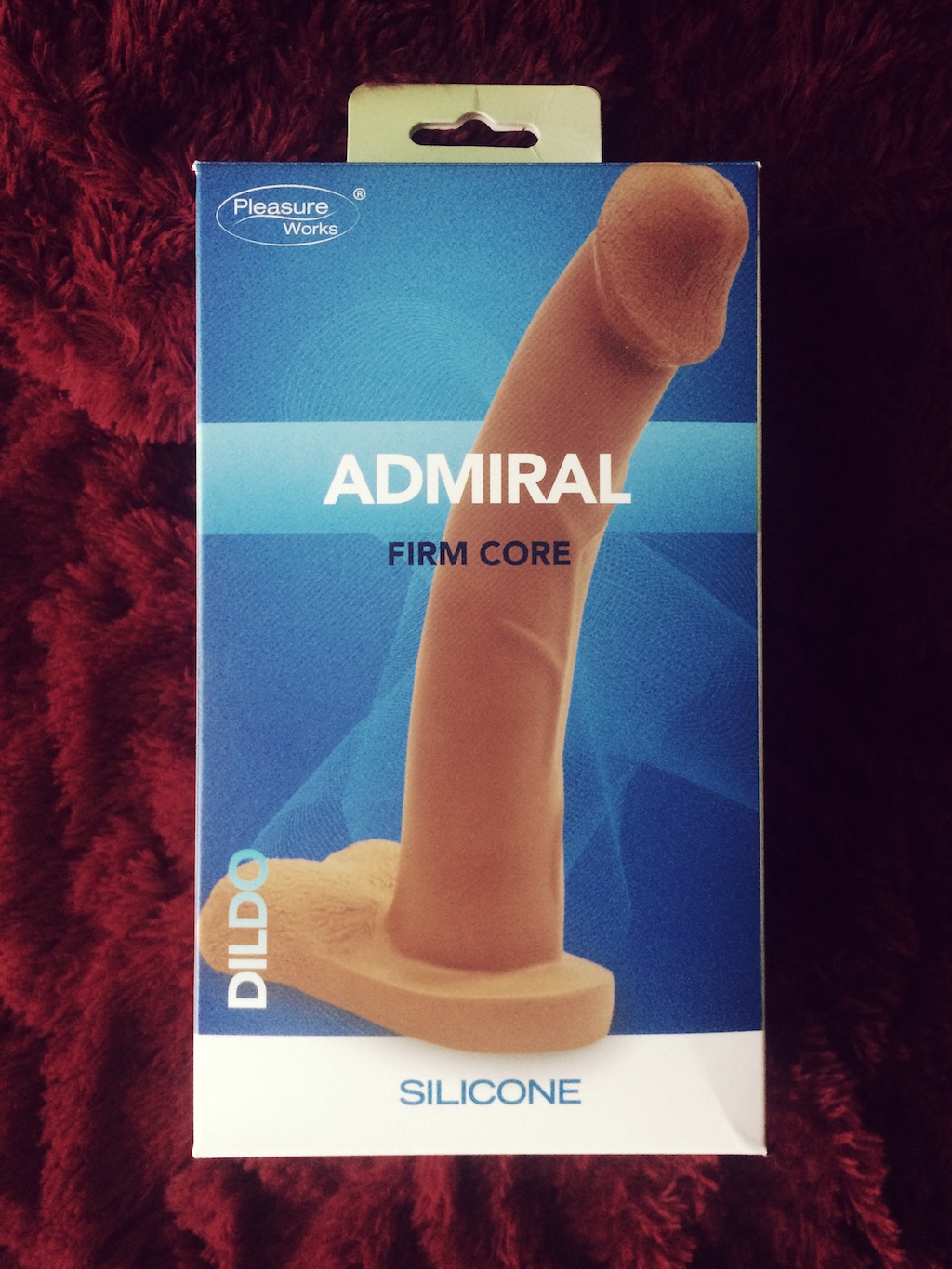 The Admiral is a dual-density silicone (squishy outer layer, firm inner core) which I tend to adore much more than totally firm toys. It's tough for me to describe – the texture of the shaft is this oddly but pleasingly silky feeling that I haven't felt on other toys, I've spent considerable time just sitting there absent-mindedly stroking it. There's a slight vein on the top that is just the right amount of detail – both for the eye as well as touch. While the 7.5" shaft is more than I'll ever need, the 1.5" girth is just perfect. The core is flexible enough to always remain comfortable but not too floppy or unwieldily.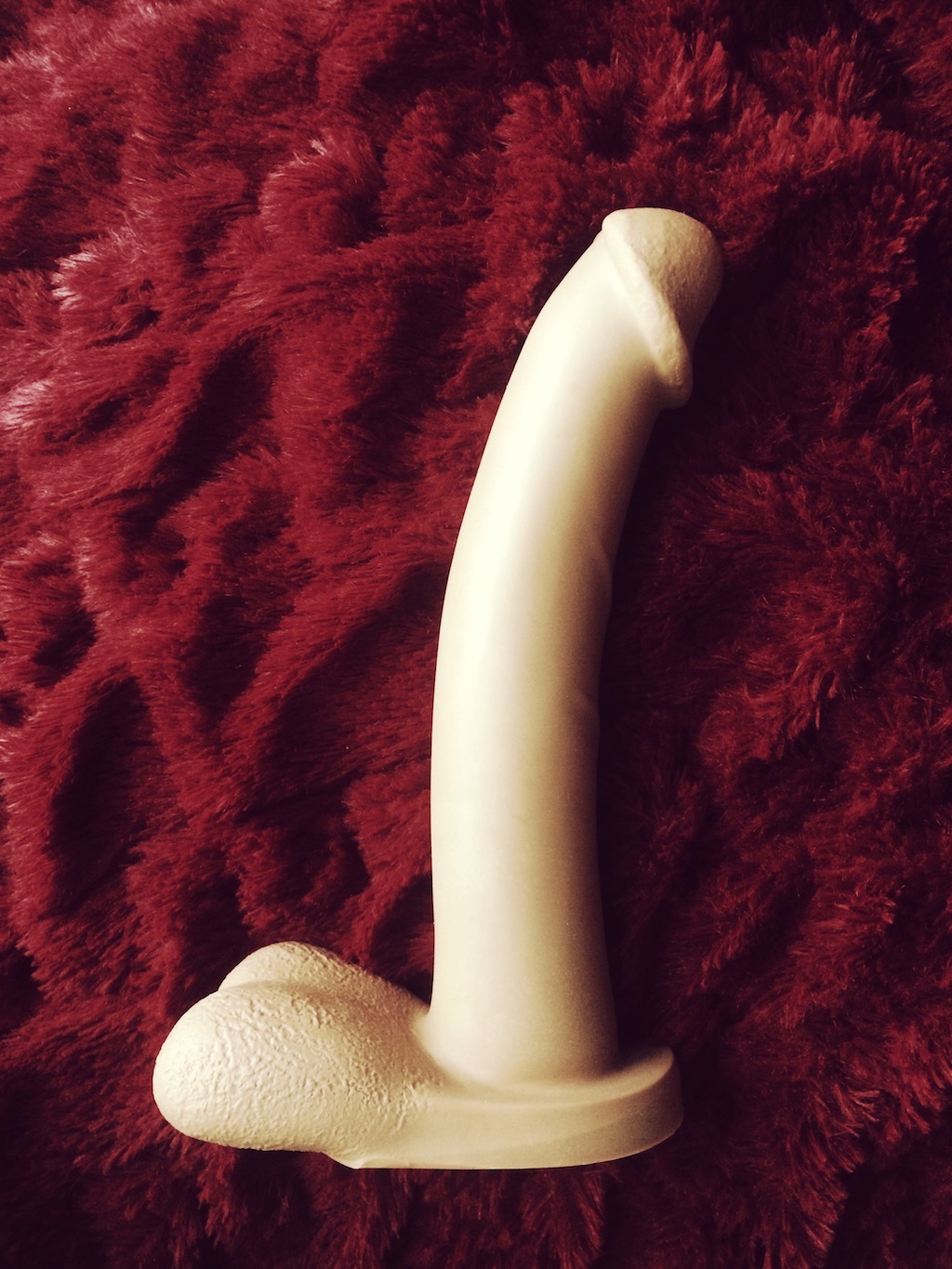 The head of the dildo as well as the balls are textured differently than the shaft. To my fingers the feel isn't quite as nice but my vag can't tell the difference, so it's not a huge deal, but aesthetically I'd prefer the smooth silicone on the whole thing – I've never seen a real-life dick with leathery looking skin on the tip. I've got a suspicion that would be terrible for the owner. On firm silicone dildos I find prominent coronal ridges to often be painful but since the outer layer of the Admiral is nice and squishy, I'm able to enjoy it as intended.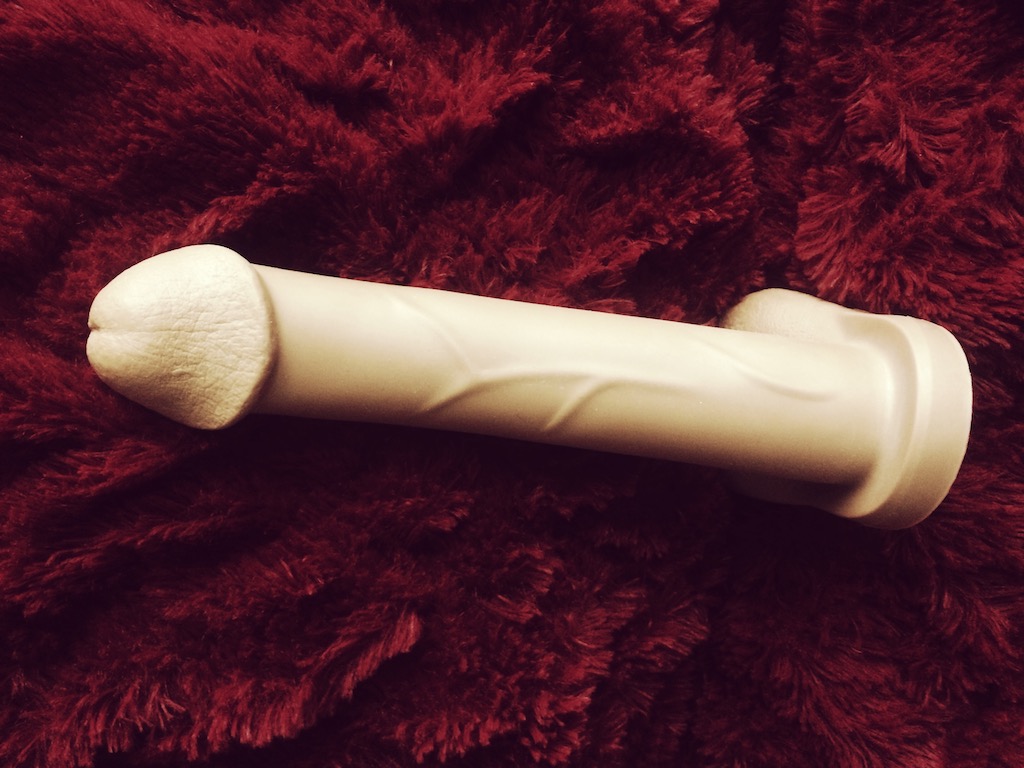 The balls are an element I can always do without. My feelings about real balls reflect the preferences of the person who owns the balls, but otherwise I'm indifferent, so fake ones just do nothing for me. A lot of people consider balls advantageous for gripping when using toys on themselves, but these are attached a bit too flimsy and are a bit too big for my hands for me to feel like the Admiral is better off with them than without. It's also just as easy to make a plain flared base in order to make sure the toy is anal safe and harness-compatible, so given the option I would personally always opt for that instead. Since the shaft is longer than I'd consider ideal for my use and I find myself needing to reach a bit, I'd probably enjoy it better if the base were simply round so I could wrap my hand around it easier. If PleasureWorks were redesigning the Admiral for me personally, I'd have them swap the balls for a suction base, as it would make a perfect pair with the extra length. Due to these cumbersome things called legs, contorting yourself up against a flat object is usually quite a lot harder than you first expect, so an extra lengthy toy means more room to work with.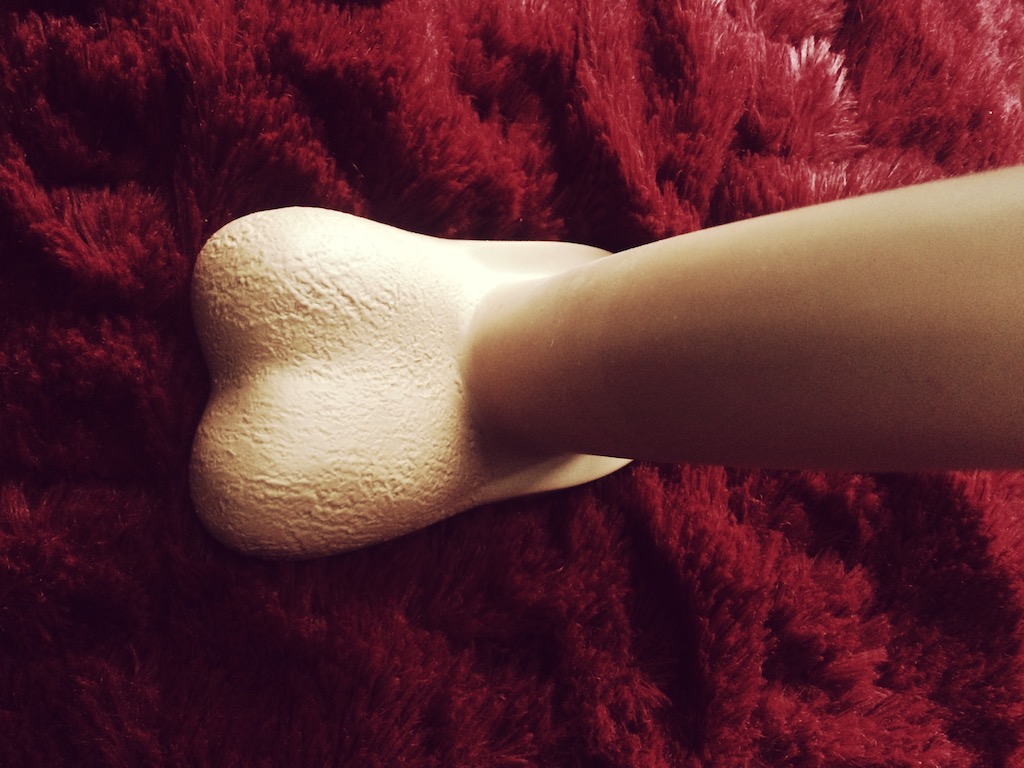 If I had my druthers all dildos would be available in a wide range of unconventional colors, but since this is not the case I'm glad that PleasureWorks' flesh tones aren't the worst I've seen. Some try too hard and succeed in appearing to be a disembodied penis which I have a hard time finding sexy, while others don't try to match real human skin hard enough and just look plasticky and sick. If they decided to come out with another color (besides pink, purple, or black) I'd probably be willing to gloss right over the weird leathery glans and balls and call it totally 100% amazing.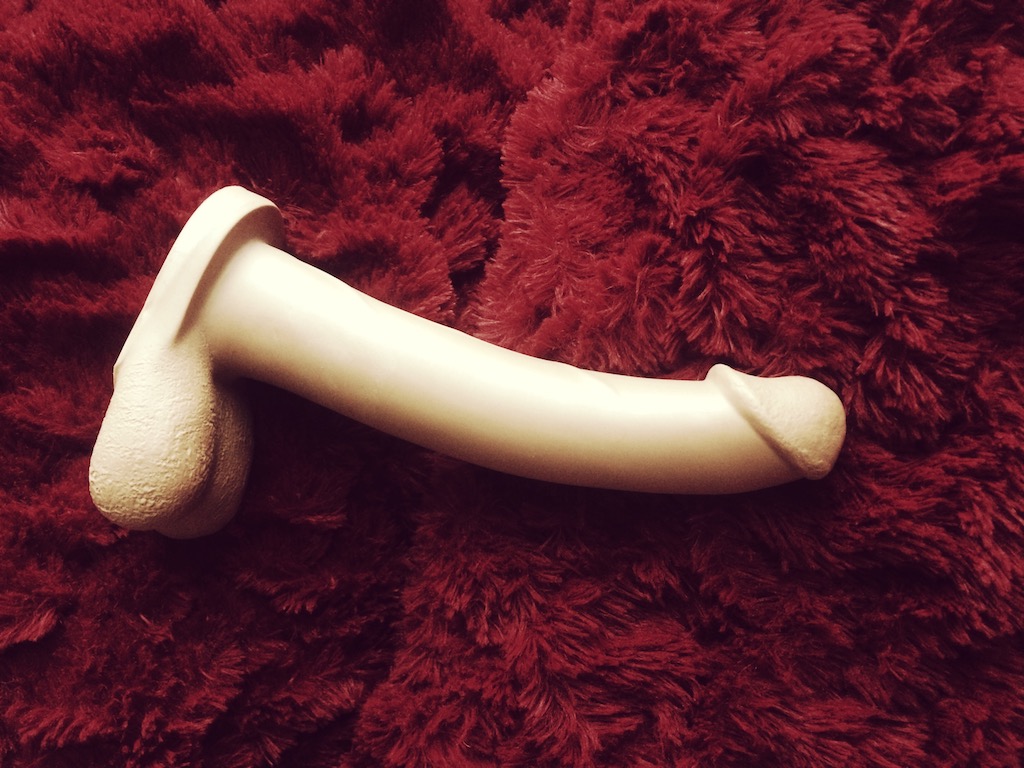 If I'm being truly honest with myself – and you – the Admiral is great. All dildo reviews I ever publish will be biased due to having owned a Vixen Mustang before almost anything else, but if I'd never encountered that toy before then I would have no problem giving the Admiral my highest praise. I hesitate to call any toys "beginner" toys because I don't believe that people must start using any certain type of sex toy and advance upwards in some way, especially if they've explored themselves in a way that has led them to already knowing if they prefer a certain size or shape or feel. I think it's counter-productive for someone who already knows they prefer large objects inside them to buy a small toy just because it's their first, for example. I realize not everyone feels the way I do though, and some people do find that sort of "scale" helpful, so if I had to classify the Admiral I think, despite the length, its girth and overall low-profile with the details would put it squarely in the "beginner" category of simple but still pleasing, not intimidating sex toys. But even for someone who is not a "beginner" at owning sex toys, like myself, the Admiral well earns its place in my collection. I was very excited to try it when it arrived, I was very pleased with it during testing, and I can easily see myself continuing to reach for it in the future.
Big thanks to Good Vibrations for sending me the Admiral to review!
PleasureWorks Admiral TL;dr