Toy Review – Fantasy For Her Ultimate Pleasure Dual Oral Sex Simulator and Vibrator by Pipedream
So, we're immediately changing that name because the Fantasy For Her Ultimate Pleasure Dual Oral Sex Simulator and Vibrator is a lot. Turns out "Fantasy For Her" is a line of toys in the Pipedream brand (because they make SO much shit they need sub-categories) and "Ultimate Pleasure Dual Oral Sex Simulator and Vibrator" is what this one is called. That's obnoxious, I'm not doing that and I don't care if I'm wrong. Can we call it The Fantasy? FFHUPDOSSAV? This Toy? For the purpose of this review, you understand that I am talking about the Ultimate Pleasure blah blah blah, regardless of what I call it, right? Right. Good.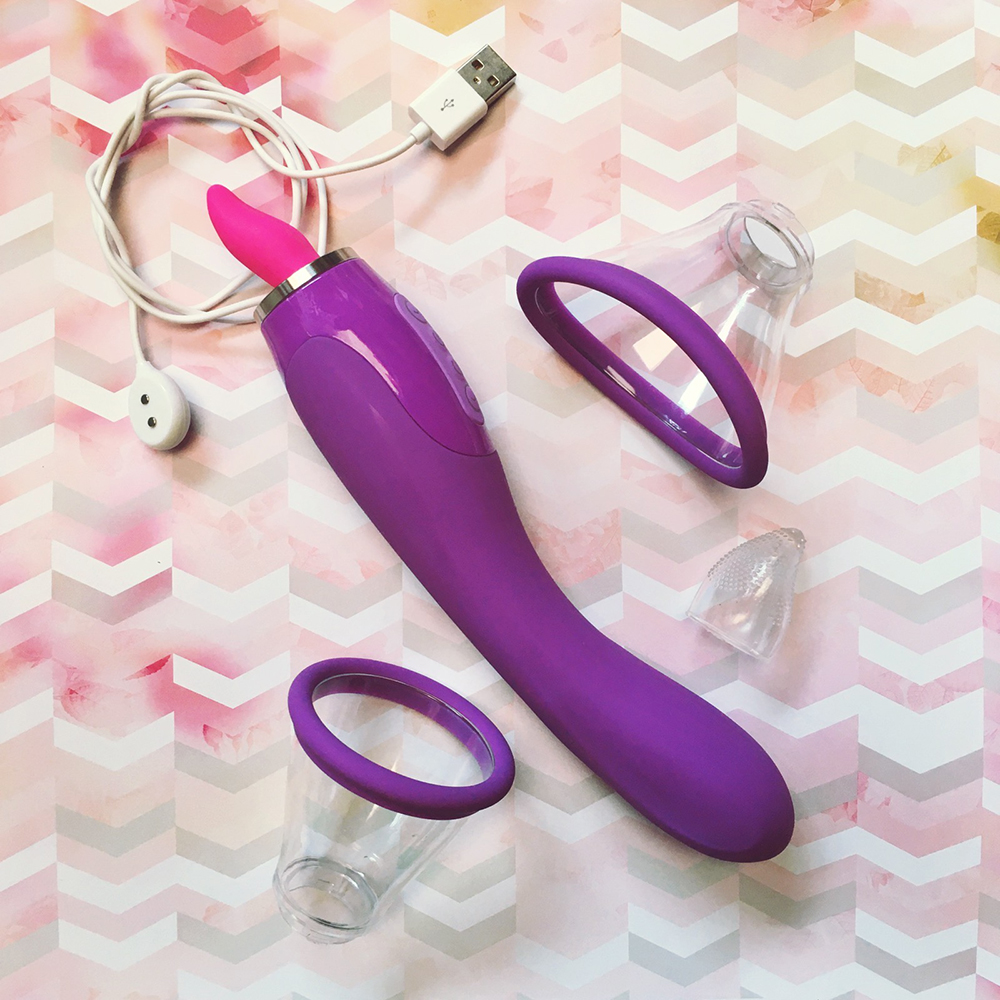 Normally I would not deign to review a Pipedream toy for a whole myriad of ethics and toy safety reasons. My distaste for Pipedream was only reignited as I read the back of the toy's box, which boasts poetic descriptions like "it felt so incredible, as if her very essence was being seduced" and "the motorized tongue began lapping her swollen clit." See also references to a "yearning mound", "most sensitive lady bits" (after listing the labia and clitoris so I dont even know what bits are left?) and "sensitive sweet spot." All of this is par for the course with Pipedream and they do not give a shit how gross, objectifying, cis and het-centric, or otherwise just plain bothersome it all is. Under 99.9% of circumstances I just blow right past any chance to review a Pipedream toy, however this particular toy went nearly viral when it hit the market and I knew a lot of people would be looking to get their hands on it, and it's mostly made of body-safe materials, so I made the exception. Truthfully, I have so many feelings and I don't know if I can even articulate them.
The Fantasy For Her Etc has a plethora of parts and functions. It's designed to suction on the vulva (if you choose) while the tongue flicks up and down over the clit, and finally it vibrates! Whew!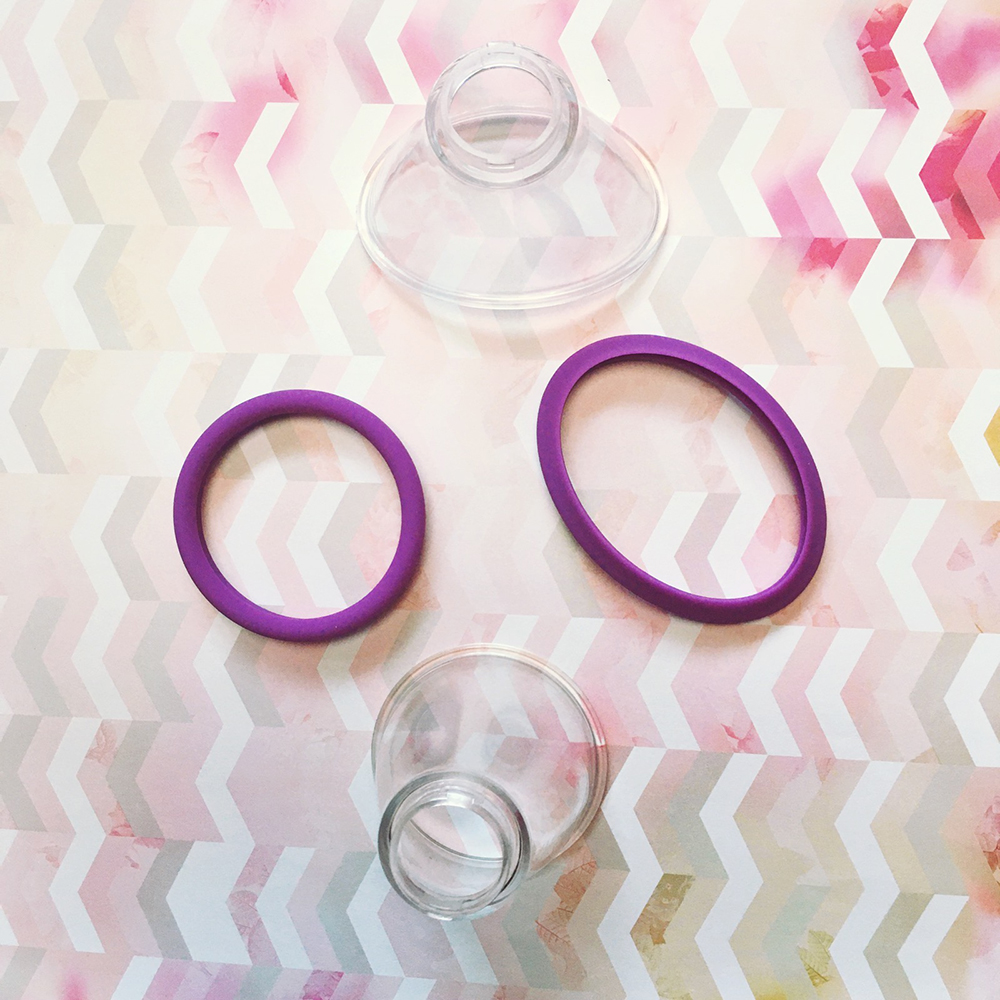 Let's start with the suction. Unlike all the other "suction" toys out there that are actually vibrational bursts through the air between the toy and the genitals, this toy really does suck. What I've learned? I do not have the right kind of vulva for these types of toys. I picked up a cheap little pussy pump a few months back and found that even a single squeeze of the bulb was too much, and had to let out at least half the pressure. Overall I just found it tight, pinchy, and painful and that the suction did nothing to increase pleasure afterwards – I don't get more sensitive, it's not more fun, it just hurts my vulva.
The FFH isn't any different. The suction function has three progressive durations of pulling the tissue into the plastic cup and then releasing through a tiny hole in the back of the handle. The very first pulse feels okay but the second, third, fourth, etc feel like they intensify more and more as my labial tissue isn't fully released before the next pull, making it more and more painful to keep on. You can hit the release button at any time to immediately and completely let go, but having to do that after every single pull is annoying.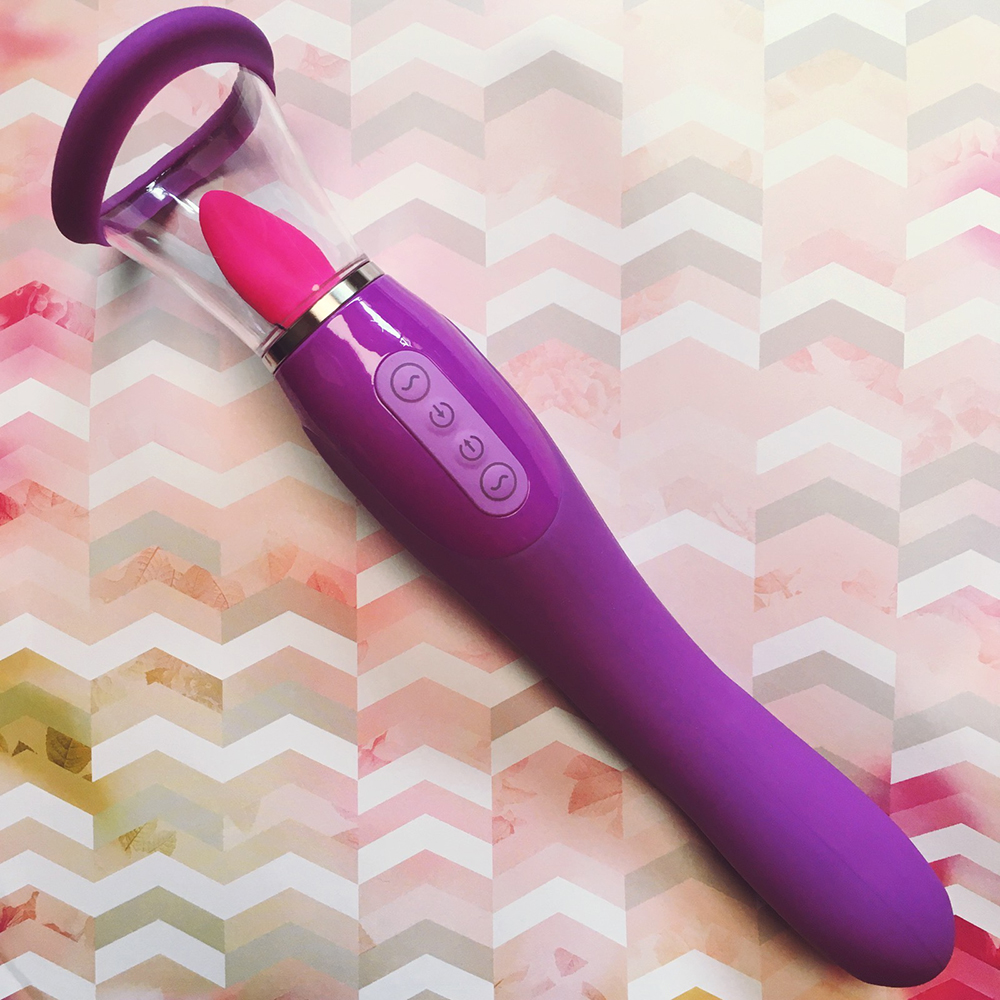 I think my discomfort is entirely related to my anatomy (if you haven't seen my post about my vulva, now's a good time to check it out.) I originally thought maybe this toy would work well for me as I have literally no inner labia, and I sort of imagined that those would get in the way of the moving tongue if that tissue were being sucked on (and possibly swollen) inside the cup, but after trying it out I've come to realize that if there isn't enough tissue, or at least not loose enough tissue – as my outer labia are pretty tight/not stretchy – it's going to pull too hard on parts that don't budge and it just hurts. The circular cup especially doesn't fit and hurts worse if I try to force it, and I've seen other reviewers recommend this cup for the nipples but honestly….I would never buy this toy to stimulate my tits. Just no.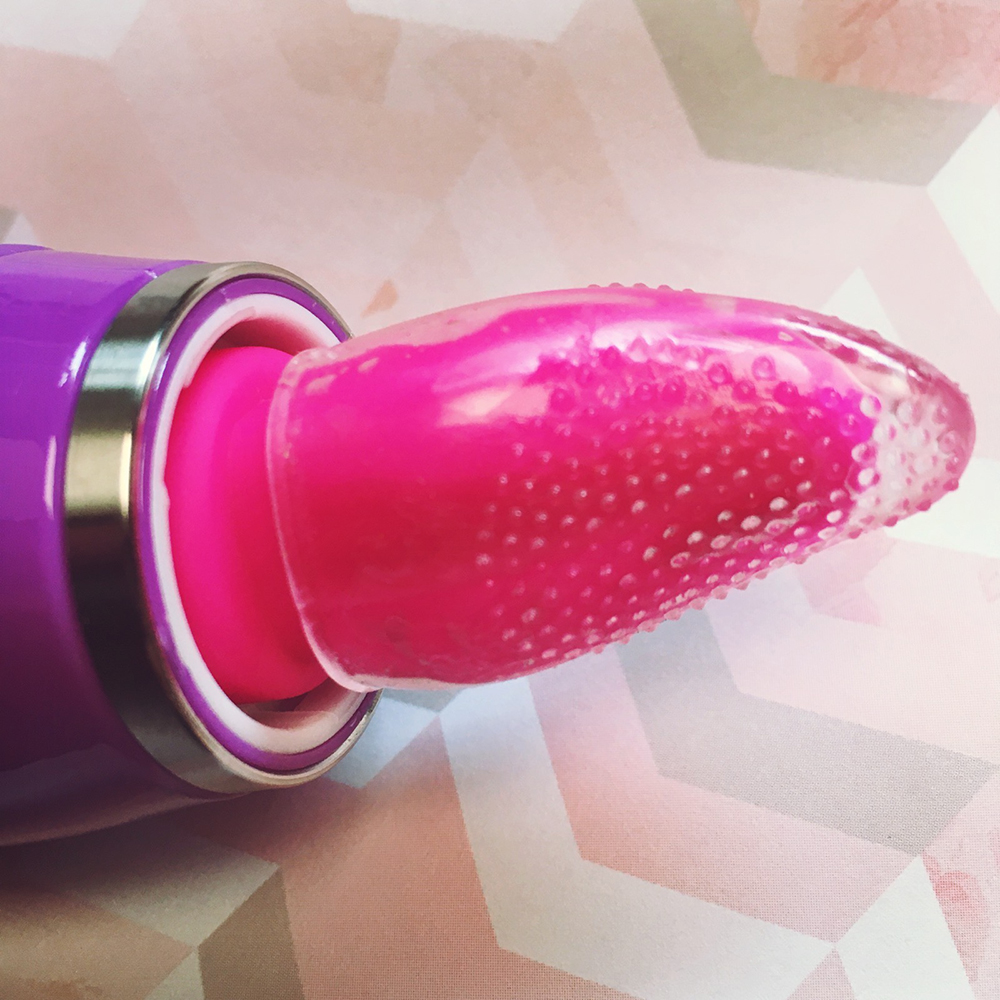 So i took the suction cups off and that changed everything.
To be quite honest the Fantasy For Her kinda weirds me out. The hot pink cartoonish robotic tongue cranking up and down is almost too comical, but I also would definitely not prefer a more realistic depiction, so I really just don't know how I'd improve upon this. I try not to think about what I know this toy looks like as I'm using it because it's simply bizarre. My husband informed me that upon first seeing it drying on the bathroom counter, he wanted to leave the house he was so upset. The creep/gross-out factor of this toy almost ended my marital cohabitation. But despite it's strange appearance and the much too loud god-awful mechanical grinding of the tongue lever, it actually feels quite fucking good. Alarmingly good, considering my clit is not normally sensitive enough to non-vibrational stimuli. I am ashamed to admit, I like this icky thing.
Somehow – and I honestly can't begin to fathom – the tongue flicking of the FFH manages to make me orgasm completely alone, and on it's slowest speed (speeding it up actually makes it less effective.) Unfortunately, it's not an overwhelmingly powerful orgasm, so it winds up hurting more than helping me (because weak orgasms causing me actual pain is a thing I live with) so I've been using it more to warm up with than to deliver the finishing blow. I've never had, or even wanted a warm-up toy before, but the sensation is too enjoyable for me to toss this thing in the "never again" box. I really like it. I can't explain it. Does it actually feel like "real" oral sex? Not a chance. The thing that a lot of people find unpleasing or difficult about oral sex is that it's tough for the giver to maintain constant and consistent pressure and rhythm. The FFH solves those problems, but in doing so it becomes deeply fake and robotic. Ultimately I don't have an issue with that, I have no desire to replace human interactions with toys, so I don't really go into a masturbation session with the hope that my toys will feel like people (I do love a dildo that "feels real" but that's because it makes them more comfortable, not because I'm trying to trick myself into believing they're attached to a real person) If you're someone who is really super into oral sex and you're hoping to find a gadget that can replicate the sensation when a human partner is not available, I think this will disappoint you, because it straight up feels, looks, and annoyingly sounds like a robot.
If you're wondering about why the photo looks so strange, that's because I've put the TPE texture sleeve on it. Have I used it? Absolutely not – TPE is porous and I don't fuck with porous toys I cannot clean. But hey, it is Pipedream we're talking about here, so of course something nasty had to be included in an otherwise wonderful product. That's what they do. If you wind up in possession of this toy I recommend simply throwing the tongue sleeve away. I did.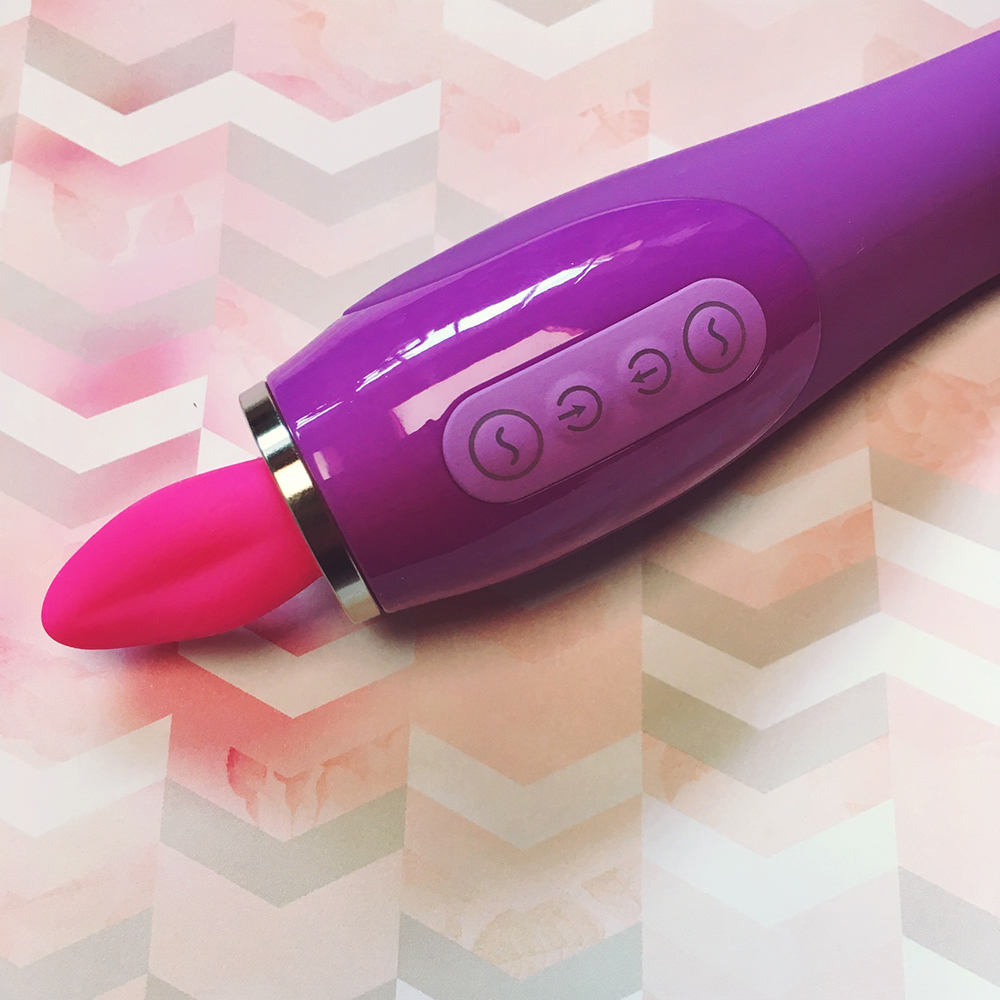 Finally, we have the vibration function.
Reader, I am furious. And I really feel like I must pose this question to you : when you look at this toy – THIS toy, this SPECIFIC toy, the toy with a suction cup and flicking TONGUE on one end of it – and you imagine what you might do with this toy, THIS TOY, does the idea of jamming the HANDLE inside you even scrape the depths of your brain?
It doesn't for me. When I asked to review this toy and thought about how I might use it, I didn't even know you're supposed to fuck the handle. It didn't occur to me. Even after I saw other reviewers talk about how they fucked the handle it still didn't dawn on me that maybe I should fuck the handle. I just thought they were being extra adventurous. It didn't make sense but who am I to judge. I DIDNT KNOW IT WAS THE HANDLE THAT VIBRATED. I DIDN'T WANT TO FUCK THE HANDLE. IT'S THE HANDLE.
Are you following me? This is absurd. Of all the things WAY COOLER AND BETTER that this toy can do, who would seriously buy THIS toy because they were looking for a plain ol' G-spot vibe? Not even a good G-spot vibe – this one is weak and buzzy as fuck and I hated it. There are a bajillion other vibes out there FAR BETTER SUITED to G-spot stimulation so why on earth would anyone bother with THE HANDLE of this toy? This feels like when someone really really desperately doesn't want to admit that the product and it's intended purposes fucking sucks so they make up some goofy shit like the $250 luxury clit vibe feels kind of okay on your nipples and also doubles as a pretty paperweight.
NO. Do you hear me Pipedream? The answer is NO. Stop trying to make handles fucking a thing. It's not going to be a thing. If you're looking for some kind of ultimate "one stop shop" for every possible sensation, I would first caution you that you're probably not going to find it in any toy, but even if it is out there, this is not it. The vibratey handle sucks. This review was done DAYS ago until I realized I had to go back and fuck a handle. A handle for christ's sake.
Anyway, the conclusion is that only one third of this toy actually works for me, but I still really quite like it and I feel compelled to recommend it. Despite the suction aspect not fitting my anatomy, if I'm being completely honest here most things don't because my vulva is screwy, so if you think it might be something you're into I'd suggest you read some other reviewer's opinions on it (even better if you can find someone who matches your own anatomy better than I do) and honestly give it a shot. Worst-case-scenario you do like me and and just take the cups off and use the tongue feature by itself. OR fuck the handle if that's really your thing (but I still maintain there's better vibes for that)
Big thanks to SheVibe for sending me the Fantasy For Her Ultimate Pleasure Dual Oral Sex Simulator and Vibrator by Pipedream. You can get your own by clicking HERE

The Pipdream Fantasy For Her Ultimate Pleasure Dual Oral Sex Simulator and Vibrator – Tl;dr