Toy Review – Icicles No.24 by Pipedream
This is the easiest and shortest review I'll probably ever give.
Should this dildo even exist? No. 
Okay fine, my vagina doesn't speak for all vaginas, I shouldn't assume you'll hate something as much as I do. Fine. Fine….fine. I'll tell you about it.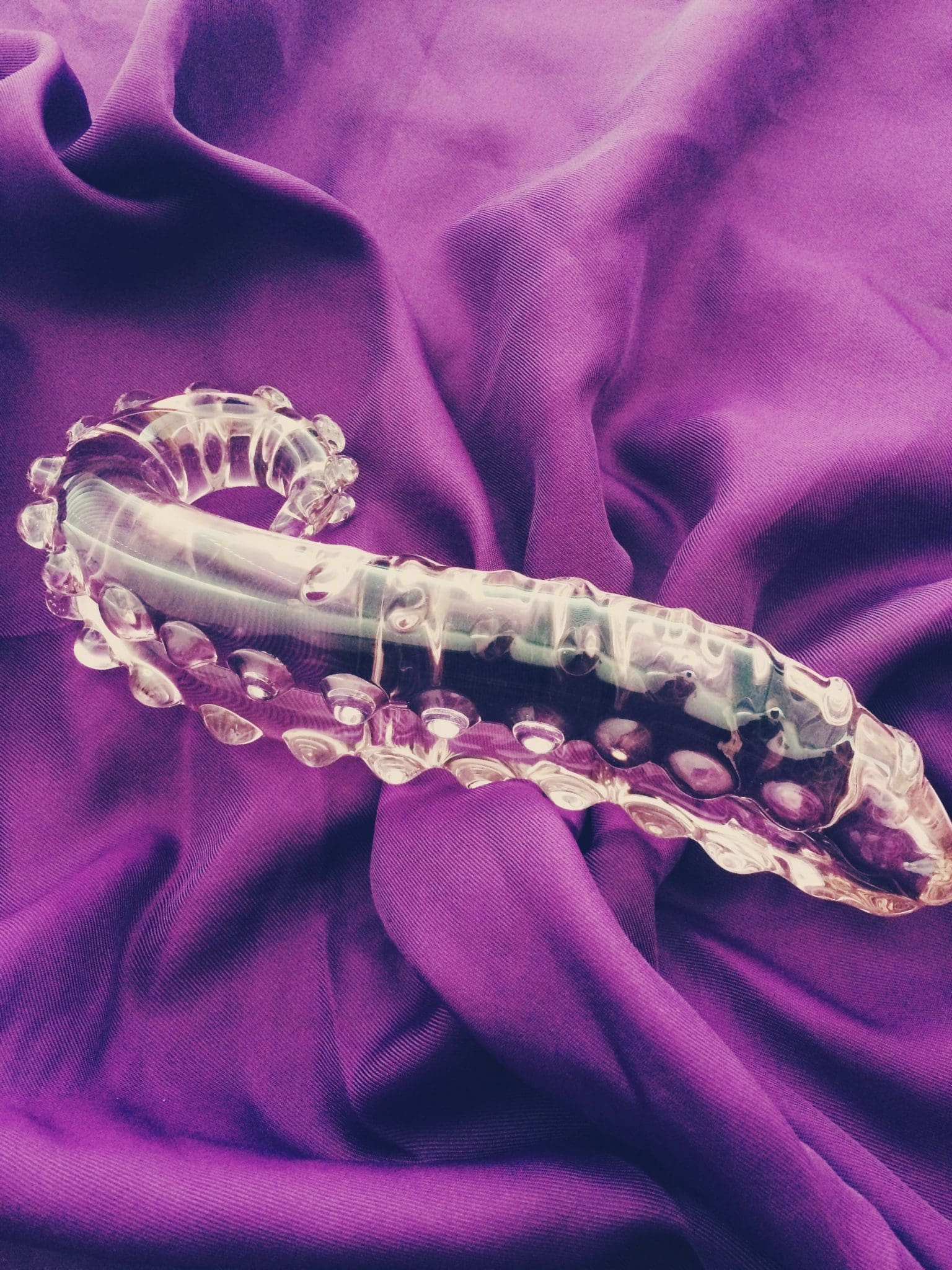 This is the Pipedream Icicles No. 24
I'd link to them but I don't think you should ever buy anything made by Pipedream. Their company has a long history of being super sketch, from their racist transphobic misogynistic products and marketing to their unsafe toxic materials, and there is literally not one single thing they make that you can't buy from a far more reputable manufacturer. Yes, Pipedream is cheap, but it's because the construction and material is cheap.
Their glass line is okay. I mean I think you should shop around and buy from more reputable companies *cough* Fucking Sculptures (sadly no longer in business) or Crystal Delights to name a few *cough* , but if you really desperately need a glass dildo on the cheap and your only option is your local dingy back alley "adult video store" then Pipedream is probably what you're going to wind up with and, I mean, it won't kill you. You will probably want to avoid any of their items that have paint or gemstones or anything on the outside of the toy, because it's likely to flake off. In your vagina or ass. Really good for you, right?
Anyway, this toy came to me by way of gift, so here I am, in possession of it, despite my not liking Pipedream as a company (I also had no idea they were so shitty back then).
Really by biggest beef with this toy is just that I am not that into texture and obviously, this toy is ALL ABOUT TEXTURE. It's a fucking tentacle.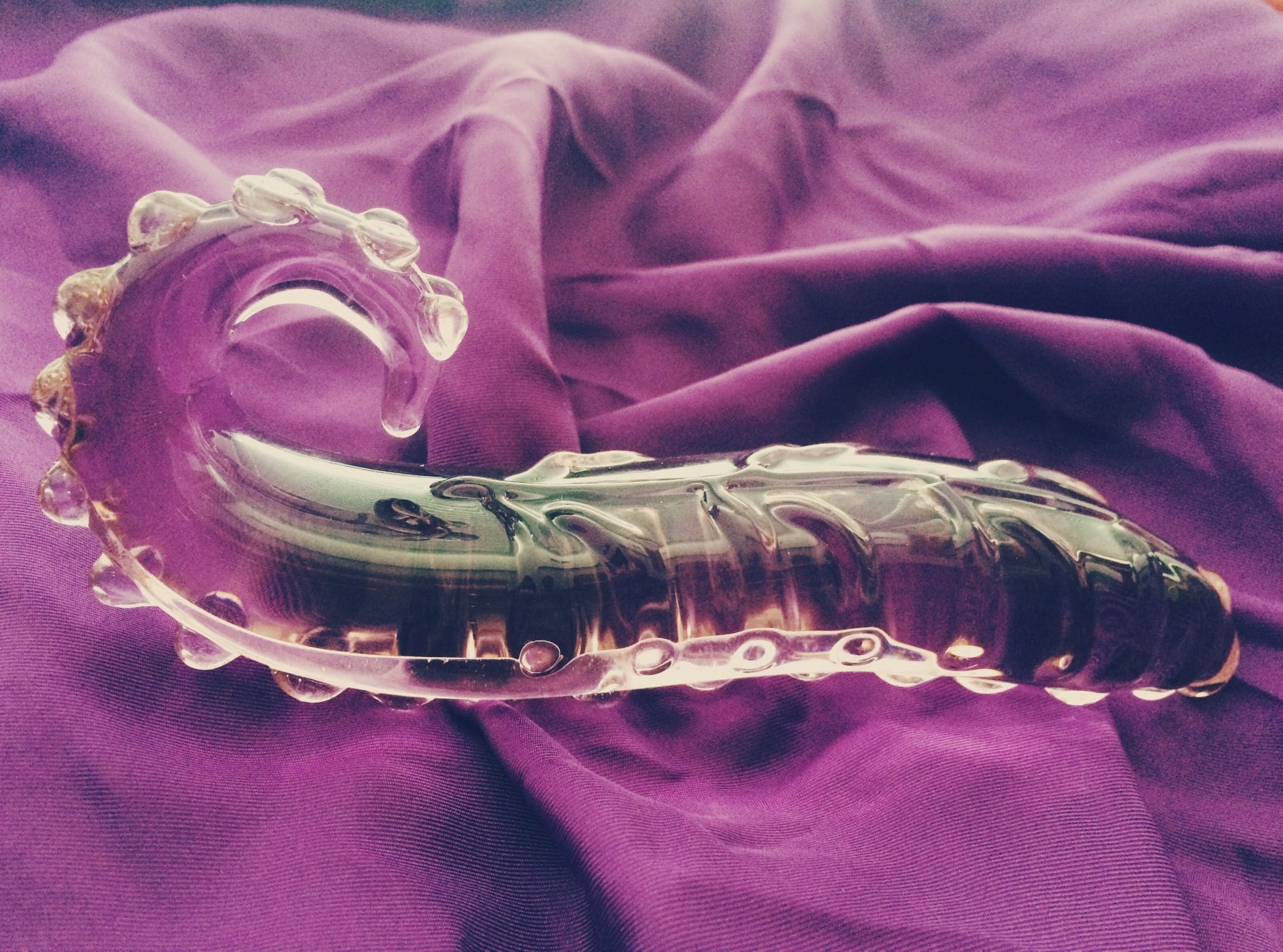 Don't get me wrong, I think it's very pretty, but pretty is only half the reason I buy toys. The other half is to use them, and I can't use this.
I just don't put it inside me. Like, ever. I find the use of this toy very painful. I can sort of tolerate it if I flip it upside down so the bumps run along the bottom wall of my vagina instead of the top, but given the choice I'd just really rather not use it at all. I'll probably re-home it eventually. (update: I did)
Upside to this toy, and other glass toys, is that I can do that safely. Glass is non-porous and can be fully sanitized by boiling or dunking in a 10% bleach solution for ~10 minutes, so this toy can have as many partners as the day is long. Glass is also nice because it will warm up to your body temp, or you can play with running it under warm or cold water before use if you're into temperature play. (I don't really strongly care one way or the other, but I do appreciate something that warms up to my own temperature)
On top of it being nothing but bumps that my vagina doesn't get along with, I'm also not that into fucking animal parts. You will never see me buy something from Bad Dragon (mostly because I don't want horse or wolf or dragon dick in me, but also because they too have turned into huge shitbags in the quality and customer service department), I never owned "rabbit" vibrators that had rabbits or dolphins or butterflies or any other animal "tickling my slitty" (real line I've read in a description) I don't own an I Rub My Duckie. I just…no part of me wants to mix orgasms and animals. Hard No. A baby-pink blown glass mildly-abstract disembodied tentacle is pretty much where I draw the line. (If you're looking for someone who reviews "fantasy" toys, there's quite a few in my Blogroll)
Besides the part where the bumps hurt my bits, they also hurt my hand. There's not really any good way to firmly grip this thing and not have the nubs digging into some part of you. The little curl of the end doesn't really serve as an adequate handle for me, especially if you're fond of rough thrusting.
Most websites will list the length as 6″ but as you can see, you can't actually insert all 6″. You're closer to 4.5″ of useable length. Which is also a bit of a problem, for me to hold the toy with any semblance of comfort, my palm is blocking a good 2-3 inches of useable length, drastically shortening the toy further. At it's widest point, which is about mid-shaft, the dildo is a little over 4″ in circumference. And if you're looking for an interesting paperweight, it weighs a little over half a pound.
Glass, weight, and pretty are the only good things I have to say about this toy. I can think of LOTS more pleasurable things to spend $50 on.