Toy Review – The Pop Top Deluxe G-Spotter by PleasureWorks
To accompany my post about how my clit works, I wrote one on my current understanding of my G-spot. I'm telling you this because I think it's important to seeing where I'm coming from when deciding if my reviews are going to help you determine if you should buy a toy or not. If you don't feel like checking it out right now the cliff notes version is :
– My G-spot is still pretty brand new to me, having only really "woken up" over this past summer
– As such, I don't have a ton of experience with G-spot toys and am still trying to pinpoint exactly what I want and need from them
– As of right now I absolutely always need clitoral stimulation regardless of what else is going on, because while G-spot orgasms are a possibility for me, I don't like them (they hurt. My post talks about this) so I purposefully don't have them. This means whatever internal stimulation I'm performing is secondary and sort of "just because," it's not being used as a means to orgasm.
Got it? Okay, so with all that in mind, let's talk about the wand cap Good Vibrations sent me to try out.
The Pop Top Deluxe G-Spotter is a silicone cap that fits over many wand-style vibrators to turn an external toy into an internal one. After learning from the Lush that my G-spot likes fairly intense and rumbly-ish vibes I was pretty eager to get my hands on one of these. I'd had my eye on a few different ones by different companies over the years but never committed to trying any of them because I didn't think my G-spot would like them, since earlier attempts at internal toys hadn't really worked. I was even more skeptical after receiving the extra caps for the Tantus Rumble and finding out that their version of the G-spot cap didn't even reach my G-spot very well in the first place, but even if I jammed it inside me as best I could, the Rumble's vibrations were too weak to matter – it did absolutely nothing for me.
Luckily, the Pop Top Deluxe is different. Way different.
The Pop Top Deluxe is obviously the largest of wand caps I own currently. (Tantus on the top, Vibratex in the middle) The weight is significantly more than the others which unfortunately makes an already heavy wand (I use it with my Magic Wand Rechargeable) even more cumbersome, but I don't think there's a good way around this issue. The Tantus and Vibratex caps are very light, but vibration just doesn't travel through them the same way. To change the weight seems to sacrifice the sensation I need. The other two caps are also rigid and semi-hollow in construction while the Pop Top Deluxe is fairly dense but still nice and squishy, so it doesn't feel like I'm jabbing myself with it when I press it into my G-spot.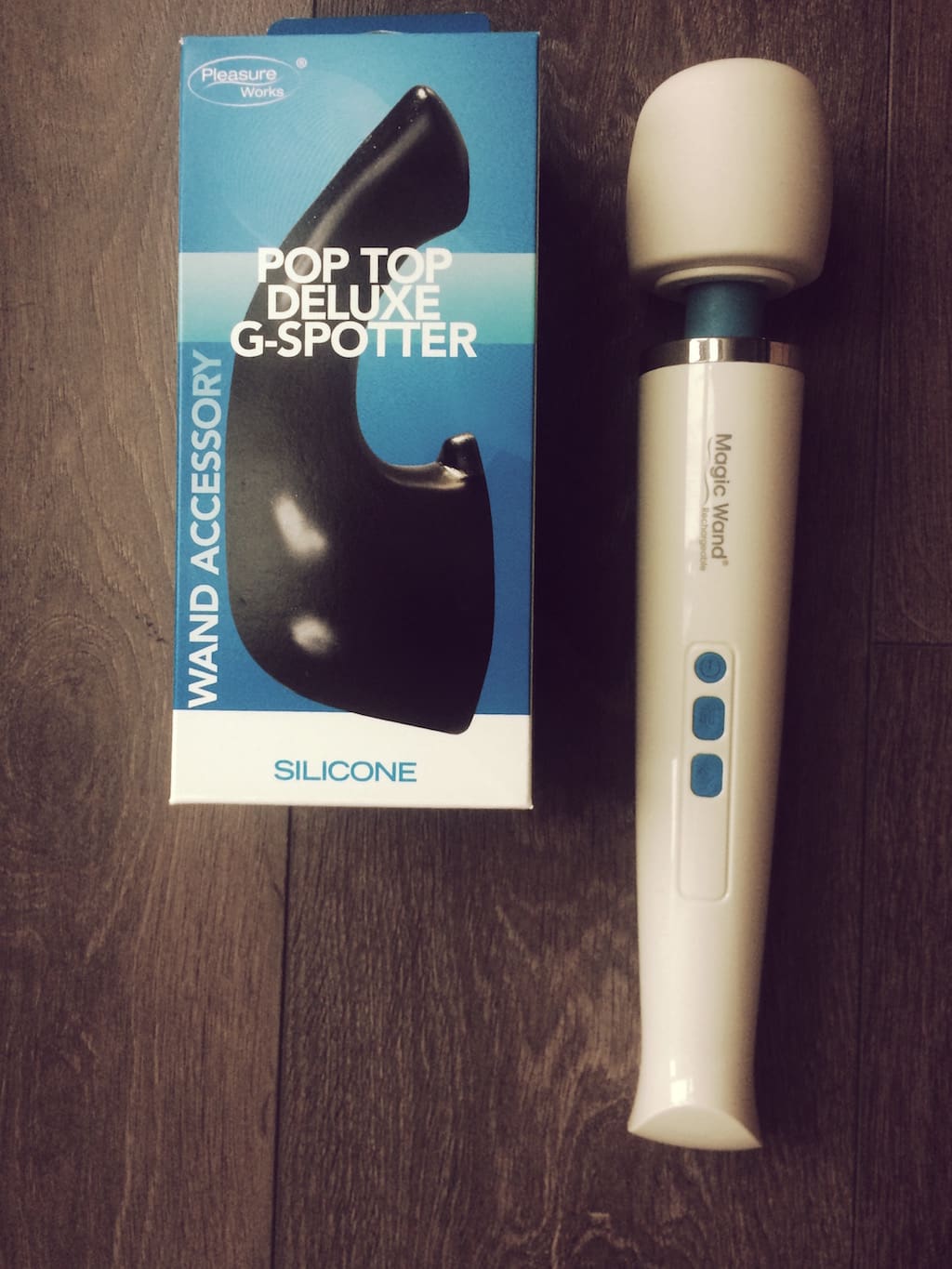 Overall I think the Pop Top Deluxe is an excellent wand accessory – it is actually possible to screw up even this simple of a toy and I don't think PleasureWorks did that at all. My major qualms are completely personal to the way my anatomy is set up and my need for clit vibrations at the same time as internal stimulation. Even though I'm starting to develop a taste for penetration while I'm masturbating, I absolutely hate having to double-fist my toys. I'm usually using quite a large vibrator to begin with so there's not much room for anything else. I'm definitely right-hand-dominant and left-hand-useless so no matter what, one of my toys isn't getting handled with the skill it really needs in order to be perfect. Add to that the weight of my favorite toys and it becomes difficult to enjoy myself before I just get too fatigued to deal with it anymore and toss the internal toy away so I can fit my vibrator where I want it and finally manage to cum without an arm cramp.
In my very early attempts at using the Vibratex cap I learned that the arm was too long for me. I had plans of being able to insert the arm and press the side of the wand to my clit, but if I have the cap inserted far enough for the side of the wand to touch my vulva, the tip of the arm is stabbing at my cervix instead of pressing on my G-spot. I was excited by the much shorter Tantus cap but like I said in that review, the lack of curve in the arm meant that I had to angle the side of the wand away from me so severely to push the tip into my G-spot that the side of the wand was nowhere near my clit.
I had hopes again with the Pop Top Deluxe because the arm is nice and curved, and the cap has this little nub on the inside of the curve that might, just maybe be able to reach my clit.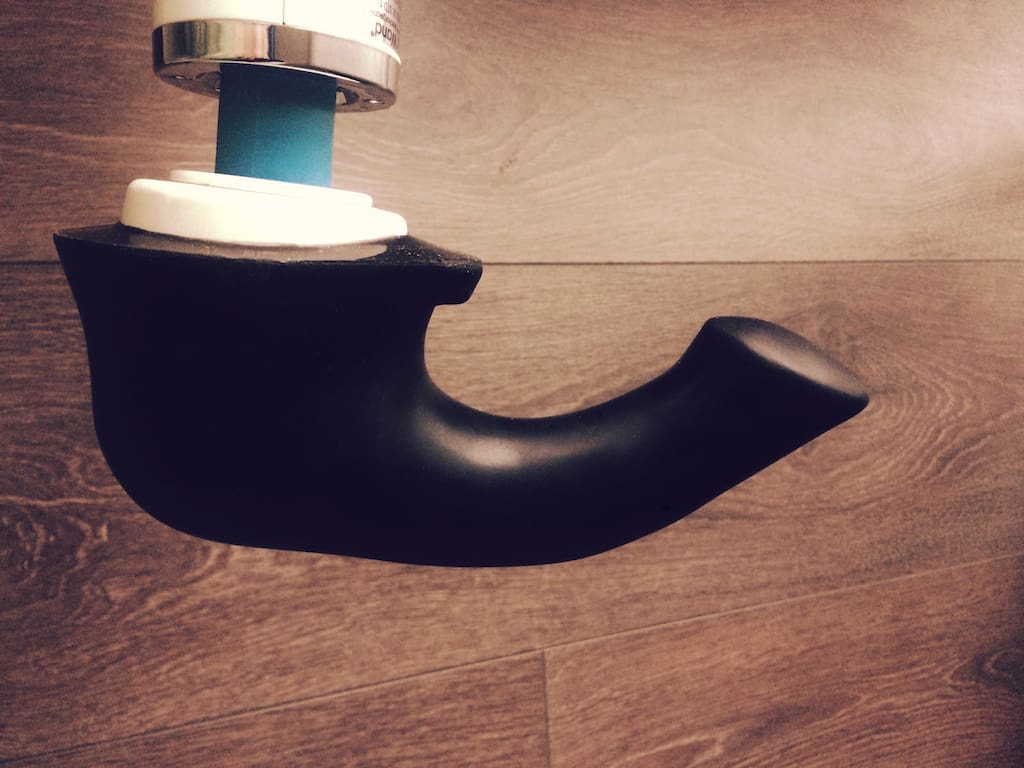 Sadly, I was still wrong. For someone with a "meatier" vulva or deeper G-spot than I, this design might work for them, but my vulva isn't very fleshy, my clit is pretty buried and needs serious pressure, and my G-spot is only 1.5 – 2 inches deep inside my vagina (and tucked up high behind my pubic bone,) so if the end of the arm is just where I need it to be for my G-spot, the side of the wand head still isn't even making contact with my labia. Caps with a more "rabbit style" design tend to be all the wrong lengths and shapes for some people, causing lots of complaints about stuff jabbing and stabbing where it shouldn't, but after this I have a feeling there's a couple that would do just fine for me.
For now I'm stuck trying to wrangle an increasingly heavy wand in one hand while trying to find the space and strength for another vibrator on my clit. Currently my go-to pair is my Hitachi and my Tango, and when it works it works fucking great, the vibrations through the Pop Top Deluxe are almost perfect for what my G-spot needs (honestly I probably need a stronger wand over a different attachment) and those orgasms are incredible, but sometimes the Tango isn't strong enough to get me off, and I've had to rip off the cap and use the Hitachi on my clit instead without anything for my G-spot, sort of defeating the purpose of having it in the first place. If I didn't need clitoral stimulation I probably wouldn't have any issues with this toy, I could completely forgive the weight if I were able to hold my wand with both hands.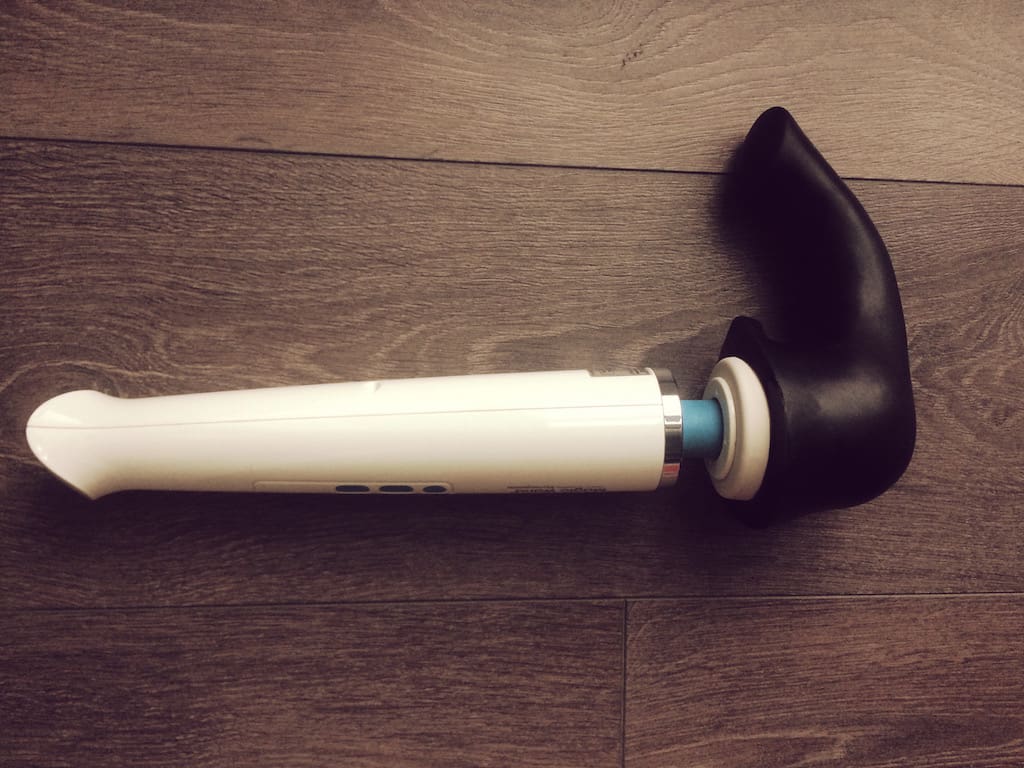 I do have to mention that it's at least easy to put on and take off – I don't even have to bother with lube because the shell of the cap is a little bit stretchy and just slides on, but unlike the Vibratex one, still snugly fits over the wand's head and doesn't rattle around with dead space between the two materials. And of course because it's silicone, it can be boiled or bleached to sanitize. The only downside to the silicone is that my wand heads are all light colors and even though solid silicone doesn't damage other silicone, it can and does still stain, so my Magic Wand has little blue and black spots and streaks now from rubbing up against the cap. There's nothing structurally wrong with either one, they're just speckled now (wands with dark heads like the Doxy Die Cast obviously won't have this issue) At the end of the day though, that's really the least of my worries.
Unless/until I find something that can perform double-duty on my G-spot and clit, even though it can sometimes become a bit of a pain in the ass to handle, the Pop Top Deluxe has still managed to become an excellent addition and new staple in my nightstand.
Big thanks to GoodVibes for sending me the PleasureWorks Pop Top Deluxe G-Spotter for review!
Pop Top Deluxe G-spotter TL;dr