Toy Review – The Aria Finger Wand by Blush Novelties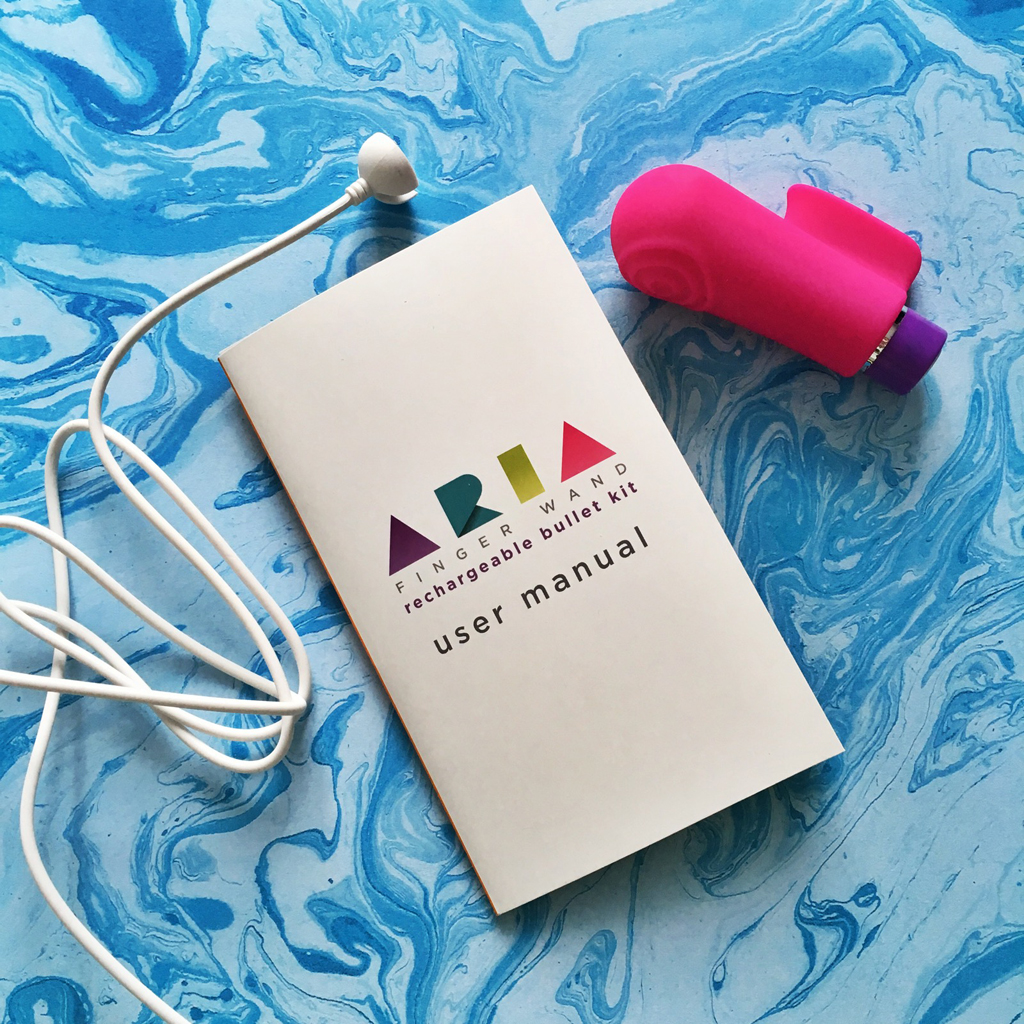 I've got a problem. I can barely get vibrators to work.
I talked a little bit about it already in my lack-lustre review of the Mini Swan Wand, but I'm finding it more and more difficult to orgasm with traditional vibrators. Even my go-to powerhouses like the Hitachi or Eroscillator aren't making the cut, and every time I try a vibe I always always find myself frustratedly reaching for my Womanizer Pro40 in defeat. If I didn't know any better I'd say all the nerve endings in my clit are staging a retreat into the depths of my body, where vibrations just can't reach them. I can move a vibrator all over my vulva and certainly it feels nice but I can't seem to find that sweet spot. It's like my clit is actively avoiding me. The only thing I can get it to respond to with any sort of consistency, let alone enthusiasm, is the Pro40 (and only the Pro40, not the 2Go or the Starlet. I'm going to burn this poor thing's motor out)
Still, I keep trying. I keep trying because it's my job and I keep trying because I don't want to be stuck with only one single sex toy for the rest of forever. God forbid my body stops cooperating with that one. So I must keep on.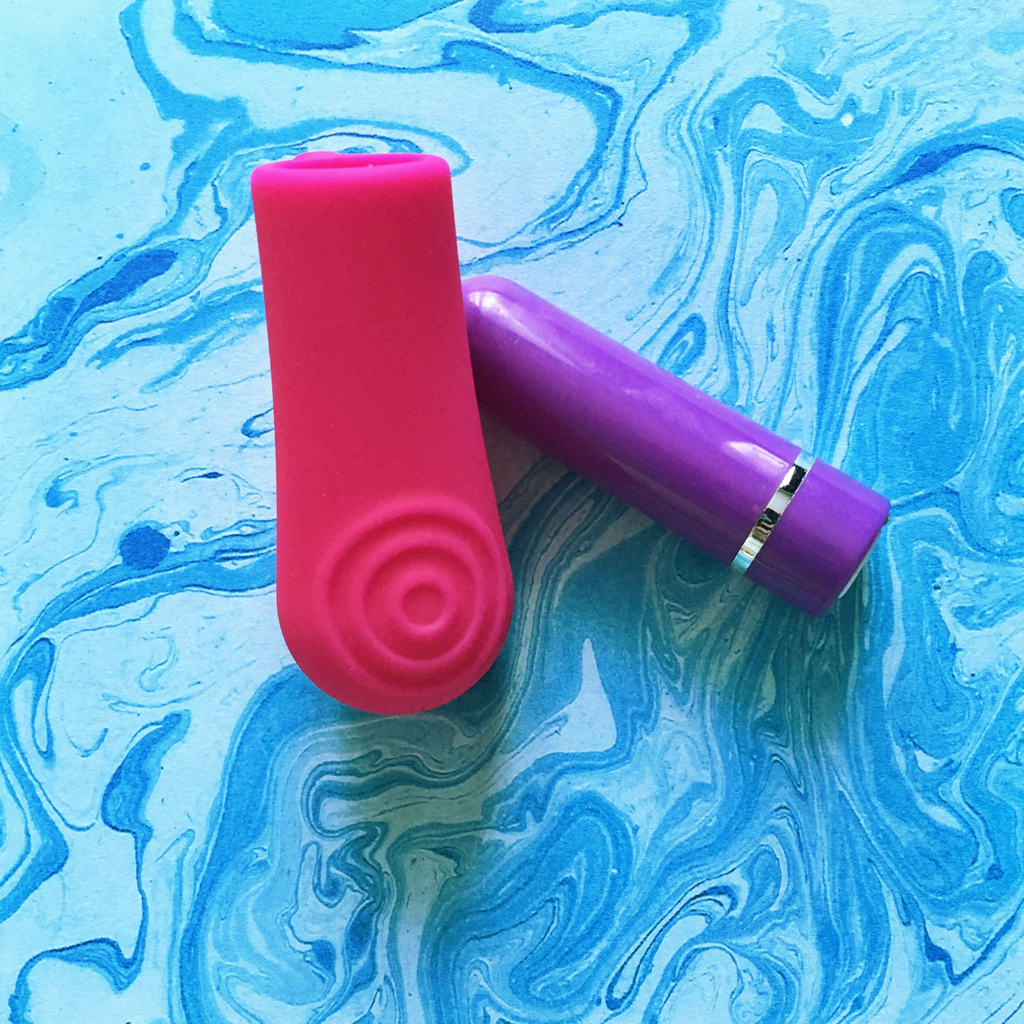 I don't think the Aria Finger Wand is so bad, which must mean that it's pretty good for everybody out there who is not in a constant fight with their body like I am. The kit consists of a small purple bullet that does or doesn't – depending on how you want to use it – slide into a pink silicone sleeve with ripples on the end of it. The back of the sleeve has a little raised fin-like piece that I assume is meant to help you grasp it between two fingers, but that doesn't give me enough control over it so I ignored that part and held it in whatever way was necessary. The power button is on the tip of the bullet where it says "Blush" and is used to control its 5 speeds and 5 patterns. It's waterproof and rechargeable, easily taking it a step above most "bullets" of its kind before you even turn it on.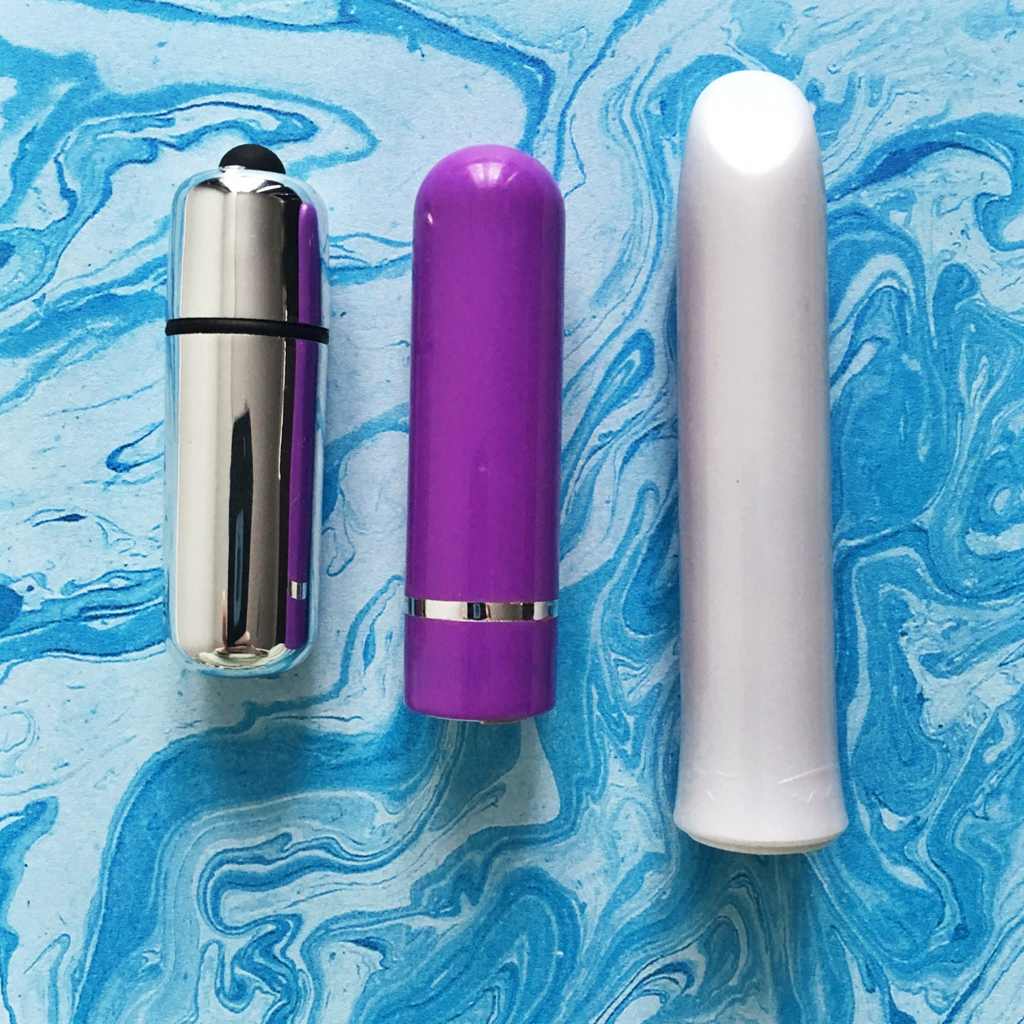 The Aria Finger Wand is only a smidge bigger than your typical watch-battery-bullet and only a little smaller than the We-Vibe Tango. If there's some other toy you love using with a bullet inside of it, the Aria Finger Wand will almost certainly fit. It's got a substantially better motor than the cheap watch-battery-bullets, and it also manages to be pretty comparable to the Tango in terms of rumble and intensity, for less than half the price. I like that the Finger Wand has 2 more speeds than the Tango, but I find the raised power button on the Tango a bit easier to push, I typically have to actually take the Finger Wand off my clit and jam the button with my fingernail to change the setting, which is not optimal use. Like most small vibes you also can't control the intensity of the patterns. In this toy I'd say the patterns operate around maybe the 3rd or 4th intensity, which may be too much or not enough for other people, depending on what they like. I don't go for patterns much so for me it's an exercise in counting and remembering exactly which of the speeds I'm on so I don't accidentally slip into the pattern functions, and a quick flip through if I do make the mistake.
While the Finger Wand doesn't have the world's worst magnetic charger, I still hate magnetic chargers with a passion, especially on toys that roll. Can we please just stop? My final complaint is that the instruction manual suggests that while it's charging the Finger Wand will glow a white pulsing light from the button, and that will go off once the vibe is fully charged. Mine pulses while it charges and then changes to a steady glow, never turning off. I don't know if mine is defective or the manual is wrong about how the toy operates. If it's actually meant to glow steady when it's ready, I'd suggest changing the charging color or speeding up the pulse – as right now it cycles through slowly enough that I've almost taken it off the charger before it was ready several times, thinking that I saw a steady light when in fact the change was just so slow that I didn't realize it was doing it.
So, can I cum with the Aria Finger Wand? Turns out yes, but only barely. So far in my many many attempts to use this vibe, the only times it's pulled through for me have been when the other toy I was trying to use died on me, and in a fit of absolute desperation I managed to force out a tiny, unsatisfactory, painful, fleeting orgasm. But it did happen, which is more than I can say for a great many other vibrators right now, and that's why I think it's probably not very bad at all. I'm very honest with myself that I've got some serious roadblocks en route to orgasm and if this little thing can squeak by them then it must be alright. Overall I imagine the Aria Finger Wand would be a great option for someone looking for a compact, versatile bullet vibe, and especially so if they want or need something with more oomph than the typical bullets can provide but aren't ready to spring for the Tango.
Big thanks to Peepshow Toys for sending me the Aria Finger Wand to review. You can purchase yours by clicking Here.
Blush Novelties Aria Finger Wand Kit – Tl;dr