Toy Review – The California Dreaming So. Cal Sunshine Teasing Tickler Rabbit Vibe by California Exotics
I'm calling it the So. Cal Sunshine because – as per usual – these names are absurd! I am forever convinced that whoever picks names for sex toys really wishes they'd become a novelist, or part of an emo pop-punk band that uses entire sentences for song titles.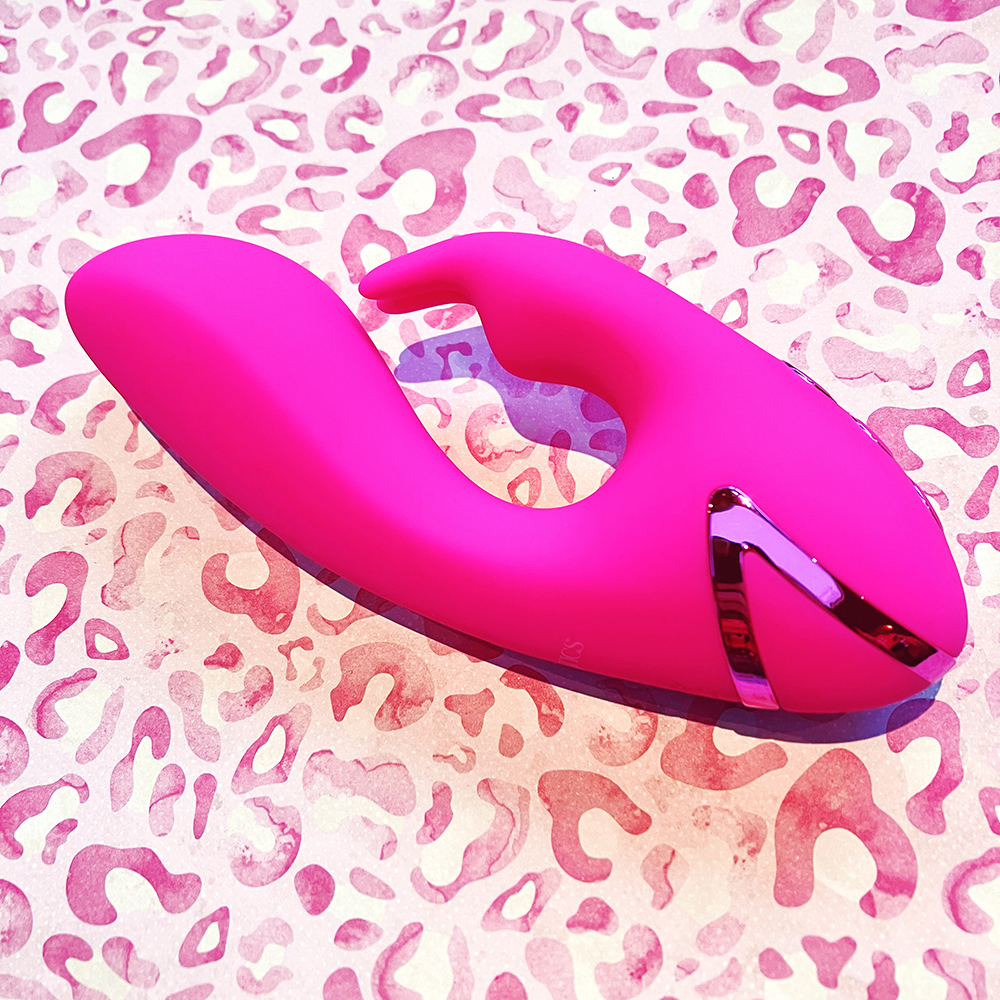 This review could honestly have been only one sentence – a sentence that is frequently said when it comes to dual-stimulators – "It didn't fit." I don't think anyone would feel like I'd fulfilled my duty if I did simply stop there, but oh man do I want to. The So. Cal Sunshine is a prime example of why dual-stimulators are not all they're cracked up to be, and how difficult it is to find the right one.
Table of Contents
The Features
The So. Cal Sunshine is a small hot pink J-shaped vibrator whose arms are meant to stimulate the clitoris and G-spot simultaneously. The shorter clitoral end has the tell-tale rabbit silhouette complete with two "ear" prongs that are meant to tickle either side of the clitoris, while the longer arm ends in a smooth rounded bulb – higher on the top to apply adequate pressure on the G-spot. The hole for the pin-charger cable is located at the bend in the J on the outside of the arm, between two decorative shiny plastic bands. On the top-side are three circular buttons – one to operate the internal arm, one to operate the external arm, and the last just to turn the toy off or travel lock it.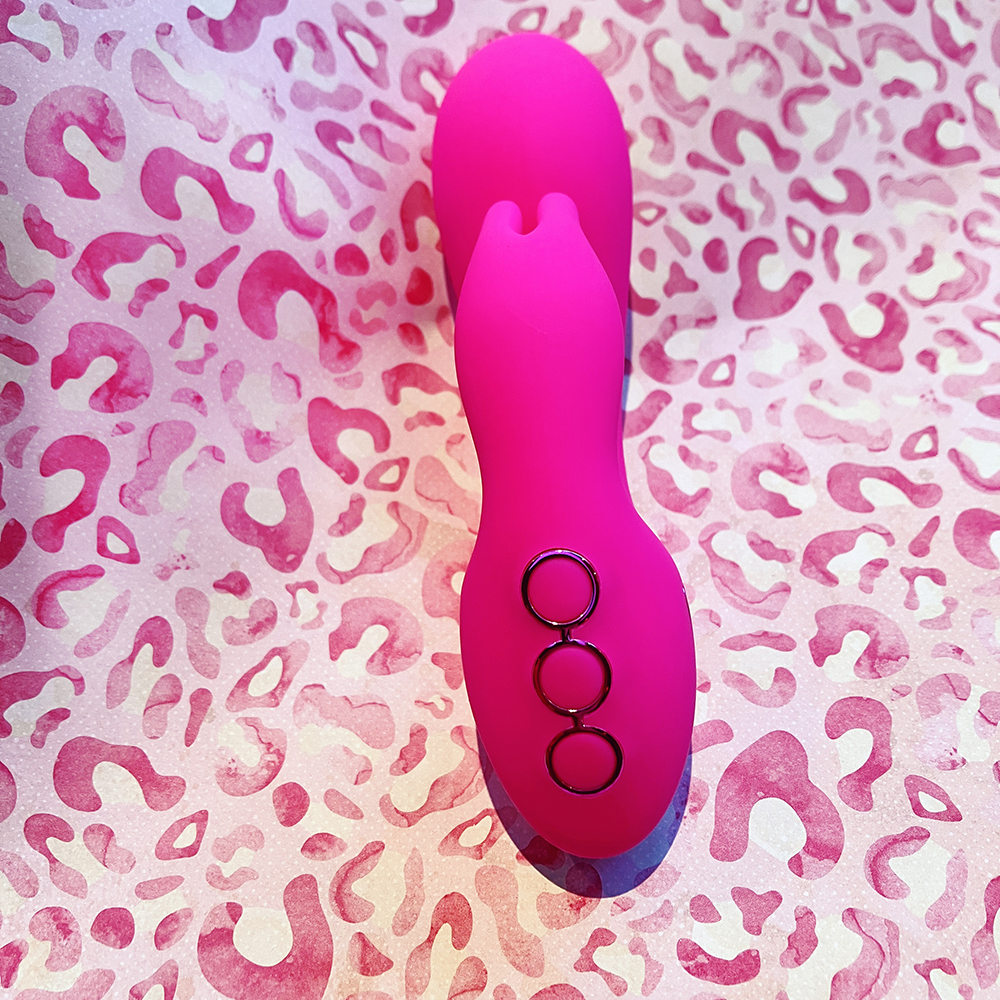 The So. Cal Sunshine has three steady vibration speeds in each arm, and 7 patterns in the clitoral portion. Both arms can be used independently of each other or together. Pushing the off button turns both functions off in an instant. The toy will return to whichever speed or pattern was last in use with the next press of the on buttons.
Toy Care
The So. Cal Sunshine is made of silicone which makes it non-porous. Because it contains a motor this toy cannot be boiled or dishwashed. For regular care simply washing with a mild soap and warm water is enough, and for a periodic deeper clean it should be soaked in a 10% bleach 90% cold water solution for 10+ minutes. The So. Cal Sunshine is compatible with any water-based, hybrid, or plant-oil-based lubricant. Silicone lube is probably not the best option.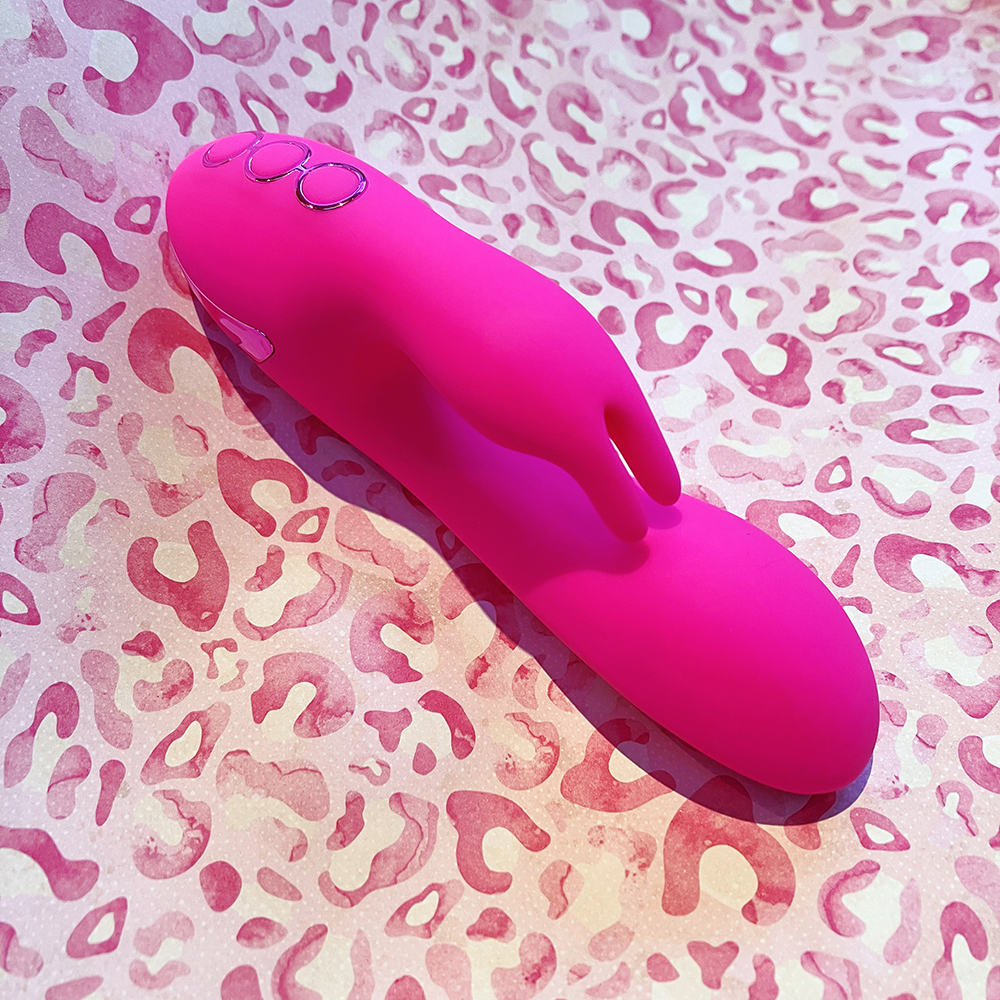 The Experience
Well…like I said – it didn't fit. It's really tough to give a toy a fair review when you cannot actually get it on/inside your body properly, and that's unfortunately the case for me with the So. Cal Sunshine. While the internal arm does have quite a lot of flex to it when I'm bending it with my hands, once I've got it situated inside my vagina and let go, the toy wants to clamp down in a way that causes the clitoral "ear" prongs and "face" of the rabbit head to stab into my clit in a really painful manner. I can hold the base of the toy in an angle that forces a bigger gap between the G-spot end and the clitoral arm, but it's hard to maintain, it transfers a lot of vibration into my hand instead of the ends of the toy where it belongs, and it's still just not actually comfortable. Because this is meant to be a dual-stimulator it's pretty difficult to use either end by itself, even if it does seem like the internal vibes are decently rumbly and maybe if it were positioned anywhere near correctly the clitoral half could be alright. I'm not going to review this toy favourably by saying "I really like holding it backwards and using what's supposed to be the G-spot arm on my clit because it wont fit inside me the right way." The whole toy is a wash for me. This is extra disappointing because I had looked at a different dual-stimulator and said "Nope! That one definitely won't fit" – this was my better candidate.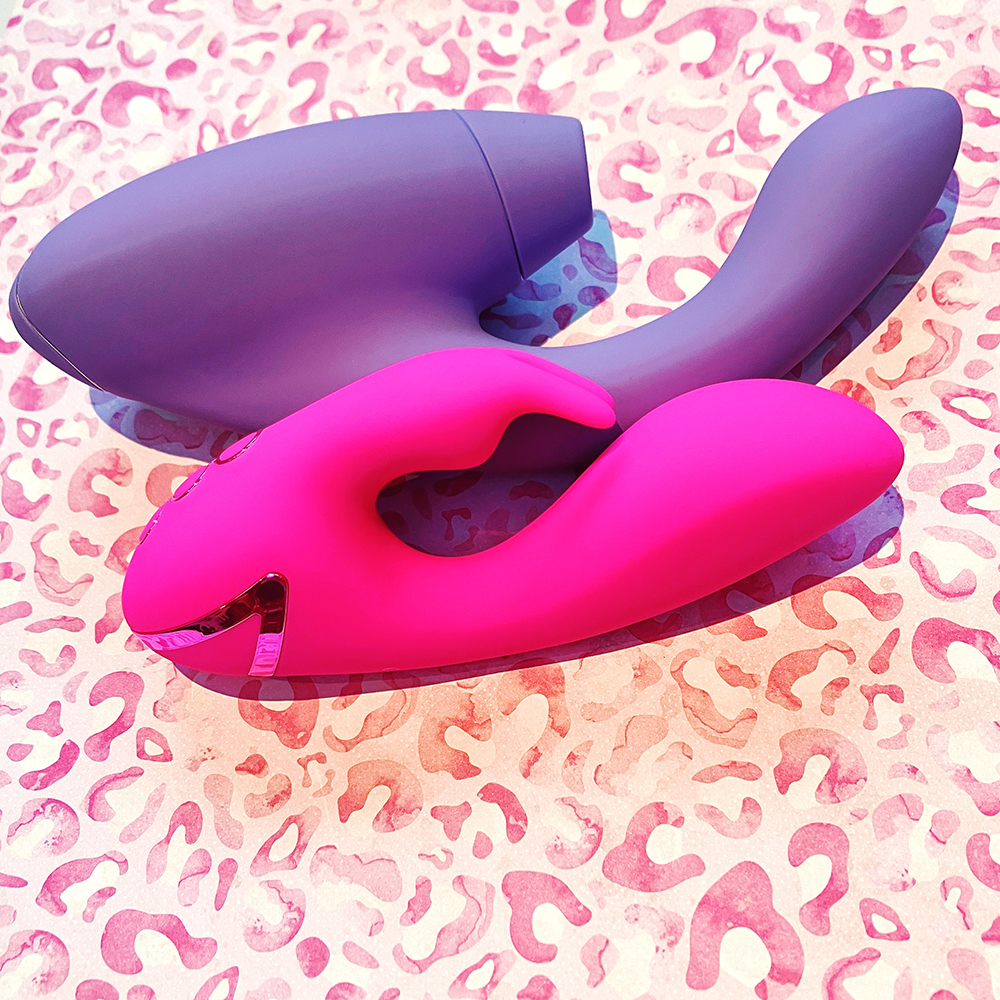 I wish I knew who decided the dimensions for sex toys, and what data they're referencing when they do it. The Womanizer Duo is one of the few dual-stimulators I've tried that actually does fit me really well, and as you can see in the comparison photo above, the dimensions are way off from what the So. Cal Sunshine offers. If the Duo fits me just right, it's no surprise at all that the So. Cal Sunshine makes me feel like my pubic bone is being squeezed to death by a lobster claw. These are not the beach vibes I was looking for.
Should You Buy This?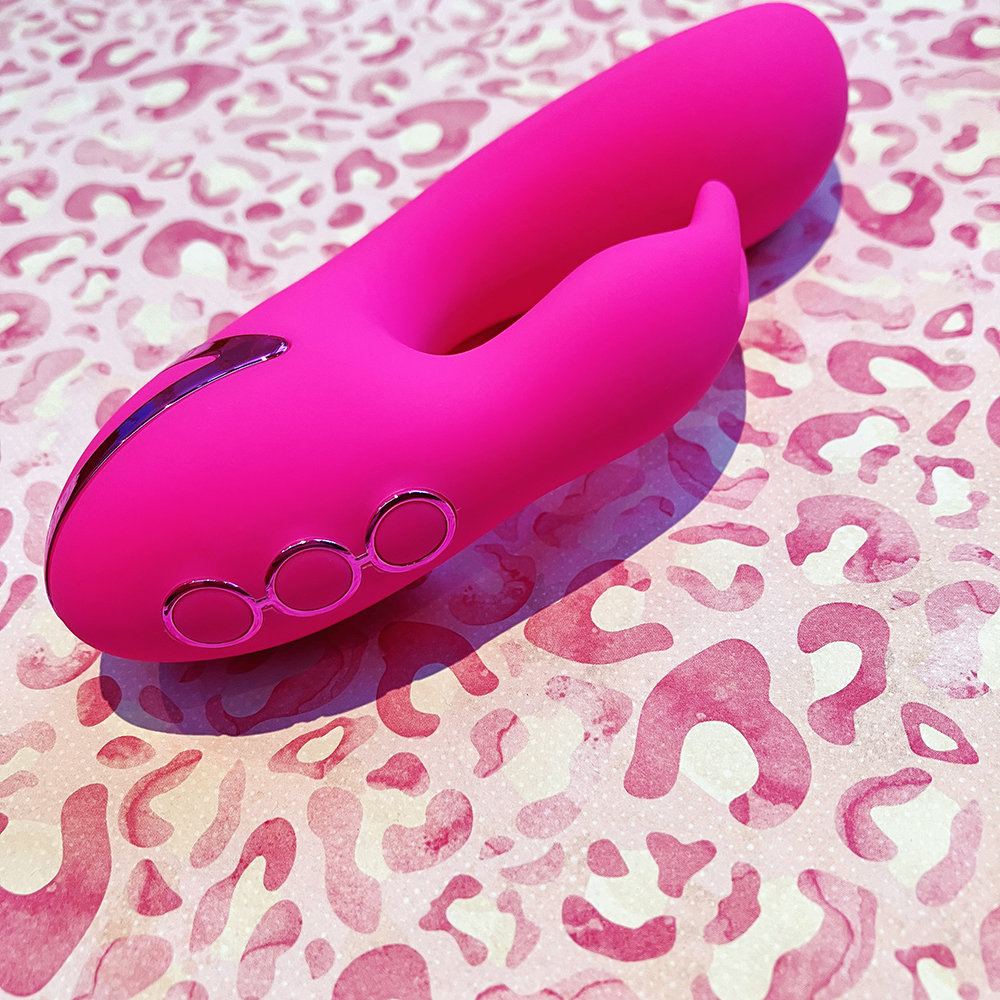 I'm offering a very cautious "maybe" on this one – obviously I hate it. If you have a body like mine where this toy will simply not fit you, then no absolutely do not buy it – how's it gonna work for you? If you've got a similar toy that fits you great or you want to bust out the measuring tape and protractor and do some math to figure out if it's got the right angles for your anatomy, then sure give it a spin. Even if the So. Cal Sunshine had fit me, I'd still be pissed about the limited steady vibrations in both arms, and I'd be upset that there's a whole third button just to turn the toy off (where most vibes just opt for the long-press) when it could have used that space to offer up and down buttons for each function so that you don't have to cycle through – especially the 7 patterns I probably wouldn't use. I do like that it's the standard fare of waterproof, silicone, rechargeable, and it's reasonably quiet as well. It has some good qualities, but they're not big enough for me to ignore the fact that it's not going to fit a large number of bodies that might try it, and thus be relatively useless to many. So we've got a solid "meh" from me. I think there's more versatile dual-stimulators out there if that's what you're really after, but I personally tend to err on the side of "one toy per job." to avoid these types of issues.
Big thanks to Betty's Toy Box for sending me the California Dreaming So. Cal Sunshine to review! You can check it out by clicking Here