Toy Review – The Little Witch by Tracy's Dog
Update 7/2023 : Tracy's Dog no longer makes this toy
Before we go any further, I've got a brand info-dump for you.
Tracy's Dog.
What the fuck, right? Tracy's Dog has been around for many years now, originating as an Amazon retailer of notoriously unsafe products which they frequently lied about the composition of. They moved a ton of stock to Amazon shoppers who were either unknowledgeable on sex toy safety or simply did not care, because the products were dirt cheap and shipped fast through a discreet third party. A large number of sex toy reviewers will try to dissuade folks from doing their sex toy shopping on sites like Amazon – for their own safety – and as such a lot of us had no interest in working with Tracy's Dog, myself included. That of course did not stop their reps from spamming our inboxes relentlessly over the years, insisting they had "great opportunities" for us, despite our blogs very clearly not showcasing their type of products – for a good reason.
Tracy's Dog has just recently decided to expand their work into other retail outlets, wholesaling their product to independent sex shops, and that's where I come in – Naughty North has begun to stock Tracy's Dog items and I've got a handful of them to review. The only – ONLY – reason I agreed to give these products the time of day is because they are coming from a retailer I trust and believe to care for the wellbeing of their customer base. I flame-tested my toys just to be extra sure, and they do indeed seem to be real silicone this time around.
So Tracy's Dog has also seemed to finally get on board with safer materials (sort of – their dildos are still being made in PVC and Jelly). They hopped on the air-pulse-clit-sucker-thingy train and had a review for one of their products go viral for how amusing and positive it was. And then the toy itself went viral, and Tracy's Dog was pulled out of the shadows of "personal massager" search engine queries. It seemed like the perfect time to just do a complete brand re-vamp, but alas. The name stuck.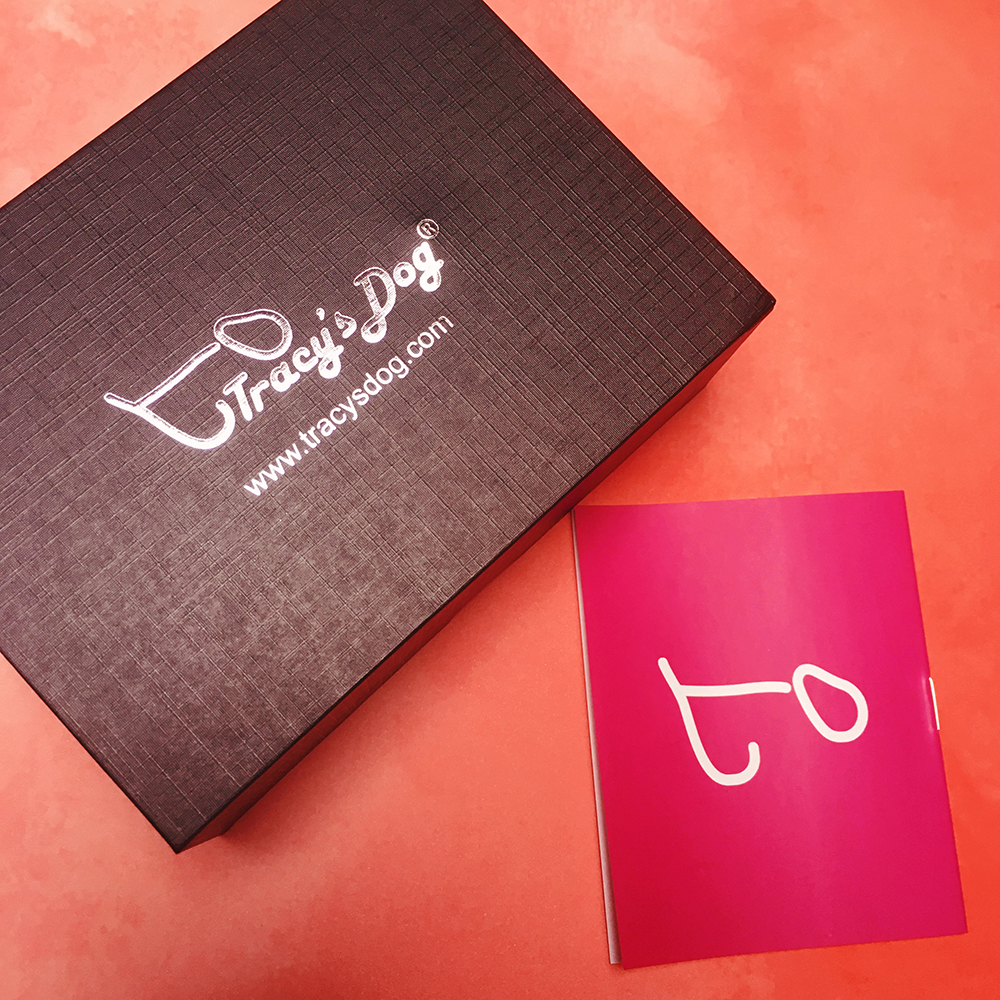 If "Tracy's Dog" referring to a sex toy makes you squeamish, don't worry, you're not alone. LOTS of us really fucking hate it and can't wrap our heads around the reasoning for it. So I tweeted about it, asking if anyone has ever actually directly asked them what the fuck is up with that choice. And then I went digging on my own and came across a recent interview with the owner.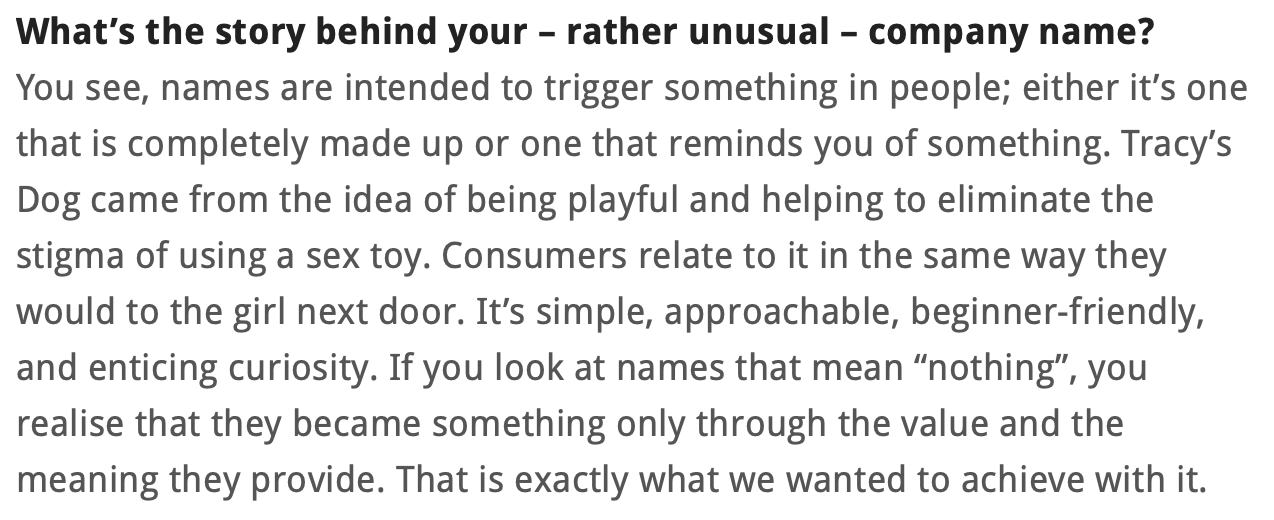 They basically said that names don't mean anything, so they could have called their company literally anything else, but for some reason, they decided that "eliminating the stigma of sex toy use" would best be done by naming a sex toy after another person's pet dog, so when you open up about your sexuality with someone and go to tell them what your favorite sexual pleasure object is – because we've busted the stigma- …it makes them fucking cringe??? Sure, guess that makes sense. Having to explain that you are not talking about an actual person named Tracy's actual pet dog is very sexy and fun and totally normal.
Someone at Tracy's Dog skims twitter for mentions of their name and came across my tweets, so I got another follow-up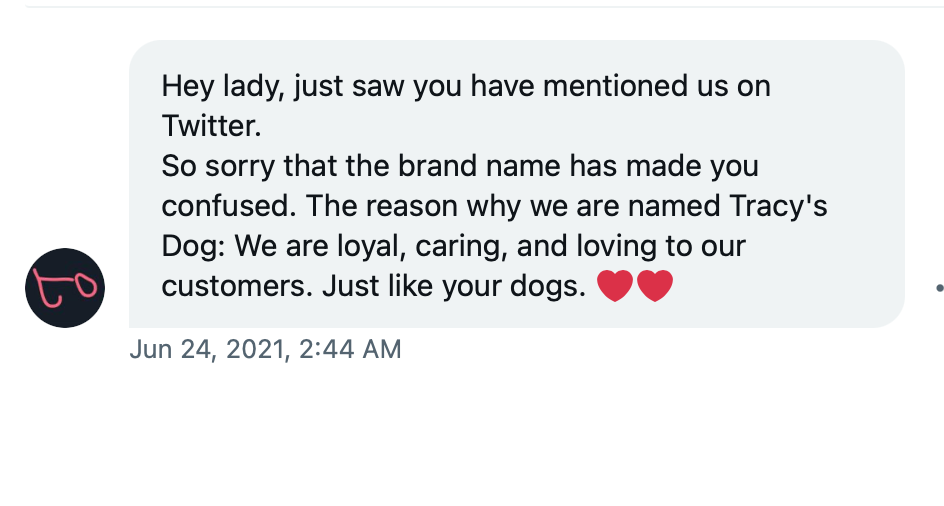 Yep, there we are again. I'm not confused, I'm just grossed out (and also this "friendly and approachable and cute!" stuff is kind of infantilizing.) I don't like thinking about people's pets when I'm masturbating. But hey, that's just me. The name doesn't seem to be going anywhere – they're rather proud of their inexplicable choice – so I've just gotta live with it.
The toy I tried this time is the Little Witch (I think? TD's website lists it as the "Mage" but every retailer that stocks it calls it the "Little Witch" so who knows.) I've historically had issues with almost every air-pulse toy I've tried and I can't always pinpoint why they don't work for me, but I think I've actually got this one's number.
The nozzle that is supposed to surround the clit tissue is just extremely shallow, and the little hole that the pulses are supposed to emanate from is…little. I'm already not the exact demographic for these types of toys because I'm lacking in the requisite external clitoral structure but I've still managed to make a handful of these toys work for me anyway when their design allows them to funnel the sensation into a more pin-point spot and I can direct the toy into whatever place that feels best. With the Little Witch that cant be done, the pulses are short and without any particular direction because they spread out through the whole mouth of the nozzle. The wavy contour of the nozzle further complicates getting a fitted "seal" against the skin. Conversely, someone with a larger clit might run into issues with the depth of the nozzle as well.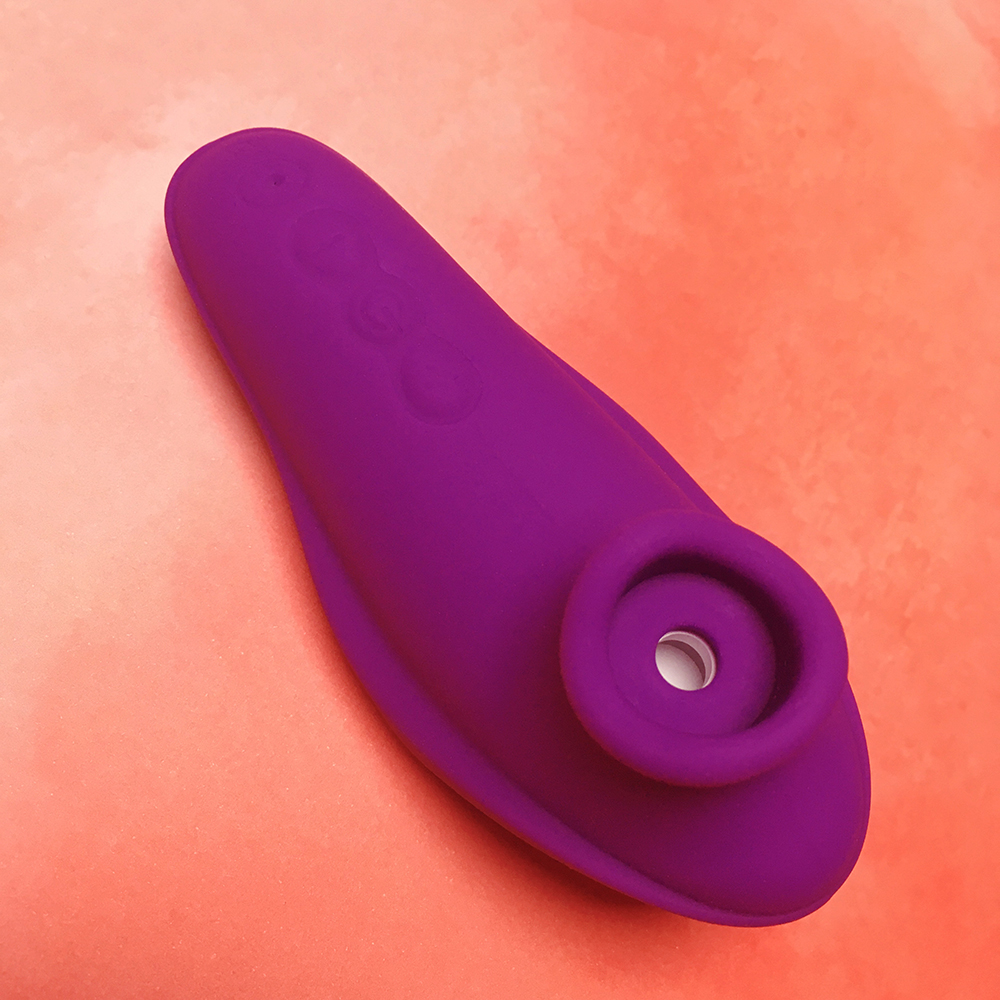 If the nozzle were a bit of a better fit, I think it could be improved quite a lot. In trying to keep in mind that the Little Witch is a pretty inexpensive toy, I'm trying not to be too incredibly harsh on the sensation aspect of it. On the lowest few settings it's actually not that bad, it feels well enough to wake my nerves up and get me interested. Unfortunately as I turn the intensity up, it gets buzzy and loses the novel air-pulse sensation, turning instead into a weak standard vibrator that does nothing for me. There's 7 different speeds but I can only feel the difference in maybe every other one (I also count 10 increase-button clicks before reaching the top speed when I do it myself – I don't know if my button just doesn't work every time I push it – which is a problem -or …I have a model with 10 speeds?)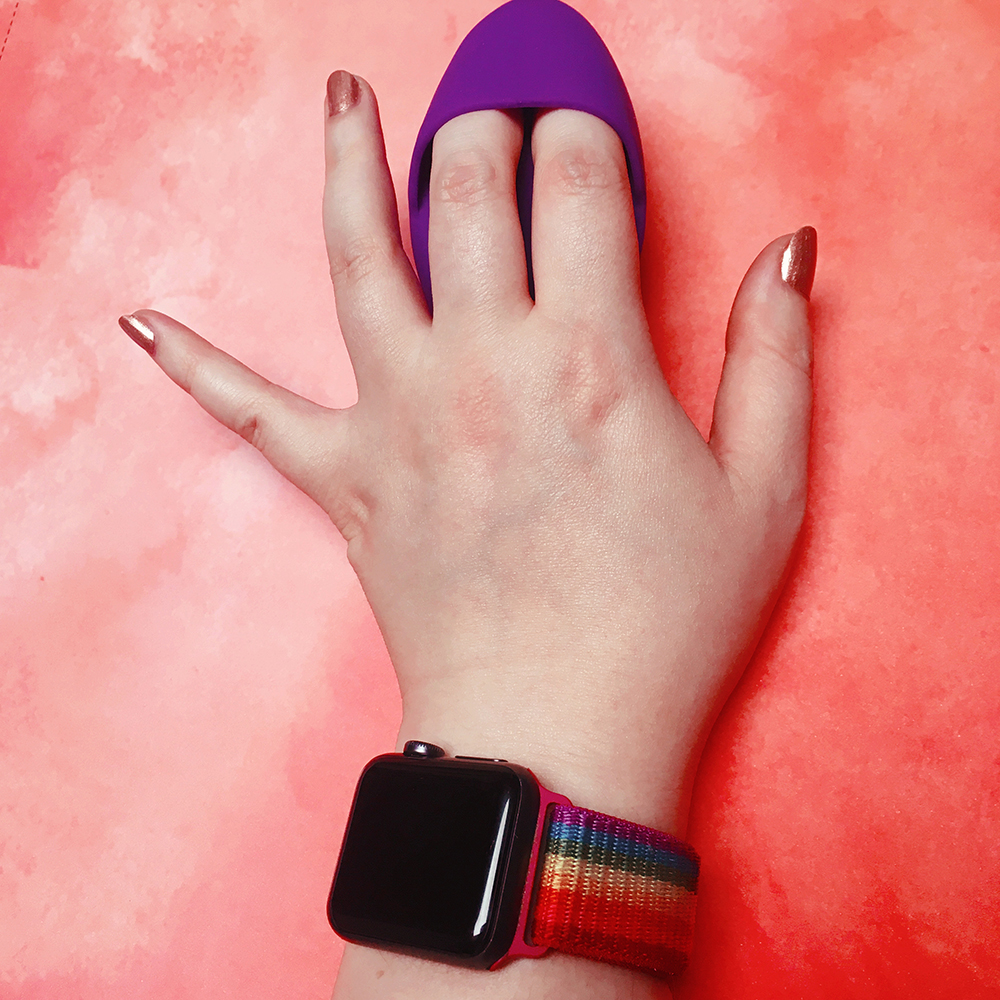 The feature that sets the Little Witch apart from the other dozen air-pulse models Tracy's Dog makes is the "finger hood" on the back of the toy that is supposed to aid in holding it in place securely. Unfortunately, that doesn't work for me either. If I place my finger(s) in the pocket of the toy and hold it as intended, then I can't operate the buttons.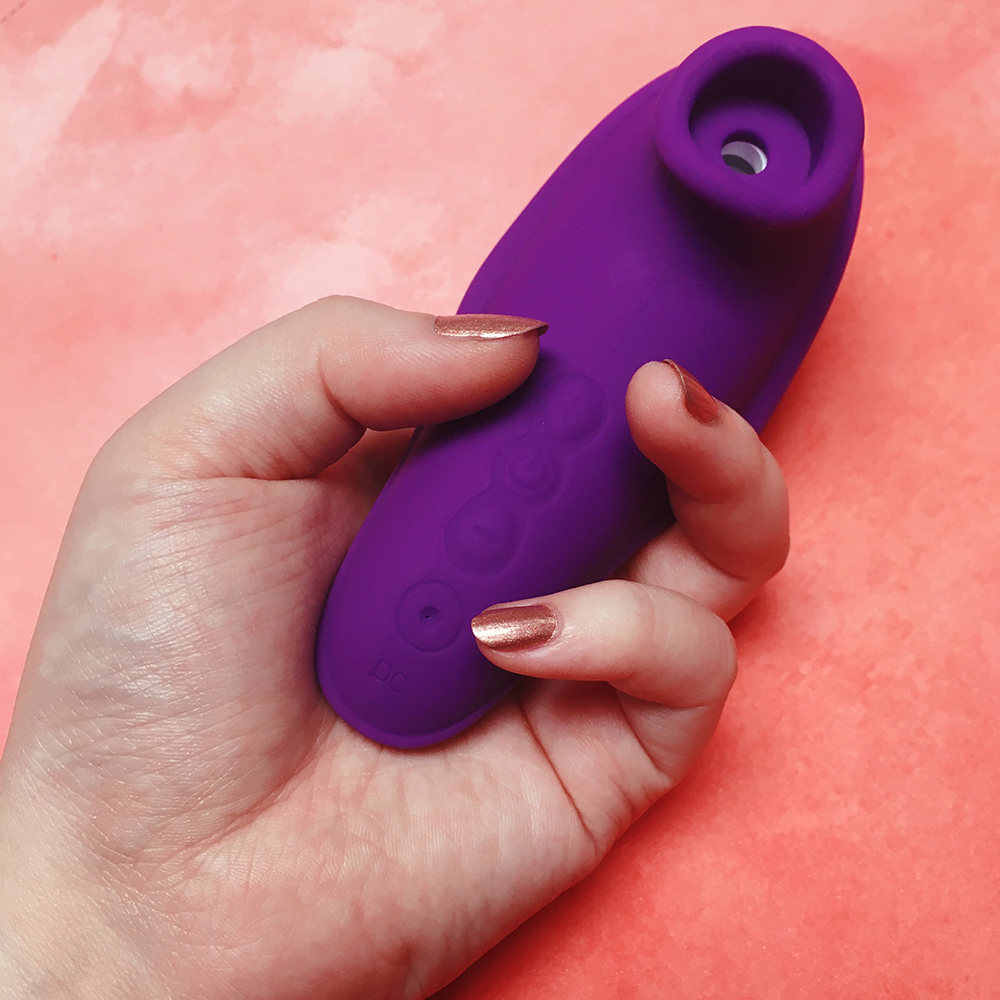 I struggle to reach the buttons comfortably with my thumb, while the end of the toy digs into the heel of my palm. I appreciate the function buttons being separate and I don't think they're in a bad place – rather I don't think the design team considered how people's hands actually work and the way folks are likely to hold a toy.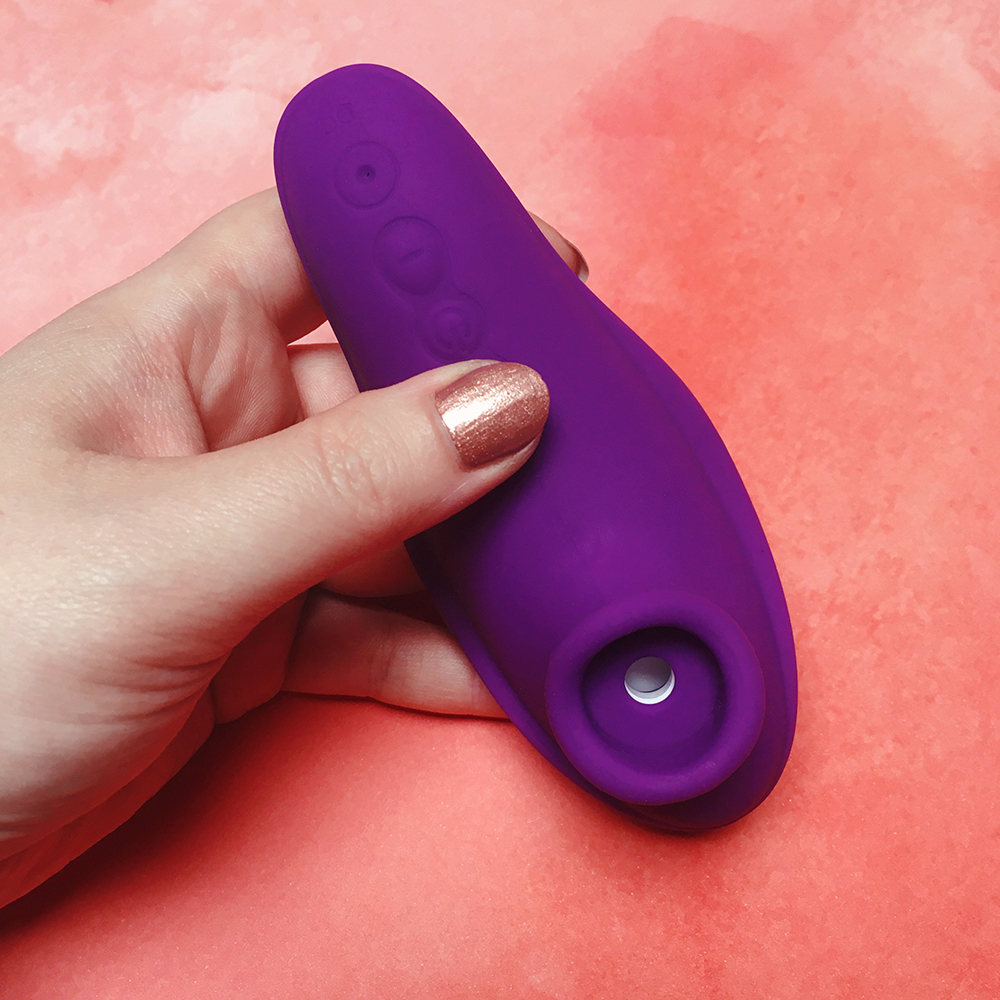 Holding the toy without the use of the finger hood is perfectly comfortable (if I do have to mash my thumb into my pelvis a bit because of the short nozzle) so if the Little Witch actually worked for me I'd say just nix the finger pocket and give me a plain ol' shape. This feels like a trap a lot of manufacturers fall into (Satisfyer has gone through more discontinuations and new lines than I could possibly count) – make the same toy in dozens of different shapes to trick people into thinking each one is special – when in reality they could just focus on making one really solid design that worked well for a wide variety of people and they wouldn't need little gimmicks to sell it. Tracy's Dog has seven different shapes that all serve the exact same function, with the same number of settings, and all at similar price-points. The shapes are the only thing setting them apart, and the unique shape of this one fails in practice – so what does it actually leave us with?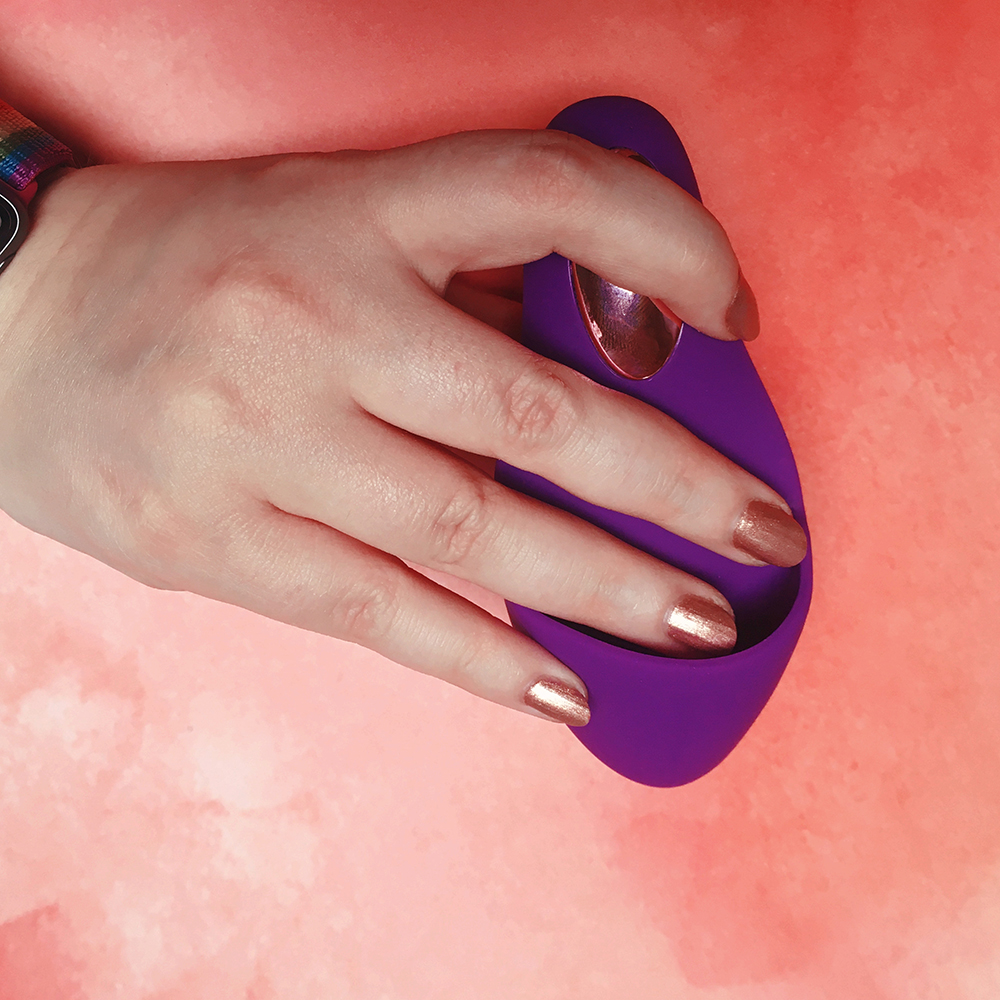 The one thing I'll praise the Little Witch for is that it's quiet. The branding claims it's quiet, and it is actually fairly quiet. Frequently the claims of "whisper quiet super discreet!" just means it wont rival the sound of a blender at 2am. Pop the Little Witch under a blanket and all should be well.
Overall the Little Witch could have benefitted greatly from more attention to functional design detail, the beginnings hinted at something good, but it simply didn't follow through.
Big thanks to Naughty North for sending me the Tracy's Dog Little Witch for review – you can purchase your own by Clicking Here
Tracy's Dog Little Witch – Tl;dr