Toy Review – The Lucky 7 Thrusting Vibrator by Tracy's Dog
I won't keep rehashing my complete disdain for this company's name/branding in every review but if you didn't catch my last one, and you're here for my contempt towards crappy marketing then you'll want to check out the first couple paragraphs over here. Tl;dr I fuckin hate this name and their branding. But we're doing it again so let's go.
The Lucky 7 is a remote-controlled vaginal or anal vibrator that also self-thrusts with ten modes of each.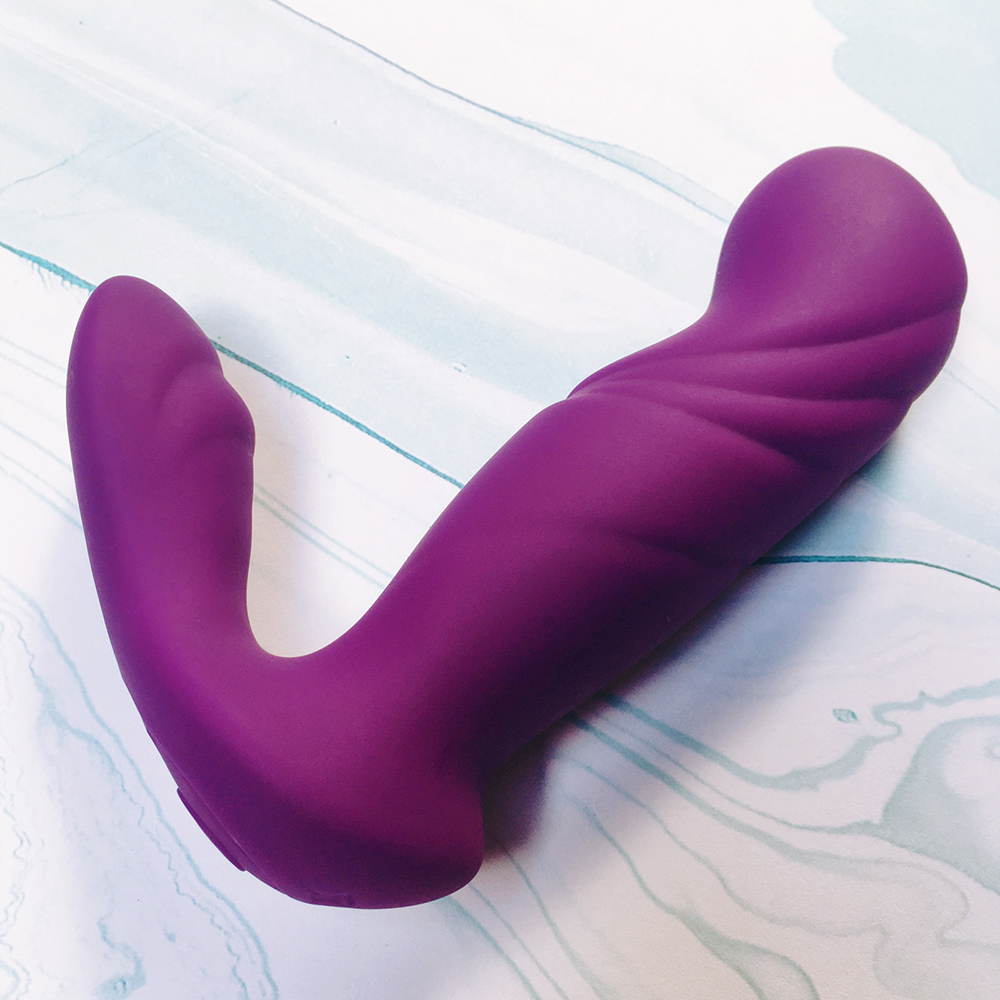 The Lucky 7 concept isn't a terrible one. The thrusting function uses a mechanism of weighted magnets to jostle the toy back and forth hands-free (the same mechanisms we see in the Fun Factory pulsator line, and others.) My issues with the Lucky 7 are not in its actual function at all, they're purely design-based.
There's a very popular statistic that states the average vagina depth is 4 inches. Of course when a person is aroused, the vagina can accommodate a bit more than that, but it's not like a structurally rigid extra room balloons out from the back of the canal, like you open a door to extra storage space back there – the tissue just becomes more elastic so if something is pushed against it, it stretches to make space. I can be fully aroused and still feel my cervix if I stick my fingers inside myself and my longest finger is only 3 inches tip to knuckles.
I'm telling you all this to explain how and why the Lucky 7 is just too damn big. The length of the insertable half is over 4 inches, so despite this being billed as a toy for G-spot stimulation, it goes straight to pounding my cervix the minute I turn it on. If I removed it from my vagina so that the upward-curved end was actually rubbing against my G-spot not only would the toy thrust itself out of me unless I held it in place (defeats the purpose) but the clitoral arm would obviously not even be touching my body. Most folks describe their G-spot being about two knuckles deep in their vaginal canal which holds true for me as well. That's roughly 2 inches, not the 4.3 the Lucky 7 boasts. If you like cervix slamming then this might be a great toy for you, but for me I tend to just feel sore and kinda nauseated, and if I let it go on too long I'll start cramping and spotting. Rather than being loosely penis-shaped, if the Lucky 7 really wanted to stimulate the G-spot without bashing the cervix, it would have a more prominent bump in the middle of the shaft that sloped gently towards a smaller stubbier head, and a slimmer neck that would join with the clit arm. The Lucky 7 only moves around 1/4 – 1/2 inch in its thrusts, so the upturned end of the toy doesn't come anywhere near my G-spot once it's inserted.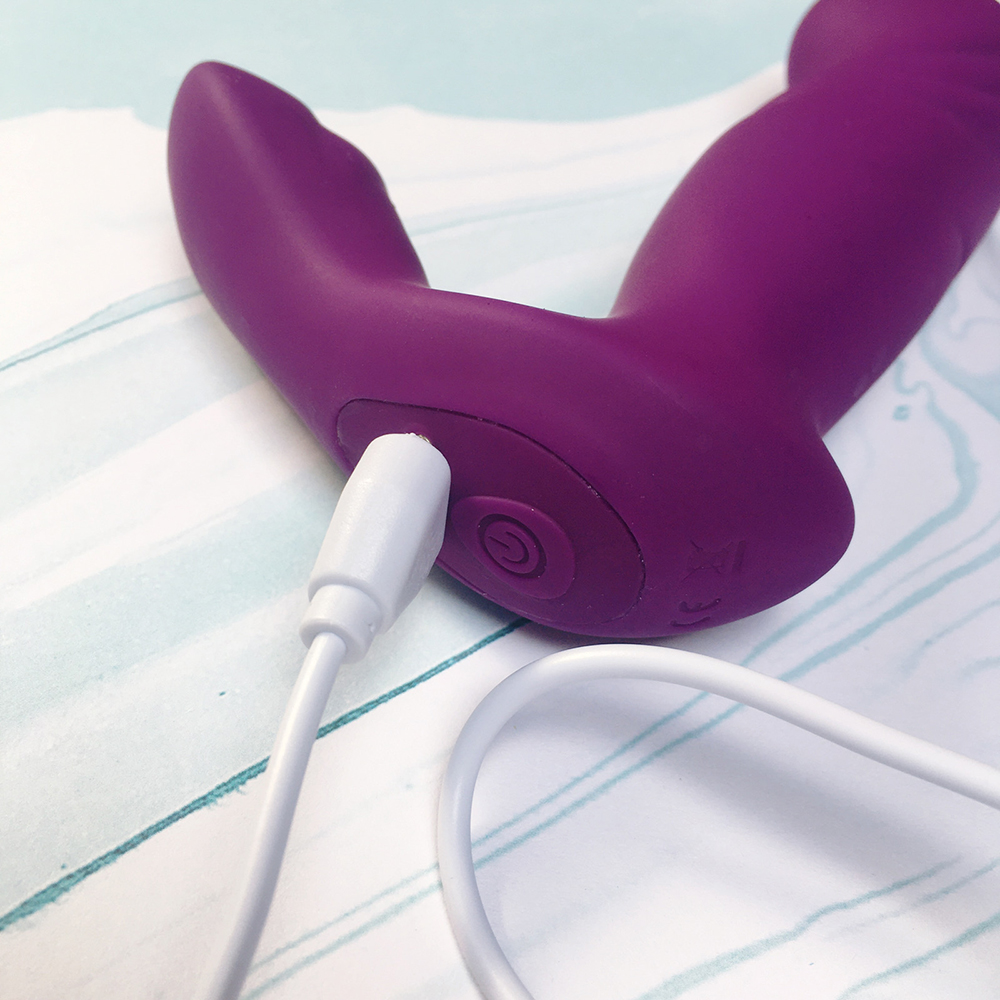 I also feel that the Lucky 7 could be a little bit slimmer. The 1.3 inch girth is not huge by any means, I just personally lean towards the smaller side with insertables and I feel like I could get a smoother better thrust feeling if it weren't so snug. That's very specific to me though, folks who prefer bigger toys might find the Lucky 7 too small as it is and wish it were even bigger.
It was tough to test properly because I had to really force the Lucky 7 all the way up into my vag, but the clit arm was in the right spot for me, which a lot of dual-stimulator toys get wrong, so not being able to really use it was a big disappointment. The vibrations in the clit arm are weak and buzzy (and loud, despite Tracy's Dog claiming they're quiet and discreet) but I can get away with a little more of that when paired with internal stim than when I'm using a clitoral vibrator alone so I wasn't going to ding it too many points for that. The patterns are very weird and erratic though, I don't think I'd use them much, if ever. I often use patterns on G-spot vibes but most of these are too random to be interesting, just annoying.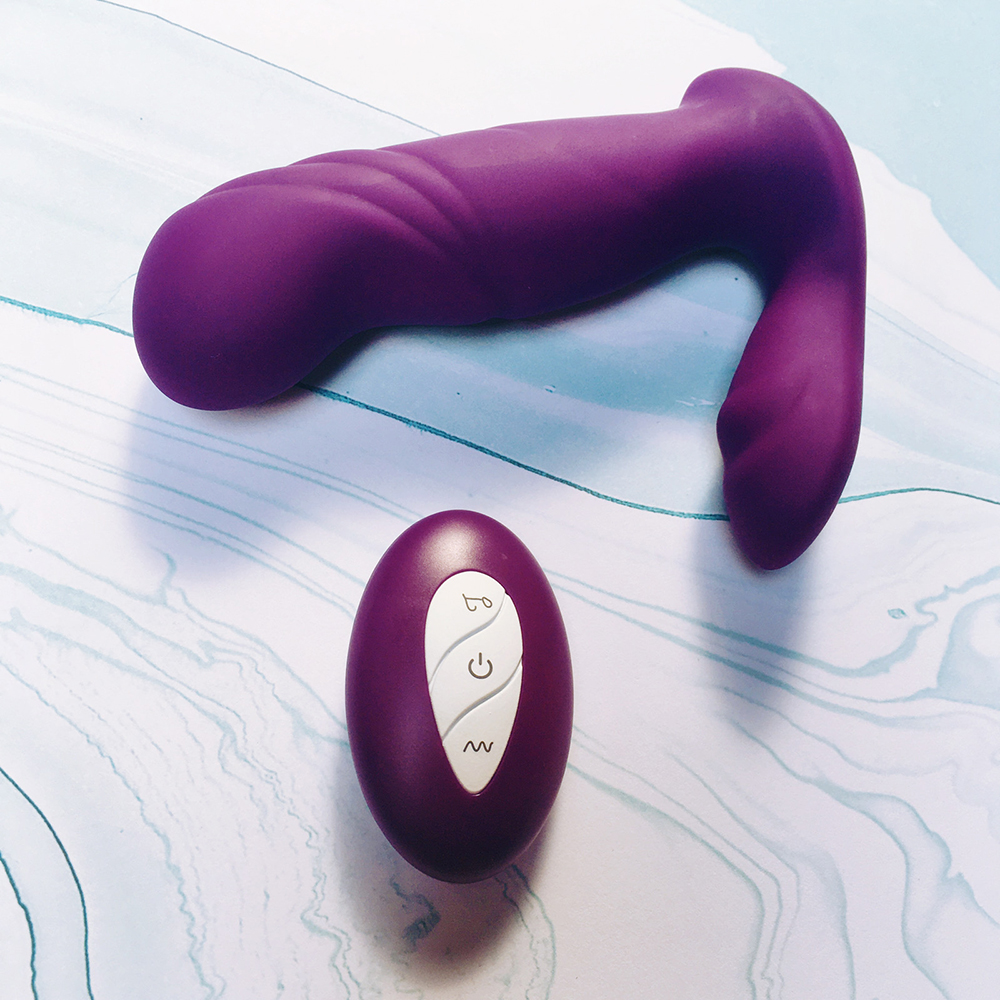 Ah yes, the three modes – penis, power, and squiggle.
I'm sorry, I said I got all my snark out in the last post but I couldn't help it. I hate that cartoon dick. HATE IT.
Overall if it fit my body (or like…anyone's body….because G-spot placement is fairly universal, at least as far as it not being in the place of the cervix instead…) the Lucky 7 could have been kinda cool, I'm pretty bummed that it just causes me pain any time I try to use it. This is technically anal safe but I haven't felt very up to anal lately so I have yet to give it a whirl, but I don't really like being the person who goes "sure it sucks as a sex toy, but it makes a great paperweight so I give it a ten!" so even if I did find it alright for anal play, it still fails it's first purpose for me, which was a vaginal toy.
Big thanks to Naughty North for sending me the Lucky 7 for review! You can purchase yours by Clicking Here.
The Tracy's Dog Lucky 7 – Tl;dr