Toy Review – The Lush Iris by Blush Novelties
First I tried the E-stim dual-stimulator. The shape was right but the sensations were all wrong (I hate e-stim and the vibes were non-existent. It sucked.) Then I tried the The Duo and that was fucking ah-maze-balls. Then came the SenseVibe which had power potential, but didn't fit my clit. So I circled back around to another air pulsing dual-stimulator, since that seems to be my jam.
While I can still get a couple of them to work, I really really really just love my "suction"/ air pulse toys (though admittedly – both Womanizer products) over my traditional vibes lately. I've also been seriously considering a self-thrusting toy. While it's true that I own an actual fucking machine and it's great and everything, it turns out that the vast majority of my masturbation only really takes a couple of minutes, and setting that whole thing up just to only use it for 10 minutes – tops – is a pain in the ass. I want something I can just toss in the sink when I'm finished without having to worry about breaking down parts and storing cords and hiding it away in my closet.
As such, the Lush Iris – a self-thrusting, gyrating, warming vibrator with an air pulse clitoral stimulator – seemed like it might not be such a bad idea.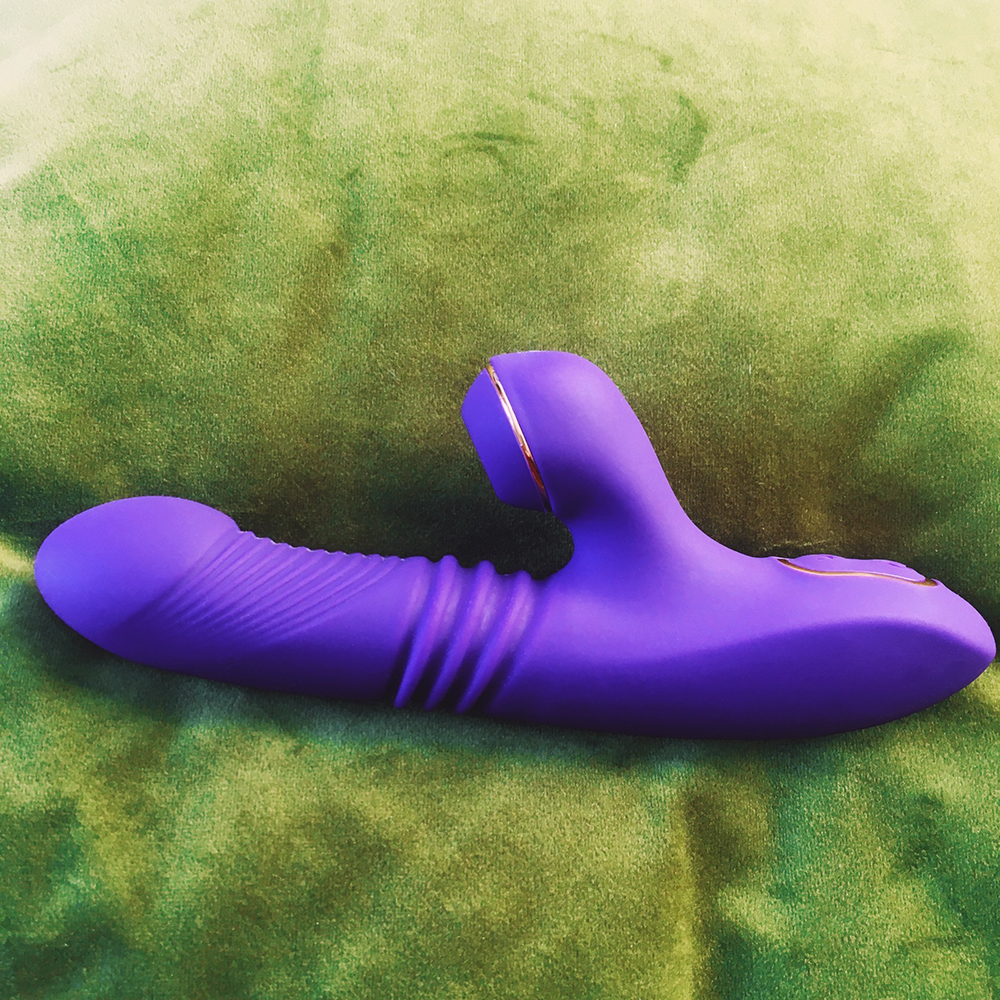 I was of course wrong, because why wouldn't I be?
I have one major issue (two smaller ones? One and a half? Eleven? You'll see) with the Lush Iris – the size. It doesn't fit me right, and unfortunately when it comes to dual-stimulators that tends to totally make or break the product. 
From the tip of the insertable to where it breaks off to join the clitoral arm is around 4.5 inches – which is cutting it pretty close to what I can comfortably accommodate to begin with. It HAS to be fully inserted because otherwise the pulse part won't make contact with my clit, since I don't really have one that protrudes from my body in any way shape or form.
The Lush Iris gets harder for me to use when I turn it on and it starts thrusting even further inside of me. This one's a bit of a cervix agitator for me.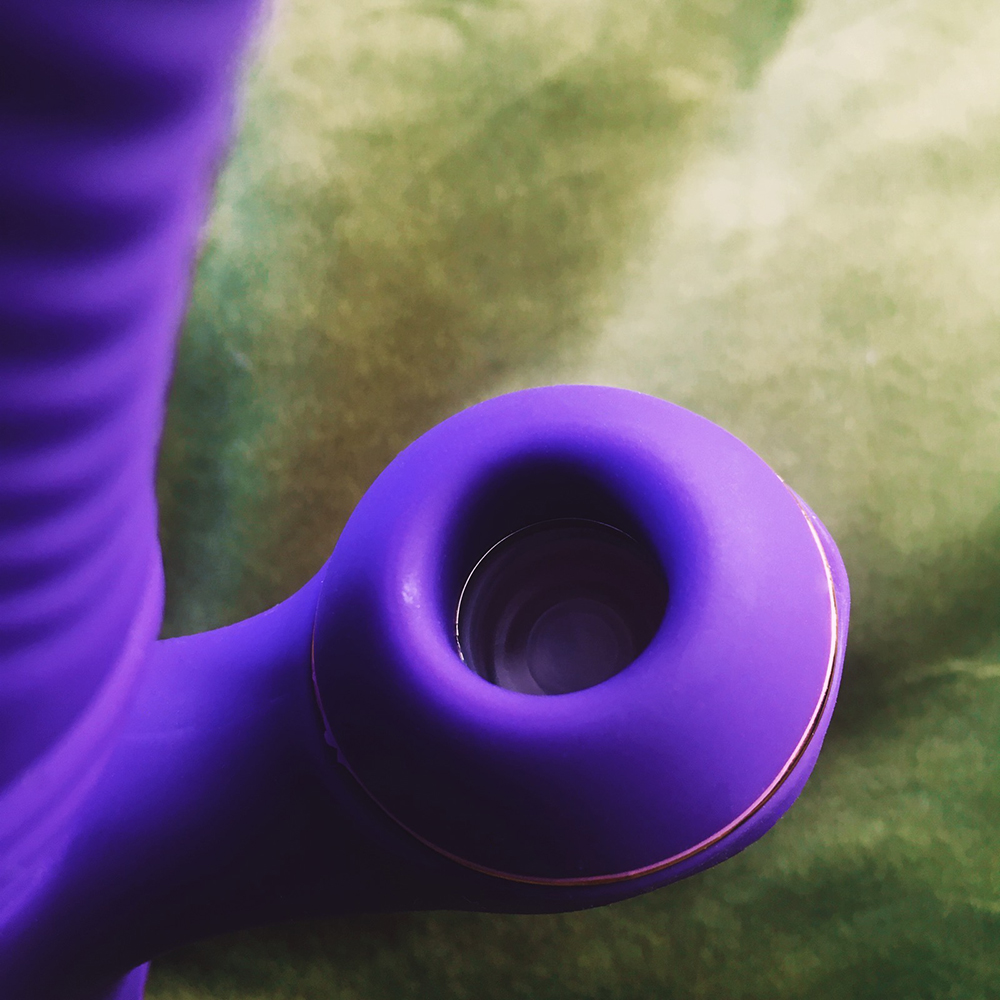 The next issue with the design and having to have it fully inserted in order to "fit", is that of those roughly 4.5 inches of shaft, half of them are covered in a silicone accordion that stretches and compresses as the toy thrusts itself. If I have to have that full length inside of me in order for the clit arm to work, do you know what happens when the insertable pulls back? It fucking pinches me. It feels fine for me to hold it so that only the first 2.5 – 3 inches enter my vagina, but then the clit portion is several inches from even making skin contact so what's the point in that? For me to force this to work I have to suffer getting my vagina caught between the folds of the thruster each time it compresses and surprising to nobody – that hurts! No thank you!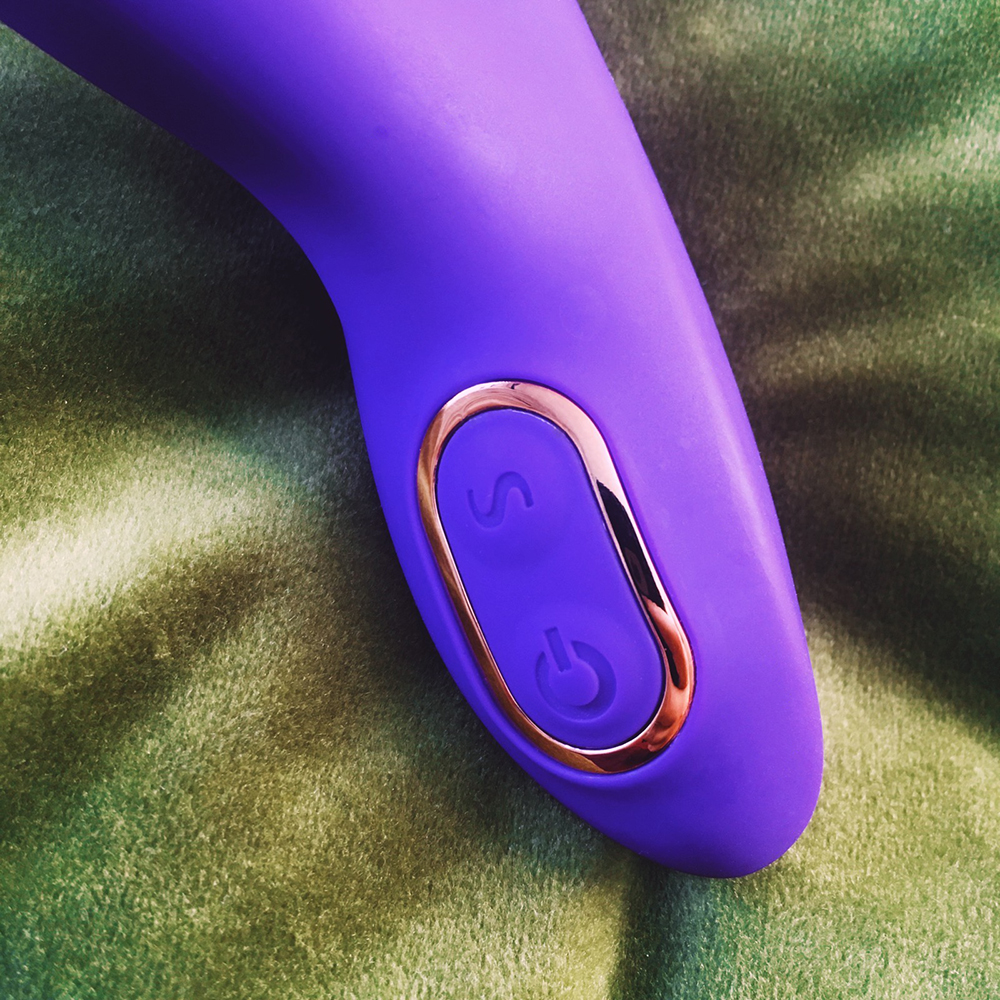 Finally, on the fit front, the pulse feature just isn't angled the right way for me. It's tough for me to get an accurate test of the actual function because I just can't get it into the right spot, so I can't say if it would flop or knock my socks off. Maybe I'm not angling the whole toy properly – jamming the end way up towards my lungs so that the strangely downward-curved nozzle for the air pulsing will make a seal with my pubic bone. Either way, it's super uncomfortable to force-fit this one, and really hard to keep in place as the thruster grinds against my back wall with nowhere else to go and tries to push itself out.
Oh, and the gyrating. Yeah that doesn't help anything. I don't think I'm really into it. Even if this were just a dildo and I weren't trying to get a clit portion to line up perfectly, I feel like the thrusting would be a struggle enough to keep the toy in the right spot, the gyrating adds another layer of difficulty in getting the toy to thrust inside of me instead of pushing itself out of me. It's not a huge toy but it's not tiny either, so the path of least resistance is of course out rather than in, and that's exactly what it wants to do – twist and thrust its way out.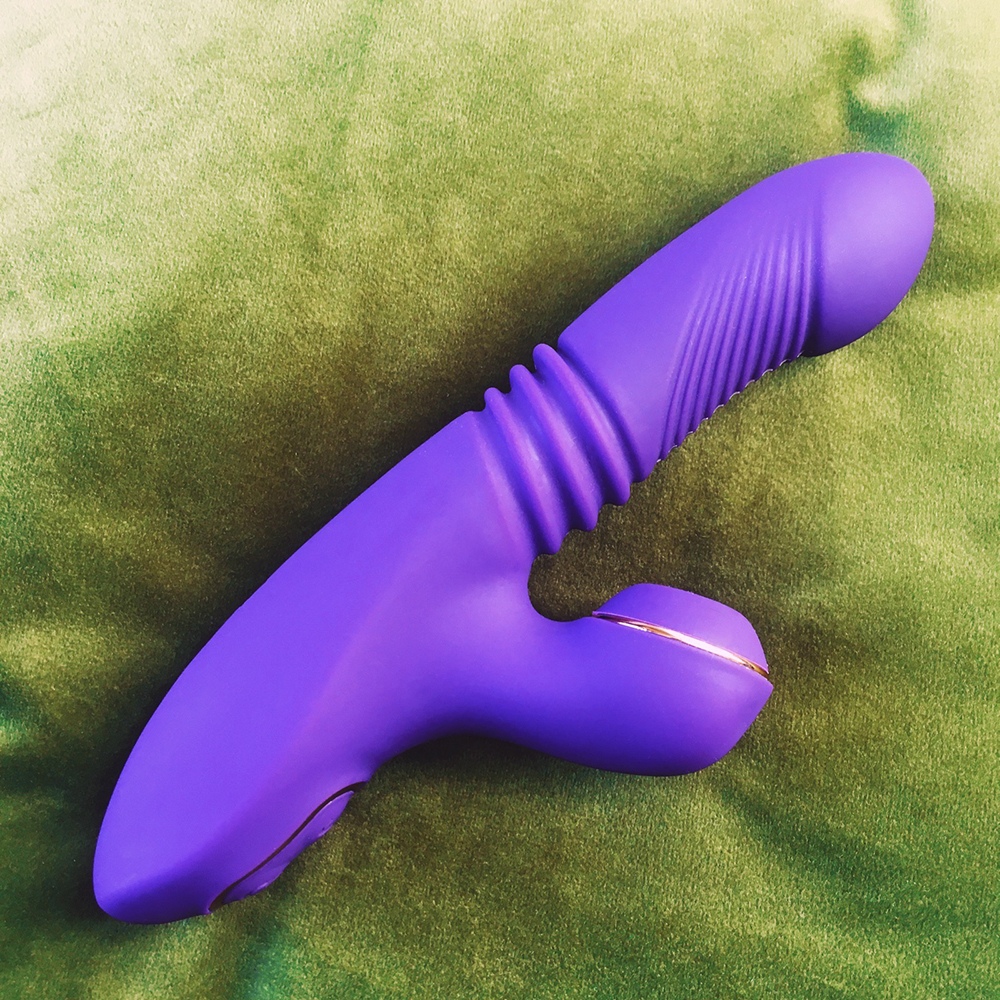 The toy is supposed to be self-warming as well but it hurts too much for me to use long enough to tell if this is even noticeable. I feel like the inside of my vag is pretty warm on all its own. Maybe if it came with a pair of heated leg warmers or something that would be notable (I'm aware that blankets exist but if you had any idea how much lube I have to use in order to test this thing you'd understand why I don't exactly want to crawl under the covers with it.) The vibrations in the shaft are what they are – I need constant firm pressure on my G-spot for my vag to care about internal vibes and with the thrusting and gyrating that's just not possible so the fact that it vibrates at all is sort of lost on me.
Overall I think the Lush Iris has too many features that could possibly disqualify it for bodies that it doesn't fit into. Maybe if I could turn the gyrating off or gyrate without thrusting, maybe if the clit arm was flexible, maybe if the shaft wasn't covered in pinchy ridges, then I could make some part of it work.  At the end of the day though, I don't want a toy that has an abundance of features and have to settle for only some of them, I want a toy that fully works for me, and the Lush Iris can't be it. 
Big thanks to SheVibe for sending me the Blush Novelties Lush Iris for review! You can grab your own by clicking Here

The Lush Iris by Blush Novelties – Tl;dr