Toy Review – The Noje W3 Mini Wand by Blush Novelties
Here's a phrase I'm getting extraordinarily comfortable with saying : I made a mistake. 
I thought I was going to absolutely hate the Noje W3 – I actually turned down the offer to review it before from another retailer because I was just so very certain that I'd be writing the most uninspired trash piece about the thing, and while I certainly don't make it a point to only review things I might like, I try not to spend too much time on things I can tell I will despise (it's tough to motivate to use and review something you already know you don't like, the energy just isn't there. And I can only say the words "I hate it" so many different ways. "Knew I'd hate it the moment I saw it" reviews are not my best.) I was not looking forward to it when I found out I was being sent the Noje W3 anyway. I mean really, I'm on a more pin-point stimulation kick, I'm not even using my good wands, what do I need another, certainly sub-par wand for? A waste of storage space is what this thing will be! In the drawer under the bed collecting dust right next to my hitachi….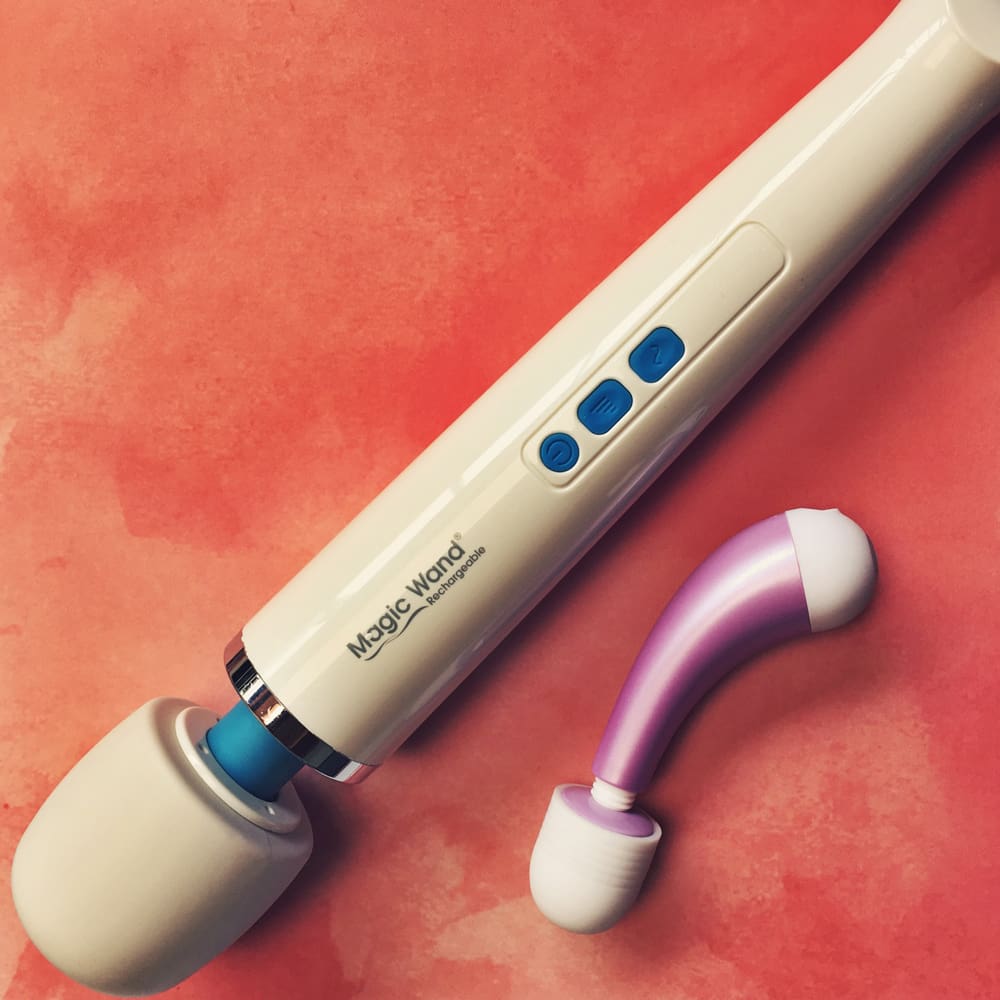 Let me back up and correct myself – I've made A LOT of mistakes.
I never bothered to look into it too much – and that's on me – so I had no idea the Noje wands are so small! Does it even qualify as a "wand style vibrator" at this point? I dunno, I'm not gonna debate it. When my box from SheVibe showed up I thought for sure it didn't have everything in it, and for a moment felt blessed that maybe the Noje wand had been forgotten. Much to my surprise, everything that was supposed to be, was inside the box. I couldn't believe what I was looking at.
My next mistake was thinking that because it was so small, (and cheap, and made by Blush) it must be the worst. This was bolstered with some leftover skepticism of toys made by Blush. Blush – with enormous credit given to Ducky for her help – are slowly crawling out from under their previously shit reputation as a toy manufacturer. Besides some ethics issues like knocking off other company's designs, they were just sort of known for churning out junk toys. They're a company that produces over 40 different lines of toys, meaning they make hundreds of individual toys to fill those lines. Typically in the sex toy biz, if you're making more than a few handfuls – certainly 40 handfuls – of different designs, you're not really giving a shit about the quality of any one item in particular. For a long time Blush was right up there with Doc Johnson, California Exotics, et al. Huge variety, most of it junk. But everyone seems to be trying to turn over a new leaf these days. While I am pleased that Blush seem to be turning things around for themselves, so far the majority of my experiences with the new-and-improved Blush have been dildos, and I like boring dildos so there's not a whole lot of room to screw that up. Vibes still get some caution from me.
In the Noje's case, my skepticism was misplaced. This little beast packs a remarkable punch. Despite being one of the smallest vibes I own, it's quickly risen to the top of the ranks in my go-to-vibes box. The body is made of a pearly ABS plastic in purple, pink, or a lovely minty green, the removable head covers are a white silicone. The toy is waterproof and USB rechargeable. There's 10 functions – 5 steady vibration speeds and 5 patterns.
SheVibe also sent me the two extra heads to try out and for the third time being wrong, I found myself actually liking the bunny-eared one. What's even stranger is my favourite way to use it is to lube up and actually move the head around over my clit – things I basically never do. I'm not sure what I like so much about this attachment when I have no exposed clit tissue to pinch between the two prongs, but it works somehow. The second attachment that's one side fin, one side large bump isn't bad either (I use the bump side, I still have no idea what these paper-thin fins on vibrator attachments are for) though I prefer the plain cap or the prongs the most.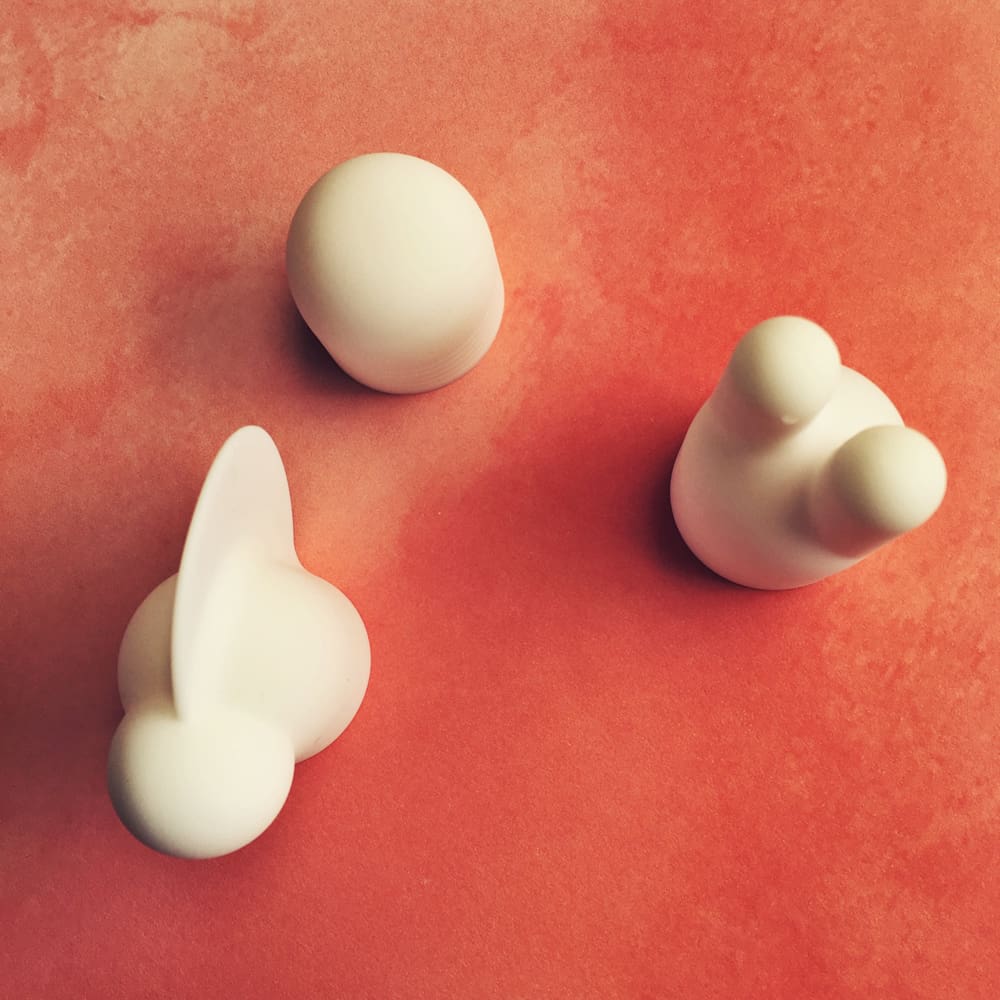 I have two gripes with the Noje wands, and they're not unique in the slightest. First, the fucking magnetic charging. If I never have to magnetically charge a sex toy again it will be too soon. I can't tell if Blush's idea of magnetic chargers is better or worse than the rest I've come across, but I'm no fan either way. On the one hand they made it ever so slightly better than other chargers by supplying a flat and flexible charging cable that doesn't actively combat the magnet connection and try to pull away, but on the other hand the magnetic contacts aren't just magnets, there's a tiny little pin on the cable end that has to connect just right into a tiny hole on the toy end. It's very easy to feel the magnets make contact and to think you've done it right, but for the toy to not actually be charging.
Gripe number two is another common theme with me – single button operation. The power button on the end of the wand is also the button you use to increase intensity, and then to scroll through the patterns, eventually cycling back down to level 1 steady vibes. If I've said it once I've said it a billion times – I hate losing count of what level of steady vibration I'm on and accidentally switching over to a pattern, I HATE having to go all the way back around to 1 just to get back to 5 when I was probably so close to orgasm and now I've lost it, and I hate not being able to slowly back myself off the vibration to bring myself down after the orgasm. I don't want to cum and then just stop, I want to ride it out and end peacefully back at setting number 1 – without having to cycle through all the others a dozen times.
Though it's not all bad. Besides its super manageable size, the Noje W3 has two more things that really make up for the two places it pisses me off. First, the power. I was certain this would be the buzziest most annoying little mosquito-to-the-clit vibe ever, but instead I was surprised with a wonderful orgasm-inducing rumble. I turned it up a notch and the rumble stayed. Again and again. Thinking it a fluke, I waited a few days to give it another shot, and again an orgasm appeared with ease I'm not used to lately. Where my Womanizer Pro40 used to be pulling nightly shifts as the only toy to reliably make me cum, the Noje W3 has now taken up at least half the workload.
Second, the noise. There's almost none at all. The Noje W3 is one of my quietest vibes, even on its highest settings. I have no qualms about traveling with this toy (the majority of my travel is to places with paper-thin walls you can practically hear someone breathing through, so a good number of my toys do not make the cut.)
My final thoughts are just on the potential heat problem – I use the Noje W3 on average about 10 or 15 minutes, between speeds 3 and 5, and by the time I'm done the head of the wand is noticeably warm, maybe even what I'd call hot. It's not burning my genitals hot, but it's definitely a warning to not keep going and possibly burn up the motor. Luckily I don't really want to be using it for much longer than I normally do, and if I do want a particularly long session I have other vibes that are all around better suited for that sort of thing, but the heat may pose a problem for others who want to run it for extended periods, especially turned all the way up.
Overall, I'm a bit shocked but at the same time thrilled to say the Noje W3 is an incredible success, and I will absolutely be putting it through heavy rotation.
Big thanks to SheVibe for sending me the Noje W3 Mini Wand and attachments for review! You can buy yours by clicking Here.
Blush Novelties Noje W3 Mini Wand – Tl;dr