Toy Review – The Nova 2 by We-Vibe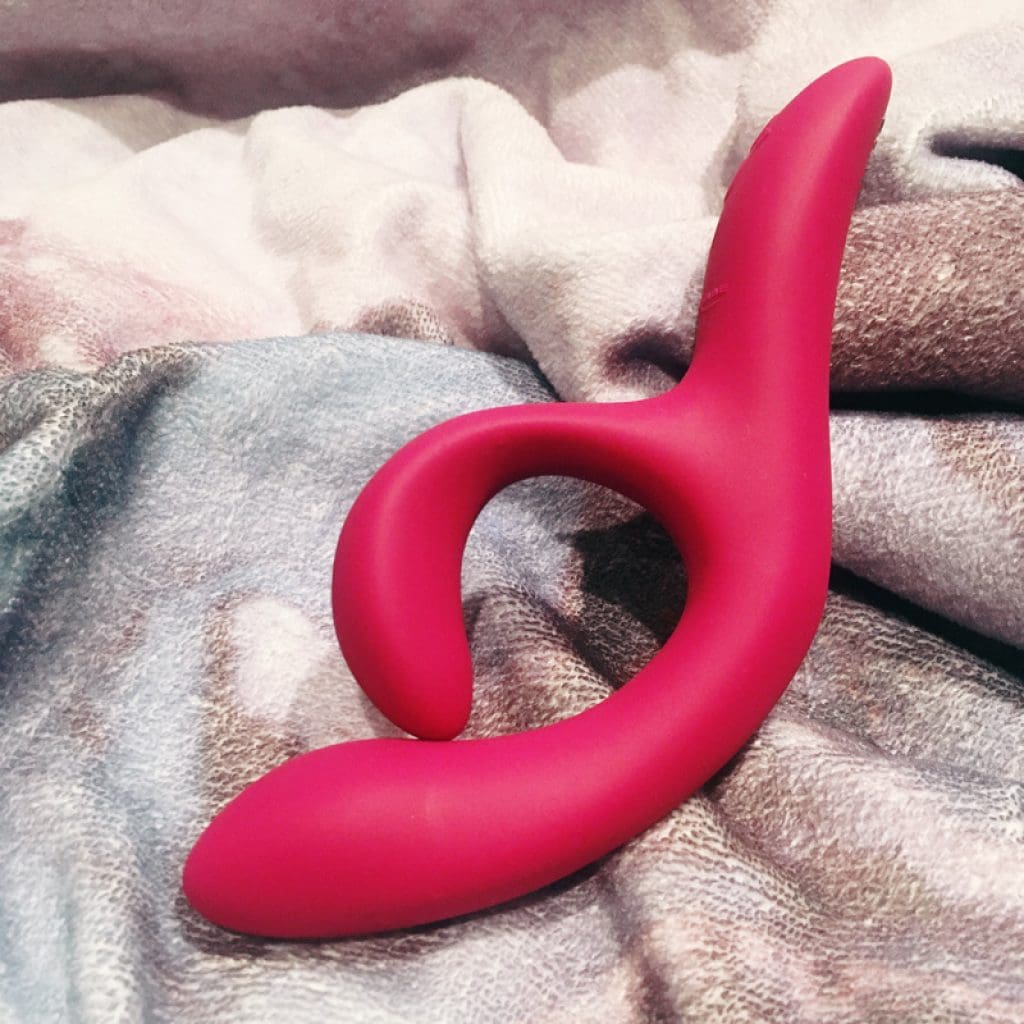 I've had my eye on the Nova for years and years – the same number of years I've thought dual "rabbit-style" vibrators would never fit my body. Unlike most dual vibes, the Nova's clitoral arm has always been flexible which helps aid in fitting a larger variation in genital shapes and sizes, but I've still never been brave enough to take the plunge and get one, because while all bodies are unique, mine always feels a little extra different – enough that toys that work for lots of folks still don't quite fit me.
I was blissfully surprised when the Womanizer Duo actually fit me perfectly, and has since prompted my exploration into more dual vibrators where I was apprehensive to experiment before. We-Vibe has recently updated the Nova and this time I'm lucky enough to give it a go.
I haven't been super impressed with We-Vibe's in a while – as someone who normally needs the strength of a power tool, I've found everything except the Tango to be a bit on the weak side, and the last insertables from them have proven pointy and painful for me. The Nova 2 at least fixes the discomfort issue – it's symmetrical and smooth and not too terribly large in girth. You wouldn't think so just by glancing at it (I had to consult the manual) but the insertable shaft is also slightly bendable to allow for better angling and a closer fit. It's pretty stiff and I honestly feel a bit uneasy every time I go to bend it, like I'm doing something I shouldn't be, but that stiffness does mean that it holds its shape during use, which is good.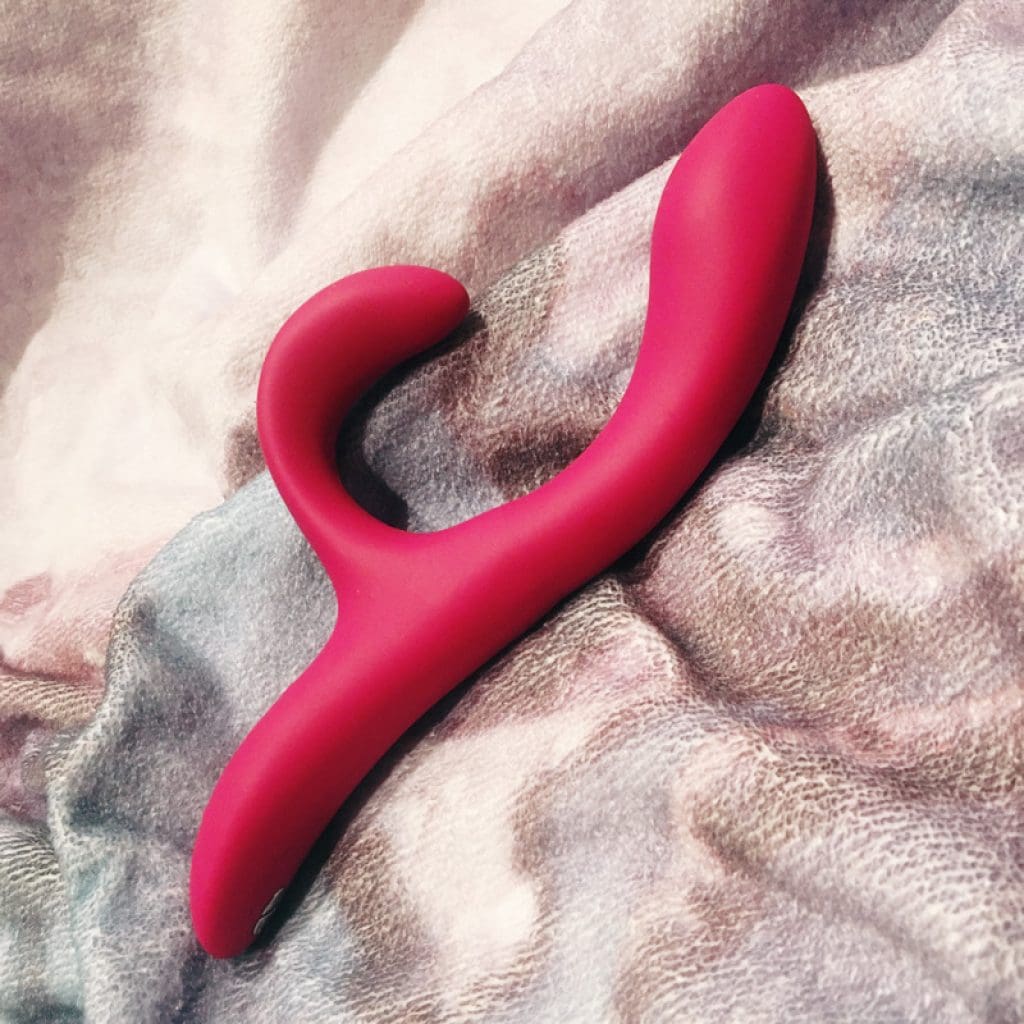 The internal arm when curled in as tight as it goes, hits my G-spot fairly well. Mine's really tucked up high behind my pubic bone so I have to press the handle of any insertable down a ways to angle the internal end up high enough, but really curved stuff doesn't require too much of a push which means I maintain more control over it without having to strain to reach, so in that arena the Nova 2 does pretty well.
The part where the Nova 2's shape fails me is the clitoral arm. The flexibility is great – not jabbing my external parts while I try to get the best fit for the internal vibe is high on my list of what makes a good dual vibe, but I find the arm too thick/flat (about 1.25″ across.) Most folks' clits will stick out from their pelvic bones a bit and offer at least a little bit of raised tissue to attack on multiple fronts (tops, bottoms, fronts, sides) and a lot of people prefer broader, less direct/"pin-point" stimulation that way, but that's not how my genitals are situated. If I have any external clitoral structure at all (doubtful) it offers no raised terrain for vibes to make contact with, the "sweet spot" where I place external vibes is buried between thick labia that do not appreciate being forcefully pried wide open. Add lube into the mix (which I do because dry vibes are chafe-y) and my labia will slip their way shut under the clit arm of the toy in moments – especially if I do any thrusting. I have to hold my labia spread with one hand while really forcing the toy against my body with the other if I want the clit arm to be useful, and that thing is still made of plastic and metal under the thin silicone coating – it hurts. If the clit arm were thinner so that it could comfortably slip between my labia and provide a more concentrated direct stimulation (the cone shape of the Duo works perfect) I'd like the Nova 2 a lot more. The flexible clit arm is supposed to make it more comfortable by being able to scrunch up against itself when you press the toy against your body, but the only way I get any sensation out of it is to manually lift the arm up and aim the pointy tip of it at my clit.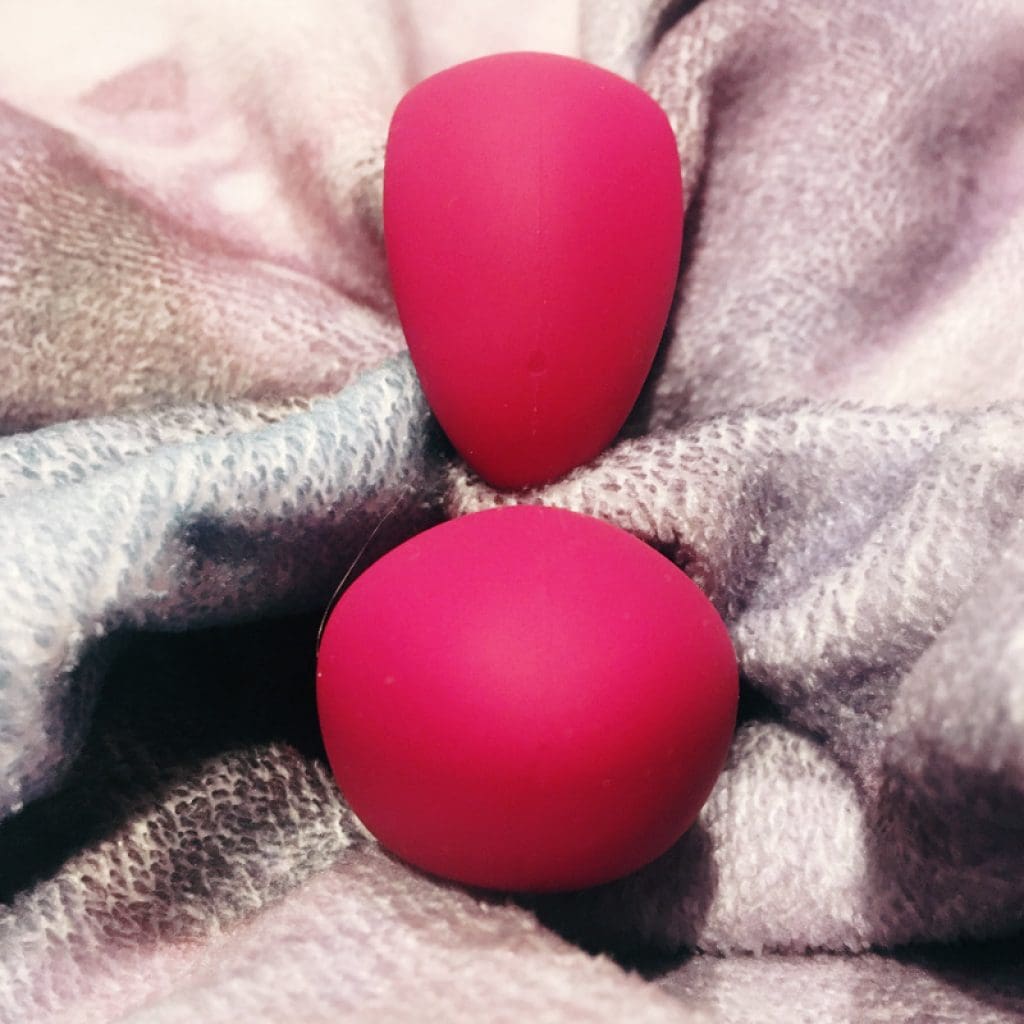 The vibrations are on par with what I remember of the rest of the We-Vibe line – not quite enough. For me, anyway. The Nova 2 manages to get me to a place of frustration and I have some fun along the way, but it's a real strain to tip myself over the edge to orgasm. The orgasm that finally comes is exhausting more than exhilarating because I have to work so hard for it. If I were the kind of person that used "warm-up toys" I'd put the Nova 2 squarely into that category as something that feels plenty nice, but unfortunately I want a toy that can take me all the way without having to strain and stress. The We-Vibe website lists the Nova 2 being 2 bubbles of intensity higher than the original Nova that only scored 3 – I can only imagine the disappointment I would have felt with the original if the 2 is markedly better. I expected the clit arm to not get me to where I needed to go, but the internal motor surprises me. We-Vibe merged with Womanizer a little while back and are sharing the same tech now, so I expected the internal arm of the Nova 2 to feel as identical as it looks to the Duo arm, but it's sadly weaker. The Nova has a tiny bit more padding than the Duo so that might be what's causing the dampening. With really strong G-spot vibes I can sneak by with a weaker clit stimulator, but when they're both weak I can't get anywhere. I kinda like the internal arm on my clit, but that's never how I'd use this toy, that would be absurd.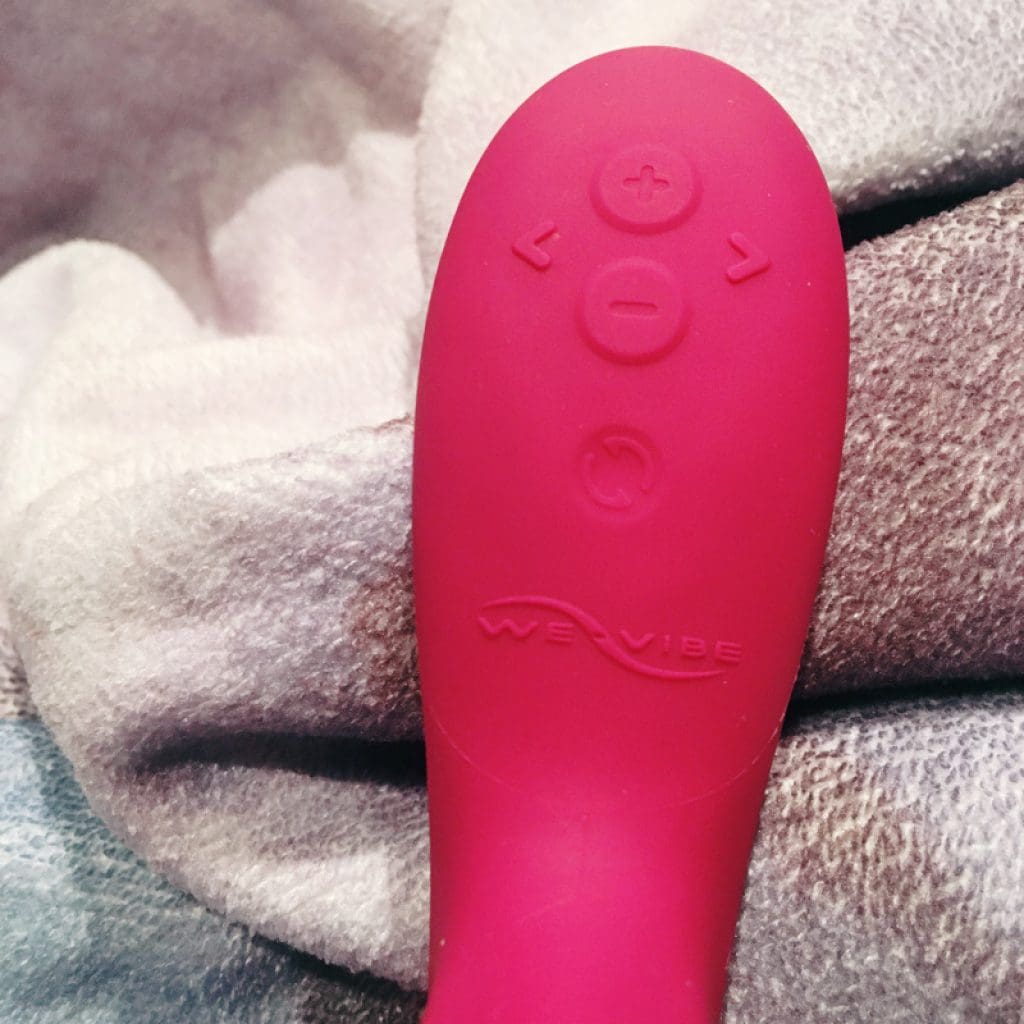 I do like the functions design – these are always important for me to note because so many companies get it so so un-intuitively wrong. I love separate increase and decrease intensity settings, I love separate pattern buttons, you know I hate having to cycle through the entire programming to get back to a setting I like. In this respect the Nova 2 gets it all right. The extra "refresh"- looking button controls turning on the clit arm, internal arm, or both for whichever pattern and intensity you're using. Unfortunately the two motors can't be operated independently so the intensity is the same for them both. Some folks probably won't mind that – I've found that when I'm using my Duo I like to start warming up with the internal vibe before turning the clit stimulator on.
Like most of the We-Vibe line, the Nova 2 is app-compatible. I didn't have any issues connecting like I had with past products, but I still don't love the app interface and if I were to keep playing with the Nova I'd stick to the manual controls. I love sex toy geekery but I just can't with the We-Vibe app. Sorry not sorry. I've never found it very user-friendly or customizable.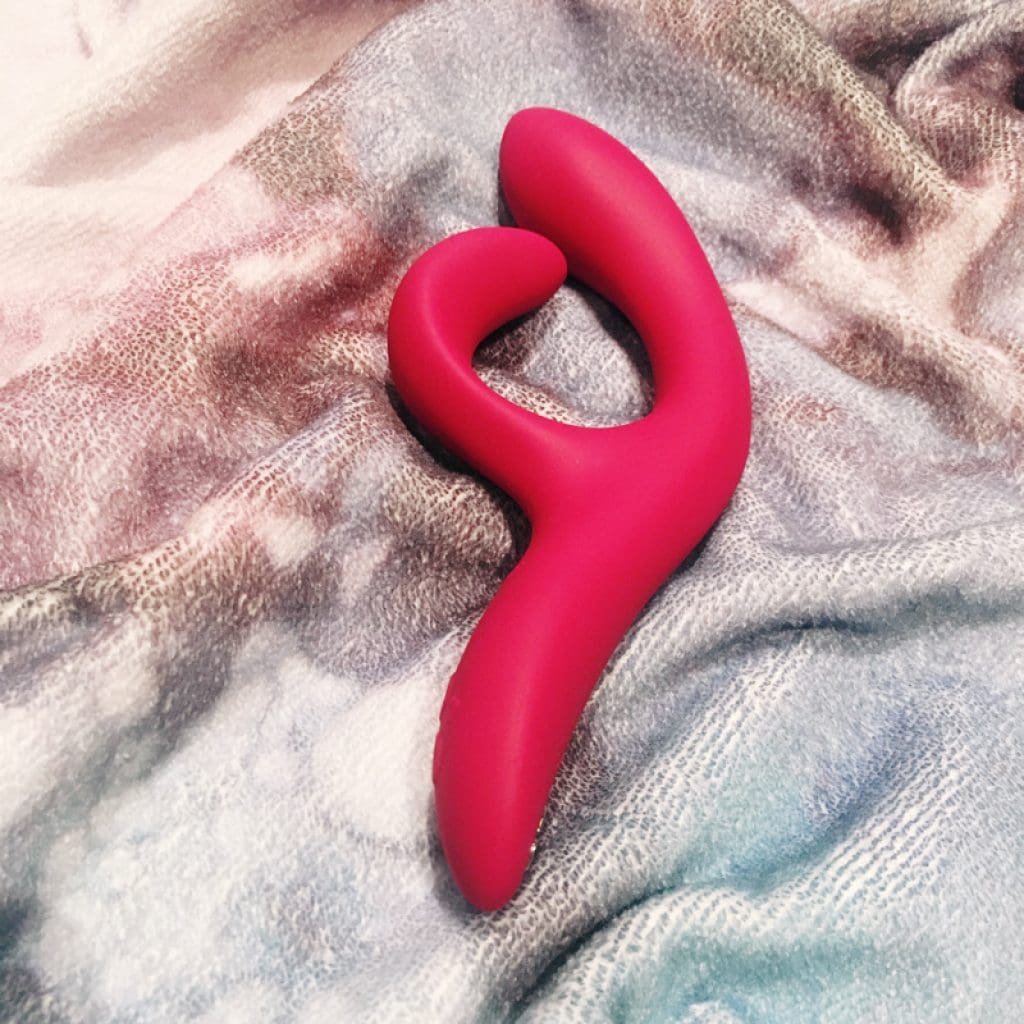 Overall I think if you're looking for a dual vibe that is most likely to offer some wiggle room and fit your body, the Nova 2 is probably one of your best bets, but if you're looking for a real powerhouse like I need, it might let you down. Some folks can sacrifice a bit of power if it means gains in other features but for me, power is paramount and without it the whole toy flops, no matter how good the rest of its design is.
Big thanks to We-Vibe for sending me the Nova 2 to review! You can purchase your own by clicking HERE
We-Vibe Nova 2 – Tl;dr