Toy Review – The Playboy Palm Double-Ended Tapping Vibrator by Evolved Novelties
I'm becoming more and more interested in clitoral toys that don't (just) vibrate, and I'm excited to get my hands on them as companies begin to explore new movement possibilities. "Tapping" seems to be catching on finally and I'm rather a fan. My first and only other tapping toy is the Lovense Osci, whose insertable end meant for G-spot stimulation thumps up and down rather than vibrates (and I love it, even if I wish it were more intense.) The Eroscillator, Zumio, and most recently reviewed Chic Jasmine all oscillate instead of vibrate but their movements are designed to be more side-to-side across the clitoris, rather than an up-and-down drumming. The Playboy Pleasure Palm Double-Ended Tapping Vibrator from Evolved Novelties is my first try at an up-and-down oscillator for the clit.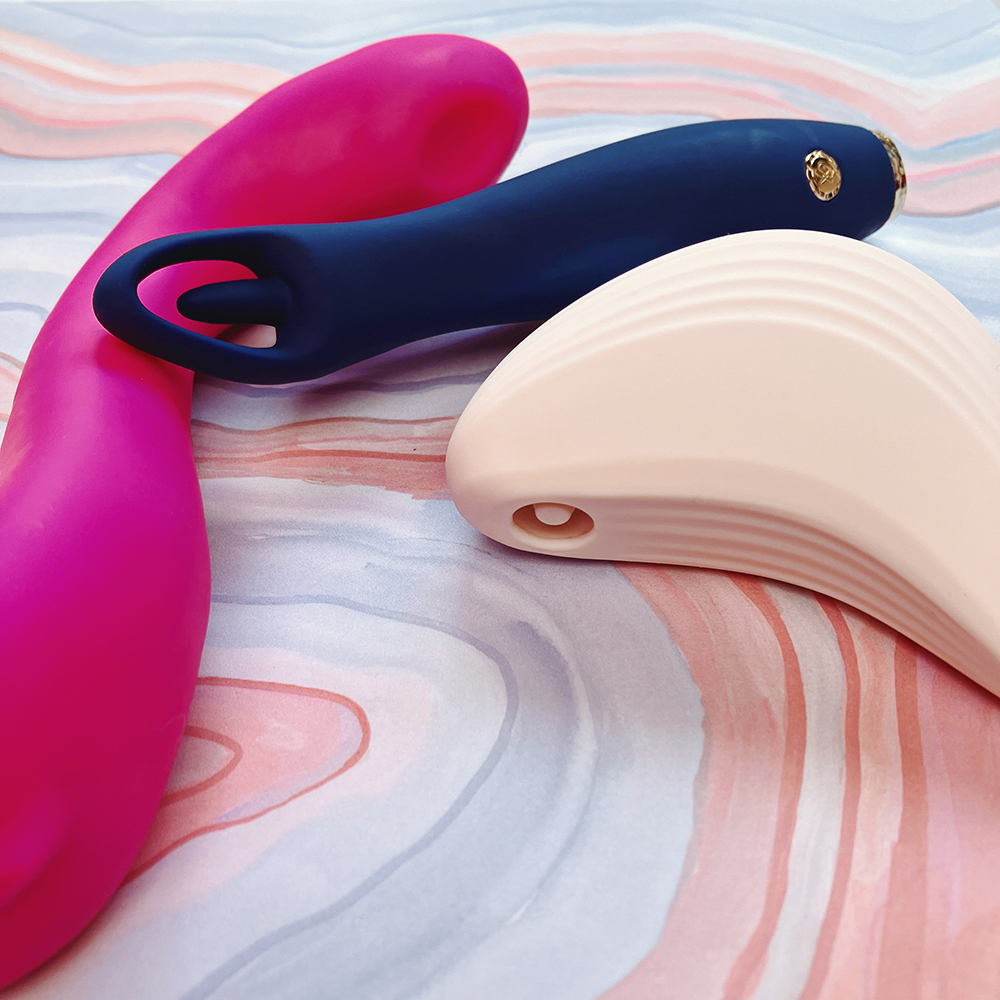 Table of Contents
The Features
The Palm (I'm not writing that entire name, sorrynotsorry) is a half-moon shaped toy in a sort of off-white-pinkish matte silicone with pleasing modern-looking ridge details down the sides and across the inner curve. The back of the toy hosts the magnetic charging pins above the iconic Playboy Bunny etching. The wider end of the inner curve has a depression about the size of your fingernail with a flexible little silicone post sticking up in the middle. The other end of the toy narrows into a smaller point.
There are two buttons – one for the tapping and the other for the vibrating. Holding either button for a few seconds turns the toy into its 'On' mode without immediately starting the function you chose. Both functions have three steady intensities and seven patterns.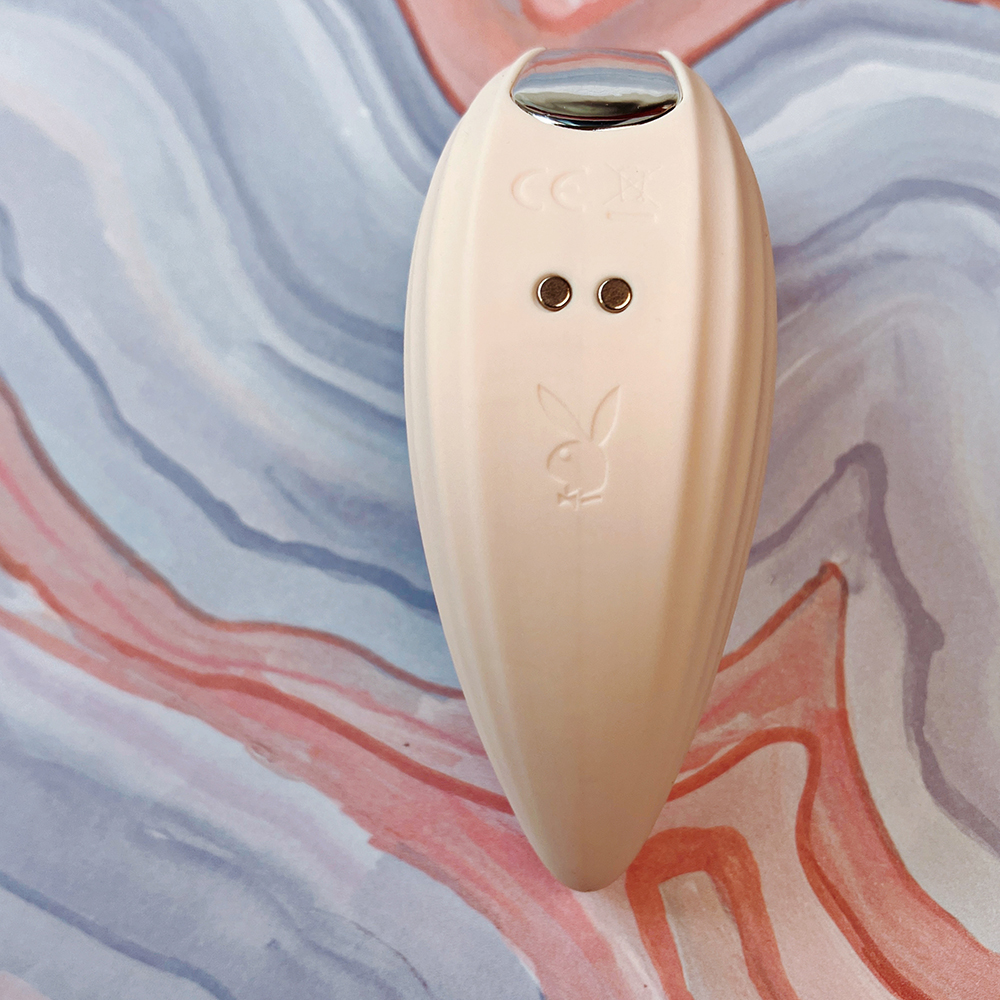 Toy Care
Being made of non-porous, non-toxic silicone, The Palm is considered a body-safe toy. The Palm is also waterproof and submersible, making it easy to properly disinfect when needed. For regular care wash the toy with a mild antibacterial soap and warm water, making sure to get inside the gap in the tapper. Use a soft toothbrush (only used for sex toy cleaning) if need be. For periodic disinfecting, wash to remove any debris, then submerse in a 10% bleach solution for ten minutes, then rinse and wash again with soap. Ensure The Palm is thoroughly dry before storing.
Water-based, oil-based, and hybrid lubricants are safe to use with The Palm. Silicone-based lubricants may alter the texture of the silicone coating of the toy, so you'd probably want to avoid them
While silicone is non-porous, ink and dye transfer can still happen between light and dark colors, so store The Palm in a baggie or otherwise separate from darker toys and objects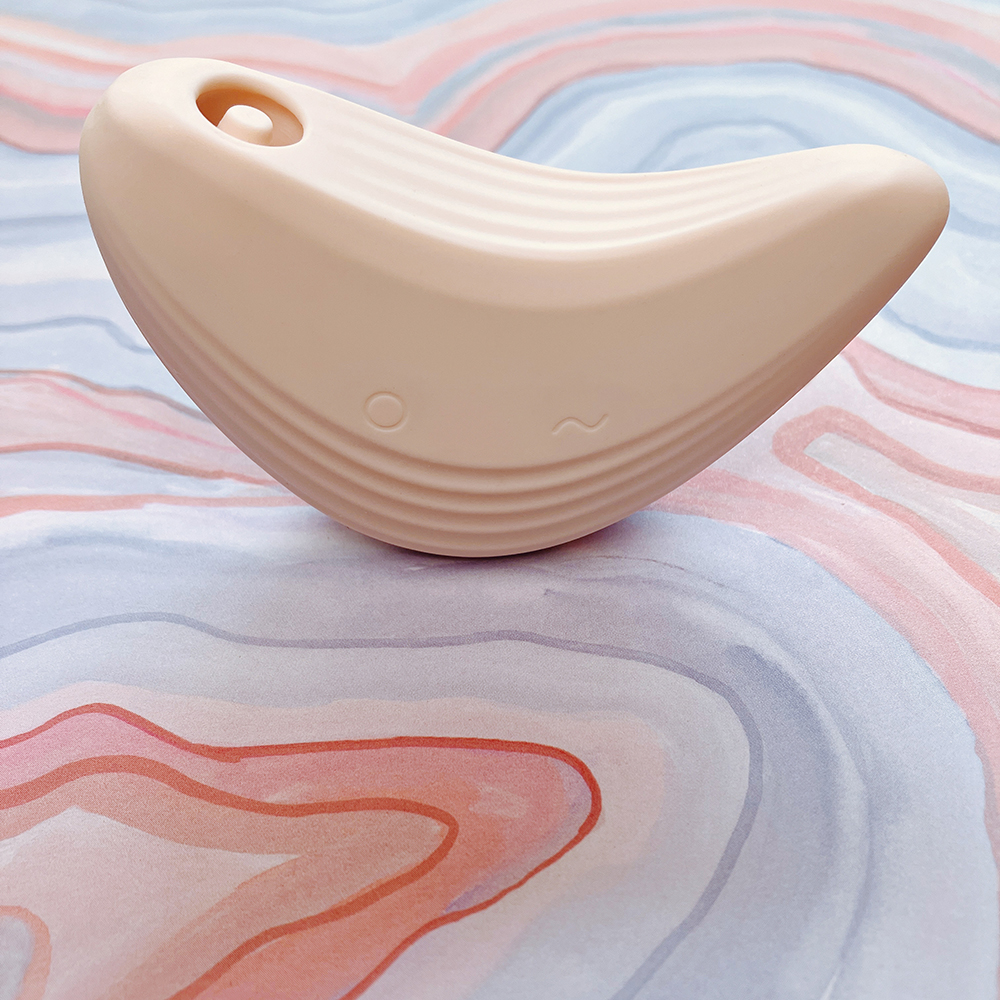 The Experience
I don't know how someone who has any grip-related issues in their hands comfortably uses this toy. The Palm fits in your hand really nicely in every orientation but the one you might want to grasp it so that either useful points on the curve are making contact with your clit. In order for me to have my thumb on the button for the tapping function, or my finger on the button for the vibrate function when I spin it around, and then get the toy situated front-and-center to my genitals, my arm has to be coiled out in front of me like I'm using it to hold a beach ball, and my wrist folded back on itself. I can hold The Palm with my finger tips along the back curve and my thumb anchored on the inside above whichever point I'm using, but that means I can't access any of the buttons one-handed. I either have to hold the toy steady with one hand while I hunt for the button with my other, or I have to pull the toy away, click the button, and then try to put it back where I had it. I can sort of hold it on its side, but I'd really prefer that my thumb be on the buttons for this orientation and that can only happen with my left hand, and I'm right-handed. In any case, I feel like rather than The Palm actually being snug in my palm, I'm grasping the silky – which means slippery – body with my fingers all curled up weird. The buttons being placed on the inside curve would have been a better choice, even if it would mean not being able to hug the toy to your body (which isn't how I use it anyway, but I know somewhere the ad copy probably says that's what the design does because curves and vulvas and all that.)
While there is one pattern in the SEVEN that I don't absolutely hate, I of course wish there were more steady intensity options and less patterns. If you must have patterns, then I'd prefer to be able to adjust the intensity of that pattern, but that's not possible here either. Assuming that I use both the tapping and vibrate functions of The Palm, I'm only able to get about thirty (and a half…I'm being generous with that one pattern) percent of its total functionality. That's not great.
The vibration function lowers the usability for me even more. While I am struggling these days to get pleasure from traditional vibrators of any sort and I do take that into account when saying this, I just don't think the vibrator in The Palm is that good. I feel a lot of it traveling through the middle of the toy into my hand, and when I apply any pressure to the point of the curve it doesn't seem to matter if I turn up the intensity, the sensation feels the same through all three. Pulling The Palm away to reduce pressure means I'm getting an annoying buzzy experience in not-the-right-spot, which does not make me cum.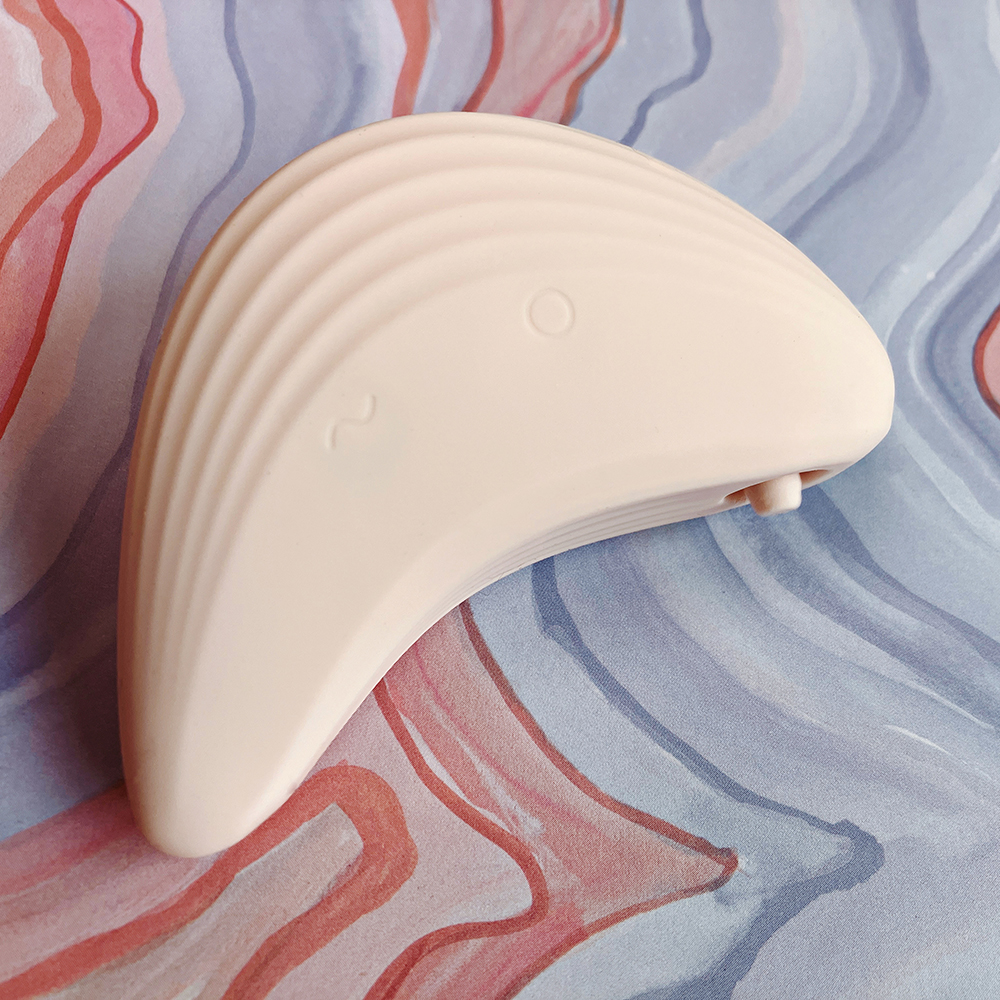 The tapping function is where The Palm shines – sort of. Mostly.
I like the tapping, I just need it to have more oomph (like I dunno…seven more steady intensities instead of patterns….) It feels wonderful for the first few moments, but when it's time for me to crank it up and really get a move-on towards orgasm I have to be really careful not to hit that button too quickly or I wind up still nowhere near ready to cum and accidentally spilling into the patterns. There's no 'back' button of course, so by the time I cycle back around to the first setting I've kind of lost it. The first and second now feel too weak to bother with, and having already crested the third – and obviously gone searching for more strength that wasn't there – I'm just going to be left trying to force it. When I've been careful and patient enough to remember there are only three settings so I have to make them last, The Palm has been able to deliver a fairly satisfying orgasm. I like it but I can't love a toy that limits me like that.
There's also the small business of pinching. The Palm is definitely the kind of clitoral toy you place and hold, rather than move around too much. This is perfectly in line with how I use clitoral toys so I'm not bothered by that at all (though you might be?) but it still takes me a few moments of minor adjustments to find exactly the right spot. This has unfortunately resulted in a few pinches due to the way the inner post actually protrudes higher than the surface of the curve, and that little gap of space around it allows tissue to get stuck between as it pulls back down. These pinches are not wildly painful or anything – the post is entirely flexible and it's not wrenching my skin into the gap, I've actually chosen to endure the pinchy feeling rather than lose the spot and have to start over – but its not the most comfortable a sex toy has made me feel either. I have almost no external clitoral or inner labial tissue to get tangled up in that gap and I still experience a pinch though, so this might be more significant for folks who have more moveable skin to snag.
Should You Buy This?
Maybe? I know I'm not exactly singing The Palm's praises from the rooftops here, but I really do like the tapping part. I personally need more power out of it, but that's true for most toys. If you're not in the power-hungry camp then The Palm could be a really fun and unique experience for you. If it had a bigger kick to it, I'd very likely ignore all the other issues I came up with – I'm willing to live with a cramped hand and a pinched vulva for a really good orgasm and I think oscillation toys are a great avenue to explore for folks who aren't responding to vibrators as well as they'd like.
I feel about The Palm much the same as I felt about the Chic Jasmine – really interesting ideas that just need more refining. The button placement, the dampened vibrations in the tip, the pinching – all feel like the kind of things you work out of a prototype in beta-testing rather than issues to expect to have with a fully-realized finished product that was released to the public. The ad copy states that the vibration and tapping can be "simultaneous" but if I'm using the tapper and turn the vibrator on, I really only feel it in my hand, or I turn it up and can't feel the tapper because that part isn't strong enough, which pushes me towards my often-felt sentiment that these "multi-function/do-it-all" toys are usually more of a disappointment than not. I need makers to focus on getting one function done really really well, rather than try to load a toy up with all the different ways a person might want to use it and wind up only delivering a so-so experience for any of them. Another write-up I found on The Palm says the press-release stated you could hold it so that the tapper is on the clitoris while the vibrating point stimulates the vaginal opening or perineum….just….why? Nevermind all the anatomy variation there is that wouldn't make that possible for so many people, why does this toy – or any toy really – have to do all the things at once? I know we can't all house collections of sex toys in the hundreds, but I don't think one vibrator and one toy that does something else is totally unreasonable for the average user, especially when the two functions really aren't being used simultaneously. I'd love to see a second gen of The Palm after a few key tweaks, but I'm not sure Evolved Novelties is the type of company to do that sort of thing, rather than just retire The Palm in a few years in favor of new releases (but if you're reading this Evolved Novelties, I'm here for a more in-depth consultation on how to make this toy a slam-dunk! I really want to love this toy.)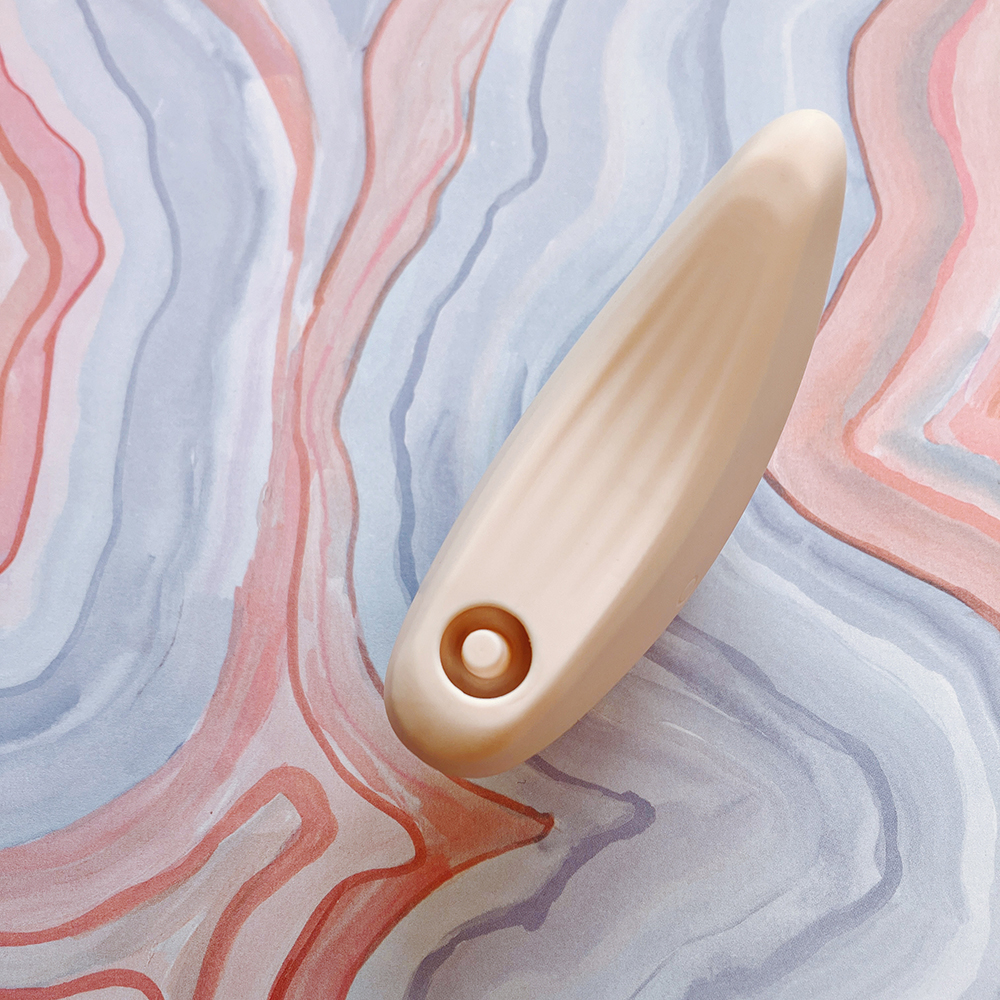 Both functions are fairly quiet, with the tapping one being the winner of discretion. It's got a decent battery life (hour and a half on high) is waterproof, is body safe, is rechargeable – all the standard fare we look for in a quality purchase. Is The Palm worth the price tag? Knowing that I need a hefty dose of power and not being 100% sure how it would fit my body, I'd be hesitant to risk it, but if neither of those things describe you then I kind of want to tell you to go for it, because despite my complaints I can see all of the potential as well. If the possible pinching aspect has you worried I'd urge you to check with other reviewers who have a body more similar to yours (or just different than mine) to see if this is a wide-spread issue or something limited to just me and my bad luck.
The Palm is not the best thing I've ever masturbated with for sure, but it is a very neat toy nonetheless that could be a good exploration into new sensations for others.
Big thanks to Betty's Toy Box for sending me The Playboy Pleasure Palm Double-Ended Tapping Vibrator for review! You can get your own by clicking Here