Toy Review – The Premium by Womanizer
The Premium caught my eye as soon as it came out. Admittedly, all new Womanizer products catch my eye because despite our rough start, the Pro40 has become my number-one-go-to toy, and until just recently it had been discontinued and I have spent each day in terror that my Pro40 would some day die (I'm already on number two after the first one wasn't quite as waterproof as it claimed and died on me and I scrambled to get a back-up from Amazon before it was gone) and I'd have to try to find something to replace it. Thankfully, Womanizer brought the Pro40 back so if/when my backup bites the dust I can rest easy knowing another replacement is just a few clicks away. A quality toy should last you quite a long time but I literally use this thing every. single. day. so it will eventually succumb to a reasonable and expected amount of wear and tear and need replacing and when it does I'll be ready.
But what if they discontinue it again? Or what if they changed something about it? Or what if I just want something new once in a while? I've tried a couple other Womanizer products and none have been able to wow me like the Pro40 has, but instead of admit defeat, I keep looking at new products with hope and curiosity.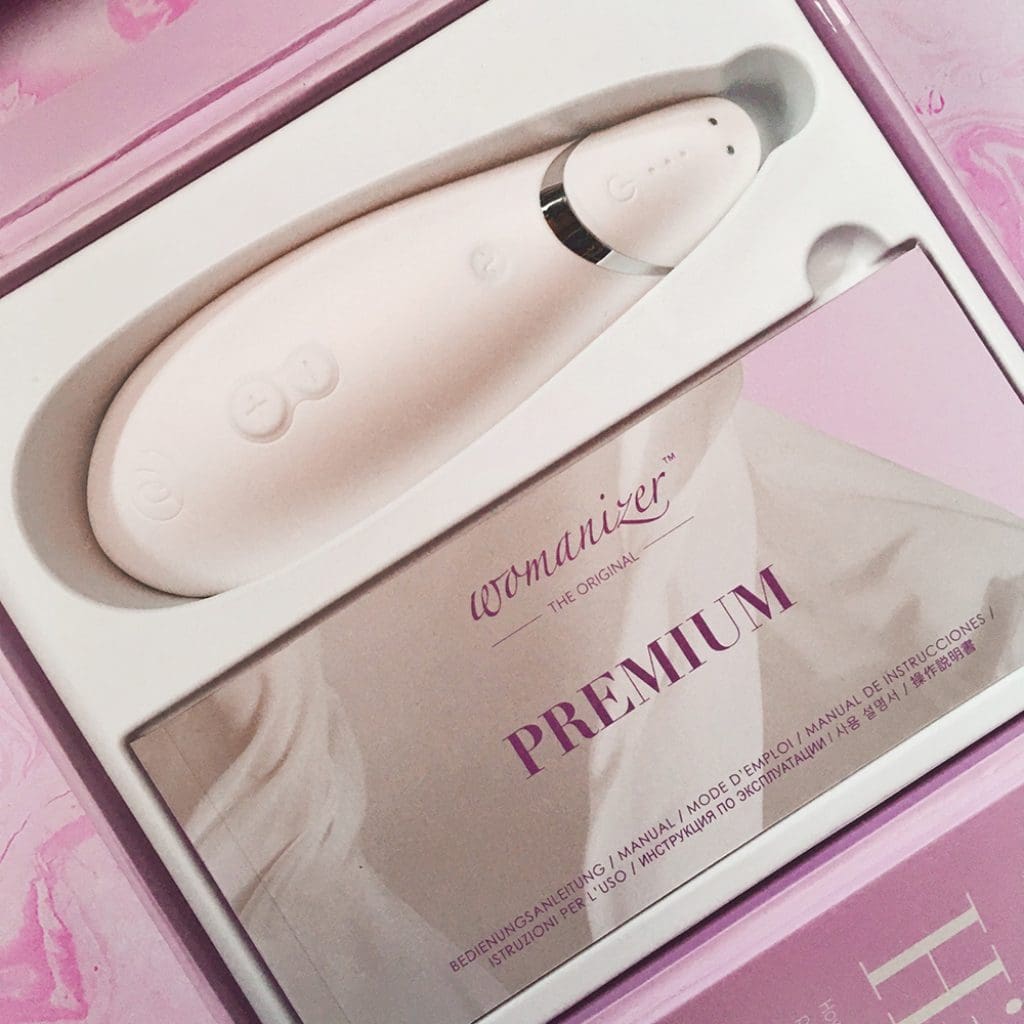 The thing that most intrigued me about the Premium was the new shape. The Pro40 is hardly enormous but maybe I would like something with a slightly slimmer profile that sits a little more snugly against my body? It's pretty rare, but every so often I opt for a face-down position that makes wedging something as wide as the Pro40 underneath me a bit painful to put my weight on and perhaps the Premium would alleviate that awkwardness? The Premium also has its buttons on the outside of the handle as opposed to the Pro40's inside placement, so perhaps I'd like that better?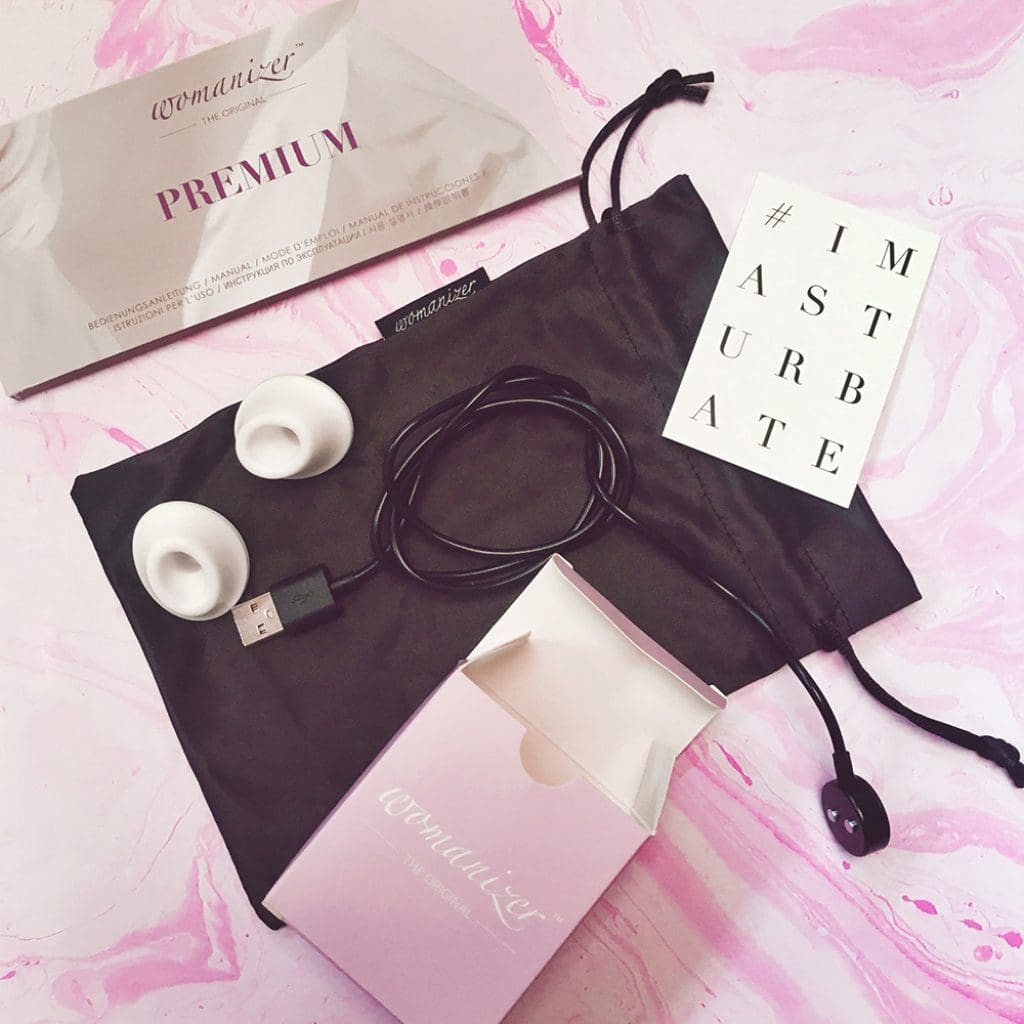 The Premium comes with all the same accessories I've come to expect from the product line – storage bag, magnetic charger, two different sized nozzles (that unfortunately don't fit all the other models so I've got a ziplock baggie full of these things.)
The buttons I am mostly pleased with. If you've read any of my other vibrator reviews then you know button placement is probably my biggest gripe. On the Premium I love the increase and decrease buttons – I love not having to use one single button to cycle through, and I love that they're big enough and separated from the other buttons so that in the dark I don't have to go looking for which one I want to press. I do find the power button a little tricky as it doesn't have an indentation like the Auto-Pilot does, nor is it raised like the intensity controls. Not a deal-breaker for me, but I have to admit I fumble a little. I do enjoy having them on the outside of the handle, and it does get easier to maneuver when I'm lying on my stomach as well.
A notable difference (and plus, for me) between the Pro40 and the Premium is the magnetic charging. While I normally dislike magnetic charging because I frequently find my toy shifted a fraction of a millimetre and disconnected and is still dead when I want to use it, I also think the little silicone plug on the end of my Pro40's charging port is what led to the first one I owned dying. They wear out after frequent use (and eventually the itty bitty piece that was keeping the plug tethered to the toy broke off) and I believe this hampered the toy's ability to remain waterproof and I eventually wound up drowning it. I've never fully submerged my second Pro40 because of this. With the magnetic charger on the Premium, the device can remain fully sealed off from moisture. I don't actually like using most toys fully submerged in a tub or whatnot, but at least I don't have to panic if I knock it into the sink.
The Premium comes with two additional functions that some of the other models have. One of them is the Smart Silence feature that essentially means the device pauses when the nozzle isn't making contact with the body. This allows for quick action in situations that might require severe discreetness. In my case I don't need it so I've turned it off.
The other added function is Auto-Pilot. This function has three intensity groups that it operates within. When Auto-Pilot is engaged the device alternates between intensity settings on its own, allowing for some teasing and surprise. This is also not a function that I use though. I suppose it's okay as a warm-up (not something I usually do) but once I'm well on my way towards an orgasm I don't want the intensity fluctuating out of my control. It's a fun concept for me with a partner maybe, but when I'm alone my intent is often just to get things over with and my vibrator trying to play a game of edging me isn't really my cup of tea. I can't tell if this is super gimmicky or not – just because I don't like it doesn't mean nobody else does, but at the same time this function and 3 more intensity levels seem to be the only things causing a ~70 dollar price jump from the Classic which uses the same new body design. Would I prefer the more simplified Classic without all the bells and whistles that I don't actually use? I can't say, and I'll touch on that in a second.
How does the Premium measure up with its base functions? Not terribly, but still not my favorite. It certainly knocks some other models like both Starlets and the 2GO out of the park – all three of those were complete duds for me and led to more frustration than orgasms. The Pro40 still remains the reigning champ, and I'm torn on where to place the Duo. I'd say the Premium's clit stimulation is not as good as the Duo's, but because the Duo is dual stimulator that would be incredibly awkward to use without the internal arm, it's not a perfect 1:1 comparison. If I limit the lineup to clit stimulators only then it goes Pro40, Premium, and the other three don't deserve placement. If I include dual stimulators then it's Pro40, Duo, Premium.
I think the biggest factor in this lineup for me is the nozzle design. The lower profile of the Premium was a trade off for being able to deliver sensation exactly where I need it. My vulva's weird and I don't actually have the external clitoral tissue that is meant to be encased by the nozzle on these toys. The spot that registers sensation that I refer to as my clit (for lack of anything better) is buried over an inch deep between my outer labia and the end of the nozzle is sealed flat against my skin where the air pulses against it – nothing goes inside the nozzle. This spot is easily reached by the Pro40 with its much longer nozzle, but the Premium needs to be really jammed in there, even with the larger of the two available nozzles
This is not necessarily a flaw of the Premium – it's doing precisely what it's designed to, which is form-fit the body better. I'm not built like the vast majority of people who would use this toy so my issues are pretty unique and I try not to judge too heavily based on that. The solution to this problem that I have already exists – it's the larger Pro40, which I wound up loving to death.
I can orgasm with the Premium, I just have to work harder for it than I do with the Pro40 or Duo (which also has the longer nozzle shape) and that's what ultimately keeps it from being a new fave. I do believe the actual motor capacity is pretty consistent with the Pro40 and Duo which at least theoretically pleases me, as I found the two Starlets and 2Go motors to be rough and unrefined, jolty and choppy and somehow cheap feeling. If I could pop a longer nozzle on the Premium I believe it would feel quite similar to the other two models that I like – smooth and nuanced rather than aggressive and forceful.
Which brings me back to what I touched on earlier with my comparison of the Premium and the cheaper Classic – my biggest hurdle in reviewing and recommending these types of air-pulse toys to people – regardless of who the manufacturer is – is that each model in a line seems to feel different, and of course each brand feels different. These can be incredibly pricey toys to start with and at least for me, the cheaper it gets the worse the sensation becomes. This is usually true for the traditional vibrator styles as well, but I find the air-pulse toys to be much more polarizing – you either love it or despise it – so it becomes even tougher to convince someone to drop over a hundred bucks to try something out if it cant be compared to any other toy sensation they may have previously experienced, or even compared to another model in the same line. A lot of people who buy traditional vibrators have experimented with a toothbrush or back massager or even their cell phone just to see. Obviously a hitachi is going to be much different but at least they've felt a vibration on their genitals before. These air-pulse toys don't have that kind of equivalent that lets people experiment and "try before they buy" so it can be quite a gamble. Satisfyer is making a "disposable" version that retails for under 15 bucks, but I guarantee it doesn't actually feel anything like their most expensive model which is over 150 dollars, and it wont feel anything like Womanizer or Lelo or anyone else making air pulse products either. If you don't enjoy your $15 throw-away gadget, do you take the risk on one that's closer to $200? Or if you actually enjoy that rougher feeling the cheaper models seem to have, would you wind up hating the more expensive and fancier but smoother models if you tried to upgrade? Sensation consistency is really important in these styles of toys and I have yet to meet a brand that is really nailing it, but Womanizer seems to be at least trying to get there? As of right now I can say if you liked the Pro40, Premium, or Duo and you want different/more features perhaps you could try a different one of those three, but I can't say that if you want less features or if you cant afford the pricier models that downgrading to the Starlet would be a good idea because the pleasure the motor delivers shifts significantly. I'd be a lot less salty about "bells and whistles" – and the price of those – if that were the sole difference and the consumer could choose if that were important to them. I'd be delighted with 3 buttons and nothing fancy, but not if I have to sacrifice motor and pleasure quality. The price tags that couple with uncertainty over sensation quality and consistency is what stops me from trying out a lot of these types of toys on my own and I imagine it gets in the way for consumers as well.
Overall I think the Premium is sleek, simple, quiet, powerful, and if it had just fit me a smidge better it could have been a home-run.
Big thanks to Womanizer for sending me the Premium to review. You can purchase your own by clicking Here.
Womanizer Premium – Tl;dr