Toy Review – The Snail Vibe
I began sex toy blogging in 2015, and even after seven years I still feel pretty confident in saying that I can count on my fingers the number of times I've seen a truly innovative sex toy come to market. The Snail Vibe takes up one of those fingers.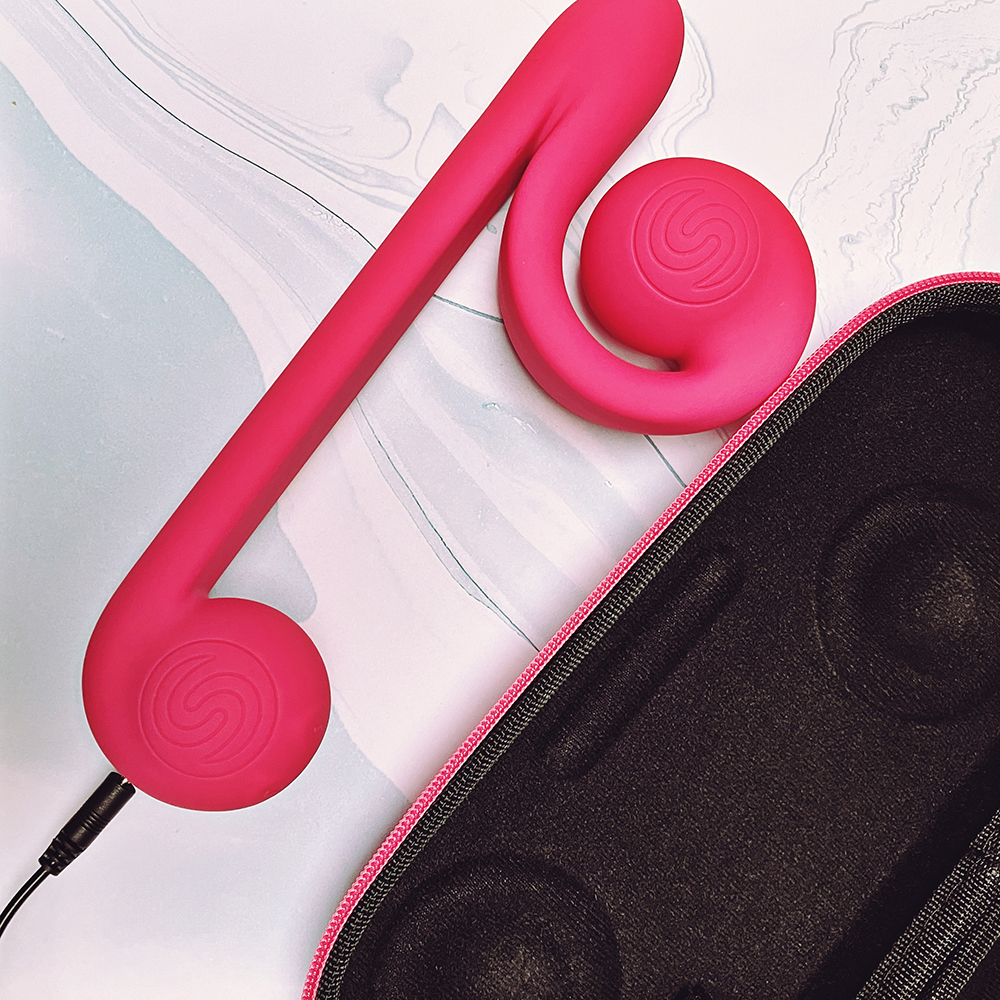 The Snail Vibe (by Snail Vibe) is a genuinely unique take on the dual-stimulating insertable toy. Where a lot of folks struggle to make contact with both their preferred internal 'spot' and their clit when wrangling other rabbit-style vibes, the Snail Vibe seemingly solves all problems.
At the time of this post, coming in the typical Sex Toy Pink and Sex Toy Purple, the Snail is USB chargeable and comes with a zipper carrying case. It utilizes two separate motors (one internal and one external) that are controlled with four separate buttons. The motors have 5 steady intensities and 5 patterns.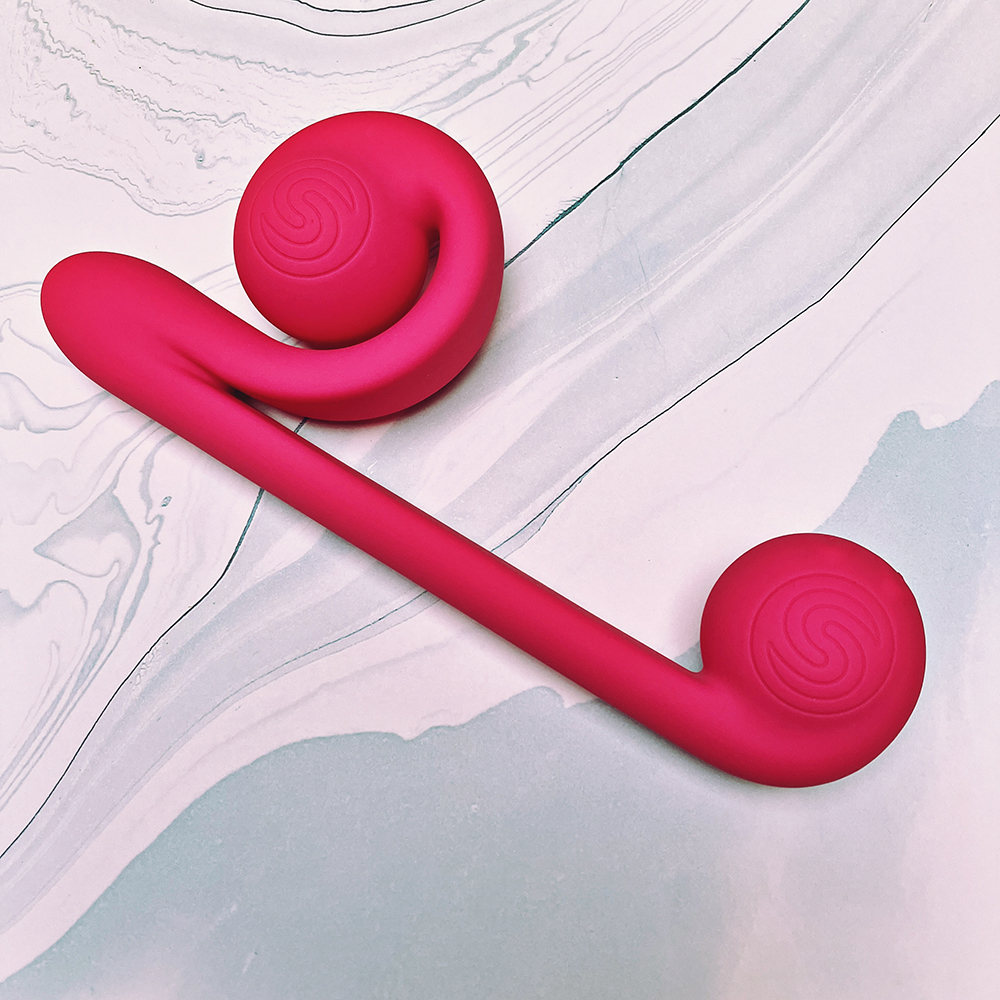 At first glance the Snail Vibe is a little tricky to understand. You hold the large ball at the bottom of the toy (which has the buttons on it) and insert the end where the two balls join to make a U. The upper ball staying pressed against your clit, unfurls as you insert and rolls back up as you pull the toy out, keeping constant contact with the body for continuous stimulation.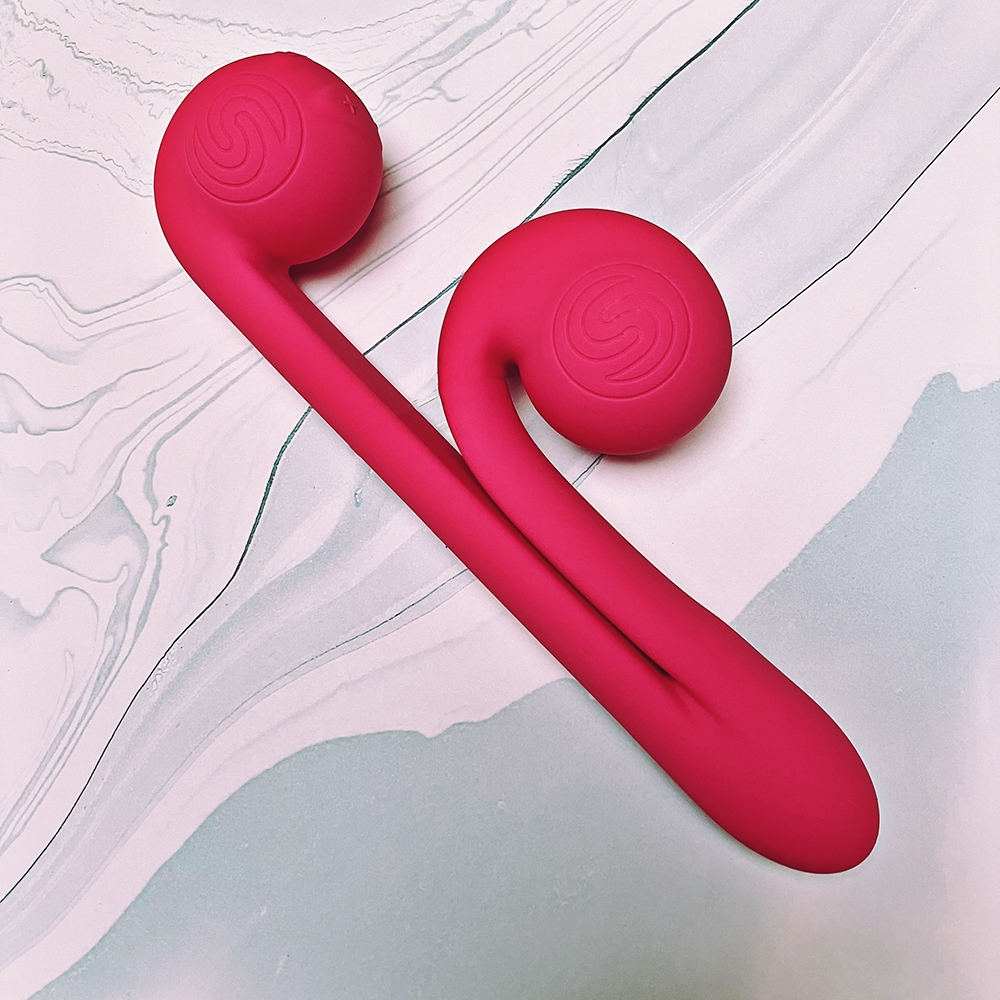 I of course have opinions on where the Snail Vibe can be improved, but overall it's an incredible concept that I'm so excited to see.
Starting off with things I love about the Snail Vibe – it's rumbly and strong! It would have been such a let down to go through all the trouble to make this fantastic new design and then wimp out on the motors, so I'm very glad they did not. If you're going to do something, do it right – right? Despite packing a decent punch, the Snail Vibe also manages to be pretty quiet. Certainly not whisper-silent, but not overly obtrusive either. It doesn't sound like you're playing with power tools in your bedroom. I like that it's waterproof (for cleaning purposes, I think it would be fairly difficult to use underwater as water is not a lubricant and insertables are tough to play with when submerged) and I love the pin charger instead of magnets, as the toy is a bit lopsided in the weighting and would probably roll off a magnet charger.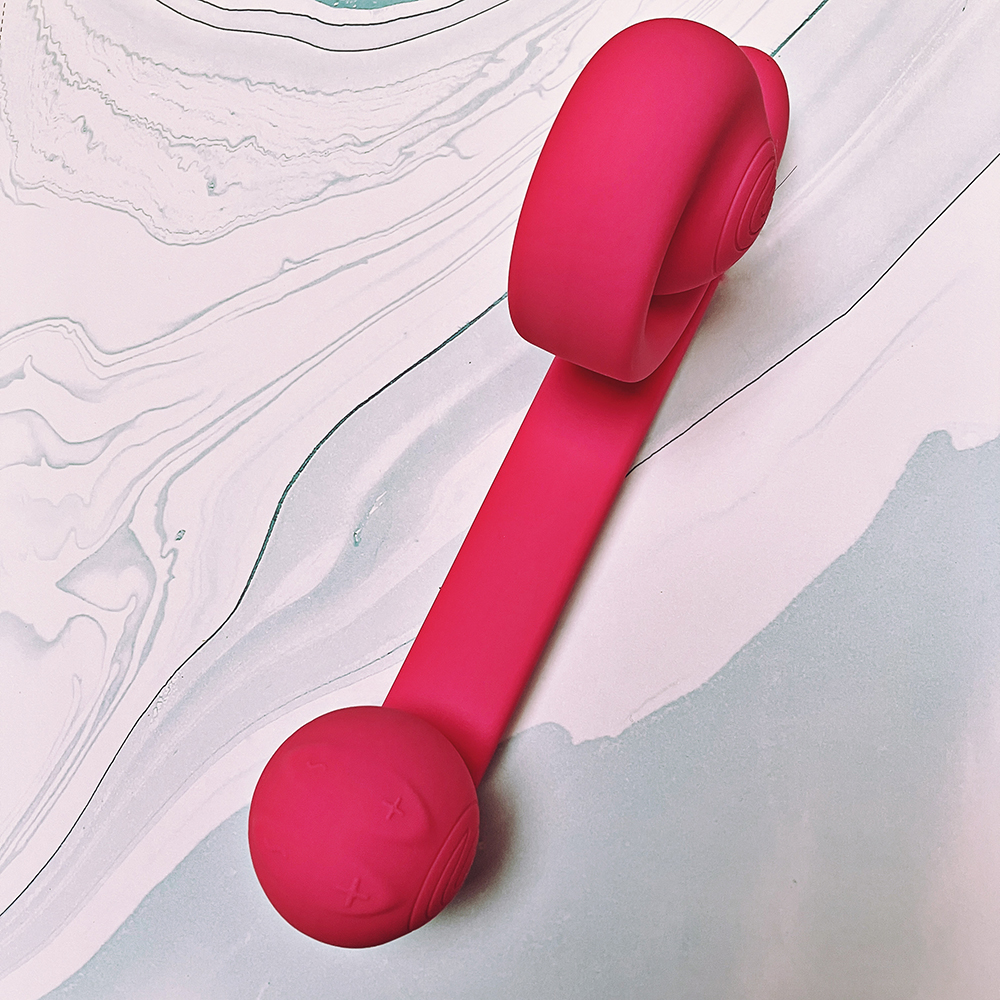 Areas I could see improvement starts off with what I want from almost every vibrator – the ability to turn settings backwards. While I'm thrilled the pattern and intensity buttons are separate, they can't be turned back down. Steady vibes is considered as one of the patterns, and then you turn it up from 1-2-3-4-5-1. I like being able to adjust the intensity of patterns (which I actually like to use internally) but I'd like MORE to be able to turn intensities up and back down again. I'd sacrifice adjusting the intensity of patterns or having any patterns at all for that. Obviously theres only so much space for so many buttons on this thing so it probably has to be one or the other – I'd always choose a decrease button, a million times over.
My next issue is one I'm honestly not sure how to fix without forfeiting the whole point of this design, but I feel it's important to point out – all the times I've tested the Snail Vibe, I found all of my lube pooling in the space between the two arms where they meet. Matte silicone can sometimes create a lot of drag to begin with, and I think the design of the two arms meeting and separating and meeting again with the thrusting motion causes the toy to sort of scoop all fluid down the shaft and into that one spot where it doesn't get to redistribute. I used a TON of lube with this toy – a lot more than I use with typical shapes. I will note that I only tried it with a water-based lube though, it may not be such an issue with an oil-base but my vag is pretty sensitive so I generally don't change up my lubes.
The two things that make the Snail Vibe ultimately not my new go-to dual vibe will be pretty unsurprising to anyone who actively follows my blog. First is that it's too big. It doesn't look like it will be, and if I use my hands to work it, instead of relying on the spring mechanism and my body to uncurl and curl it back up with each thrust, it works fine…but using two hands defeats the purpose. The springiness of the top external arm is just a little too tight for me, which means that it's pulling upwards on my vaginal canal while I'm inserting it (because it's natural state is to be curled back and it always wants to return to that state.) That bit of upward force – tiny as it feels in my hands – is a lot for my vag. This stretching of my vag causes some dragging feelings (which are again not helped by a lack of lube) and I don't love it. I definitely cant get vigorous with my thrusts, they're short and slow. The insertable portion is just under an inch and a half which is pretty good and filling for me in normal insertables, so if the Snail Vibe could be slimmed down a bit in all directions, then the pressure of the top arm might not be such an issue for me. I think loosening the recoil in the top arm might cause it to not keep tight contact with the clit as well.
My second issue is the broad surface of the clitoral ball. My lack of external clitoral tissue causes all wide surface vibes to not work very well for me. If the ball had a raised ridge running up the middle of it then it might be perfect, but that might be too intense or even painful for other folks who do have more of their clit exposed. The vibes feel nice, but prying my labia really far apart to fit the ball between them kinda hurts and it's just not hitting the right spot well enough to cause me to orgasm.
I expected the Snail Vibe might be a bit too large and I knew the large clitoral ball would pose an issue so I'm not surprised or even disappointed by my body's reaction to it – I knew what I was getting into, and I knew I could at least try out the rest of the design even if it doesn't bring me earth-shattering orgasmic bliss. Overall I think the Snail Vibe is a real feat of design ingenuity and could be a total game-changer for a lot of other folks with different bodies than mine.
Big thanks to Betty's Toy Box for sending me the Snail Vibe to review! You can get yours by Clicking Here
Shopping from Canada? Get your Snail Vibe from Betty's sister-site Naughty North
The Snail Vibe – Tl;dr