Toy Review – The Wave by ROMP
I always get excited for budget-friendly toys that are body-safe and don't suck. I recognize that a lot of the toys I have the privilege of reviewing here are out of a lot of people's price range, and if my blog proves anything, it's that everybody's bodies are going to be different, and not everything is going to work how we want it to. An expensive sex toy can be a risky thing to gamble on, and even for folks who know what they like and are sure in what will work for them (or don't have genitals quite as picky as mine, and are more easily pleased) a lot of toys are just simply not financially accessible for them. ROMP gives me a glimmer of hope.
ROMP is another sibling under the WOWTech parent company that owns We-Vibe and Womanizer. Their whole schtick is a less expensive alternative to their luxury brands, but as far as I can tell there's been no compromise on quality like we sometimes see when a luxury brand decides to put out a lower-price-tier line of toys. ROMP sent me the Wave – which I'm reviewing here – and another model that I'll be reviewing in the weeks to come. Neither of them stand out to me as "cheap" or "lesser than" any of my toys from We-Vibe or Womanizer – they feel solidly built, the bodies are the silky silicone coatings you'd get from any other luxury brand, there's nothing that outwardly screams to me that any less effort was made in manufacturing these toys. I hate the cheaper toys that at every turn seem to make it a point to remind you that you compromised – ROMP does not do that. So far so good in my book.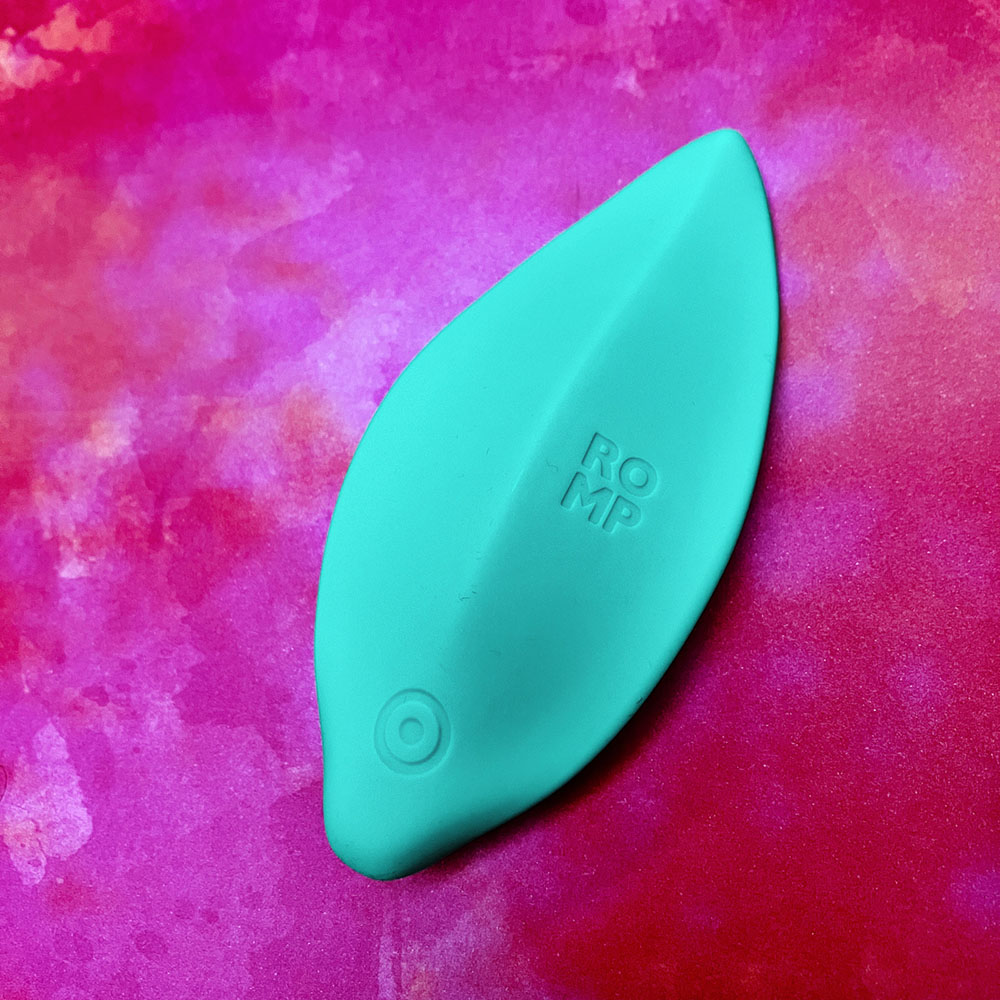 The Wave is billed as a lay-on vibe, which immediately doesn't work for my anatomy but I knew that when I requested it. The nice thing about these types of vibes is that regardless of how they're prescribed to be used…you can just hold them any which way you want, which is what I do. I would love a lay-on that worked for me because it's physically painful to try to shove anything else underneath me in the rare occasion I want a face-down masturbatory session, but I've yet to find anything that matches up with my body the right way.
The leafy shape of the Wave has the power button on one end and a flexible pointier tip at the other. The topside domes upwards with a soft ridge down the middle, the underside is more concave overall but also has a raised middle strip. The whole toy is about 3 inches wide and just over 4.5 inches long, so it fits in the palm quite comfortably in a variety of positions. Rather than cupping the whole toy to my vulva on either its top or bottom, I use the tip or thinner sides to get a more direct and pin-point stimulation between my labia. If I had more external clitoral tissue then just pressing the body of the toy against my whole vulva would probably do a lot more for me as it does nestle against the contours quite well, but it's just not applying enough pressure in the right spot that way for me.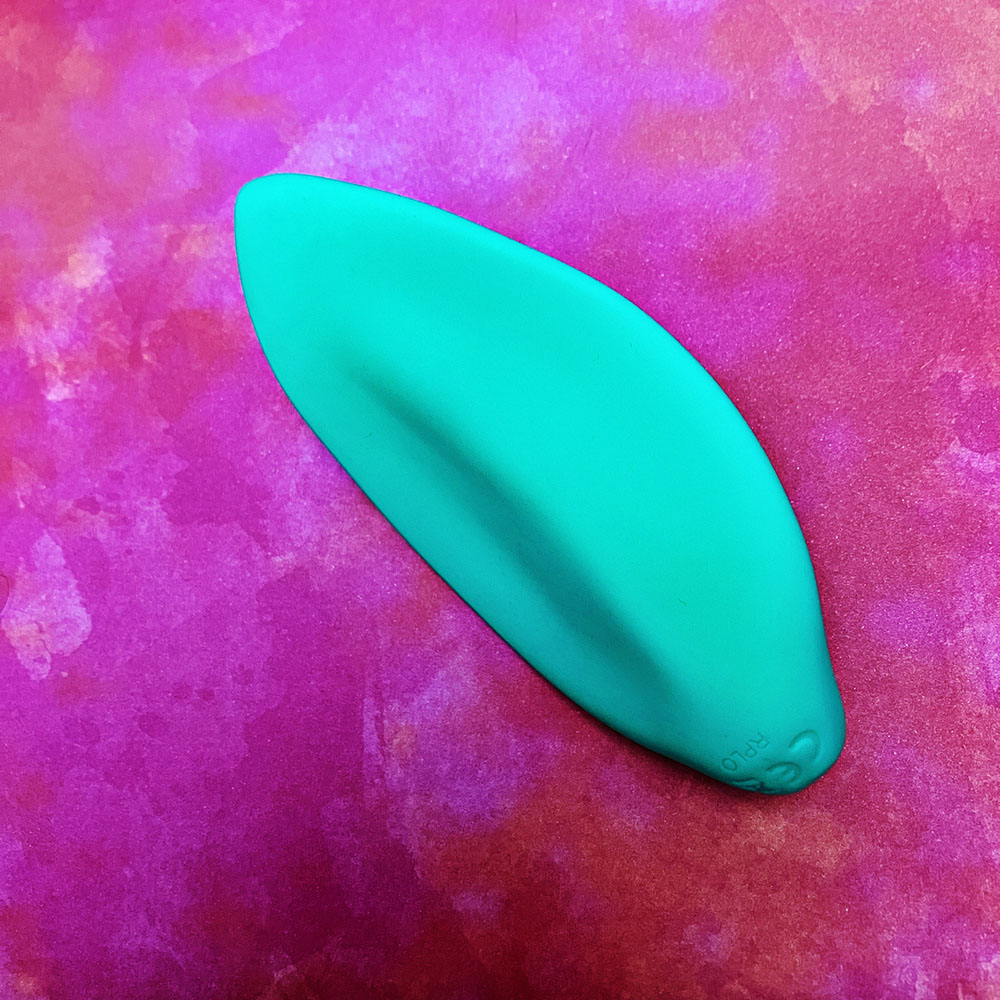 The whole body of the Wave is a little bit flexible (don't force it, but it wont dig in quite as much as something completely rigid) and there's varying vibrational sensations to be felt throughout the whole thing, so it's a fun exploration to turn it over in your hands and try out all sides and angles to find what you like best. I will admit it's a bit on the buzzy side for me, and of course isn't going to be delivering the powerhouse strength of something like a Hitachi, but I've certainly encountered far, far worse "budget vibes" than this one. I hate using the term "beginner vibe" (and I'll probably publish a whole rant about this one day) because I don't believe that we all start out at a point of needing little power or nuance to our sensations and then some of us "advance" while others happily stay "at the bottom" with their less intense and/or buzzy toys…but "beginner" is the way a lot of other people describe and understand their relation to vibrators so for that purpose I'll say the Wave is probably a great beginner's vibe. You can use it in a lot of different positions on various body parts, it's small enough to not be cumbersome for partnered sex, it's very quiet, and the power isn't bad while also not being overwhelming or intimidating.
Alone, the Wave isn't strong enough to bring me to orgasm, but if I pair it with an internal vibe that helps me along, it will do the trick. I'm not over the moon for it, but it's also not one of the many vibes I've tried that I physically cannot possibly orgasm from no matter what I do. I need a lot more strength and specificity that frankly a lot of vulva owners do not, so again – probably pretty damn good for a lot of people who are not me. Some people might ascribe the lack of power or rumble and inability to orgasm with it to the price point, a bit of "you get what you pay for" – but I take this moment to remember that I wasn't very fond of the We-Vibe Touch in either of its iterations either, and it's considerably more expensive. My favourite Womanizer model isn't the one at the top of their line either. There IS some truth to "you get what you pay for" but price alone doesn't guarantee a better orgasm – at least not for me. Some very cheap toys have been great and a lot of very expensive toys have not. This brings me back to not feeling like I'm compromising on anything by choosing a toy from ROMP instead of the more expensive brands in the family.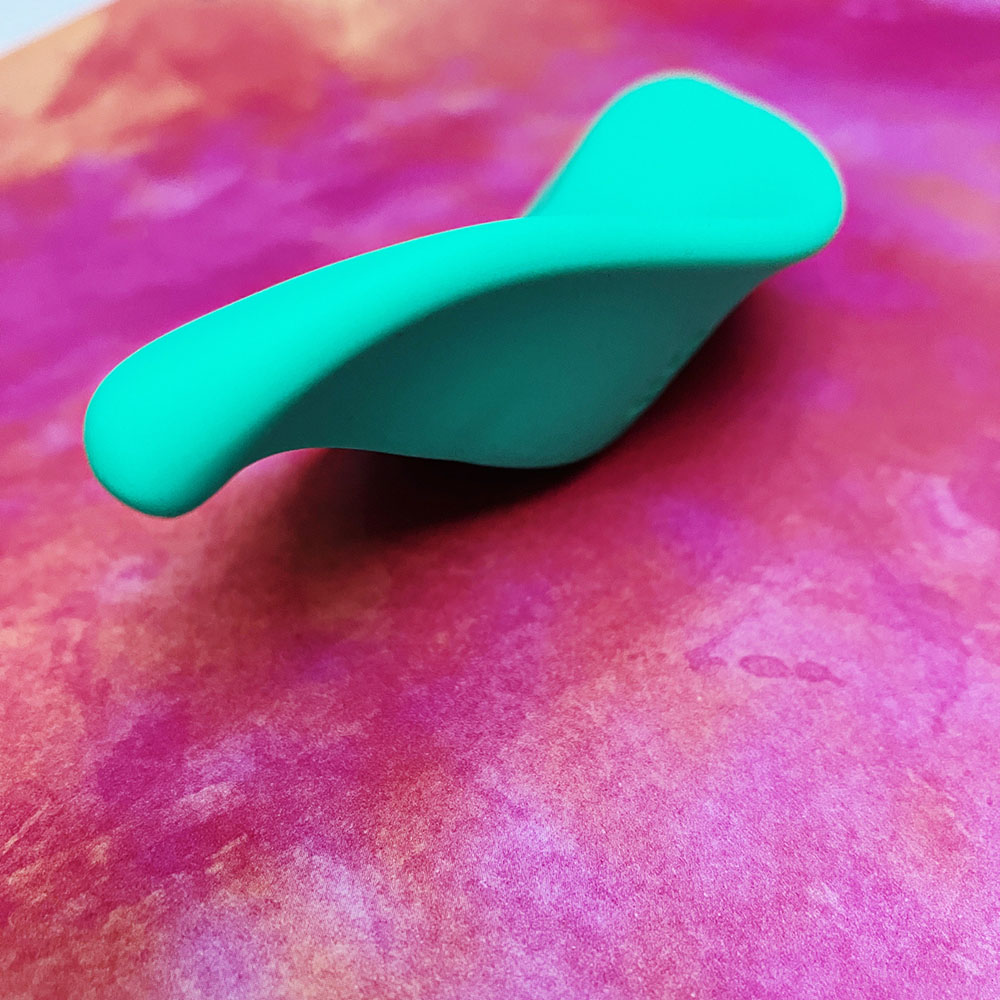 My biggest gripe with the Wave is the one I have with almost all vibes – the controls. The single button design means that you can only scroll through the settings in one direction. There are six steady intensities and four patterns. I appreciate the range in steady intensities, but if I'm not paying perfect attention to which number I'm on I will inevitably wind up accidentally advancing to the patterns settings and frustratedly having to click through all of them back to the steady vibrations, and then have to very carefully count to make sure I don't do it again. That's a sure-fire way to make me lose my orgasm. The TangoX from We-vibe's control plate is a fraction of the space available on the Wave's body and they managed to fit a plus, minus, and pattern button on that thing, so I know it CAN be done, and since that tech is owned by the same company there would be no issue with ROMP employing it. I don't know if engineering the Wave to accommodate two more buttons would have catapulted it out of the affordable sex toy category or not but I sure would like to see it explored. This will always and forever be a sticking point for me – I require better control of my experience.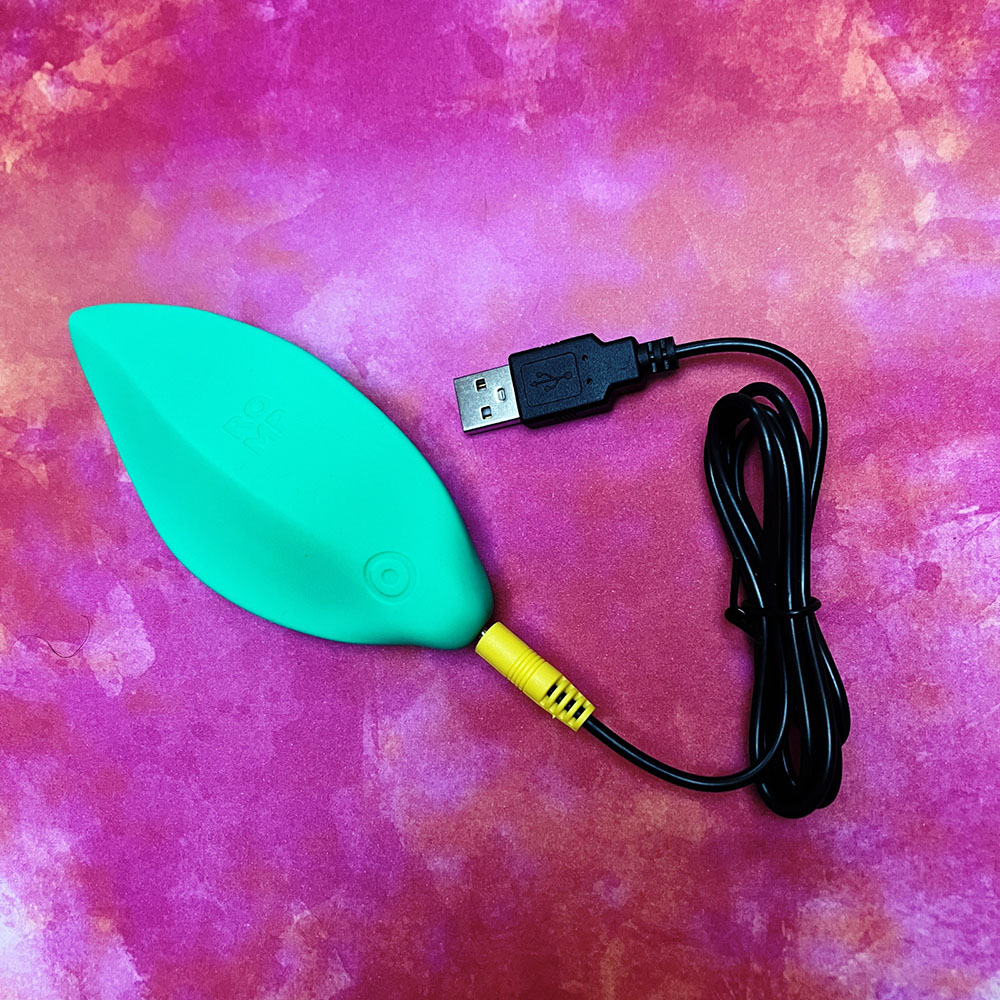 The single button is literally my only complaint though, so that's not too fuckin shabby. I like that it's not a magnetic charger (the shape would probably make it slip off funny), love that it's waterproof so I can clean it up easy, it will run for an hour on its highest speed, and like I mentioned before is very quiet. It's ticking all the ease and discretion boxes most of us are looking for – especially if it's a beginner vibe.
Overall I love the Wave – not for my body personally, as I just need more oomph than it can give, but I feel good about the quality of the product and I can tell that it's going to be great for a lot of other people. It's a toy that I feel confident in recommending, and ROMP is a brand I feel good working with.
Big thanks to ROMP for sending me the Wave to review! If you'd like to buy your own you can do so by Clicking Here.
The ROMP Wave – Tl;dr