Toy Review – Vixskin Mustang by Vixen Creations
I'm going to tell you a story about something I love.
LOOOOOOOOOOOOOOOVVVEEEEEEEE
It is with extreme rarity that I say that, just FYI.
This week's sex toy is the Mustang, by Vixen Creations. I'm gonna give a plug for Shevibe here as well, since that's where mine came from.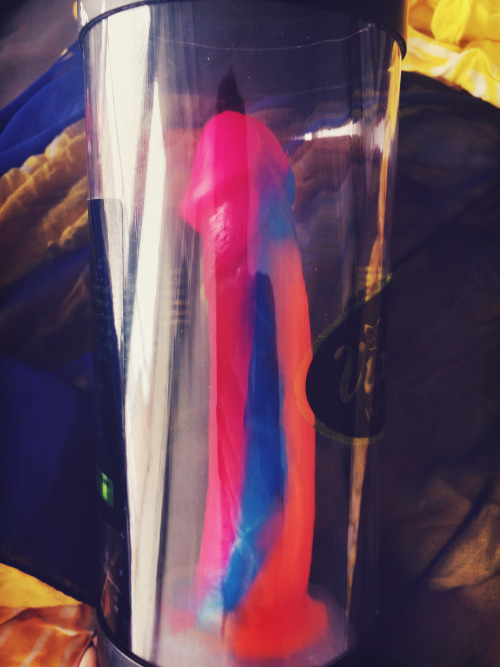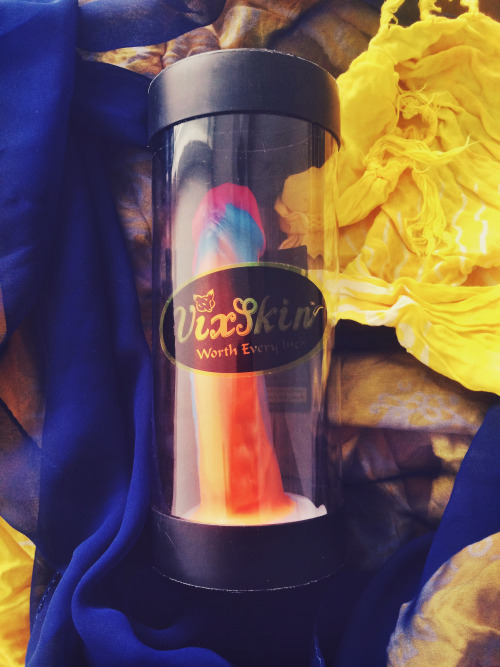 The box is NOT lying (about it being worth every inch). And I wanted to show you the box because, well, I really like the box. I keep all of my other toys in ziplocs or the carrying pouches they came in, even though technically silicone should be able to touch other silicone with no damage, because I'd rather be safe than sorry. There are some older toys in the toybox that were here before I was so I can't speak 100% to their integrity, and sadly dildos aren't a regulated business – companies are allowed to lie to you about what goes into them – so in the off chance I have something that isn't actually silicone, I want to keep it from hurting my good stuff. Also since my toys occasionally share partners and I don't use condoms on them, but I also don't fully sanitize them after each use, I keep the ones that got sanitized away from the ones that would need a sanitizing before using them with someone I'm not fluid bonded with.
TL;dr Everything goes in it's own bag. Vixen sent me my dildo in a nice hard plastic box though, so it doesn't need a bag. I like to think of it as a mini display case, which is nice because I'm the type of person to leave their dildos all over the place.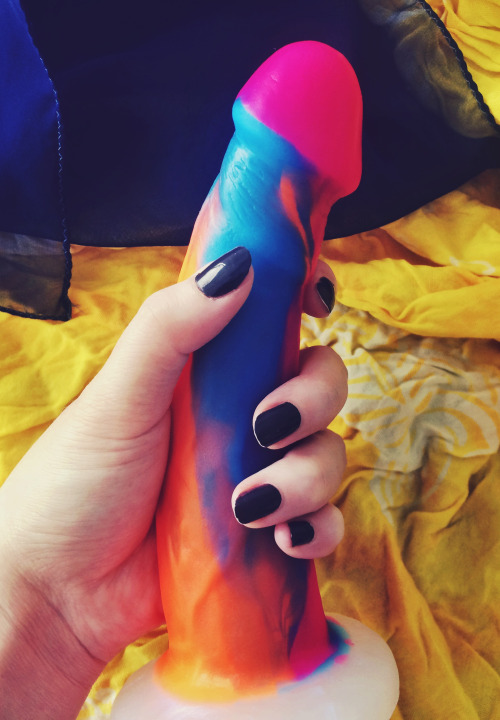 And why not? This thing is fucking beautiful.
You might remember from my earlier review of the Cush that I talked about my only-just-recent interest with insertables at all, which came about due to the purchase of a fucking machine. Well, this is the other dildo I bought for that purpose. If you'd asked me a year ago for an opinion on my favorite dildo I wouldn't have one, because I didn't care at all about dildos until I met the Mustang. This is a life-changing penis.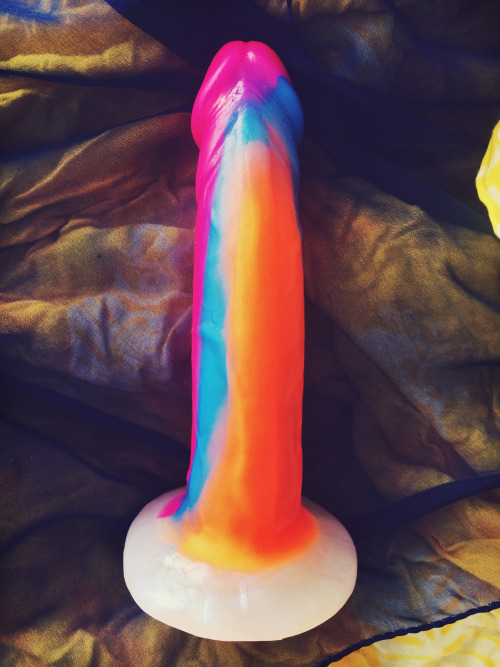 Like the Cush, this one is also made of what's called "dual density" silicone, which means a softer squishier layer on top a firmer inner core layer. The idea is to get your toy to feel as close to a human penis as possible and yeah, Vixen does a damn good job of that.
I complained that the Cush was still a little too firm for me, especially with it being such a girthy toy. Vixen, on the other hand, has seriously got a lock on this dual-density shit, like I am telling you, it feels amazing. The Mustang has just the right amount of give for me, I can use it in virtually any position and it can bend to fit my body, whereas more rigid toys like the Cush feel like I'm shoving a steel rod into me and if I'm in a position that puts a bend in my vaginal canal it probably wont feel as good. Usually not a huge deal because I'm typically just lying flat on my back, but every once in a while a situation comes up where a hard toy isn't going to cut it for me. On the flipside you also dont want a toy that flops around like a wet noodle and gives you no control. Vixen found the happy medium.
LET ME SHOW YOU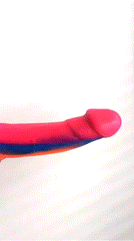 The Vixen dual-density toys are rigid enough in their cores to hold their shape against gravity, but can easily accommodate someones curves and angles without it feeling like your insides are being stabbed and stretched in the wrong direction. You can also see by me squeezing the toy at the end of the gif that there's some nice squishy give to the head of the dildo, it's still dense but not bruisingly so (my cervix thanks me). I personally find the 'pop' of the head across my pubic bone quite nice, whereas harder toys can make it hurt and I refrain from long strokes after they're inserted.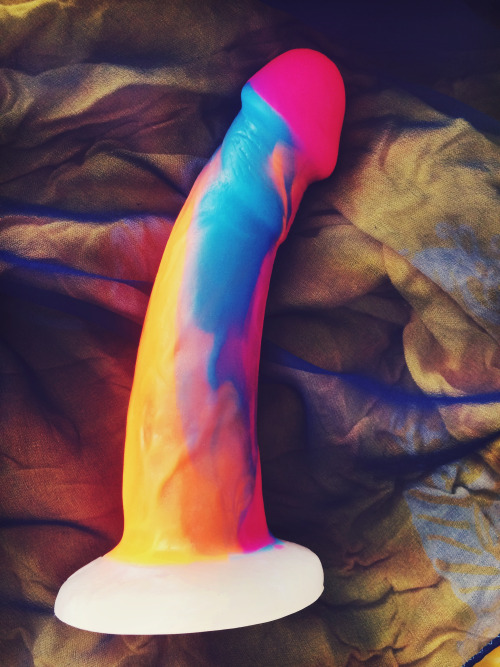 Most of the other reviews I've seen for this dildo are pretty adamant that this is not a G-spot toy, it's possibly too flexible for thrusting at an angle that will pound your G-spot just right. I can't speak to that, I'm admittedly not that in-tune with my G-spot (yet), but considering steel and glass toys tend to be the most highly rated for G-spot pleasure I'm gonna go ahead and agree that this is probably not your best pick if G-spot stim is high on your list of priorities, and maybe especially so if your G-spot needs very hard pressure or is tucked away and a bit hard to aim for.
Besides the dual-density aspect that I love so much, Vixen also has their own special silicone formula they call Vixskin, which the Mustang comes in. IT'S AMAZEBALLS. Seriously. One of the other reasons I wasn't in the past big on insertable toys is that the ones I'd used in my limited earlier experiences were gross materials that stuck to me, would cause too much drag on my skin, stunk, tasted bad, and left my bits red, burnt, and angry afterwards. Body-safe silicones shouldn't do that. After a couple washes, the Vixskin feels a little tacky, (some people powder their toys with things like corn-starch. I don't see a purpose if I store it separately, rinse off, and load it up with lube before I use it anyway) but with a little lube it feels incredibly close to what a wet penis feels like (that was a really sexy sentence, wasn't it? Wet penis. I don't what else you want from me, it feels like slobbery dick in your hands.) and slides across my skin effortlessly leaving no irritation when I'm done. Vixskin is also of course still able to be sanitized, you can wash, bleach, or boil it just like you would any other silicone.
I've also talked about how I don't like hyper-realistic stunt cocks, but at the same time don't like hyper-unrealistic toys either. Cush was a good example of a middle toy, it's still fairly penis-shaped but without the balls and veins poking out and skin wrinkles and whatnot. Mustang has a more obvious resemblance to a human dick, but still not in an offensive sort of way. It's realistic qualities paired with the feel of Vixskin are actually what make it so good, especially since those details are squishy. If you can't tell by now I'm NOT a texture slut. It has just the right amount of texture without going over-board. That hint of texture in the "skin" also helps with lubrication. I've found that with solid smooth toys, whatever lube or body fluids that are present tend to just get pushed to the bottom of the toy instead of staying put on the length of the toy (or inside the body) and actually aiding with insertion. The slight texture to the Vixskin helps catch some of that fluid and keep it in place so the whole toy stays slick, instead of just having a puddle around the base not doing you any good.
And it's tie-dye. You can get yours in "flesh tone" colors, or hot pink, you might be able to still find a neon green one at a retailer, and babeland has a special edition black with hot pink base. I think most "flesh tone" colors are kind of sickening, personal preference of mine, so I tend to go for toys that come in non-realistic colors, hence my last two dildo reviews being purple and this one mostly hot pink and orange. I have a couple more in the mail right now that are purple and flat black. When I bought the mustang I was looking at several other options in the Vixskin lineup but Mustang was the only one that came in non-realistic colors, so that sealed the deal for me.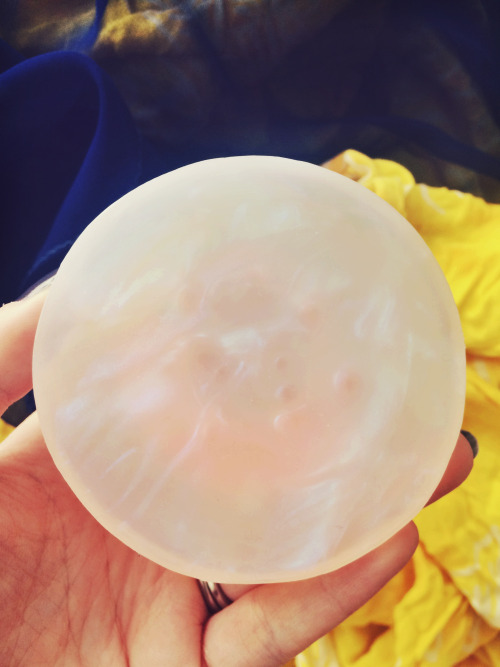 My only real complaint against the Mustang is that I wish they had used a suction cup base like on some of their other toys, instead of the hard flat base. I mean, it's pretty, but I want to use this thing in the tub. Their website currently says that the mustang DOES come with a suction base, so maybe they've changed the design since I bought mine, or maybe it's a mistake. If the suction base is a big deal for you, you should clarify before purchase.
 *After owning this toy for over a year, I've noticed that the inner core has "sunk" out of the toy a bit, causing the flat base to have a more rounded bulge shape. This is pretty common for dual-density toys, and doesn't hurt the toys integrity unless parts actually start separating.
And of course, I should talk about its length.
Honestly I'm not sure of exactly where to cap that measurement at, 7.5″ looks right to me, but the company lists only 6.5″. I'm measuring up the "bottom" or underside of the shaft, if I measure from the topside I get closer to 6.5″. Make of that whatever you will.
In closing The Mustang is pretty much my idea of the perfect dildo, in terms of size, shape, look, and feel. Even with my budding interest in using more insertables in my solo-time, with other toys I usually use them in tandem to a vibrator as a helping means to a quick and easy end. The Mustang however, I'll spend a solid 10-20 minutes with by itself because it just. feels. that. good. Which is almost entirely due to the Vixskin and dual-density qualities, so really I'm plugging the whole Vixskin line here,  there are hundreds of dildos with the same size and shape, but none that feel this good. If you're someone who is comfortable going into a store to shop for your toys I highly recommend finding a retailer near you who stocks Vixen toys (there's a list on their website) so you can handle one of these in person. It will blow your mind. The moment after I used mine for the first time I blew up my husband's phone raving about it, I made multiple facebook statuses about it, I wrote about it on fetlife, I took to twitter, I told everyone I could, people were sick to death of my dildo braggings. A few weeks later a friend was shopping for his wife's first strap on and I practically screamed at him while he was standing in Come As You Are to buy a Vixskin toy (He bought a much bigger model) If I had to make a list of things to get stranded on a desert island with, a Vixskin dildo would be on it and for me, it would be the Mustang.
Vixen Mustang TL;dr