Useful links for understanding how I use my toys and why I do or don't like them
Understanding My Weird Vulva – a little history on finding my clit, drawings comparing my vulva to others, discusses concerns over certain clit toys not fitting my body
Getting To Know My G-Spot – a little history of my G-spot exploration, discusses current likes and dislikes in G-spot stimulation
FAQ regarding my toy collection, what I will or won't review and why, what I use most, etc
Too Long Didn't Read Review Summary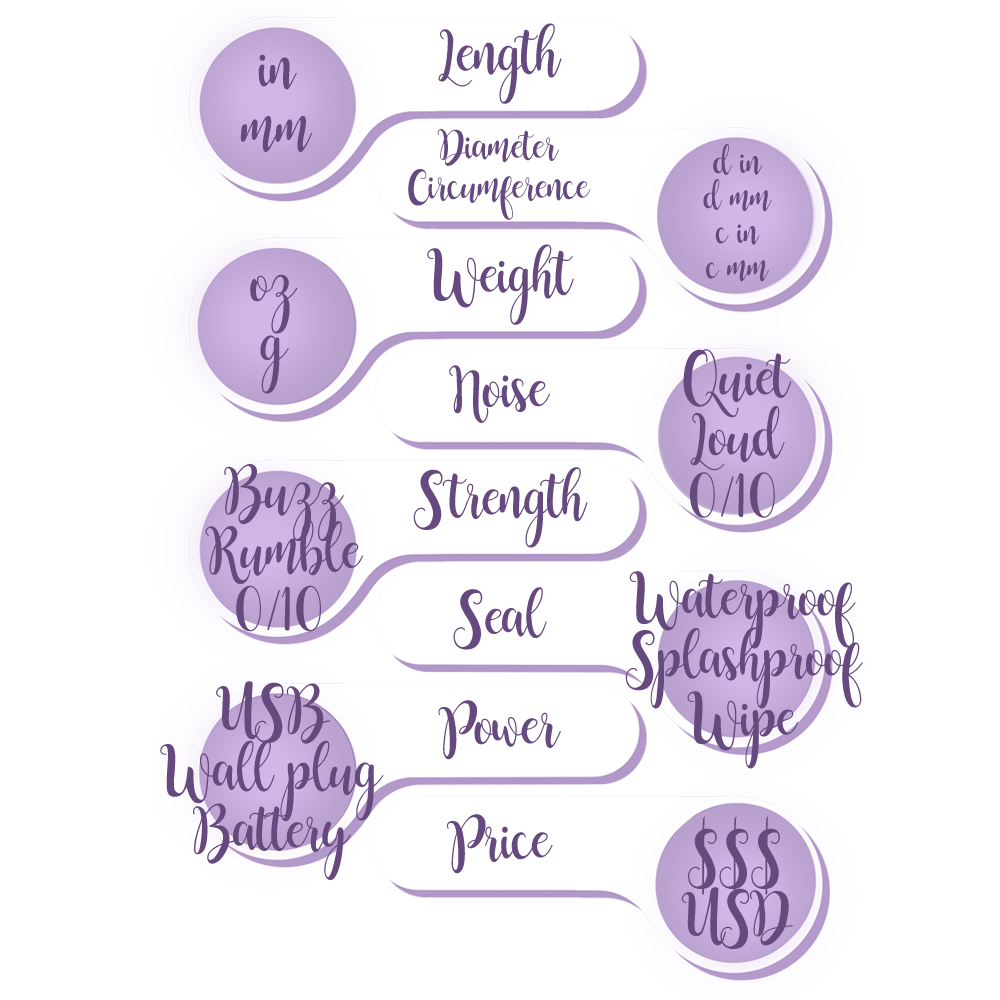 Length : listed in Millimetres and Inches if applicable
Diameter/Circumference : listed in Millimetres and Inches if applicable. Typically only listed for insertables.
Weight : listed in Grams/Kilograms and Ounces/Pounds if applicable
Strength : classified as Buzzy, Rumbly, or in between , if applicable. Rated on a 1-10 scale of satisfaction. I like rumblier vibrations so a 7/10 rumbly would be good. A 3/10 buzzy rating would be very bad. A 7/10 buzzy wouldn't be the worst thing ever…but it's still buzzy and I probably don't really love it, but I've rated it high because the motor is strong/intense (and some folks like buzzy, so for them this would be great)
Noise : classified as Quiet, Loud, or in between, if applicable. Rated on a 1-10 scale where 1 is you'll wake up the whole neighbourhood and 10 is only dogs can hear this thing. A 2/10 loud would be very bad. A 6/10 Quiet wouldn't be so bad, but you maybe wouldn't want to use it with someone else home.
Seal : lists whether the toy is Waterproof, Splashproof, or can only be wiped off, if applicable. Will usually also offer best cleaning option (waterproof dildos can be bleached or boiled, whereas even waterproof vibrators should not be boiled and can only be bleached.) 
Power : lists whether the toy is equipped with a wall plug, USB charger, or standard batteries, if applicable
Price : usually listed as a range unless the toy can only be purchased at one place. Prices listed in US dollars. I do not update these graphics after posting so they are reflective only of what the toy cost at the time I reviewed it.