Toy Review – The Full Bloom Ball Gag by XR Brands
Have you heard the great news? I've recently been able to add Naughty North to my affiliate repertoire! Naughty North is the Canadian counterpart to Betty's Toy Box, and with their help I get to bring my readers up north the same great products and deals the US folks get, without paying twice over for shipping and duties. I'm super excited!
My first review for Naughty North is the Full Bloom Rose Ball Gag by XR Brands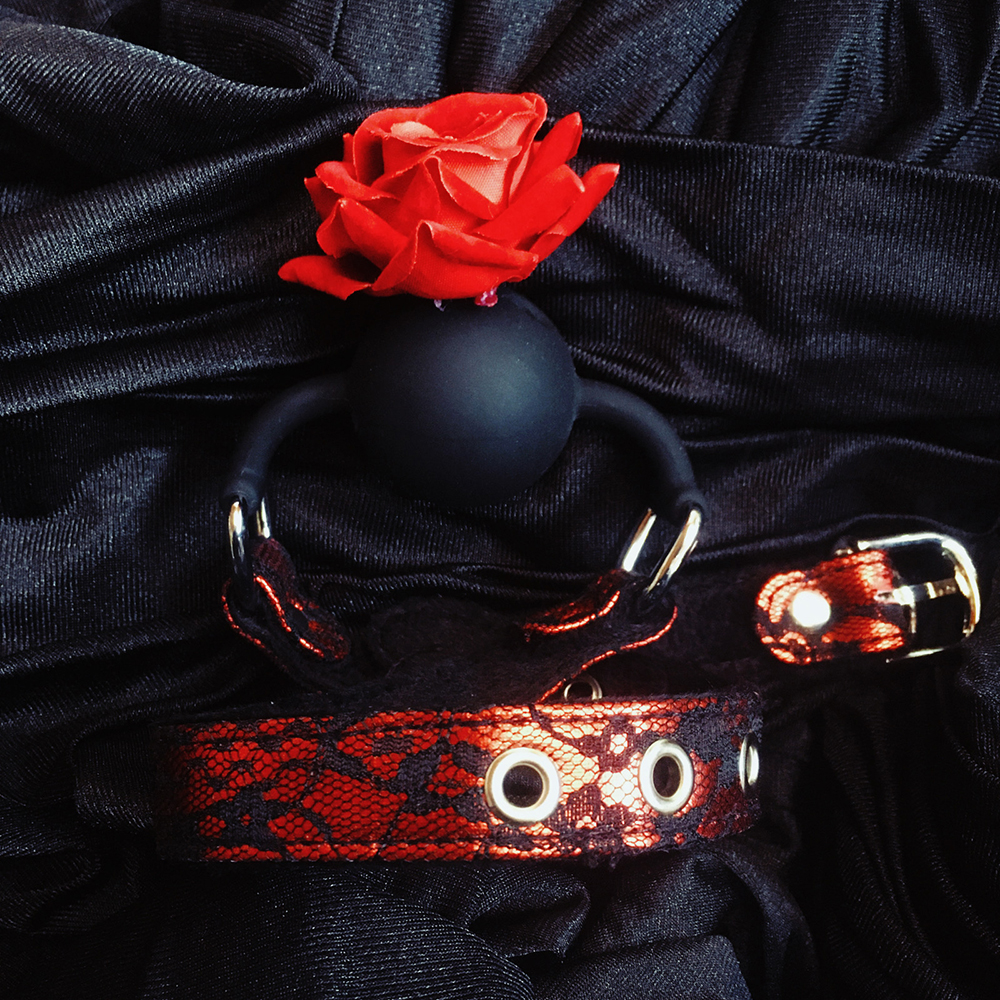 I don't normally care for gags, which is why you've not seen me review one before. Personally, when I'm playing I prefer to keep my mouth...available, and my partners have historically felt the same. A lot of folks who are new to kink have the misconception that gags will make the wearer be quieter during their activities – this is not really true. Gags can muffle a tiny bit, but screaming/noise comes from the throat, not the mouth, so in reality what a gag does is make you unable to say coherent words – you can still be extremely loud with a gag in your mouth. Large gags like balls or O-rings also make it tough to swallow, so if you're into drooling, these are right up your alley. Bit gags (basically the thing used on horse's harnesses), old school damsel-in-distress scarves through the lips, etc are a little easier on the jaw and allow for some careful swallowing, and maybe even a crass attempt at real words. Overall though, not a noise dampener.
Quick additional safety tip : because gags make swallowing tough to impossible, it's a good idea to NOT play in a position that has the gagged person lying on their back. This increases the chance of choking on their own spit exponentially, and once someone starts choking the natural reaction is to start freaking out (which will make getting the gag off even harder) and for me at least, if I have a large foreign object lodged in my jaw while I'm choking, my gag reflex kicks in extra hard, so then I'm choking on not only my own spit, but I'm trying to vomit. None of this is good or sexy or fun or safe. Keep your gagged partner sitting upright, standing, or bent over forward and let the drool flow freely.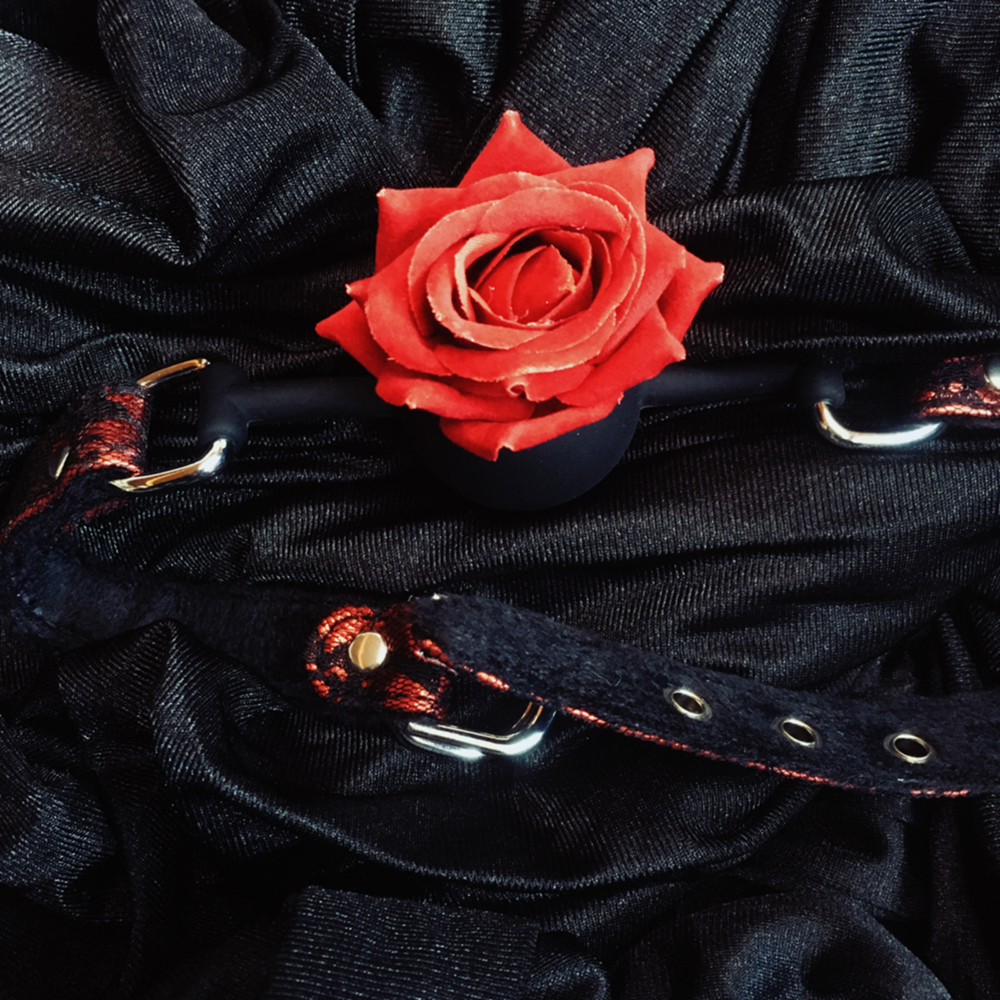 Even though I don't really play with gags, I've still got a list for things a good gag should have going on. That list starts with the gag itself being non-porous. The Full Bloom ball gag checks the box by being made of silicone. Not only is shoving something that smells and tastes like your tires in your mouth gross, but the mouth is absolutely teeming with bacteria you do not want sticking around for next time. A gag, just like any other insertable toy, needs to be able to be disinfected once in a while and as such, should be made of non-porous materials.
Unfortunately, the next thing on my list – or rather a part B to my first thing – the straps. The Full Bloom's straps are not removable from the ball gag which makes cleaning a bit tougher. This is extremely common in gags – the straps are often some kind of fabric or leather that cannot be removed – but that doesn't make it right. There are a few brands who make removable and even swappable gags, but XR isn't one of them. The outside is a metalic red cloth covered in a layer of black lace, and the inside is some kind of softer lining, but I don't know what kind of material any of these are and if they can stand up to frequent soaking and washing, if they'll shrink, etc. There's also likely a layer of something between these materials to keep the structure of the band and I have no idea how that will react. To properly disinfect your silicone you'd want to boil it or soak it in bleach. I might be able to get away with soaking this whole piece in some soapy water and air drying it but I really wouldn't trust it to stand up to boiling or bleaching. If I were really dedicated to this gag I could probably MacGyver some kind of stand and a way to hang it so that just the ball is dunked in a cup of bleach but that's…so much work for a gag. I am lazy. That's unreasonable for me.
In addition to the straps not being removable for washing, neither is the rose detail on the front. I thought for sure it would be – of course it would be, why wouldn't it be? – so much so that when I pulled it out of the box and went to give it its first washing before putting it in my body (as I do with all new toys) I yanked and actually pulled the flower off the stem, which stayed firmly glued into the ball. I had to put it back together to take the pictures. The fake flower is actually supposed to stay on, and you will get it absolutely soaked – if not with soap and water when you try to rinse if off, then with your own bacteria-laden spit when you wear it. I've been able to gently pull the flower off and push it back on twice now but I wouldn't trust it to continue to stand up to that kind of thing. It's just a cheap fake flower you could find at any craft store – it's not actually meant to withstand this particular activity.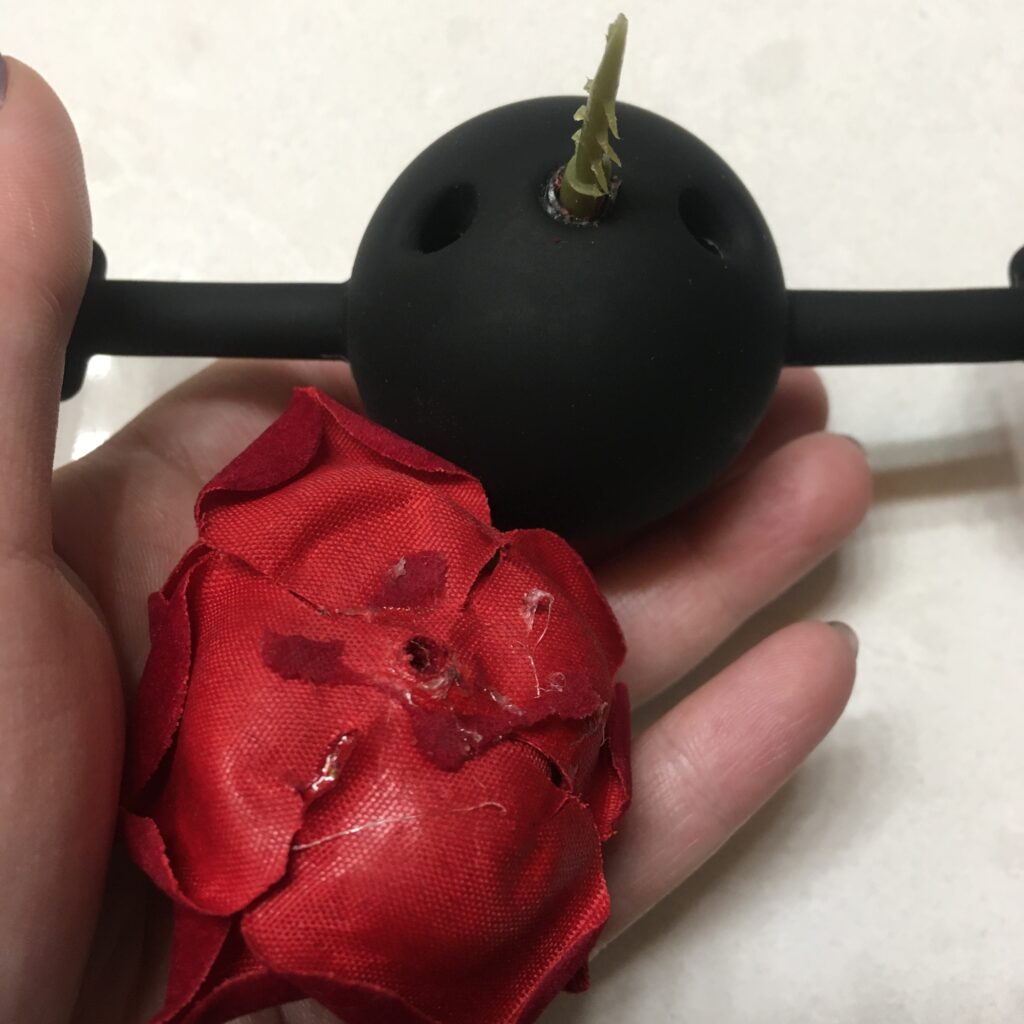 Like the removable straps, there's also a brand that makes a ball gag with a silicone rose on it that is removable and washable. It is however, twice the price of this one. So let this be an example of getting what you pay for.
Besides the part where I might get sick if I can't get it clean enough after using it again, The Full Bloom is about as good as I'd expect from a standard ball gag The straps are adjustable enough and the inner lining feels alright. The buckle got hopelessly caught in my hair as I put it on and took it off but that's not unique to this toy – this is just the unglamorous truth to head gear – your hair gets fucked up. I'd prefer the ball to be a little bit smaller (it's 1.7″ in diameter) but I have an impossibly small mouth for an adult so it's probably a decent size for basically everybody who isn't me.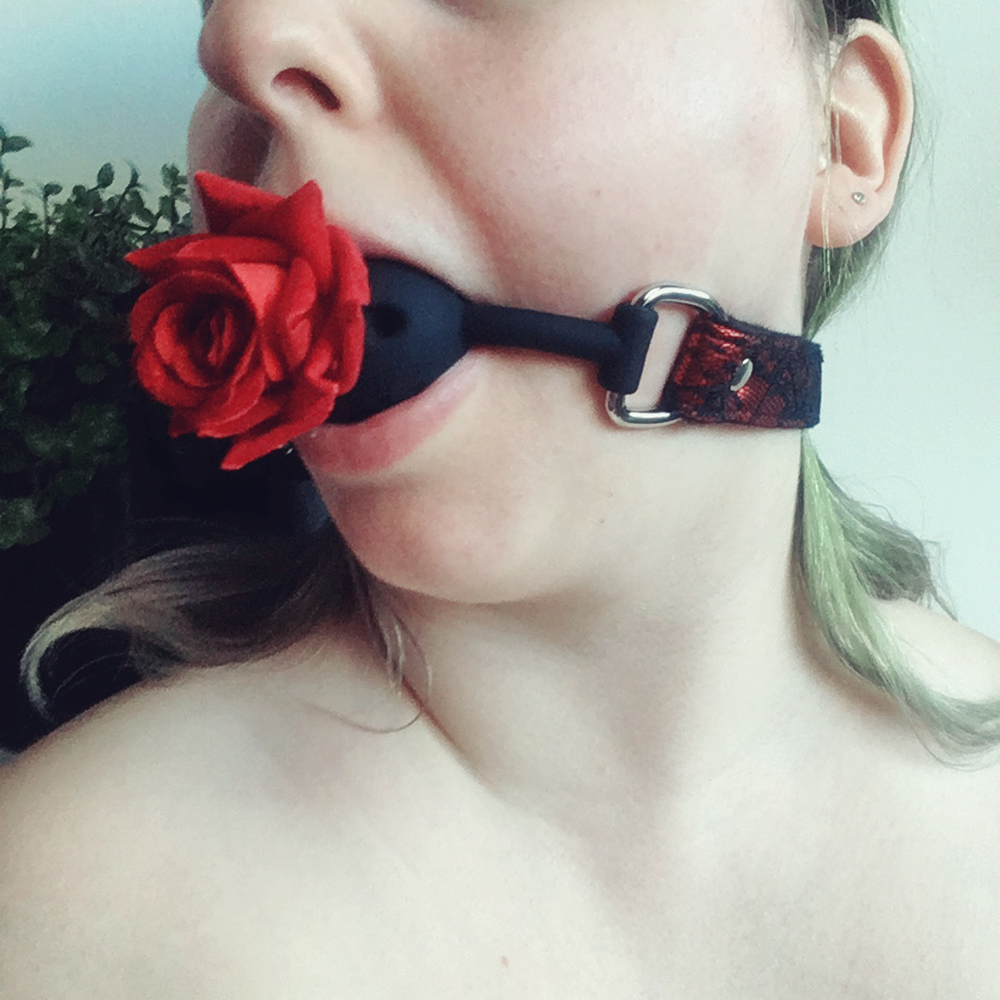 Last on my list is breathability. Me personally? I'm a crier. I turn into an absolute blubbering mess when I play, so I cannot rely on only being able to breathe through my nose – it's probably full of snot. Sexy, right? The Full Bloom has two holes on either side of the rose that allow the wearer to still breathe through their mouth while the gag is in use. This (and not playing while lying on your back) can literally save a life, so I think it's pretty important and I'm glad to see it implemented here. The holes will also allow excess drool to escape instead of pooling in the mouth and throat if the lips of the wearer are really sealed tight around the ball.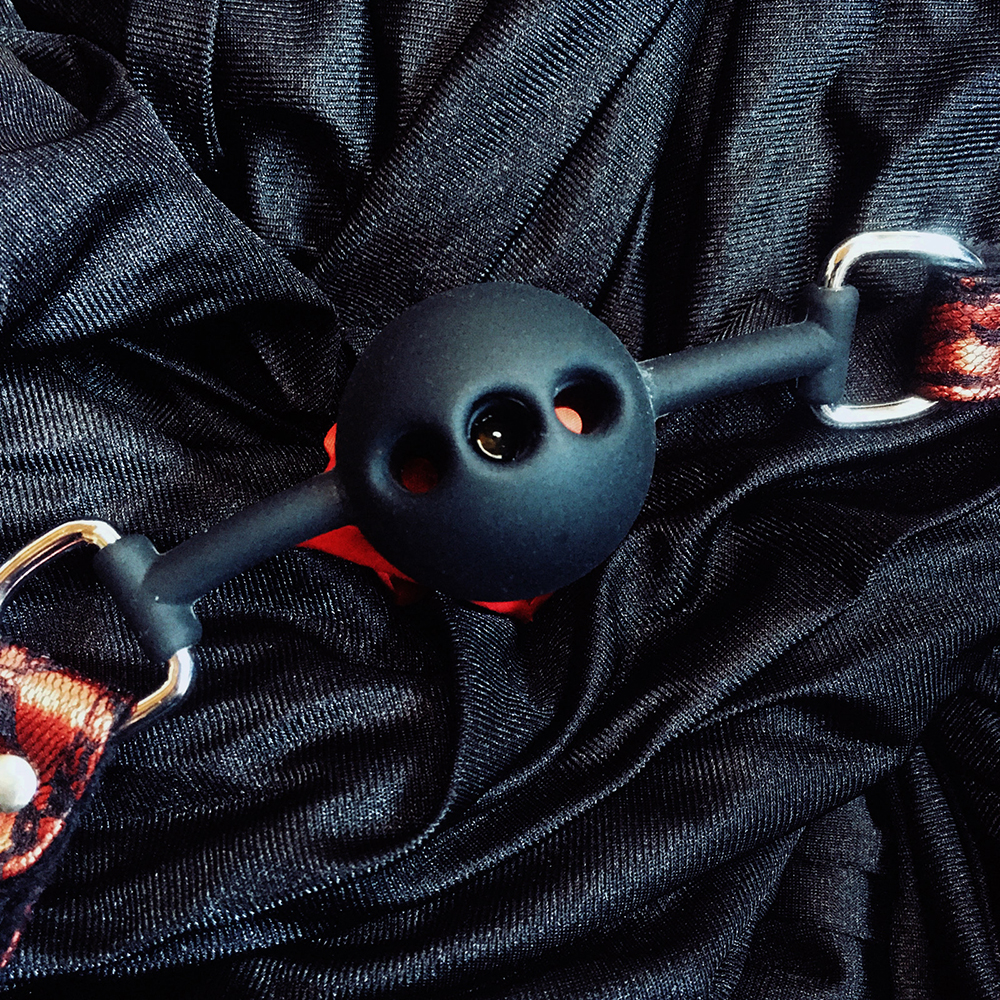 Overall it's not the worst gag I've ever encountered, and the Full Bloom does have a few plus sides going for it, but the cheap irremovable flower and inability to really get it clean make me upset. For the same amount of money I'd forego the decorations that are just going to get in your way and eventually look pretty crappy, and buy what's essentially the exact same gag from Blush Novelties or Sportsheets. The rose was cute in theory, but in practice its just gonna make your life harder.
Big thanks to Naughty North for sending me the Full Bloom Ball Gag to review! You can shop Naughty North by clicking Here!