Toy Review – The Swan Wand Mini by BMS Factory
In a strange turn of events for someone who, prior to starting this blog didn't even own a dildo, I seem to have myself an embarrassment of excellent dildos lately but not a single satisfactory new vibrator is crossing my path. Who even am I anymore?
I'm trying to find some good internal-use vibes to contend with my Lovense Lush egg and the far more cumbersome Pop Top attachments for my Hitachi. The Rave wasn't terrible in strength but I can't get past the fact that they designed it with painful edges. I've had my eye on the Swan Wand by BMS Factory for a while, noting that lots of other reviewers speak quite highly of it, but the size of it has always intimidated me. I'm not too keen on girth, particularly when the toy is completely rigid, and the Swan Wand boasts ends of 1.9″/5cm and 1.4″/3.8cm. While I could maybe take the smaller end alright, the bigger one would be almost entirely out of the question, and I don't love the idea of not being able to use my whole toy, y'know?
Besides the main Swan Wand, there are a handful of other Swan products – Trumpeter Swan, Mute Swan, Swan Kiss, Swan Curve, Mini Swan,Black Swan, and a whole bunch of rabbit-style models. Assuming they all use the same types of motors, I figured I might be able to give a different model a try, and considering my size limitations, I thought a safe bet would be a model called "mini", so I asked SheVibe to send me the Mini Swan Wand.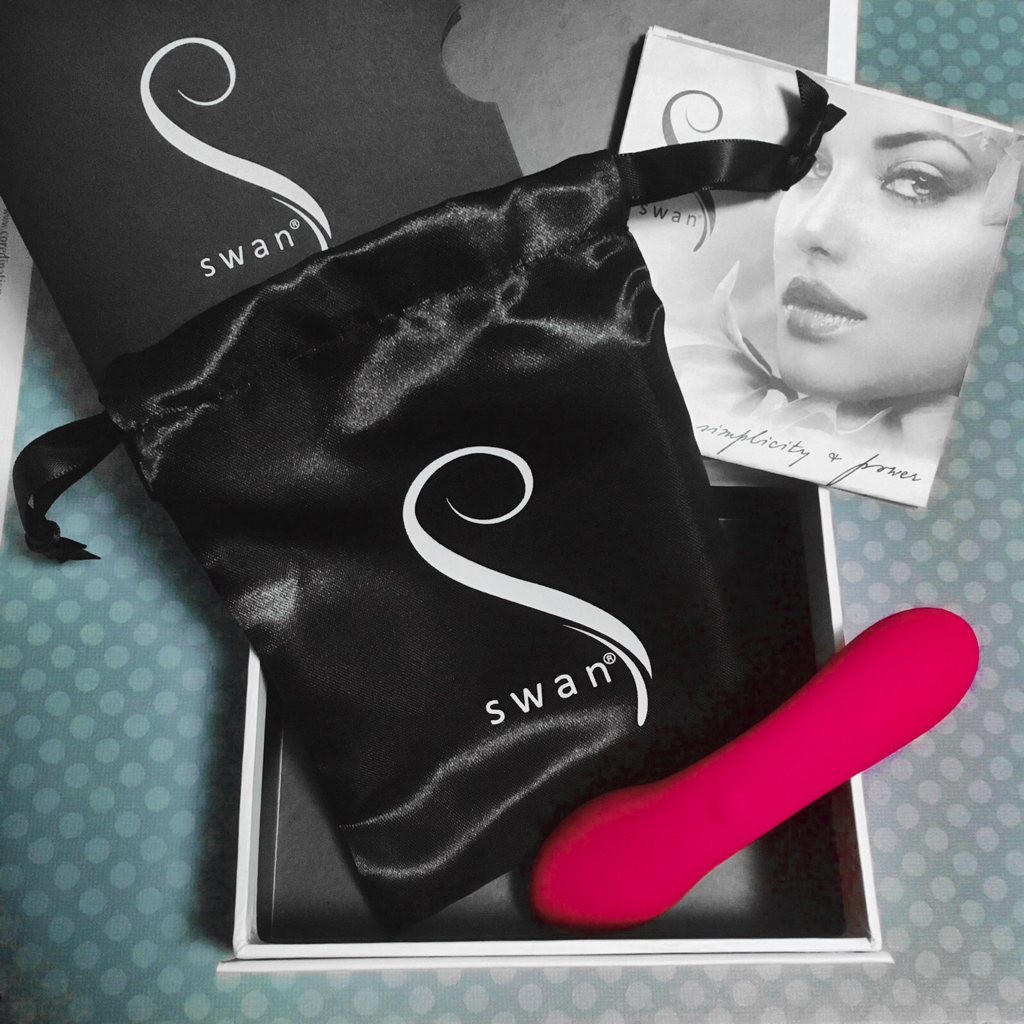 I admit, I did not even look at the dimensions of the Mini Swan Wand before requesting it. Considering the original's enormity I thought anything around the size of the We-Vibe Rave or maybe a little bit smaller would qualify as "mini." I was in for a surprise.
What I actually got was something closer to the size of the Tango. After getting over my initial shock, I realized this may actually work to my advantage. The Mini Swan was absolutely small enough for me to comfortably insert, but not so small that I'd find it unusable on my G-spot. I don't really enjoy a lot of thrusting with vibrators so something on the small side is actually a lot easier to hold and use. This is especially true when I factor in that I also require clit stimulation – trying to keep the right angle and pressure on my G-spot with big heavy toys in my non-dominant hand while also trying to wield another vibrator in my right hand for my clit can be quite a task. I was starting to feel optimistic about the Mini Swan Wand.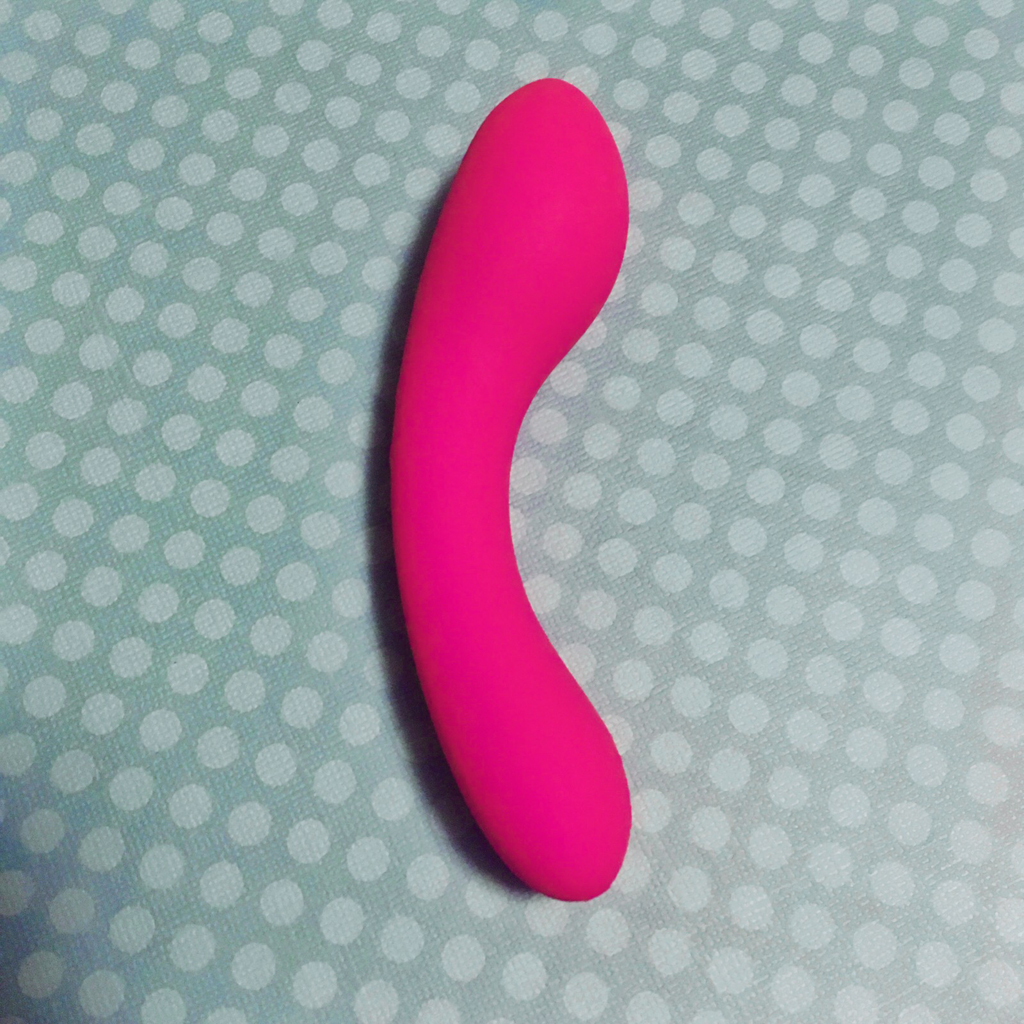 That optimism quickly faded, however. While I was correct about the Mini Swan Wand being an excellent size for me, being able to expertly target my G-spot with the 1 inch end, the mechanics are another story. To operate the Mini Swan Wand there is only one button placed in the middle of the toy. While nothing in the manual specifically forbids vaginal use of the Mini Swan Wand, I get the feeling they intended for it to be a clit toy, since inserting one end of the toy means the button is also inside of me.
Pressing the button once turns it on, pressing it again turns it off. Holding down the button increases the intensity of the vibration, but continuing to hold it down does not cause a decrease – you can only turn the toy up and off.
Being able to quickly click the toy off is great for discretion, but otherwise it's a huge downside for me, as I don't want to go from SUPER INTENSE to OFF in one fell swoop. I like easing myself back down from my orgasm, but I can't do that with the Mini Swan Wand.
Likewise, while I don't hate the idea of holding down the button to increase intensity instead of clicking it up multiple times, if I don't have a perfect grip on the shaft I run the risk of accidentally clicking the toy off instead of being able to hold down and turn it up. Just like I don't enjoy just turning the toy right off post-orgasm, I don't like accidentally turning it off as I'm trying to reach orgasm.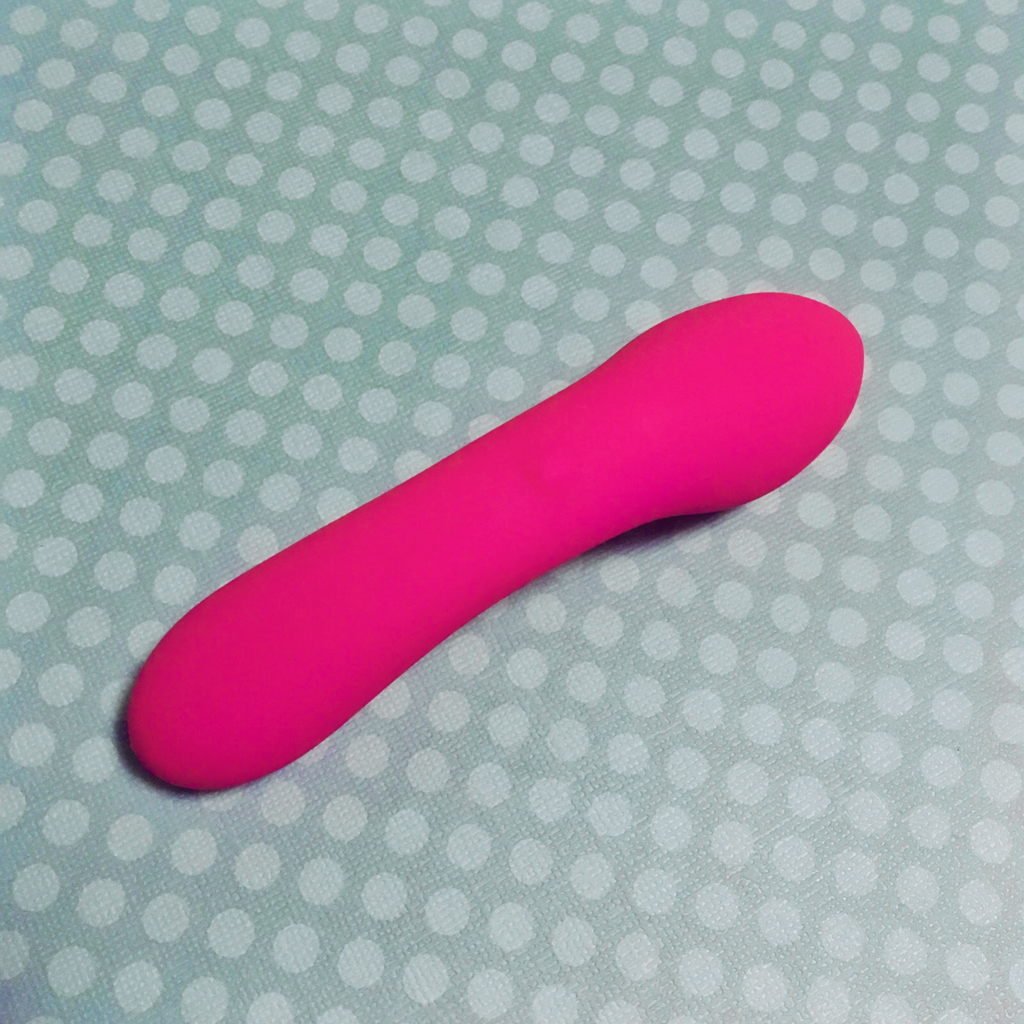 The motor in the Mini Swan Wand is also not this deep rumble I was expecting after hearing about the original Swan Wand. I realize that the Mini Swan Wand version would of course have to make some sacrifices by simply being a fraction of the original's size (like one motor instead of two) but I was hoping it would have kept some of the power the original Swan Wand claims. Unfortunately what I found was that the vibration of the Mini Swan Wand is significantly dampened by even the lightest touch to the body. It's like playing a game of cat and mouse with the vibration, it seems like it should be plenty strong but it disappears to somewhere else when I try pressing the toy to my genitals. I literally chased the vibration around the circumference of the Mini Swan Wand, certain that I just wasn't holding it in the right spot or touching the best part of the toy to my body and if I just rotated it the tiniest bit more, or used the tip, or tried the other end, or only pinched it between two fingers I could find the sweet spot. I had no such luck.
This dampening problem doesn't bode well for use on my clit, and it certainly worsens when the whole toy is encircled by the vagina. On top of losing intensity when the toy is touched, it's buzzy. Most motors can't help but get a bit buzzy as the intensity of the vibration is increased – this is completely normal and often expected – but I think the Mini Swan Wand could have handled it much better than it actually does, becoming unpleasantly buzzy on its higher settings, which I must use because the lower settings are too muffled. Regardless of G-spot or clit use, I am a total power hog, so buzzy is unworkable for me.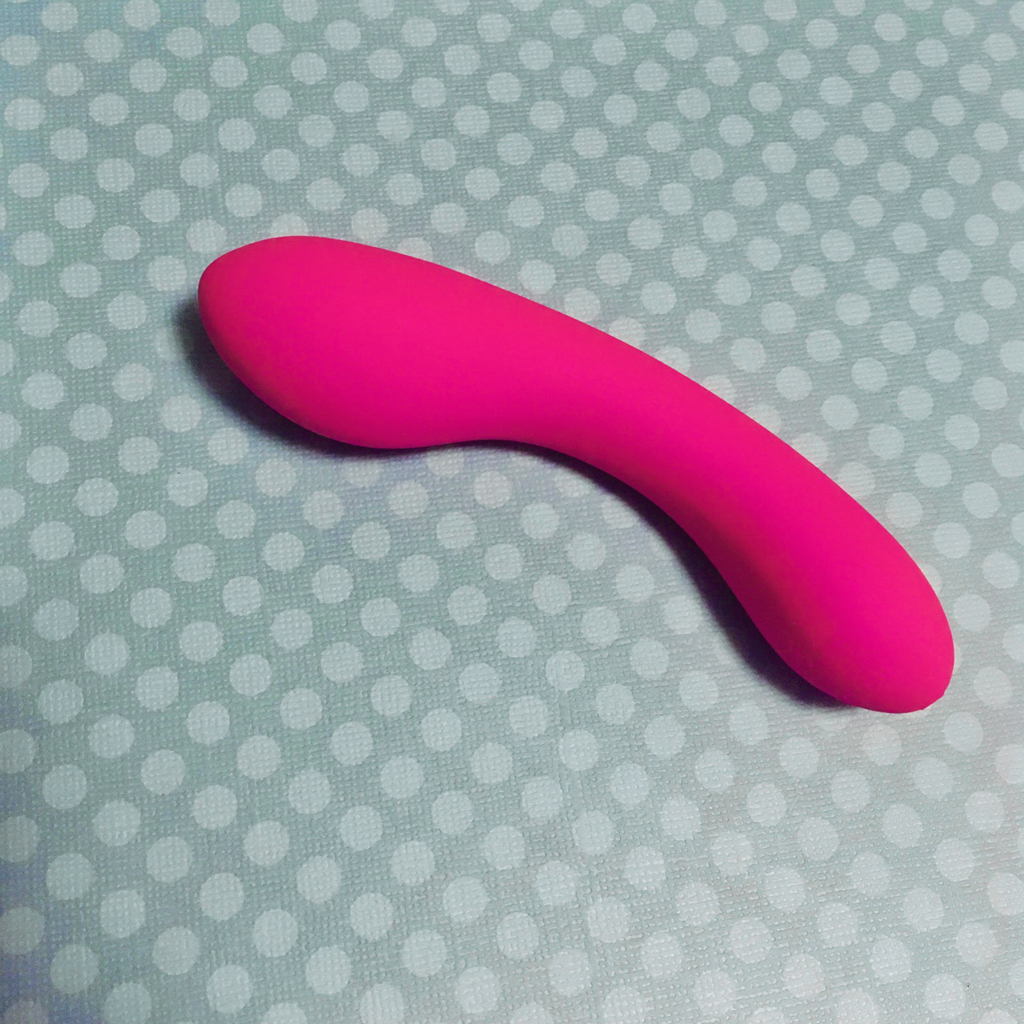 The Mini Swan Wand feels alright to play around with, but when it comes time to have an orgasm it just can't get me there no matter how I'm trying to use it. It's probably great for those who need something small and easily portable, and I found it to be fairly quiet as well, but if power is crucial I don't think I can recommend it. If it weren't for the fact that my Tango is dead I wouldn't have even considered trying to use the Mini Swan Wand on my clit after it failed my G-Spot. The Mini Swan Wand comes nowhere close to ousting any of my preferred clit vibes, and my mission for more G-spot friendly vibes remains incomplete.
Big thanks to SheVibe for sending me the Mini Swan Wand for review. You can buy your own by clicking Here.
BMS Factory Mini Swan Wand Tl;dr