Toy Review – The TangoX and TouchX by We-Vibe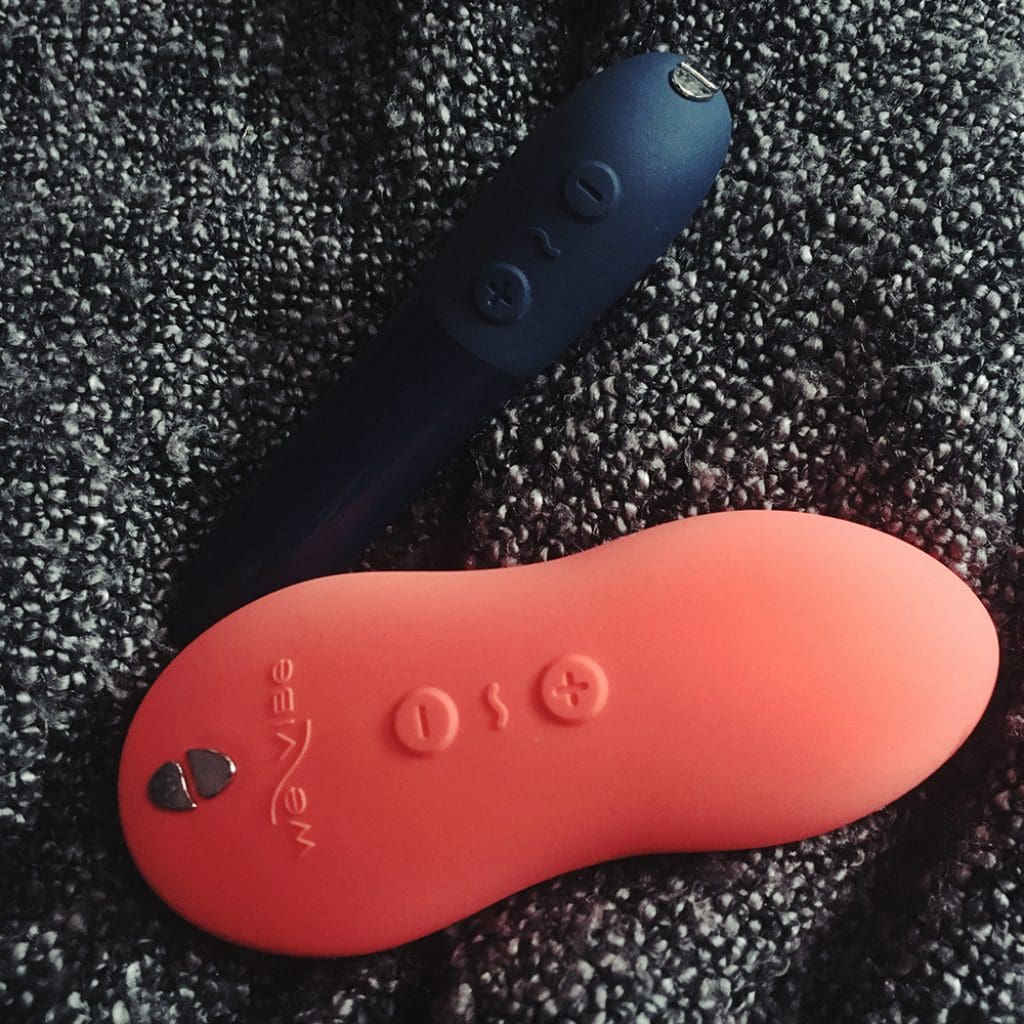 Yep, I got 'em – the brand new and improved Touch X and Tango X from We-Vibe.
The Tango has been around for a decade now and has sat quite comfortably at the top of many a "best vibrators" list in this time, and for good reason. Once upon a time, my Tango was my go-to-every-night toy (before I became a Womanizer convert and most vibrators ceased to work for me at all,) and I was a bit devastated when it stopped holding a charge (after years of thousands of uses – we had a good run.) Despite my dismay, I didn't run out to replace my Tango at the time for two reasons. 1) I didn't love the bright blue and hot pink colors they came in and as such, I'd gone out of my way to buy my first Tango in a specialty set that included one of the wearables so that I could get the limited edition white version, and I wasn't about to do that a second time after learning none of the wearables actually worked for me (this did not stop me from lusting over the iridescent purple or gorgeous black versions that come in the other sets though. Ugh, so nice) just so that I could get a prettier Tango. And 2) I still had a number of other clit vibes in my arsenal that were getting me by before I moved on to pressure-wave toys instead. I wasn't super hard-up, so I let it pass.
We-Vibe discovered my old flame has died on me a little while after that and sent a new one along with my Womanizer Premium last year, which was super appreciated, but sadly it did not make it back into my regular rotation, as my "rotation" is basically just constantly recharging my Pro40 and occasionally swapping out for the Duo. My clit's become a bit of a one-trick-pony, for better or worse (probably worse, kinda makes it hard to review vibrators, but there's no reasoning with that thing.)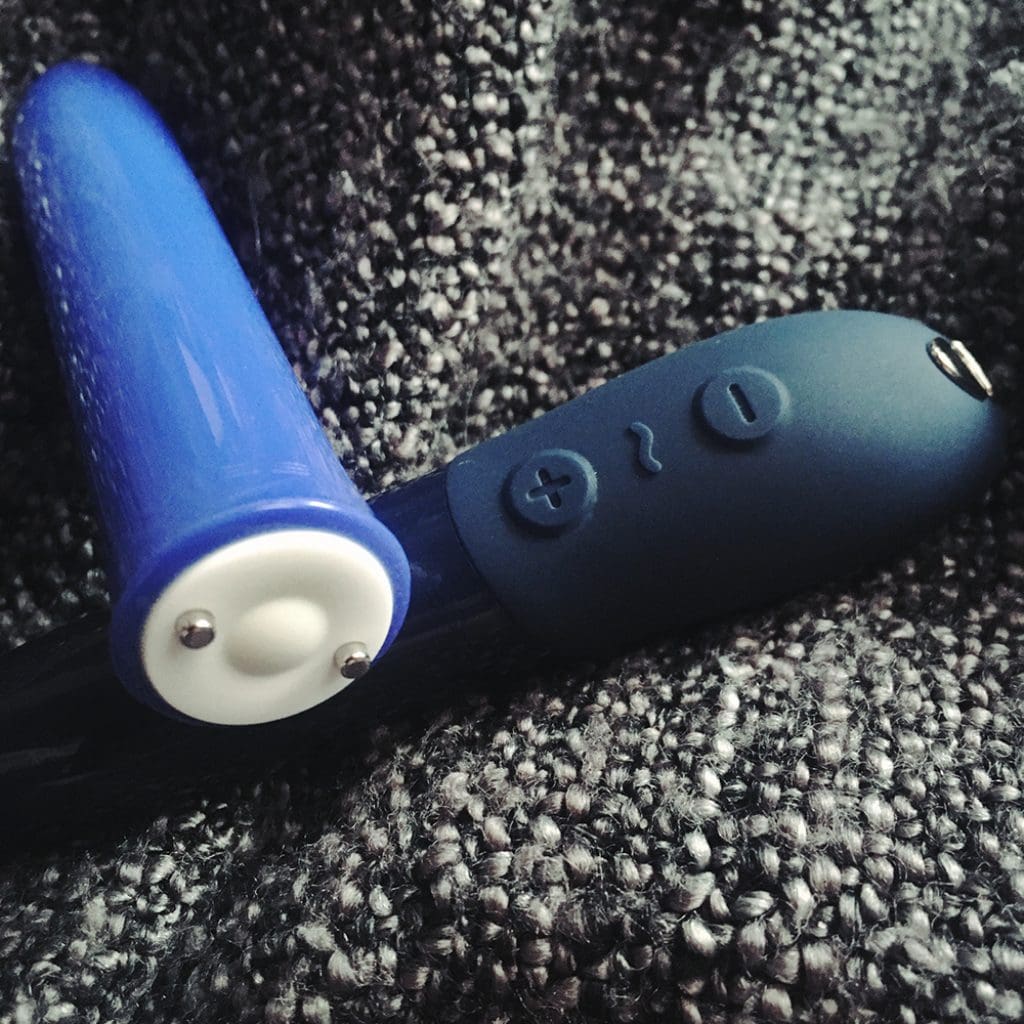 Not loving the Tango anymore doesn't mean I've forgotten how much I used to though, and I can still objectively talk about the upgrade without being its biggest fan. In the Pros column we have new buttons! The old Tango had only the single button on the base that would cycle through 4 steady intensities and then 4 patterns and then turn off – I HATED this. I hated that I couldn't turn back down from a high intensity to allow for any kind of adjustment or edging or slow come-down post-orgasm, I hated that I'd often forget which setting I was on and risk getting cycled through the patterns when I really wanted to just turn it up one more time. I also hate that you can long-press the button to turn it off as well, and it turns back on at the setting you left off at, not the lowest steady intensity. I almost never like patterns on my clit so half the functionality was wasted on me and it made me angry. The Tango X as you can see in the photo comes with 3 separate buttons that alleviate literally all the problems I had with the original.
Another pro is the new model also doubles the steady intensity settings to 8 which allows for more range in between warm-up and climax. For those who do like patterns, the full range of pre-loaded We-Vibe patterns is now available as well. I still hate them but the new magnetic charger style holds on a bit better than the old one, and the charging time has been decreased from 120 minutes to 90. Finally, just like the original, the X is still super quiet.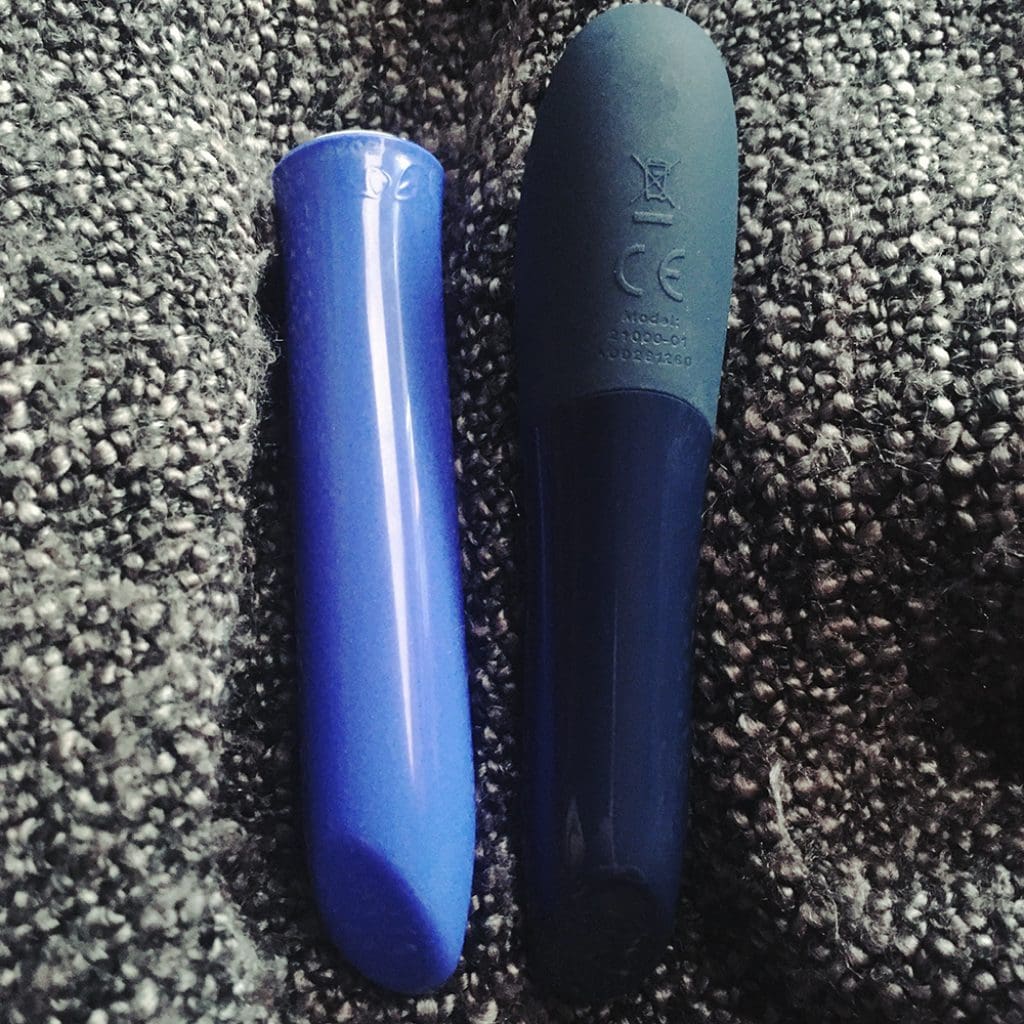 I don't feel like I have any serious Cons to this upgrade, more like an 'eh, I'm not sure.' The new silicone grip is my sticking point that I'm just not sure about. ABS plastic translates vibration really well, but anything that you attach to it will start to dampen that. The strength of the vibrations change on both models depending on where I hold it and how I hold it, how much skin contact I'm making both with my hands and my genitals. The silicone surround on the top of the Tango X certainly changes the sensation that it can deliver when compared to the completely-plastic original. However, the Tango X is also billed as more powerful, and the addition of the new intensity settings means that a perfect 1:1 comparison is tough. Putting a silicone sleeve on the original would definitely make it weaker than one without, but does the silicone on the X make it weaker? It makes it different… that much I can say for sure. In my hands it feels weaker because the sleeve is already buffering the vibrations between plastic and skin. Whether or not I feel like that buffering is happening all the way down the shaft of the toy is something I can't say for certain, even after days of side-by-side and simultaneous comparisons. The original feels harsher/rumblier to me still, but maxing out on the 4th setting leaves me wanting more. The X satisfies that desire to go even higher and more intense, but those higher settings get a little buzzy.
That said this is still such a powerful vibrator, especially for the tiny bullet size/shape, and the simple changes made in the Pros column launch the Tango X up from "it works but I'm still annoyed" into a toy that I can strongly recommend as all-around great. I can say confidently that for a large number of people this more versatile version would absolutely blow their mind. It's nobody's fault that I'm an outlier who requires an industrial strength powertool to get off.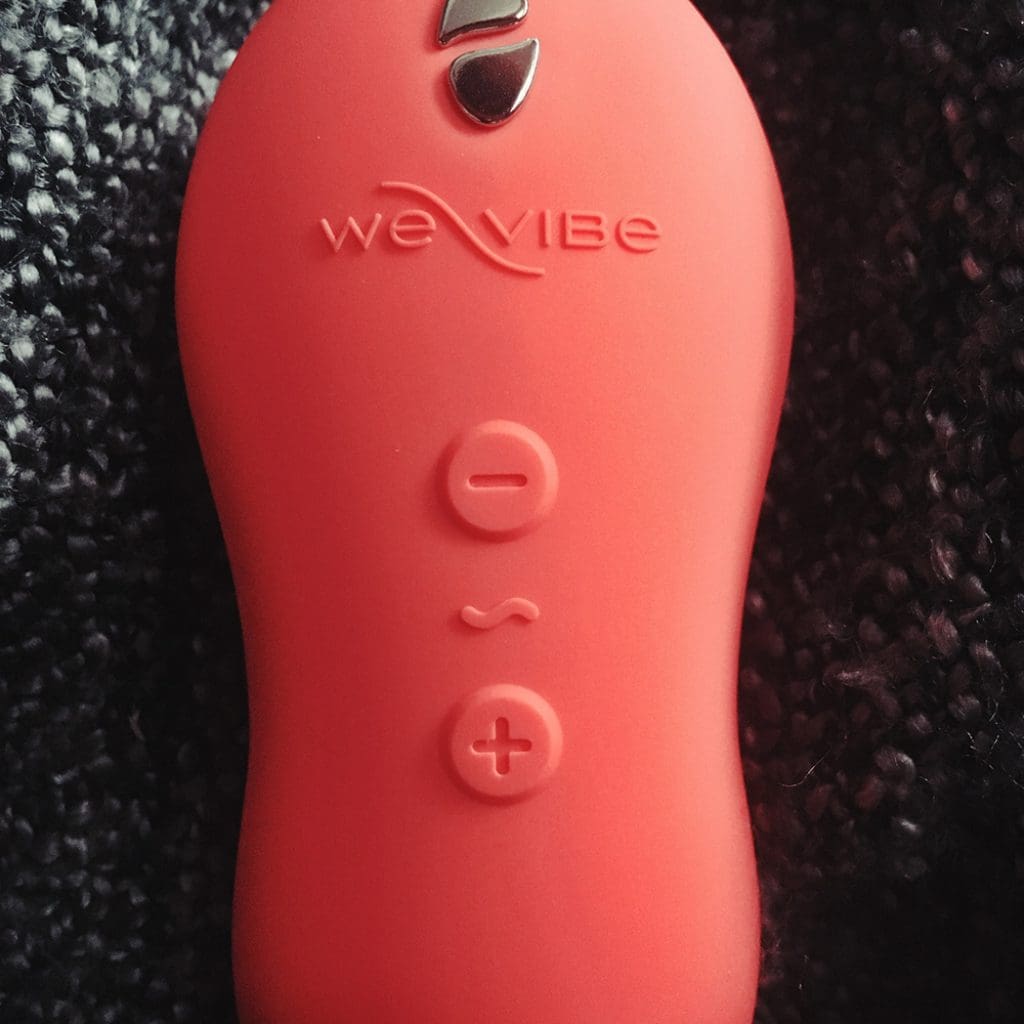 The Touch X received the same upgrades that I'm over the moon about – separate buttons and increased settings. The original only came in purple (which I liked but can get boring for some folks) and the X now comes in a lovely coral and deep emerald. The original Touch's charge and run time were already on par with the upgraded Tango X's times so no change has been made there, and it's also very quiet. Unfortunately I never liked my original Touch to use it again after I was done reviewing it 3 years ago, and as fate would have it just recently re-homed it to a partner who could give it a better life than I was, letting it collect dust in the bottom of my closet. Had I known an upgrade was about to drop I'd have hung on to it a little while longer to do a full side-by-side comparison. My best guess is that the Touch X still presents the same problem for me as the original did, which was that the silicone shell makes it too weak for me. Both times this has been saddening because I really enjoy the shape, it feels great to hold, but that design Pro turns it into a pleasure Con for me. I was capable of forcing out an orgasm with the original when I last used it, and I am still capable of forcing out and orgasm with the X, but neither time were they particularly good or fun or satisfying, and if that's the case then what's the point, right? Still, just like the Tango, I can say that even if it doesn't knock my socks off, there are literally millions of people out there who adore these two toys, so while they might not be good for me, they're still really fuckin good.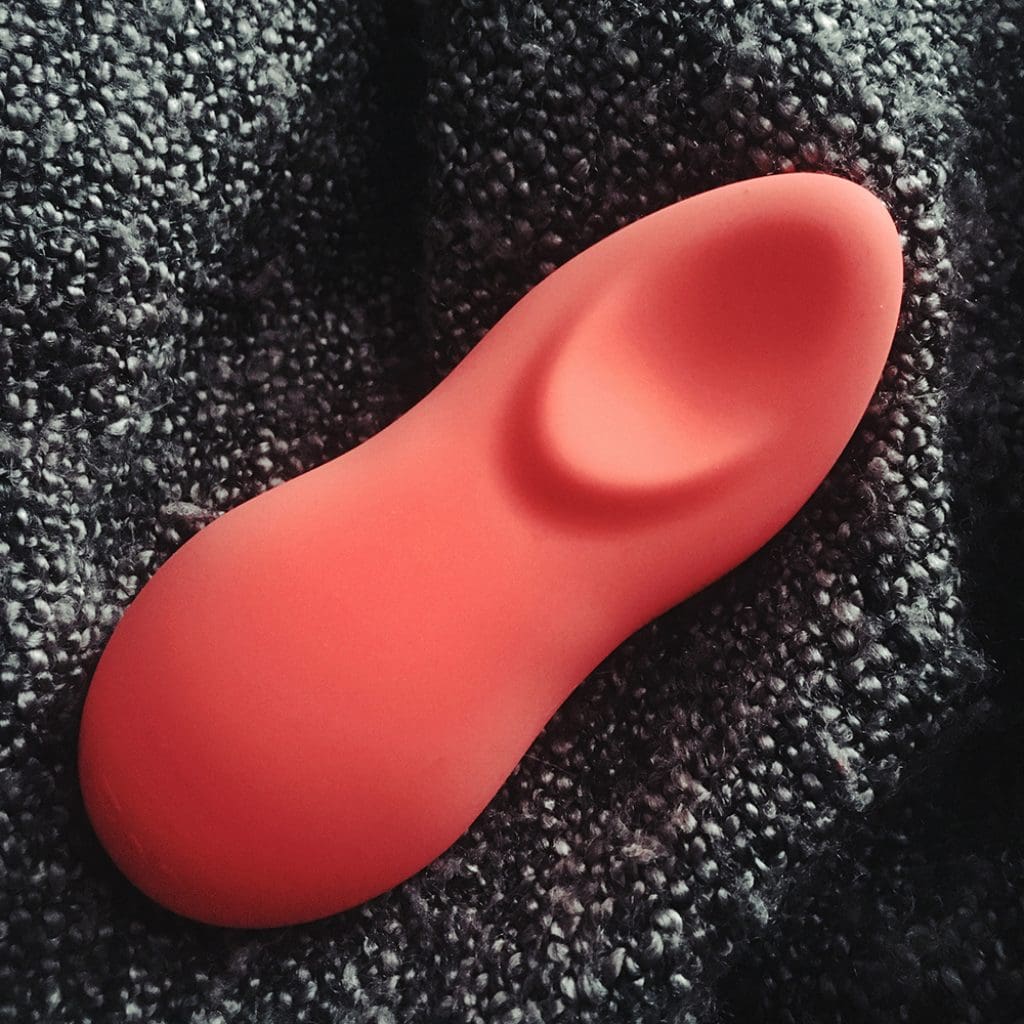 One odd thing I noticed about the Tango and Touch X is that they're among the extremely few toys I actually prefer using in the bath and this is where I've managed to squeak out the only orgasms they've given me while I've been testing them. I'm a huge water lover, I'll stay in the shower for hours, I love baths, I love hot tubs, I love the ocean – being in the water just feels incredibly sensuous to me. As such, I've tried every waterproof toy I've ever gotten my hands on in the shower or bath thinking it will be the best thing ever, but I almost always get super let down by it. Despite the rest of my body loving the water, vibrations on my genitals just don't work out for me there, I have no explanation why (fully submerging a vibrator will of course change the sensation as the toy is being affected by the pressure of whatever body of water you're in, but I encounter the same issue in the shower where water might not even be directly streaming over that exact part… I dunno…my vulva makes no sense.) I still don't like the orgasms they give me or how hard I have to work for them, but if I'm absolutely desperate for a bath or shower orgasm then these two toys are probably the only ones I'd reach for.
Overall, I'd say the upgrades make them kinda perfect for basically anybody besides me, if you're in the market for a small and discreet but still powerful and versatile clit vibe, these are going to hit the top of any list of suggestions you could possibly be given. The only real decision left to make is based on strength and price – the Touch X is a little higher and a little softer, the Tango X is a little cheaper, and a bit stronger (or, if you've been waiting all these years to get your hands on an original but kept talking yourself out of it, you can snag one of those while they're on sale for almost half-off.)
Big thanks to We-Vibe for sending me the Tango X and Touch X to review – You can get your own by Clicking Here
We-Vibe Tango X and Touch X – Tl;dr